Invigorate your photography
For me, photography started as a simple hobby and slowly grew into an all-consuming passion that launched a career. One of the things I love about it is that you can never truly say that you're "done". There's always room to grow, both artistically, and technically.  New techniques develop with technological advancements, and old ones continue to be refined by hardware and software improvements.  Photography is an infinite passtime that rewards practice, perseverance and curiosity.
Continuing my partnership with Adobe, I'm going to be sharing a 10-day "Stay Out There" challenge with you guys, to explore some of the techniques and and workflows that I'm using for my photography.  Over the next ten days, I'll be sharing tips and content that I hope will inspire you to "Stay Out There" with your camera and continue, perhaps even start, your own photographic journey.
We've seen from my post last month that Adobe's Creative Cloud Photography plan has become an integral part of my workflow these days.  I'm the kind of guy that shudders when I hear the word "studio", and the Creative Cloud suite of programs and apps allows me to easily take my work wherever I need to go to get the next shot.  Lightroom mobile gives me that automatically up-to-date portfolio I've always wanted, and new Creative Cloud enabled apps like Voice and Slate allow me to share stories of my adventures in new and exciting ways.  We'll take a look at these in more detail in the coming days, as well as sharing some really cool content created with Lightroom and Photoshop.
You can follow along here on the blog, or keep an eye on my main social channels:
The fine folks at Adobe are also allowing me to give away a 1-year subscription to the Creative Cloud Photography plan! Enter the contest at the bottom of this page and one lucky reader will be selected at random when the contest ends at the end of the challenge on August 5th 2015.
I really want you guys to take these tips from the next few days, and get out there with your cameras!  Send me the resulting photos via the social media accounts I listed above, and I'll be happy to take a look and pass on my feedback.
Challenge #1 – Panoramas
Click to view larger
Panoramic images are an incredible way to show vast landscapes in a captivating way.  When you create a landscape photo, your goal should always be to transport the viewer to that location and have them explore the whole frame. With "normal" photos that have a standard aspect ratio, we use all kinds of compositional techniques to lead viewers on a journey through the landscape. With a panorama, which has a much wider aspect, it already invites the viewer to scan the photo from one side to the other.
This year I've been shooting way more panoramas ever since the Merge To Panorama option was added to Lightroom CC.  Stitching panoramic images together used to involve much more time and effort and to be honest, it was off-putting.   Many panoramas that I shot over the years have lain dormant on my hard dives because I hadn't had the motivation to make time to stitch them together.  That's all changed now, and not only am I shooting more of them, but I'm also going back through my archives and stitching ones together from older adventures!  All I have to do now is select the frames in Lightroom and hit the Merge To Panorama option in the menu.  It only takes a few seconds.
In-fact, it gets even better because Lightroom creates a brand new Raw DNG file for me. So I maintain all the options of a Raw file, but now in a new, massive, panoramic image!
The header image on the 10-Day Challenge page is a new panoramic image that I shot last week in the Canadian Rockies just outside Jasper National Park.  Last year I probably would have just shot a single image of this scene, but this year, as soon as I saw this storm unfolding at sunset, I grabbed my panorama rig and shot 8 vertical images which Lightroom compiled with single click.
Next time you're out shooting, make sure you come back with at least one panorama!
Win a one year subscription to the Creative Cloud Photography plan
There's lots of different ways to enter this contest once you are logged.  Don't worry, we only need your email address so that we can contact you if you win!  We'll always keep that information safe.  The Facebook login option is just an option to speed things up, but you don't have to use it if you don't want to.
The giveaway is open to anyone over the age of 18 except those residing in places that prohibit it by law.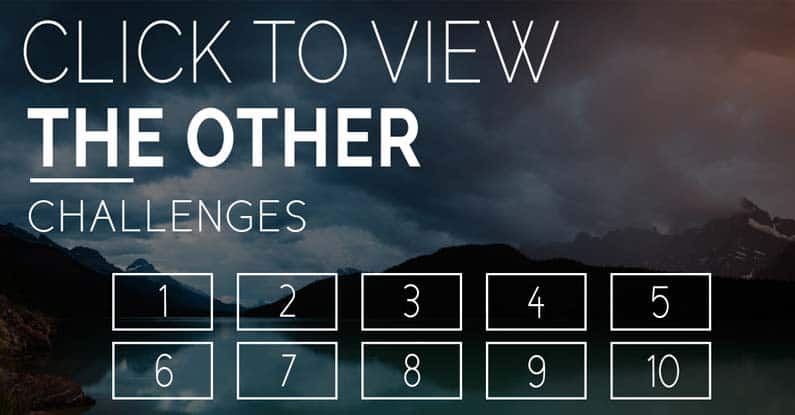 Pin the contest for your friends to see!