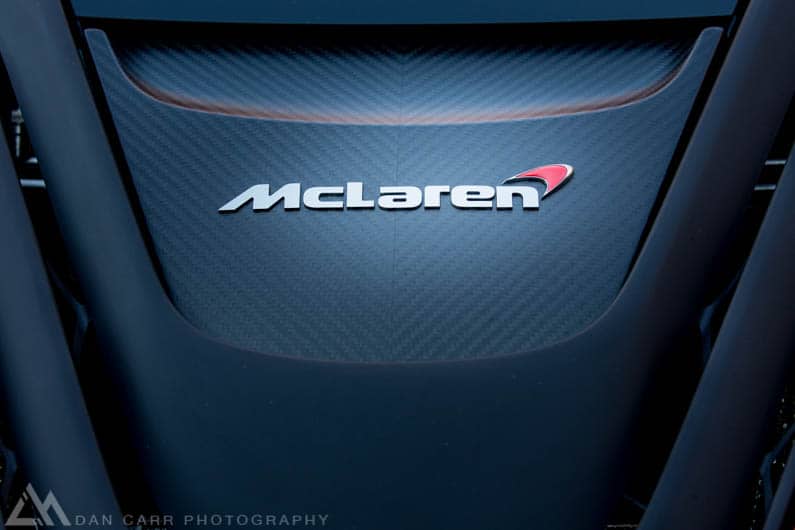 I've posted before about using the Canon 100-400 f/4.5-5.6 L IS II for near macro shooting on the beaches of Vancouver Island. This lens just begs to be used for close detail work so when I heard about a supercar meet-up, just a few miles from me in Whistler, I grabbed the lens and went to see what I could find. I knew the cars would be parked up outside a hotel and that makes it very hard to get a nice clean shot of the whole car. Instead I was looking for little details that caught my eye.
Among the incredible selection of cars, was a brand new $1.4million McLaren P1 and naturally this grabbed my attention pretty quickly. I loved the logo on the back of the car, surrounded by the carbon fibre pattern on the engine cover! In Lightroom CC I made a few minor tweaks to white and black levels, then I used the spherical adjustment tool to darken everything around the logo and give it a nice studio feel. Essentially, it's a heavy vignette effect, but i was able to create the light spot in an elliptical shape, and place it wherever I wanted to. I also added a touch of clarity using the same technique as this localized contrast tool brought out the unique textures in the car's carbon bodywork.
Not bad for a quick 30 second shot in a car park and two minutes of Lightroom work!
Before & After Lightroom CC Work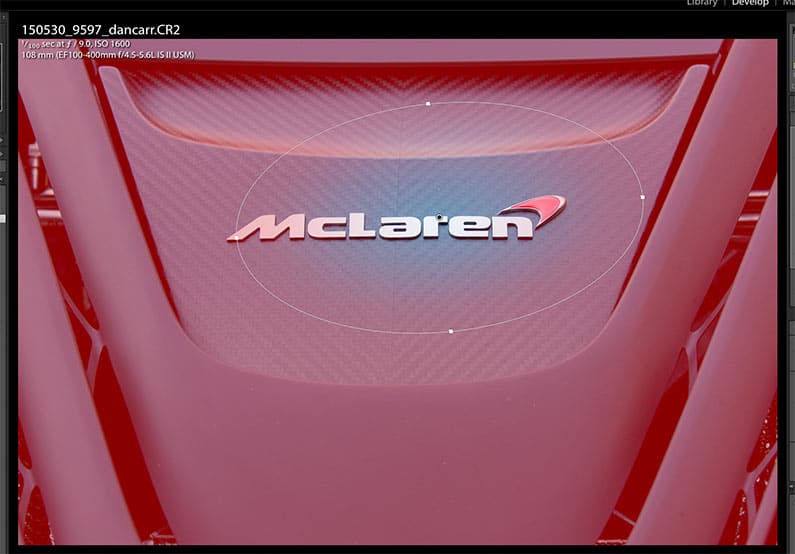 Elliptical mask applied in Lightroom CC


The key takeaway from this is to reinforce the fact that editing tools such as Photoshop and Lightroom should be used as an extension of the compositional process. When you edit an image, you're simply continuing the process of directing people's vision, just as you first start doing when a shot is composed in the viewfinder. In this case I'm taking advantage of the fact that people's vision is drawn to the brightest spot on an image. With the car sitting in open shade, there was no way to take advantage of that fact at the point of capture, but there's no reason I can't continue the compositional process on the computer. Granted, this is a rather extreme usage case of this technique and most of my edits of this sort are much more subtle, but it serves to clearly illustrate the point.
Equipment Used For This Shot