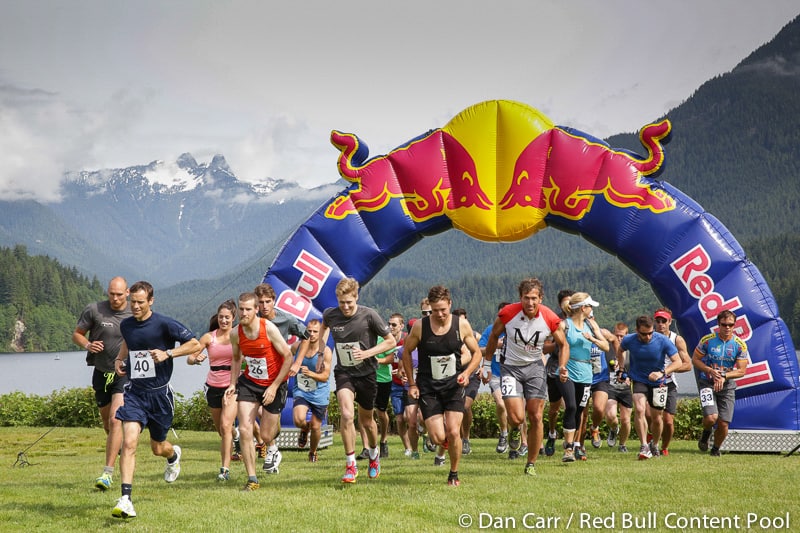 This past weekend I was in Vancouver, BC to shoot for Red Bull and their Content Pool during their Adventure Race, Divide & Conquer. The race saw teams of three run up a mountain, bike back down it again and then kayak through North Vancouver and out in to the Pacific Ocean. Weather conditions were nearly perfect and after a 10am start I spend the next few hours chasing the competitors around to the finish line. My main duties were to capture the start, get a few shots of the runners reaching the top of Grouse Mountain and the run/bike transition and then make sure I was at the finish line to meet the victorious team.
Since I had a lot of ground to cover over the day I wanted to keep my kit as simple as possible. I shot predominantly with the Canon 24-70 f/2.8 L II and the Canon 200-400 f/4 L IS 1.4x on two Canon 5D Mark 3 bodies. When I'm running around at events I prefer not to use a backpack so I took my Think Tank Skin system and threw a Canon 8-15mm f/4 L Fisheye in one pouch, with a Canon 600EX RT flash in the other one. You might think that the gap in my focal lengths is pretty big between 70mm and 200mm but for sporting events I don't usually find that to be the case. The 24-70 works great for portraits and wider environmental portraits or crowd shots, then the 200-400 is perfect for action. If I'm trying to stay mobile then this kit works well for me.
Gear List For This Shoot
Instagram BTS
Remote Start Line Shot
Since I had a second camera with me I set up a remote shot for the start of the race using the fisheye lens and a pair of PocketWizard Plus IIIs. It really takes very little extra equipment to set up a remote shot so I often have a pair of PocketWizards with me and I can easily lose them in one of my Think Tank pouches, there if I need them. I stuck it low to the ground on a Really Right Stuff TQC-14 tripod and just fired it with my hand while I shot the start. Three nice shots from the race start was a good start to the day!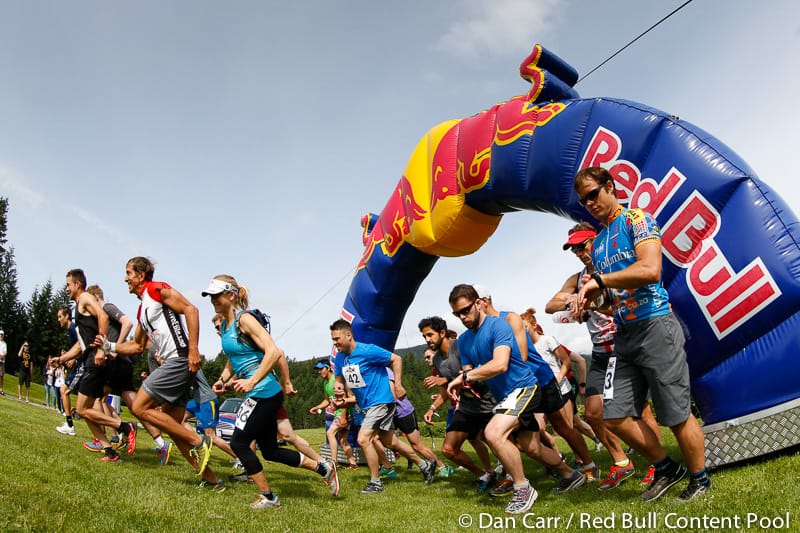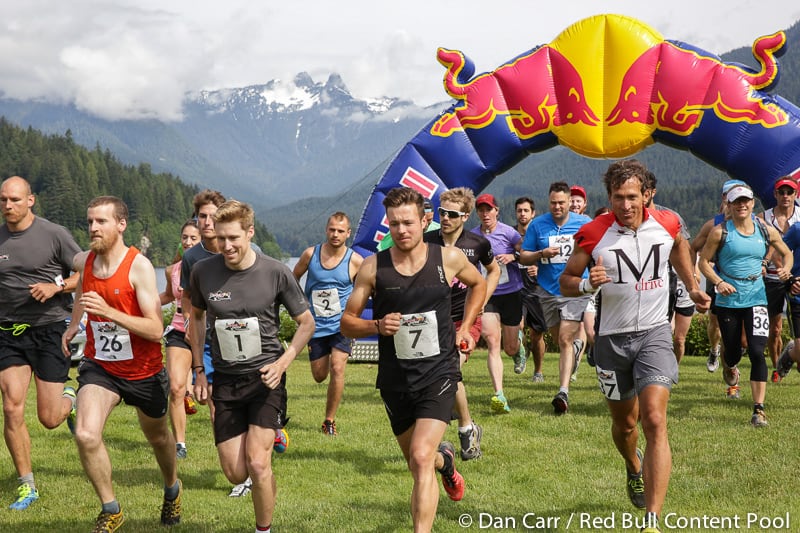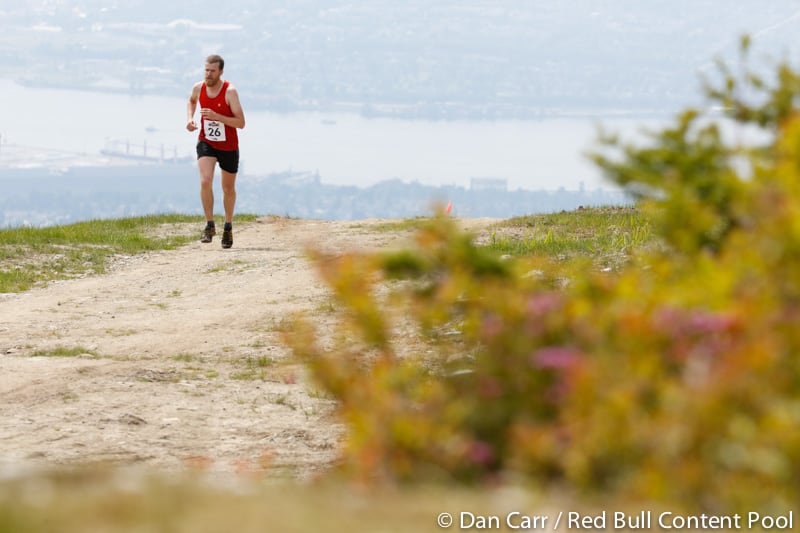 High above the city of Vancouver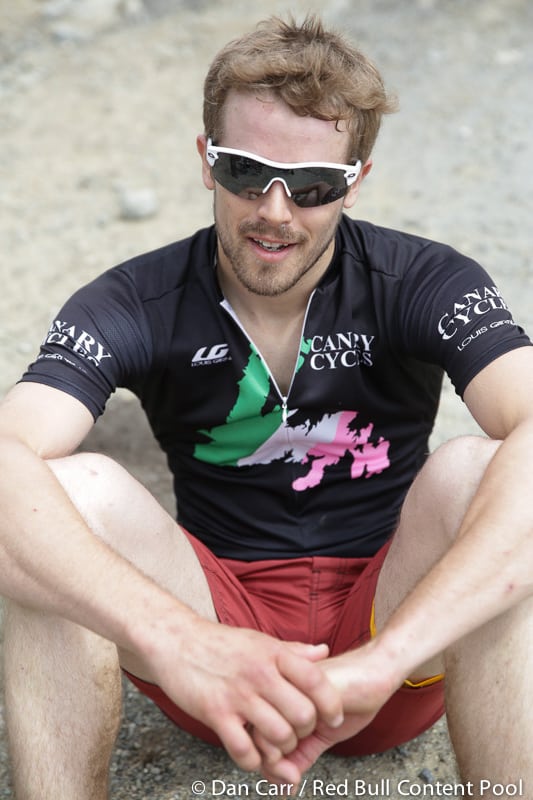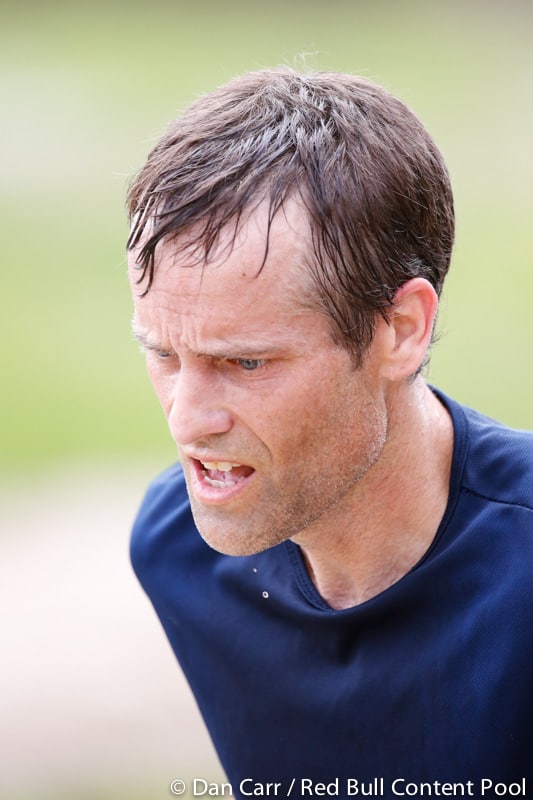 You'd be sweating too if you'd just run up a mountain!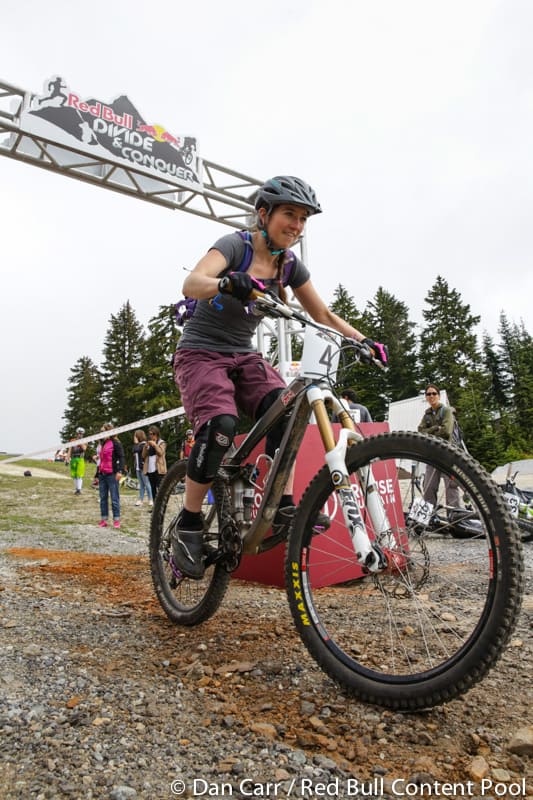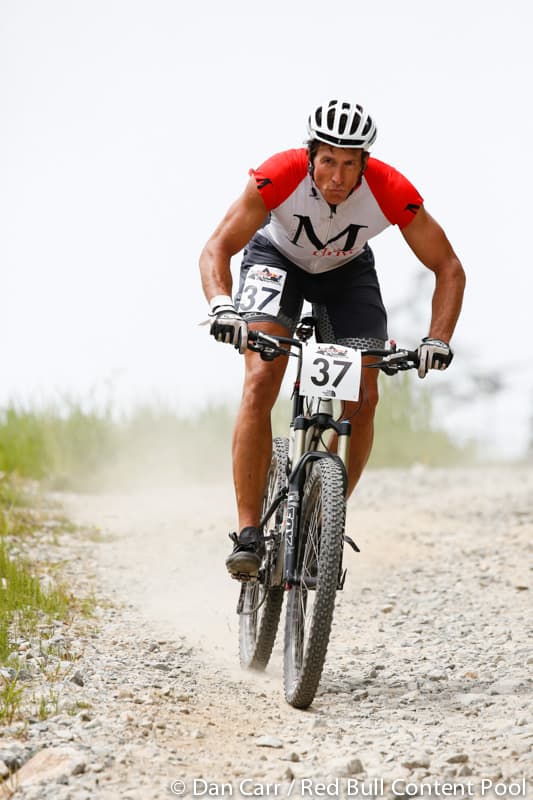 Dropping into the top of a gruelling 2 hour descent from the top of Grouse Mountain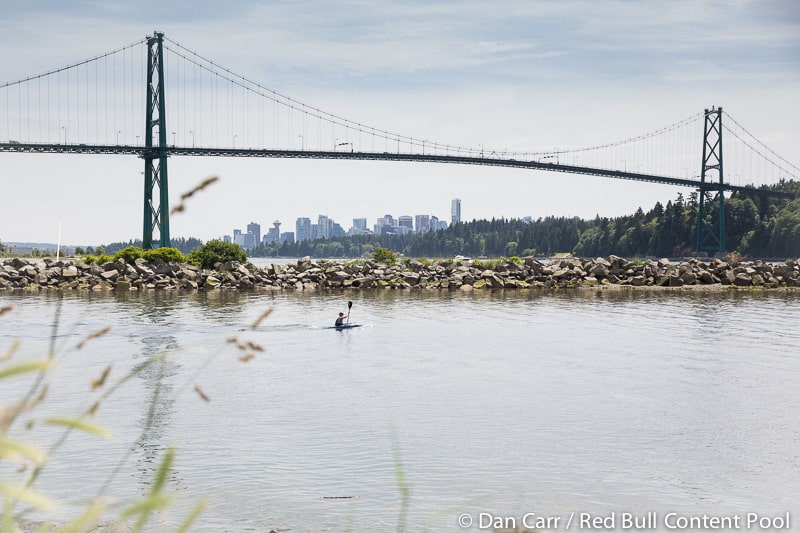 As the paddlers exited the river they passed into the Pacific just in front of Vancouver iconic Lion's Gate Bridge. It's always important to try and get any local iconic locations into your shot list if you can, even if as in this case, the lighting was pretty terrible at this point in the day.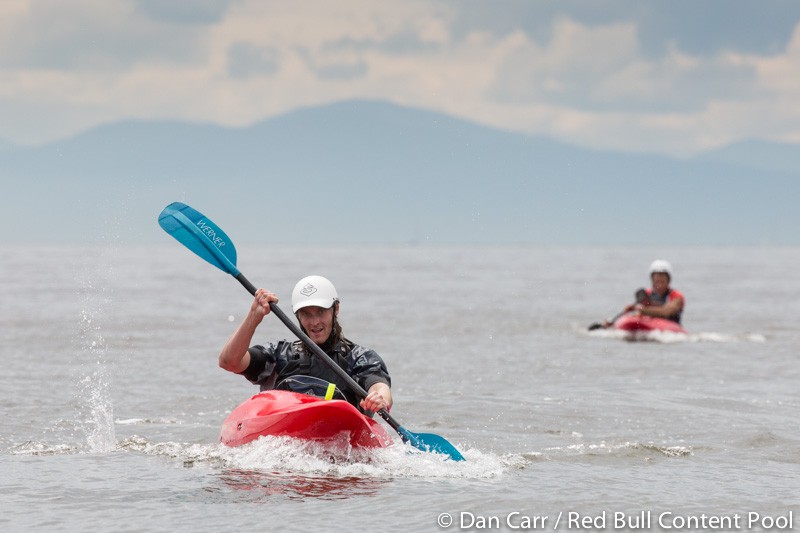 Bringing it home to the beach!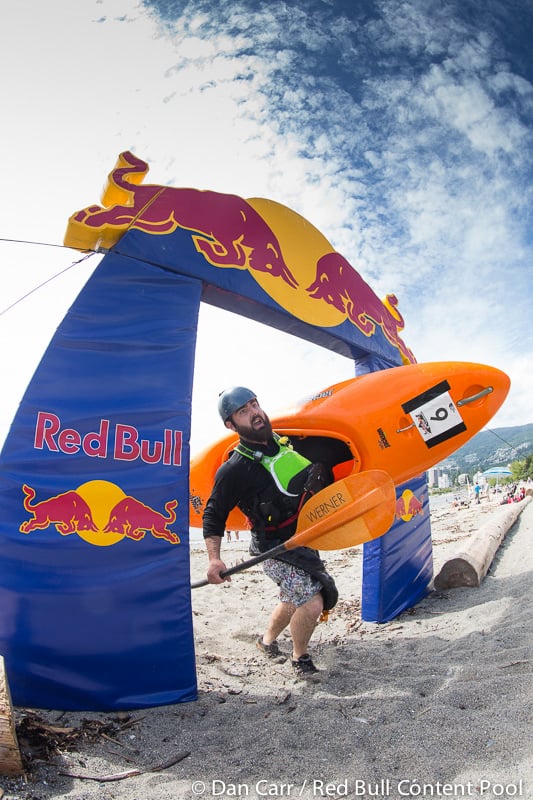 After rounding the point into the bay there was a quick paddle to the beach and a short run to the finish line. With a little blue sky starting to show again in some places I opted for the fisheye lens again to take it all in high above the beach gate.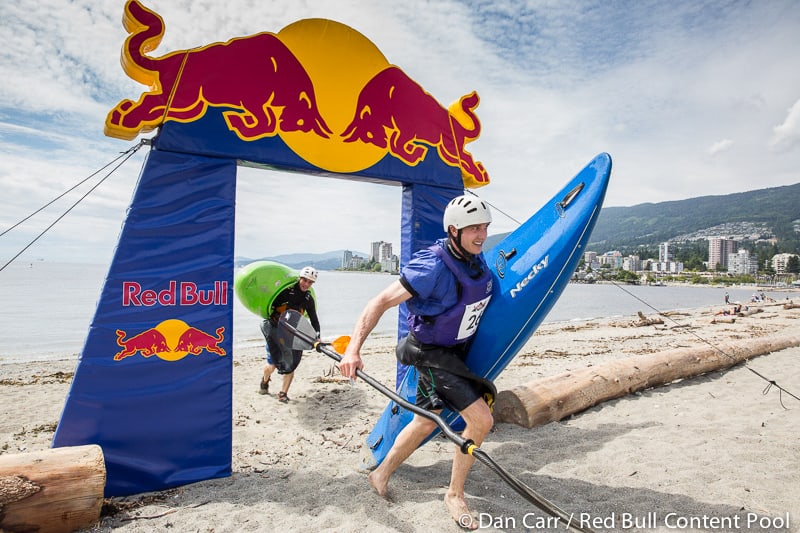 Even after hours of racing, things were pretty close at the finish line!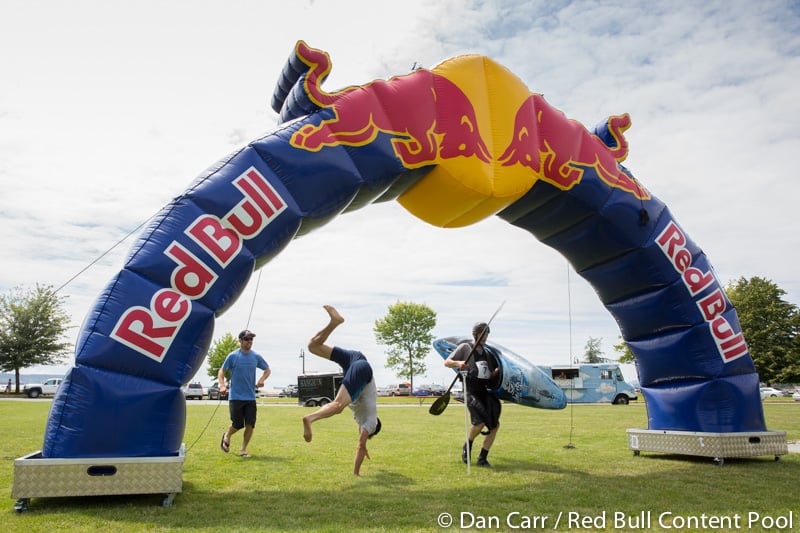 The winning team crosses the finish line at Ambleside Park in North Vancouver