UPDATED: May 4th 2016 – Discussion on why I switched to Extra from the Divi theme.
UPDATED: March 22nd 2016 – Plugin list updated to reflect current set of plugins used on this site.
Divi Discounts
Important Message – Please Read!
Hello Elegant Themes Blog Readers
Many of you reading this will be coming to it from my guest post over on the Elegant Themes blog where I talked about why I chose to use the Divi theme to build my website. Well, eagle-eyed people might spot immediately that I am no longer using Divi, and in fact, Im now using Elegant Themes' other Divi-based theme called EXTRA. Here's why…
Divi was, actually still is, revolutionary for people like me. Someone who cases A LOT about the visuals of their site, but doesn't have the developer skills to achieve the desired results on their own. I had a blast building my site in Divi, but then Elegant Themes released a new theme called Extra. Extra is built around the Divi core, but it caters a bit better for people that run a blog. It includes all the features of the Divi builder (and they get updates at the same time!), but it also includes a ton of additional features that allow me to design the archive pages of my blog (which you can read more about on the Extra page). I have close to 1000 blog posts on my site, so this was a big draw for me.
Since Extra includes Divi Builder within it, all my pages still look exactly the same when I switched to Extra from Divi. Many people won't have noticed the swap at all, and from my end it was totally seamless. All the special designs I created for my pages on the home page, about page and contact page just worked as they did before, and looked identical!
The biggest difference is the blog post design (you're looking at one, so how do you like it?), and the change in the menu design at the top of the posts and pages. Normally switching themes would constitute vast visual changes, but since Divi and Extra are built around the same core there's not a whole lot that's different.
Divi Vs. Extra
So, does this mean I now recommend you should use Extra? Not necessarily…
As a creative professional, I'm a bit different to many others in the same position because my blog is also part of my business model so I use it a lot and it has a ton of archive content on it. If you plan on blogging a lot, at a minimum I would say 1-2 times per week for years, then I would say Extra has some very beneficial features that will help you create a great experience for your readers. But you really have to be certain that you're going to keep up the blogging, and not just "give it a try", otherwise these benefits will be lost on you.
If you just want a portfolio site that's primarily going to be composed of "Pages" rather than "Posts", then Divi will still be the go-to choice. As I proved already, if you decide to make the switch later, it's no trouble at all! All of your beautiful Divi Builder page designs will work in Extra right off the bat. Divi is still a great theme for a blogger as well and I've used it very effectively for three years to make a ton of additional money for my business. That means that if you don't prefer to the look of the Extra blog posts over the Divi ones, it's not a huge deal, you can still happily use the regular Divi theme.
I'm happy to answer questions on this topic in the comments!
Divi Discounts
What Plugins Am I Using?
If you're like me, and it seems at least a few of you are, then you're always wondering what plugins people are using when you find a cool one. So here's a rundown of the less obvious ones because yes of course I'm using obvious ones like Yoast SEO and Yoast Analytics, W3 Total Cache etc etc.
The slide in newsletter opt-in box in the bottom right corner is powered by OptinMonster, as is the Facebook Like popup box that you are probably being exposed to right about now 🙂 I use OptinMonster on all my sites and quite frankly it's phenomenally powerful. It's going to put all other premium opt in plugins out of business in no time.
NextGen gallery is the default choice for many people but I much prefer the newer offering from the same developer that makes the above plugin, OptinMonster. It has a simple and clean style, as well as a ton of addons for extra functionality like fullscreen mode or albums. You can view Envira in action by opening one of my portfolio galleries.
The Monarch plugin from Elegant Themes is what powers the floating share bar on the left of the blog post, and also the social follow buttons with follower counts in the sidebar and footer widgets. Monarch is an amazingly feature rich social plugin that can be configured to show share buttons in the form of pop-ups, slide-ins or post header/footer placements. Check out more details here. The plugin is available to anyone with an Elegant Themes subscription, so it's a natural choice for Divi users.
Social sharing buttons are an important addition to any WordPress site. Having tested pretty much every option under the sun, I settled on using Mashshare. As the name suggests, this is based on the popular design trend started by the website Mashable, which shows a total share count number next to your share buttons. There is a free version of this plugin, and also several premium options, some of which are useful and some of which seem a little over the top to me. Nonetheless, the support from the developer is astonishingly good and the plugin is very lightweight. I tried several other similar plugins, but all of the other ones showed greatly increased page load times. I don't know how he's done it, but the developer of Mashshare has made an extremely lightweight plugin and that's always a nice bonus! The number of options are simply too great to go into, but there are excellent controls for displaying the buttons on custom post types and that was a poorly supported area in many other similar plugins as well.
This is a really cool service that allows you to manage multiple WordPress sites from a single dashboard. It's ludicrously cheap (starts at $0.80/month!) and allows you to do things like update all your plugins across all sites at once, or moderate comments all in one place. It'll also run security checks on your sites, create scheduled backups and tie in with Google Analytics to show you accurate stats of all your sites in one place.
Backups of the site are handled automatically by Automatic's own service, Vaultpress. Since they lowered their pricing to $5/site/month I think it's a no-brainer.
This powers all the contact forms like on my contact page. I'm sure you've heard about it before and yes it's as good as everyone says it is. There's basically nothing it can't do! Prices start at $39.
I didn't use this plugin for a long time because there were many reports of it being bloated and causing sites to slow down. That doesn't seem the be the case anymore, and I began using it after Automatic purchased the BruteProtect plugin and incorporated it into JetPack. This brute force attack security feature is worth the Jetpack installation on it's own, but there's lots of other handy features as well.
This is a plugin for managing 125px square banner ads in your sidebar. You can see it on the right at the top of the sidebar. It's free and it allows you to set expire times, randomly rotate positions or rotate ads in specific slots. Simple but effective.
AddThis Pro powers some of my content recommendation tools in the blog sidebar and beneath all of the posts.
A simple Jquery lightbox plugin from the WP Site Care guys that is very lightweight on code. No settings to screw with, just turn it on! When you click images, it causes them to open in a lightbox effect instead of redirecting to the media file page.
This plugin allows you to float specific widgets in the sidebar, causing them to be fixed on the page when someone scrolls.
MetaSlider – (No longer required or used, but still recommended)
This is the slider you see at the very top of the home page and also as a featured post slider at the top of the blog home page. I tested many sliders and MetaSlider was the one that loaded fastest and provided me with post slider capabilities. That is to say, it shows the featured image from specified post categories. Price starts at $19 and it's a breeze to set up.
Is Divi Really That Easy To Use?
As I mentioned in my post on the Elegant Themes blog, I have no formal training in web development at all. Period. I've seen websites that people have spent tens of thousands of dollars on and quite frankly, mine kicks their ass. Over the years, what I have developed is a a bit of an understanding of how WordPress works, but that's main just so that I know what questions to ask when I'm trying to figure something out. All of that knowledge has been gathered from blogs and Elegant Themes have a phenomenal collection of helpful blog posts, as do my other favorite site, WPBeginner.
I also leaned how to use a plugin for the Firefox browser called Firebug. This lets you examine page elements and fiddle around with CSS in real time to see what changes happen. Now I don't profess to know exactly what's going on most of the time, I've learned just enough to get by and make very small CSS changes like the color of a header font, or perhaps the color of a background element.
With this simple knowledge, Divi's powerful page builder tool and some creative thinking I was easily able to put together pages like my "About" page with the flying helicopter on it, or the floating social buttons with the number counter that you see on the front page.
Why Choose Divi?
Themes are a great resource but I have to admit that I'm not a fan of finding other sites on the internet that look just like yours. This is what makes Divi special. Whilst they call it a theme, I think of it more like a framework. It gives you the building blocks to create an almost infinite number of different sites and that makes you stand out from the crowd. Of course if you don't have the time to do a totally custom page then there are ton of templates included that you can load at the click of a button, so Divi CAN work more like a traditional theme in that sense as well. From there you can start to tweak and change things to fit your branding. It's the best of both worlds and that's why I chose it for this site, and another one that I'm working on as we speak. The other site features a WooCommerce store and Divi is full WooCommerce ready as well and I can just slot in store modules when and wherever I need them.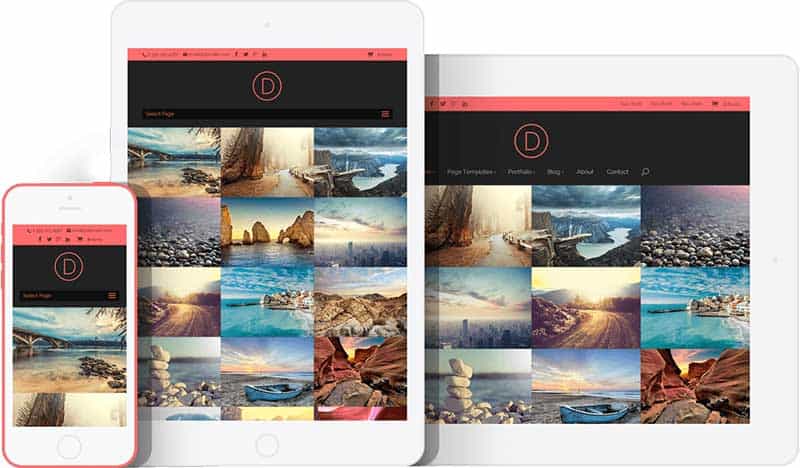 The other thing I wanted to do with my new site design was to give mobile visitors a better experience. Sure many, probably most themes say they are responsive these days but not all responsive themes work equally. Some of them are poorly designed and make navigation a total nightmare. I really like the way that Divi handles navigation and branding on mobile devices so this was another reason for choosing the theme over the others that were on my shortlist.
Other Options
If you are specifically looking for a photography portfolio site then you might also want to take a quick look at this post I did on my photo site, Shutter Muse: 27 Incredible WordPress Photography Themes. Of course Divi is one of them!
Photography Website Consulting
Do you have a photography website that needs a little love? I offer a consultation process through my business Shutter Muse where we can help you build your ultimate portfolio site. Find more information HERE or contact through this page.