Ok guys listen up, today we're going to be talking hard drives.  Now I can already hear the collective groan from the bleachers but bare with me on this one because someone out there is finally doing something innovative in this space and whether we like it or not, as media professionals we come into contact with hard drives on a daily basis.  Our livelihoods are often in their hands so whilst it isn't as glamorous as a new lens or shiny camera it is a necessity and anyone that simply rolls into their local Best Buy and picks up whatever happens to be on sale that day is doing themselves an injustice both from a workflow standpoint and from the point of the safety of your files.
You may want to refresh your memory on my most recent backup routine article as well, whilst I haven't updated it in some time the same methods are still being used, just on a slightly larger scale.
In recent years there has been a fair amount of innovation in mulit-drive backup systems using RAID, or in Drobo's case their own proprietary idea of redundant backup.  All these systems deliver a way to keep multiple copies of your data on a single storage device so that if one drive fails you do not loose any data.  Whilst these are an absolute MUST for archiving data there are still many scenarios where a single drive solution is needed.  Some examples include:
Delivering files to clients (where you already have a backup of the files in your archive)
Working directly with files off a single SSD drive (provides typically much faster performance than a redundant system, especially slower ones like Drobos)
Splitting up data for travel purposes (when traveling it's a VERY bad idea to simply use a redundant system and travel with it in your bag, you should ALWAYS duplicate the data onto physically separate drives and put them in different bags)
Delivering files from a digital film set to the digital intermediate/colorist/DIT etc etc
Offsite backup (you should ALWAYS have another copy of your archived data from your redundant system in an offsite location)
In the last year or so most creatives using Apple computers have access to computers with USB3 ports and Thunderbolt ports and it has changed the landscape of connected drives in our workspace.   Having said that though there has been very little ingenuity from the main players, drives are simple  HDD or SSD in a case with either (and sometimes both) a USB3 port or a Thunderbolt port.  The speed increase offered natively by using these two new interfaces has been great but as an expensive device I've always felt they have been a little lacking and some of the manufacturers have been painfully slow at adopting these two new standards.  A while back I reviewed an interesting drive from CalDigit called the AV Drive.  They had developed their own USB3 ports and drivers for Macs long before they were natively available from Apple.  The drive was fast! You can read my review HERE.  I was intrigued then when CalDigit contacted me again recently, asking if I wanted to take a look at the next incarnation to the AV Drive, the new AV Pro.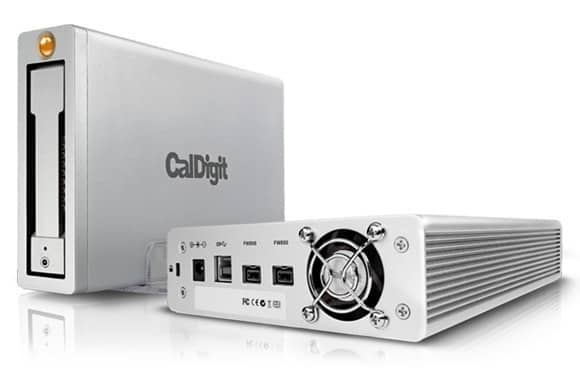 Features
The AV Pro is a hot-swappable single drive solution available with either USB3 or USB3 + Firewire.  Not only that but it also uses a new transfer protocol called UAS (USB attached SCSI). From CalDigit:
UASP allows USB devices to queue multiple commands and execute them out of order in both directions, greatly increasing the efficiency and performance of the interface. In the past, transfers using the older BOT (Bulk Only Transport) protocol only allowed a single, unidirectional command at a given time and did not have the ability to perform out of order requests. Utilizing the efficiency of UASP and the speed of SSDs, the AV Pro is able reach a level of performance previously unattainable by single drive storage solutions.
The AV Pro is available with either an Intel 520 series SSD in 240GB or 480GB flavors or with a 7200rpm Hitachi drive in 1TB,2TB,3TB or 4TB varieties.  With it's removable drive bay though you can purchase any number or combinations of these drives though and simply swap them in and out as the job requires.  All of the singularly available drives come in a beautifully crafted plastic archive box so you can safely transport the drive back to your client/technician/offsite storage facility.  Being hot-swappable, the drive does not even need to be powered down to switch the disks out and that also means that any daisy-chained Firewire devices will remain connected all the time (though honestly I can't see many people who buy this drive still having Firewire devices lying around).
The AV Pro also comes with a special tool and a key which is need to remove the drive bay.  This adds to the security as a Kensington lock can be used to secure the drive casing to your workspace and then the lock and key to secure the drive into it.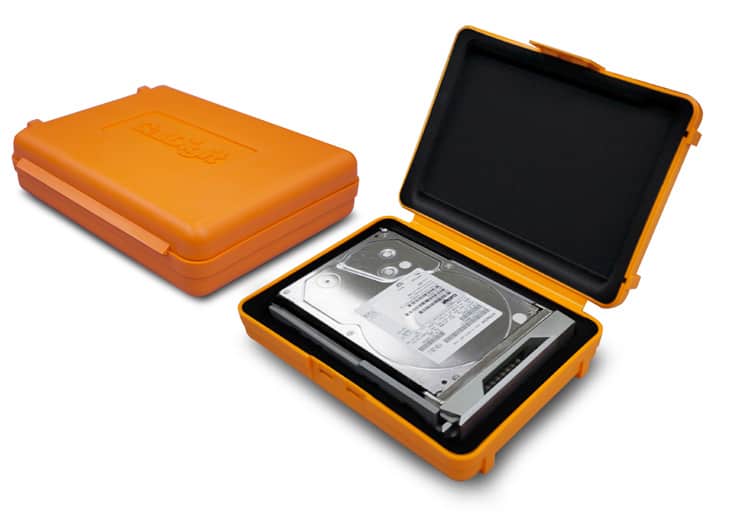 Speed Testing
The other thing that caught my eye as I read the specifications for the AV Pro were the claimed speeds that were achievable and thanks to AJAs speed test app this is relatively easy to test and present.  All of the following tests were performed many times and I tested both a 240GB SSD drive in the AV Pro and also a 1TB 7200rpm Hitachi HDD as well.
Using the hard disk option the AV Pro was able to achieve more than 180MB/s read and write speeds.  This drive is clearly able to extract every last piece of performance from a mechanical disk based solution.  I've never tested a hard drive that has been as fast as this one.  In fact when I tested the LaCie Rugged SSD over Thunderbolt that only gave a write speed of 190MB/s and that was a solid state drive over Thunderbolt.
By way of a comparison I also tested my internal HDD from my new 27″ iMac which also has a 7200rpm drive inside it: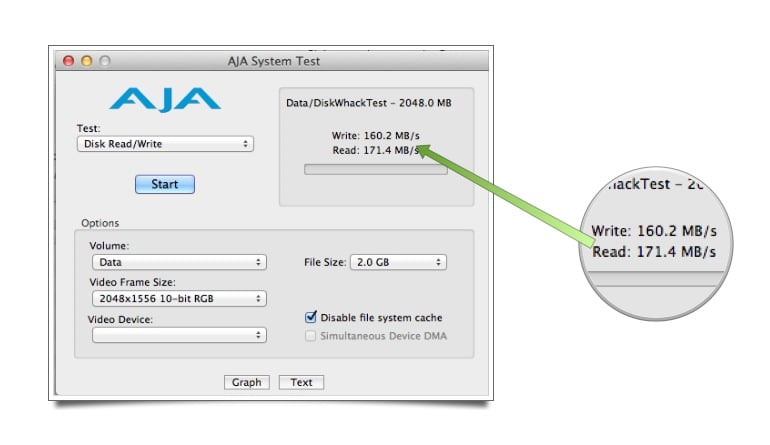 As you can see, even my internally attached drive wasn't able to compete with the speed of the external AV Pro.
Next I swapped out the HDD and inserted the SSD drive module.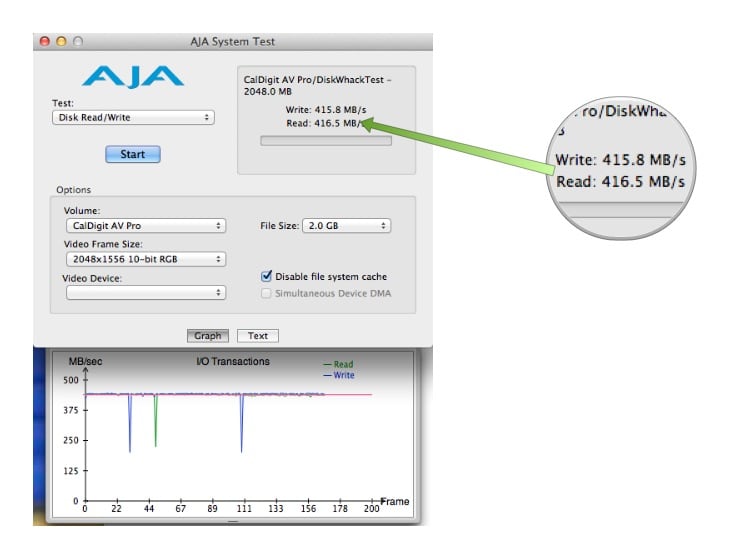 As you can see, the AV Pro registered more than 415 MB/s for both read and write speeds over USB3 which is incredible.  This is 100 MB/s faster read speed than the LaCie Rigged SSD over Thunderbolt and also nearly twice as fast as my own personal OWC Mercuray Elite Pro SSD that I used to boot my 27″ iMac !  TWICE as fast!
USB 3 – Still got some fight left in her
There's been a tendency of late to think that USB3 is a lesser protocol than Thunderbolt but the fact is that whilst the theoretical throughput is less than TB (for the moment), single drive speeds can't yet reach the maximum possible speeds of either USB3 or Thunderbolt.  Certain parallel RAID solutions can but for single drives like this the AV Pro proves that for the moment at least, USB3 is an excellent standard and for while Thunderbolt peripherals (and computers that support it) are few and far between USB3 is still a great solution, in particular the Caldigit AV Pro which seems to be able to extract more speed than other current options.
Thunderbolt is coming
CalDigit are also working on Thunderbolt drives which are scheduled to be released sometime this summer.  Expect to hear a little more around NAB time in April.  The T1 will be a single drive housing similar to the AV Pro and the T2 will be a dual housing capable of various RAID configurations.  The best part about this though, and the reason I'm mentioning it in this review is that the removable drives from the AV Pro are compatible with the T1 and T2.  This provides a near endless possibilities for distributing your drives between clients and colleagues and provides an upgrade path as well.  I like it!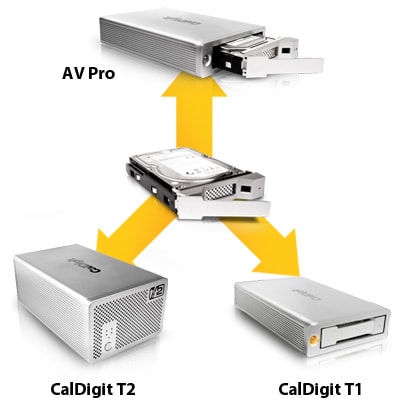 iOS App
I tested the iOS app by connecting to it through my local network in my office.  The Thunderview app allows you to check on the status of your drives but since I could only get it to work on a local network it seemed of limited usefulness to be honest.  It connects by inputting your local IP address into the phone app but of course once you leave your network that doesn't work anymore and if I'm on my local network I can just look at the drives to know if they are functioning correctly.  I did try to connect from outside my local network by using my global IP address but I could not get it to work and that would likely require some tweaking on the router to punch a hole on a specific port for you to have access.  Not something I'm going to want to do just to check up on the temperature of my hard drive.  Perhaps some people who are running many drives might find a use for it but I also tend to think that this being a single drive solution , there aren't going to be people with huge arrays of them sat in their office.

Problems during testing
Unfortunately I had a pretty significant problem when testing the AV Pro.  It seems that when connected to a computer via a USB3 hub, the drive will incorrectly eject itself whenever the computer sleeps.  This means that when you come back to your computer you have the warning message telling you that you did not disconnect your drive properly.  I tested this on many many occasions to see if I could find more of a reason to it, I also tested multiple USB3 hubs and also tested other manufacturers USB3 drives in those same hubs to confirm the issue was only with the AV Pro.  It seems from my testing that this does not happen when the drive is plugged directly into a computer though.  I also tested multiple AV Pros and they both displayed the same problem , though the second one I tested would re-mount itself once the computer was awakened.  The first one would require you to cycle the power on the unit to get it to display again.  In away, that variation between the two I tested is also equally perplexing.
If you are transferring files to the AV Pro then the transfer of those files will be terminated if the computer goes to sleep and ejects the drive.  It probably doesn't need to be said but yanking drives out of computers mid-way though file transfers should generally be avoided at all costs as it could lead to some sort of file corruption.
Can this issue be fixed?  I asked that question to CalDigit and I'm awaiting their response.  If there are any further developments I will update this review immediately but their technical team has been made aware of the issue.
Is there a workaround ? Yes, on a Mac you can go into the Energy Saver preferences and un-check the little box that says 'put hard drives to sleep when possible'.  When you do this , it does appear to cure the problem, or I should say mask the problem.  For many people this will be an acceptable solution.  For others it might be an annoyance depending on how you tend to work and how many other drives you have plugged into your computer.  Personally I do like to put the drives to sleep because I tend to leave my computer running almost non-stop. Of course the other workaround is to make sure that the AV Pro is not plugged in via a hub but that might not always be possible as USB ports are quite limited on today's computers.
UPDATE: CalDigit support were not able to replicate the same issues that I experienced.  I'm awaiting confirmation of which system they were using but despite me testing a couple of different hubs, perhaps there is one out there that does work.  Will update with more info when I get it.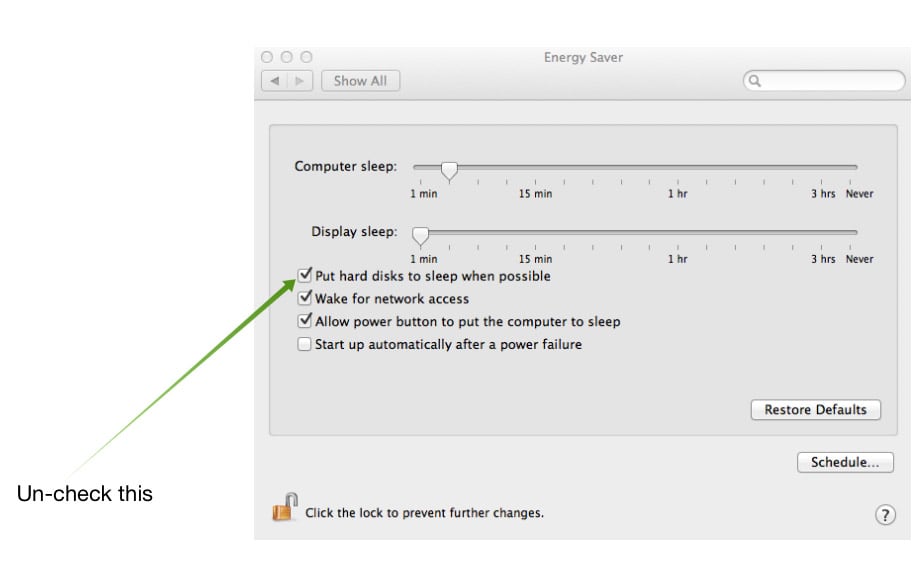 Pros
Beautiful aluminum design
Lock & key to secure drive bay
Drive modules are compatible with upcoming T1 and T2 Thunderbolt devices
Hot swap capability
Quiet fan
SSD can be bus powered
Variety of drives available and include excellent archive boxes
Cons
Ejects itself incorrectly when computer sleeps if plugged in through a USB3 hub
Price is definitely higher than other single drive solutions
iPhone app of limited usefulness to most people remotely
Some people are going to wish the drive 'sled' is available separately so they can use their own drives but CalDigit have no plans to do that
When the computer sleeps, the BIG orange light stays on and lights up your office like a pumpkin on Halloween
 Where to buy
A list of partners can be found on their site and you can also purchase directly from there. My personal preference would be to talk to Adorama as I have dealt with them many times and they have always been a pleasure to shop with.
 Conclusion
There's no doubt in my mind that if it weren't for the problem I experienced relating to the ejection of the drive during sleep, I would be saying that this is the best single drive solution on the market today. It shows innovation, it easily the fastest drive of its type that I have either tested or read about elsewhere and the swappable drives are fantastic and well implemented.  If you don't mind leaving the drives spinning while the computer sleeps then you won't be disappointed with the AV Pro.  For people working on set in the film industry , or on location on large photo productions it will not be a problem to implement the 'sleep workaround' as mobile DIT stations and laptop setups are generally turned off fairly frequently anyway.  For that kind of work where single, fast drives are sometimes needed, the flexibility of being able to swap drives out to hand off to another part of your production chain is fantastic.
It really is a shame that the caveat about the sleep mode has to be here.  I'd say the vast majority of people using computers in a professional environment are also running a USB3 hub if they have a USB3 enabled computer, there's simply too many things to connect these days.  If you have a spare slot directly on the computer then you'll have no trouble but if this isn't a drive that is permanently attached, then in all likelihood you're going to want to plug it in through a hub.  Worth noting as well that you could not use this as a boot drive if plugged in through a hub either as it would crash as soon as the computer sleeps.  In that scenario you would plug it directly into the computer though and with the SSD on board you would have a seriously fast boot drive, about twice as fast as the SSD that I currently use to boot my iMac from. Fingers crossed that there won't be any similar problems with the Thunderbolt version when it launches later this year.