Like most people who usually have a camera with them on any given day, I have never been satisfied with the strap that comes packaged with the camera.  For the last few years I've been using some much more comfortable straps provided to me as part of the Canon's CPS membership which are simply Canon branded versions of the Optech Utility Strap with a different, more robust attachment system.  The neoprene strap works well for easing the discomfort of a heavy camera on your shoulders but the traditional attachment points on the left and right sides of the camera still leave a little to be desired in many circumstances.
Over the last couple of years a market has sprung up for shoulder strap systems that attach to the base of your camera and position your camera securely to your side.  Blackrapid, Carry Speed, Custom SLR and Sun Sniper are just a few of the popular brands out there.  The problem for me though is that some of these solutions are pretty expensive in my opinion.  Custom SLR's glide strap solution is $65 by the time you have purchase their strap and the C-Loop attachment that goes on the bottom of the camera.  Blackrapid has a huge range of straps, 11 at last count, and most of them range between $60 and $70.  As someone who uses two cameras I'd be immediately in for $140 in camera straps and none of them would leave me totally satisfied for one major reason, L-Brackets.
Arca Swiss style camera plates and L-brackets have also become more and more popular in recent times and all my cameras are equipped with them.  My personal favourite brand is Really Right Stuff  for all that sort of stuff.  The point of these plates though is to provide quick and easy attachment of your camera to your support gear like your tripod.  If you then screw one of these bottom mounted strap solutions to the camera you'll negate the whole point of these plates and brackets.  There are solutions to get around this of course, but this adds more cost.  Take the RRS B2-FAB-F clamp for example, this allows you to easily attach a QR clamp to the shoulder strap of your choice but it's another $60.  So now we're looking at nearly $250 to get yourself set up with a pro strap solution that works as well as I want it to.  That's no small amount of money!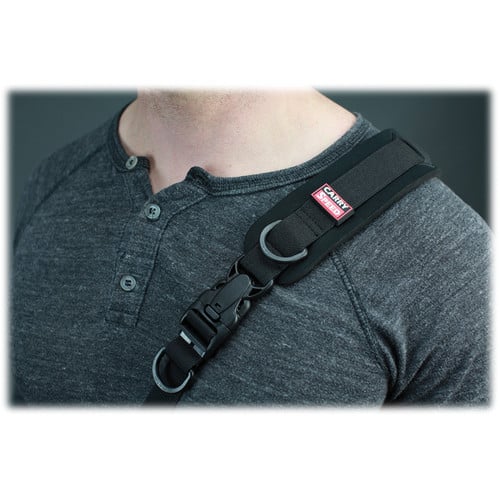 So a couple of months ago Carry Speed contacted me and asked me if I'd like to take a look at their DS2 strap and when I did a little research something caught my eye, this one is only $35 !  I quickly ordered one of the Really Right Stuff QR clamps to go with it and I've been using it for the last few months.
It's a camera strap so I'm not going to go into immense details here but this is a MUCH better solution that the standard one that comes with your camera and it is far more comfortable.  I like having the camera by my side, it allows me to move more freely while I'm working.  I used this setup shooting everything from World Cup Downhill skiing to landscape work in Death Valley and the only major thing I would say is that the DS-2 is pretty short.  I'm not a tall guy, 5ft 9, and I had to have the strap at its longest length to have the camera at my waist.  If I was taller than 6ft then I would definitely have had the camera sitting too high, so bear that in mind.  It's a bit odd but I guess all the people that work at Carry Speed are much less than 6ft tall.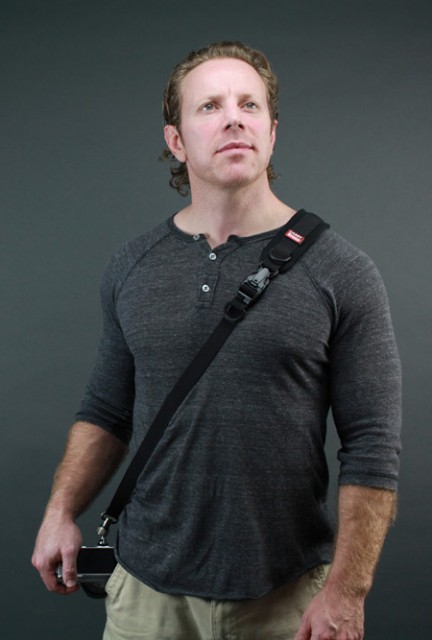 Other than that though this is a setup I'm going to continue to use.  I really can't see the benefits of the much more expensive options from other companies.  Simply moving the mounting point to the bottom of the camera gives you the biggest change , the second biggest change comes from moving to neoprene straps which stretch and absorb the small bumps and jiggles.  The DS-2 acheieves both of these and combined with the QR clamp from RRS makes a great package.
The Problem!
When I sat down to write this review I went to the Carry Speed website and was dismayed to see that they have discontinued the DS-2!  I know…. why ask me to try out and review a product that was going to be discontinued so soon ? There is no longer a strap on their site for the same price as the DS-2, the cheapest is now the $50 CS-Slim.  This is such a shame!!
But wait !  B&H Photo still has some of the DS-2s in stock ! 
So if you fancy picking up a new strap of the style that mounts to the bottom of your camera then I would suggest you quickly grab one of these from B&H as long as you don't exceed my height guidelines mentioned above.