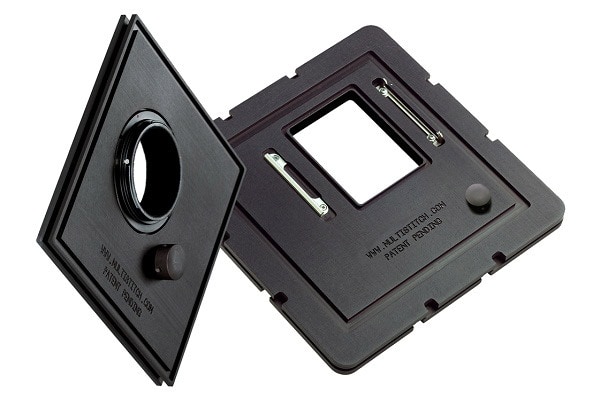 Multistitch is another interesting product I came across at PhotoPlus Expo last week.  It allows you to mount your regular DSLR onto a 4×5 view camera to generate images with nearly four times the resolution of the DSLR.  The product is a machined metal plate with a mount on it that clips onto the back of your view camera.  Now obviously your 35mm DSLR sensor won't cover the full 4×5 view with one shot so the plate is designed that you put it on and take a shot, then you rotate it 90 degrees and take a second shot.  Next you flip it 180 degree and repeat the process for shots #3 and #4.  Eventually you are left with 4 shots that are perfect for stitching in pano software like Photoshop or PTGui.
Using this method with a Canon 5D MK3 for example would yield a 75MP image !  Obviously there is some extra cost involved for the view camera and lens but it's a very interesting way to prolong the life of either an older camera , or a reason to dust off a 4×5 that you have sitting in your closet.
The Multistitch plates aren't cheap at $950 but there is a little more going on than a simple plate as it also includes some internal valving to allow air to escape when the 4×5 bellows are moving around.
Check out some examples on their site!