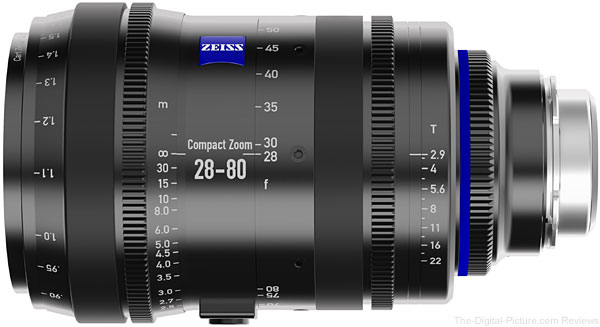 OBERKOCHEN/Germany, 30.08.2012.
Carl Zeiss will display the new cine zoom lens Compact Zoom CZ.2 28-80/T2.9 at the IBC in Amsterdam, the leading international trade show for film, radio and television, from September 7 to 11, 2012 in hall 11 booth G64. The new Compact Zoom CZ.2 28-80/T2.9 by Carl Zeiss is a cine zoom lens ideally suited to a wide variety of shooting situations. It is easy to handle, compact and versatile. It takes pictures in 4K resolution — in full format. This is the second Compact Zoom CZ.2 lens from Carl Zeiss, complementing the Compact Zoom CZ.2 70-200/T2.9 presented in April at the NAB Show 2012 in Las Vegas for the longer focal length range. For color rendition, contrast and other parameters such as great flare suppression, calibrated focus scales, consistent aperture over the zoom range, round iris the new CZ.2 family is closely aligned to one another, making these lenses ideal for attaining a con- sistent optical performance when changing lenses.
With a length of 196 millimeters and weighing in at 2.5 kg (5.5lbs), the Compact Zoom CZ.2 28-80/T2.9 is sleek and lean. Thanks to the five different mounts (PL, EF, F, MFT and E), this new zoom lens from Carl Zeiss can be easily adapted to numerous camera systems both now and in the future, as well as on HDSLR cameras, HD video cameras and professional cine cameras.
"Thanks to the interchangeable mount and the 36 x 24mm image-circle illumination, the new Com- pact Zoom CZ.2 28-80/T2.9 is highly versatile and a future proof investment," says Michael Schieh- len, Director of Sales of the Camera Lens Division of Carl Zeiss AG. "With focal lengths from 28 to 80mm and outstanding image performance, it offers professionals as well as ambitious cinema- tographers a lot of room to explore their creativity in many types of shooting situations. The Com- pact Zoom CZ.2 70-200/T2.9 has already proven that there is no comparable zoom family on the market with full frame coverage and interchangeable mount."
With its slim build, the Compact Zoom family follows the current market trend towards smaller and lighter lenses that are perfect for handheld cameras, Steadicam systems, or for shooting in tight spaces. The Compact Zoom CZ.2 is espe- cially comfortable to use thanks to its ergonomi- cally designed and partly rubber-coated surface, which allows both precise manual focusing as well as mechanical focusing via follow-focus systems. The Carl Zeiss T* anti-reflective coating ensures maximum contrast and color rendition by minimizing stray light and ghosting within the lens. The Compact Zoom CZ.2 lenses delivers flare- free results and has no focus shift over the whole zoom range.
During the IBC, Carl Zeiss will display in a huge glass case all of its camera lenses that are currently available on the market — lenses that guarantee images of the highest quality, whether used on Hollywood movie cameras, HDSLR or HD video cameras.
The Compact Zoom CZ.2 28-80/T2.9 will be delivered in the second quarter of 2013. The recommended retail price is €14,900 or US$19,900 (excluding VAT)*.