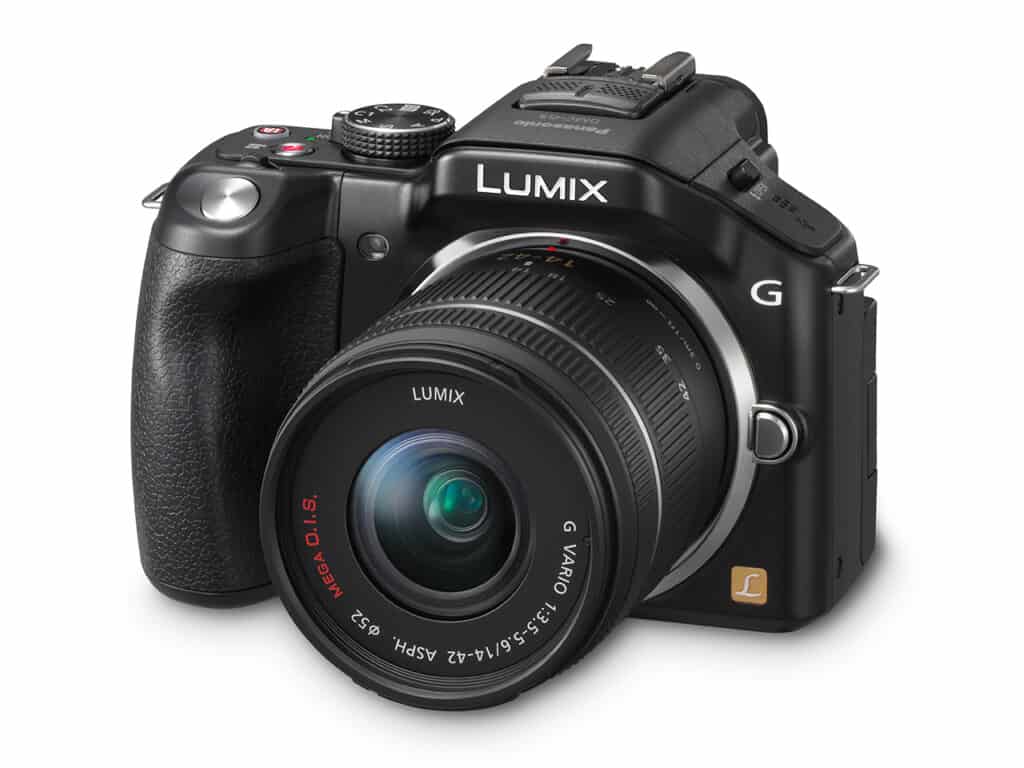 Another M4/3 camera has joined the fray today from Panasonic. Those hoping to see some modicum of weather sealing to match the new Lumix X lenses will be disappointed though. So it remains then that if you shoot Panasonic you can only weather seal the lens and not the camera which is very odd. I guess they are saving that for a GH-3 which we might see at Photokina, in the mean time though everyone is going out and buying an Olympus O-MD E-M5 instead.
The standout feature in this announcement for me though is the fact that it can shoot full 1080p at 60fps. None of Canon's DSLRs can achieve that, even their $15000 C300 can't manage it so kudos to Panasonic in that regard.
Key Features
16MP Sensor
1080p Video at 60fps
1.4 million dot EVF
920,000 dot LCD
6fps Still image shooting
HDR mode
Pre-Orders
B&H has the G5 up for pre-order already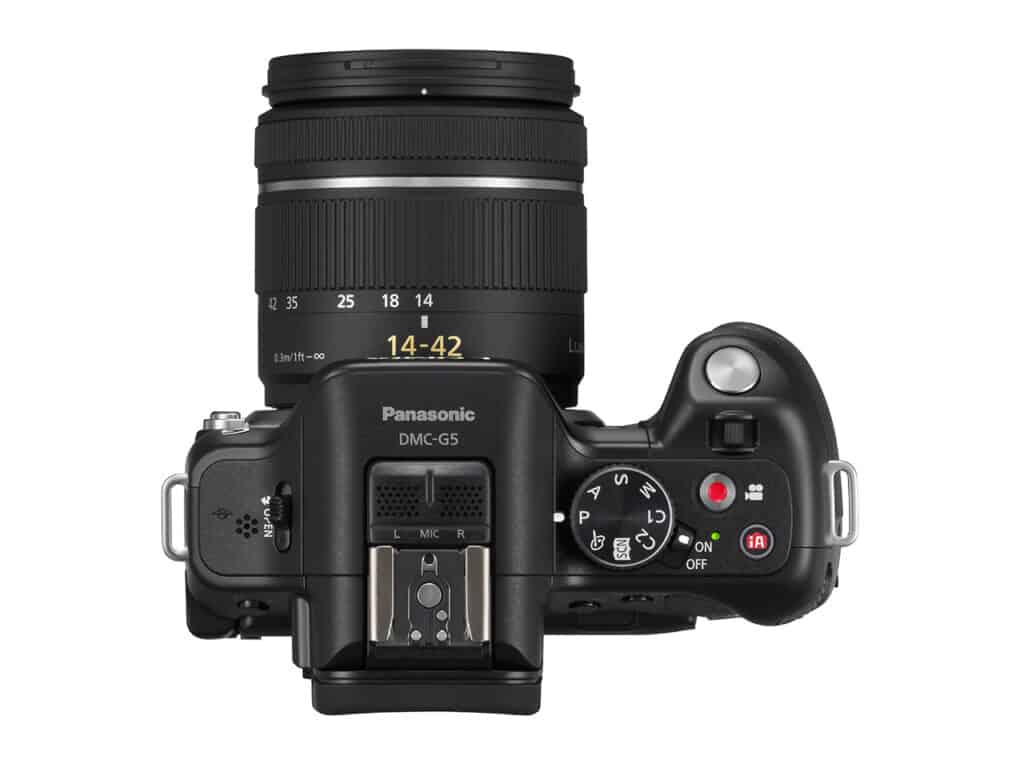 Press Release
July 18, 2012 (Secaucus, NJ) – Panasonic today announced a new addition to the popular line of LUMIX G series cameras, the LUMIX DMC-G5. The newest Digital Single Lens Mirrorless camera offering from Panasonic, the LUMIX G5, features a newly integrated 16.05-megapixel Live MOS sensor and redesigned Venus Engine to render clear, crisp images in both photo and video recording. Featuring a compact, lightweight body with built-in flash, the LUMIX G5 boasts ultra-high mobility while offering users powerful camera performance which achieves spectacular image quality, realizing true-to-life photo details through excellent resolution, image rendering and color production.
The LUMIX G5's high-grade lens and precision AF (Auto Focus) achieves high resolution, optimal balance of resolution and noise reduction to produce lifelike image rendering and high precision auto exposure and white balance for faithful color reproduction. A redesigned Venus Engine features exceptionally advanced signal processing capabilities, producing clear, crisp images in both photo and video recording. The 3DNR detects smooth areas or edges in photos and adjusts the strength of noise reduction (stronger for smooth portion, milder for edge portion) to maintain object descriptiveness. The Multi-process NR quickly detects brightness in each part of a picture and applies optimal noise reduction in multiple steps. The newly incorporated HDR (High Dynamic Range) allows for several pictures consecutively shot at different exposure levels to be overlaid, producing a single composite picture to eliminate over-exposure or under-exposure.
Like all cameras in the LUMIX G series, the LUMIX G5 adopts Contrast AF (Auto Focus), so focusing is controlled by the image sensor. Compared with the Phase difference system AF, Contrast AF boasts higher accuracy, especially when shooting with a bright lens with small F values. To further advance the Contrast AF, the G5 incorporates full-area Touch AF, making it possible to set the focus on any point in the field of view. Additionally, ultra high-speed Light Speed AF, quickly locks onto a subject, making it possible to capture even fast moving subjects clearly. Combined with Touch AF control and high-speed burst shooting at six frames per second in 16.05-megapixel full resolution, it has never been easier to capture fast-moving objects clearly.
The LUMIX G5 offers users simple operation controls with minimal stress, so users can concentrate on shooting. A newly added function lever conveniently located near the shutter release allows for direct adjustment of zoom*1, exposure or aperture*2 control and can be used to magnify images in playback mode and page flip in menu mode. Additionally, the combination use of the function lever and turn-and-push rear dial allows users to adjust major shooting settings, accelerating the camera's simple, intuitive operation.
The LUMIX G5's large, bright 1,440,000-dot equivalent LVF (Live View Finder) retains outstanding viewability and features approximately 100% field of view. Suppressing color breakup, the LVF assures stunning image view for any subject or scene. The LVF is newly designed to integrate an eye sensor for the LUMIX G5, which allows image output between the LVF and LCD screen to be switched automatically with the eye sensor on the LVF (which features optional sensitivity of high, low and off). Additionally Eye Sensor AF (Auto Focus) automatically starts focusing when the photographer looks into the EVF to capture spur-of-the-moment shooting opportunities.
A large, 920,000-dot high resolution LCD screen with wide-viewing angle rotates 180 degrees to the side, tilts 270 degrees up and down and offers approximately 100% field of view. Touch screen operation on the LCD screen allows for simple shooting or playback of images and the new Touch Pad function enables the use of both LVF and LCD simultaneously, which encourages more intuitive shooting. Lag time of image output has been minimized by approximately 18% compared to the LUMIX G5's predecessor, the LUMIX G3, making it easier to monitor fast-moving subjects. The Level Gauge give the camera the ability to automatically detect the horizontal or vertical angle of view so that photos shot in a portrait aspect will automatically be displayed vertically, no matter which lens is used. The newly added Electronic Shutter mode allows silent operation which is helpful in areas where silence is needed.
Creative Control Mode has been upgraded in the LUMIX G5 with an increase of filter options from five options to 14, adding Soft Focus*3, Dynamic Monochrome, Impressive Art, One Point Color, Cross Process, Low Key, Toy Effect and Star Filter, in addition to the conventional Expressive, Retro, High Key, Sepia, Hi Dynamic, Miniature Effect*4 modes. With the new GUI menu tab, switching filter effects is seamless. A preview of filter effects can be seen on the large LCD screen via Live View mode and the camera intuitively recommends filters depending on the scene that the camera detects in iA (Intelligent Auto) or iA Plus mode. Furthermore, iA Plus mode allows users to adjust defocusing area in the background, exposure compensation and white balance for more flexible control while activating automatic shoot assist functions such as AF Tracking, Intelligent ISO Control, Intelligent D-range Control, Face Recognition and Intelligent Scene Selector.
For beginner users of interchangeable lens system cameras, the LUMIX G5 features the new Scene Guide which offers 23 sample pictures shot by professional photographers. Users can choose the photo closest to the situation that they are shooting and optimal parameters for shooting the scene will be set automatically*5. Additionally, procedures, technical advice and recommended interchangeable lens options for the scene can be shown to allow users to better understand and learn photography.
Not only does the LUMIX G5 produce stunning still imagery, but it also records high quality video. With the ability to record high-resolution full-HD 1,920×1,080 60p videos in AVCHD Progressive (MPEG-4) or MP4*6 format, subjects with fast motion and fine details are reproduced clearly. In addition to practical full-time AF, the Touch AF in video recording also lets the user enjoy professional-like selective focusing which allows the focus to be shifted while shooting video and AF Tracking easily locks onto a subject to focus, even when it moves. The Extra Tele Conversion function extends zoom range Max 4.8x without deterioration of image quality. The LUMIX G5 features a dedicated video record button on the top of the camera body so users can instantly start recording videos while shooting photographs without changing any settings. The camera can also take photos while recording video live just by hitting the shutter button. Along with full-HD video capabilities, the LUMIX G5 also features high-quality sound, recorded with Dolby® Digital Stereo Creator and noise from background wind is minimized with the Wind Cut function.
The LUMIX DMC-G5 will be available in black, white and silver in various kit options. Pricing and availability will be announced approximately 30 days prior to shipping. For more information about Panasonic LUMIX digital cameras, please visit www.panasonic.com/lumix
*35mm camera equivalent.
*1 When used with Power Zoom lenses H-PS14042 or H-PS45175.
*2 In M(Manual) mode
*3 For photo only
*4 Sound will not be recorded with [MINIATURE EFFECT] in Creative Control Mode and approximately 1/10 of the time period is recorded. (If you record for 10 minutes, the resulting motion picture recording will be approximately 1 minute long)
*5 Video recording using Scene Guide is not possible in some scenes.
*6 30p in MP4
• Leica is a registered trademark of Leica Microsystems IR GmbH.
• "AVCHD Progressive", "AVCHD", the "AVCHD Progressive" Logo and the "AVCHD" Logo are trademarks of Panasonic Corporation and Sony Corporation.
• Dolby and the double-D symbol are trademarks of Dolby Laboratories.
• HDMI, the HDMI logo and High-Definition Multimedia Interface are trademarks or registered trademarks of HDMI Licensing LLC.
• All other company and product names are trademarks of their respective corporations.
• This unit is compatible with both SD/SDHC/SDXC Memory Cards. You can only use SDHC Memory Cards on devices that are compatible with them. You cannot use SDHC Memory Cards on devices that are only compatible with SD Memory Cards. (When using an SDHC Memory Card on another device, be sure to read the operating instructions for that device.)
• Some accessories are not available in some countries.
• The use of recorded or printed materials that are protected by copyright for any purpose other than personal enjoyment is prohibited, as it would infringe upon the rights of the copyright holder.
• Design and specifications are subject to change without notice.