Today Drobo has unveiled two new products that feature both dual Thunderbolt ports and USB3 making them equally enticing for both Mac and PC users.  Thunderbolt storage arrays have been a bit thin on the ground since its launch but everyone has had their eye on Drobo waiting to see what they were working on.  It wasn't a case of if but when and that when is today.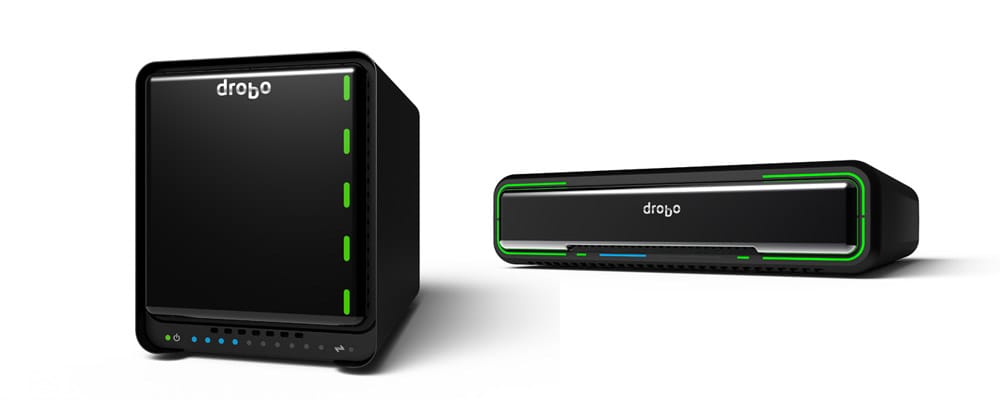 Drobo have unveiled two new models, the 5D and the 5D mini.  At first glance the 5D will look familiar, sharing a design with the previous eSata version of the Drobo, apart from an extra SSD slot in the base.  The 5D mini is an all new design though and I think this is going to grab all the headlines.  It's only 7″ x 7″ x 2″ but it will take 4 x 2.5″ drives (HDD or SSD) and also features a 5th slot in the base for a further low profile SSD.  Designed for portability, the 5D mini has a rubberized 'rugged' exterior and also has an option carry case.  This is big storage on the go.
Both 5D and 5D mini ship with custom 1m thunderbolt cables (thank god!) and we will hear more about shipping dates in July.
As I sit here writing this I'm away on a long photo trip myself.  For this trip I totally underestimated how much storage space I would need and that meant that yesterday I ended up in the local computer store buying an 'emergency' 1TB drive.  Wish I'd had one of these Minis with me really.  I like the fact that they have designed this for the pro on the go, it makes sense as few photographers or videographers create in the own back yard.
Thankfully both products have dual Thunderbolt ports.  There have been FAR too many Thunderbolt enabled products launched with just one port.  All of them saying it will have to be at 'the end of the chain' which totally defeats half the purpose.  Drobo have done it right though, so you can still plug in two separate drive into one port on the computer.  This is important because most pros will want to split another backup up and travel with it in a second location.  I don't like to travel with all my eggs in my laptop bag even if that is a redundant solution within itself.  Putting a further copy in your checked baggage is a good idea.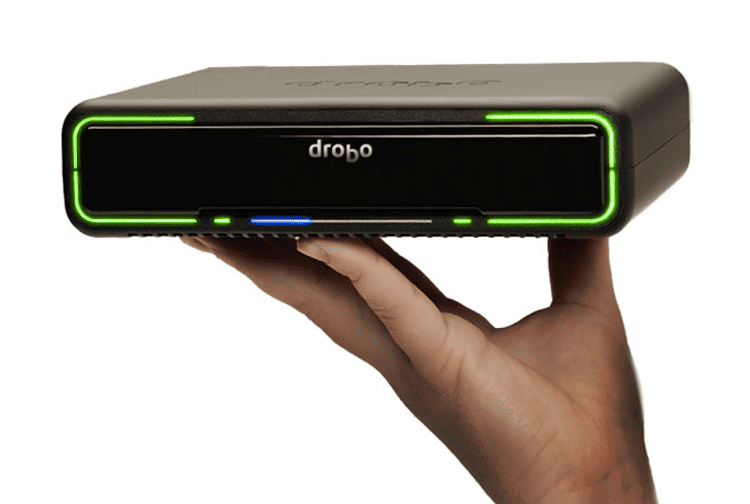 Pricing
Drobo 5D will start under $850
Drobo 5D Mini will start under $650
These prices will of course NOT include drives so don't forget to factor that into your calculations.  Both will take either HDD or SSD.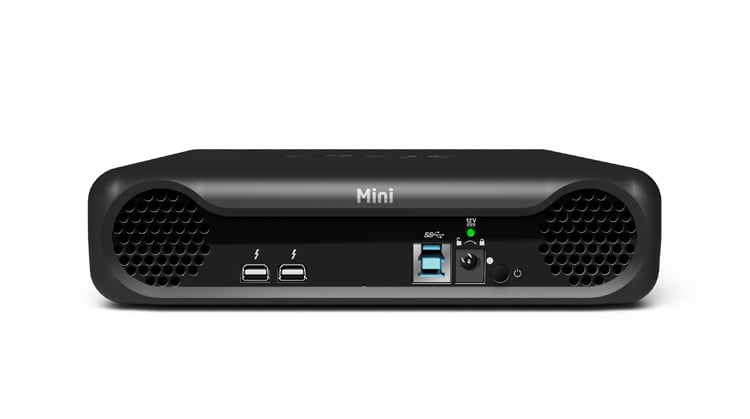 Press Release
NExt-generation Drobos ONCE AGAIN REDEFINE personal and professional data storage
New Drobo 5D and Drobo Mini to Deliver Industry Firsts with Automated SSD Acceleration, Thunderbolt and USB 3.0 Interfaces, and World's Smallest Full-Featured Storage Array
SAN JOSE, Calif. – June 21, 2012 – Drobo, maker of award-winning data storage products for businesses and professionals, today announced a wide range of industry-firsts with innovations in a new generation of storage devices for personal and professional users.  The Drobo 5D and Drobo Mini – the world's smallest and most portable full-featured storage array – are designed to accelerate workflows for creative professionals managing data-intensive files; home media enthusiasts looking to consolidate and accelerate video, photo, and music files; and small businesses that need fast, portable backup to protect large amounts of data. Drobo, widely recognized as the maker of the easiest-to-use storage device, has added advanced performance to the new systems with Thunderbolt, USB 3.0, automated SSD acceleration and greatly enhanced hardware and software architectures.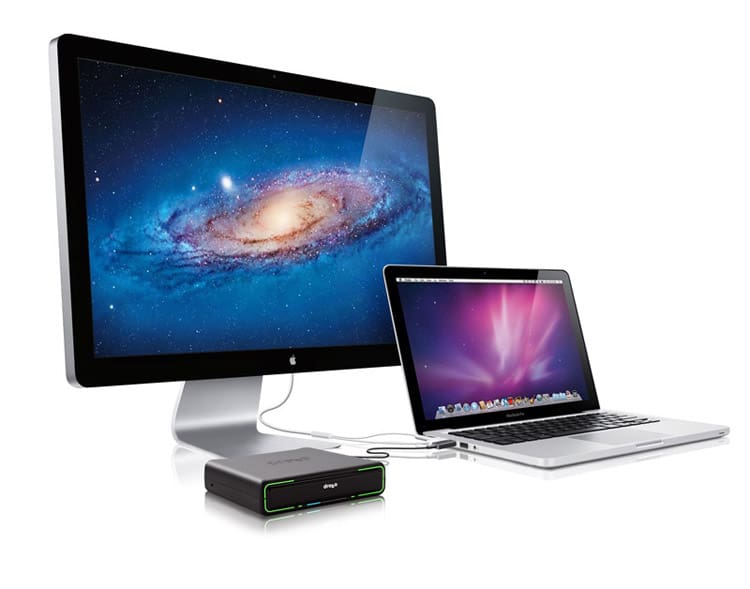 "In my 30 years covering the technology industry, I have not seen something as portable, scalable and powerful as the Drobo Mini," said Rob Enderle, principal analyst for The Enderle Group. "The SMB and prosumer market is clamoring for a plug-and-play storage product because it lacks the technical expertise and resources to manage complex storage systems.  With the new Drobo products, there is no question that this enigma is solved."
New Era of Performance and Flexibility
Both the Drobo 5D and Drobo Mini include industry-first SSD acceleration – utilizing the performance benefits of solid state drives (SSDs) and the capacity benefits of hard disk drives (HDDs) to deliver an automated, no-compromise system.  In addition to supporting SSDs in any of their drive bays, both units include an additional bay that will accommodate a small-form-factor SSD to achieve significant performance boosts while making all drive bays available for high-capacity HDDs.
The products also support both lightning-fast Thunderbolt (2 ports) and USB 3.0 connectivity, an industry first for storage arrays, that will provide flexibility to both Mac and Windows users.  The two Thunderbolt ports allow customers to easily daisy-chain devices to accommodate massive growth, and the USB 3.0 port ensures compatibility to millions of USB systems.
Along with SSD acceleration and Thunderbolt / USB 3.0 interfaces, the new Drobo products have been completely redesigned from the ground up with new hardware and software architectures. These enhancements provide a significant increase in processing capability and several optimizations to BeyondRAID™ that will increase baseline performance by at least five times – prior to the addition of SSDs – easily making the new Drobo 5D and Drobo Mini the fastest storage arrays in their class.
Save and Protect
All Drobos are based on patented BeyondRAID technology, which automates sophisticated data-protection algorithms so users can enjoy the peace-of-mind of safe data protection without having to be a storage expert. The new Drobo arrays add an advanced safety feature that also protects user data during and after power outages, another industry-first for professional storage and a feature that has traditionally been reserved for more expensive, enterprise-grade storage.
"Our customers love Drobo's ease of use, but they want it all – the easiest, the fastest, the safest for their data, plus the smallest and quietest," said Tom Buiocchi, Drobo CEO.  "That's why we're here – our new Drobos will deliver on our promise of the best storage experience ever."
Drobo 5D: Capacity and Speed with No Compromise.
The Drobo 5D is the most modern and complete storage system for creative professionals including photographers, videographers, graphic designers and individuals creating and working with large amounts of rich media. In particular, professionals who are power users of Adobe and Apple applications including After Effects, Aperture, Final Cut Pro, Lightroom, Photoshop and Premier Pro are a great fit for the new product, which is ideal for editing, storing catalogs and backing up files of all types.
With up to five drives with an additional SSD bay, the 5D can support up to 16 terabytes of protected, SSD-accelerated data.  This is the equivalent of 32 million photographs, 4 million songs, 1 million HD movies, or 48 hours of uncompressed HD video – all accessible through lightning-fast Thunderbolt or USB 3.0 interfaces.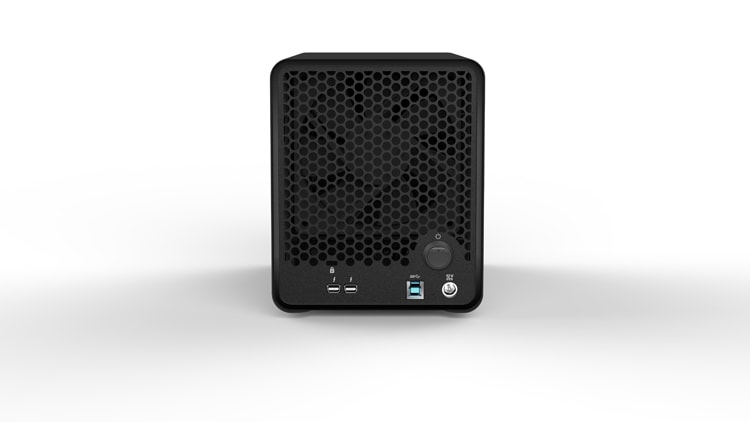 Drobo Mini: The Smallest, Most Powerful Storage Array
Drobo Mini is a technical marvel that redefines personal, professional, and portable digital storage.  It combines a unique blend of the most advanced storage technologies with unrivaled ease-of-use, all in a sleek, world's-smallest package, measuring seven inches square by less than two inches tall and weighing less than three pounds.  Drobo invented a patent-pending "carrierless" design, which allows up to four 2.5" drives to be easily inserted into a Drobo Mini without the need for any additional drive carriers or screws. The benefit to the customer is not only the ease of drive insertion and removal, but also flexibility; because the design accommodates a common industry drive size, customers are free to choose the drive vendor, type (HDD or SSD), capacity, speed and price that best meets their needs.
Since the Drobo Mini is portable, it features a ruggedized design that allows users to transport it with drives inside. In addition to being the first Drobo to offer this capability, the Drobo Mini features a custom miniature power supply and an optional carrying case, making it the ideal storage for professionals who travel extensively.
"I will shoot thousands of images per day at the Olympics, and having fast, protected storage is critical to my workflow," said Jeff Cable, one of the few photographers representing Team USA at the 2012 Summer Olympics in London. "The new Drobo Mini provides Thunderbolt performance and RAID protection in a compact package that is not much larger than a single external drive. I can't wait to get my hands on one."
Additional Resources
Visit www.drobo.com/5D or www.drobo.com/mini to learn more about the new products. Ordering and availability information will be announced in July.  Pricing – including a Thunderbolt cable – is expected to start at under $650.
About Drobo
Drobo makes award-winning data storage products that provide an unprecedented combination of sophisticated data protection and management features, affordable capacity, and ease-of-use. Based on the patented and proven BeyondRAID™ technology, Drobo's ability to deliver "Big Storage in a Small Box" creates the best storage experience ever for hundreds of thousands of small and medium businesses and individual professionals worldwide, who use it to support their file backup and media archiving, server virtualization and email application needs. To learn more, visit www.drobo.com or follow us on Twitter @drobo.
###
Drobo, BeyondRAID, and the Drobo logo are trademarks of Drobo, Inc., which may be registered in some jurisdictions. Adobe, the Adobe logo, After Effects, Lightroom, Photoshop, and Premier Pro are either registered trademarks or trademarks of Adobe Systems Incorporated in the United States and/or other countries. Apple, the Apple logo, Mac, Aperture, and Final Cut Pro are trademarks of Apple. Microsoft, the Microsoft logo, and Windows are trademarks, registered trademarks or service marks of Microsoft Corporation. Thunderbolt and the Thunderbolt logo are trademarks of Intel Corporation in the US and/or other countries. All trademarks are the property of the respective trademark owners. All other trademarks used belong to their respective owners.