A few new products have appeared on the Elinchrom website today. As a bit of an Elinchrom fan myself I like to see what they are up to. I use a Ranger system at the moment and I have rented their mains powered pack systems in the past for a few shoots. I find their stuff to be very well built and reliable. It often gets compared to Pro Photo equipment but Pro Photo is more expensive and I'm constantly hearing my fellow photogs sending their Pro Photo stuff in for servicing.
When I first saw this pop up in my in-box this morning I got quite excited but it turns out I was slightly premature. The new Zoom heads detailed below are for plugging into their mains power packs (along with one continuous halogen light). I had initially assumed that they also launched the Ranger versions of these heads and there is some justification in that because I know that they also exist. I have seen a picture of them clear as day. So take these Zoom heads here also as a look into the future if you own the Ranger system as I do….. the same design and features will be passed on to the Ranger lineup at some point in the future. The whole Ranger lineup is looking a little long in the tooth and my gut feeling is that they are planning on releasing a new Ranger pack at some point in the not so distant future and are therefore waiting to release the Ranger Zoom heads alongside that. Anyway, Ranger incompatibilities aside these are still cool products for the studio shooters out there!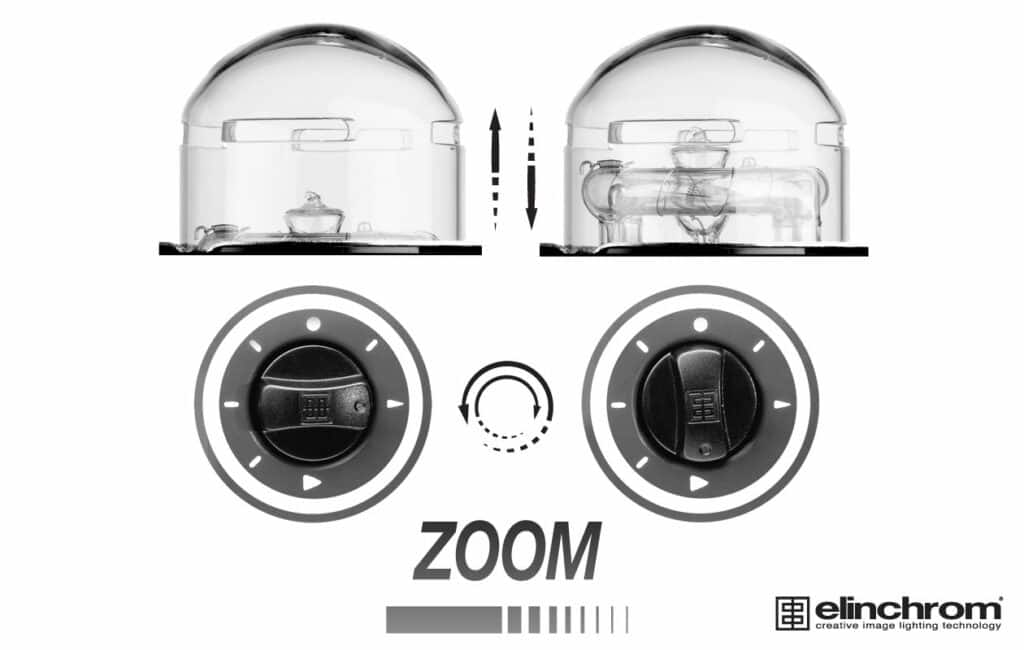 So this is the ZOOM function of these heads ! Each head features a dial on both sides that zooms the flash tube in and out of the head allowing you to adjust the width of the the flash beam. It's a pretty neat idea actually. The other thing that jumps out at me here is that the flash tubes are FINALLY protected behind a dome ! I'm always a little worried with the bare tube on my Ranger heads so I'm pleased to see that they have addressed this and also released frosted domes to soften the light a little further if it's desired.
The three pack-powered heads are similar but the Action features a faster duration.  The Pro will suit most photographers and the Pro HD is for more intensive usage.  It lasts for more successive bursts before needing to cool down (50 Vs. 20 for the action and Pro)  The halogen light at the bottom of the page also looks to be a great budget solution for quick studio setup and product or food photography.  I like what I'm seeing here and I can't wait for it to filter through into the rest of their lineup…
Zoom Action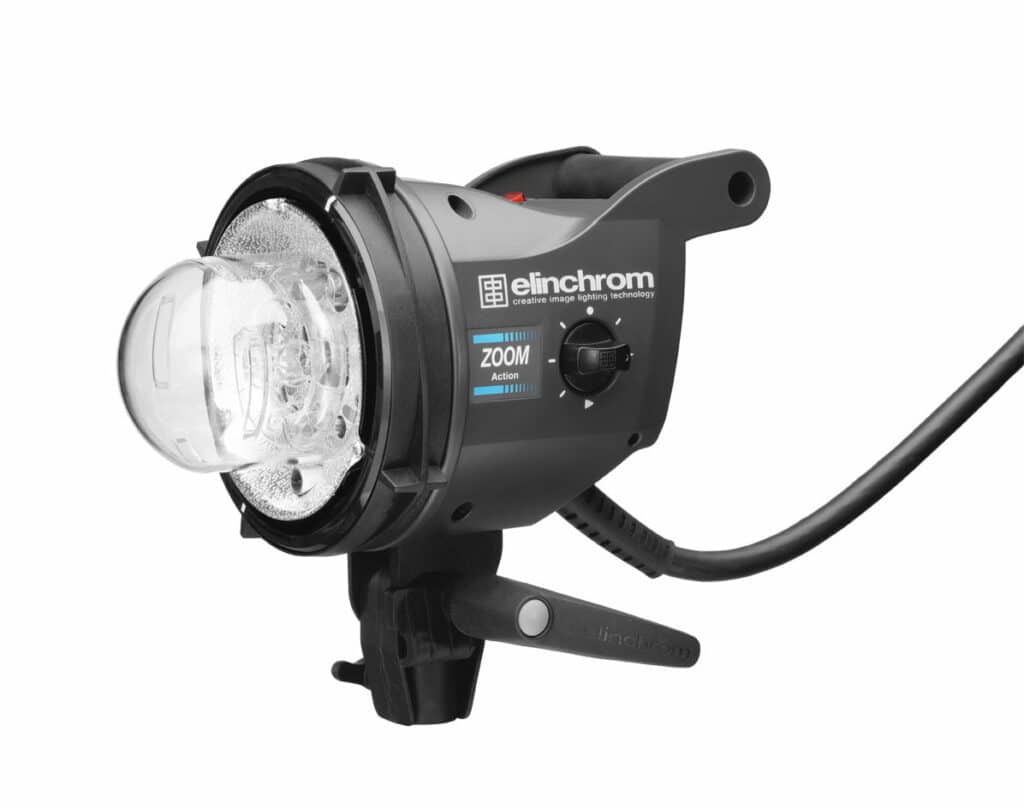 The Zoom Action offers a 40 – 45% shorter flash duration compared to standard omega (horse shoe type) flash tubes. The single, twin electrode flash tube ensures an even light distribution. Unfortunately I can't find exact info on the duration yet but I have sent an e-mail to Elinchrom so I'll update this if I get a straight answer from them!
Zoom Pro
Zoom Pro HD
NEW: ZOOM function for the halogen lamp.
The ZOOM function is available from the left and right housing side
ZOOM angle 20° to 50°, with 21 cm Reflector // 26141
For 300 W – 650 W halogen lamps.
NEW: Protection glass dome included.
Halogen lamp on/off switch.
NEW: Centred umbrella fitting (7 mm).
Extra umbrella fitting for other umbrella shaft sizes.
NEW: Intelligent low noise fan cooling system. The electronically controlled fan spins slower or faster depending on the internal temperature of the head.
All Elinchrom Reflectors, Softboxes and Umbrellas can be used up to 300 W (Except Portalite Softbox)
All Elinchrom metal Reflectors can be used up to 650 W (Except Snoot Reflector and FibreLight)
Large handle with rubber grip.
Small, robust and lightweight housing.
Multi-Voltage: The SCANLITE Heads can be used with 110 V or 230 V. Only the Halogen lamp and the fuse must apply to the correct voltages and values!