NOTE: Think Tank have now launched a V3 version of this rain cover that is improved in several ways, and also much cheaper, in response to competition in the marketplace. Please head here to get the details about the new Hydrophobia covers, which also now come in an expanded range of sizes to fir DSLR and mirrorless systems.
---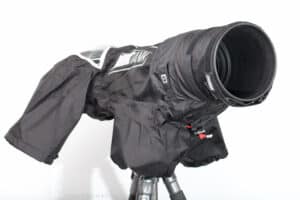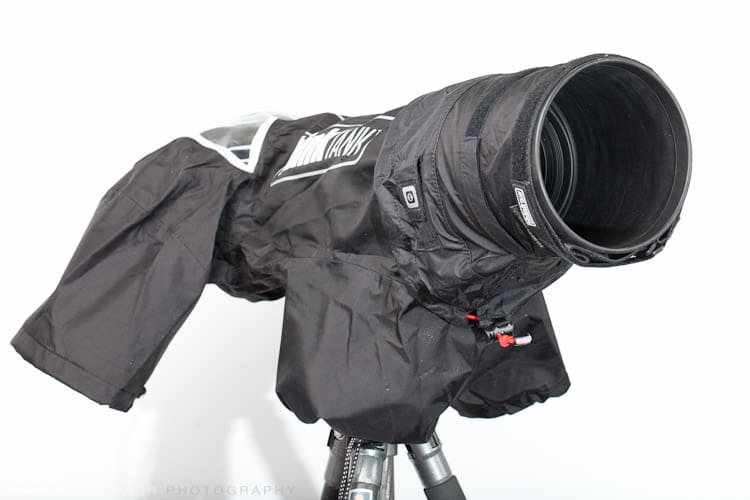 You guys know I'm a big fan of Think Tank's photo accessories and I use several of their solutions on a regular basis for my photography business. Last month I flew to France to cover the 24 Heures Du Mans, arguably the world's greatest motor race. On track activities are spread out across a whole week and at that time of year in Northern France it's hard to go a whole week without some rain. Knowing this , and the fact that I would primarily be shooting with much longer lenses on this particular trip I knew I need to buy a rain cover that would fit my 300mm f2.8 or longer. Think Tank make a smaller rain cover called the Hydrophobia 70-200 which I have reviewed before and found to be an excellent product so it was a no brainer to pick the newer version II of their 300-600 cover for this trip.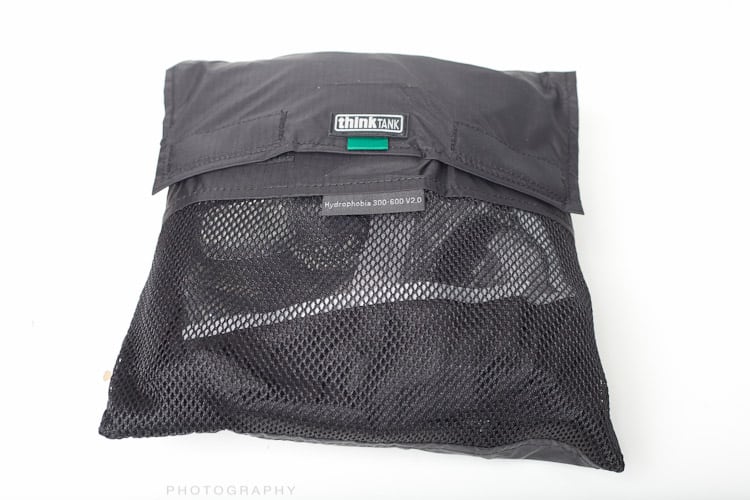 As with it's smaller brother the Hydrophobia 70-200, the 300-600 comes in a mesh bag that allows it to ventilate a little when it's damp. The 70-200 has blue tags and the 300-600 has green tags making it easy to quickly grab the correct one from your gear storage when you are packing your bags.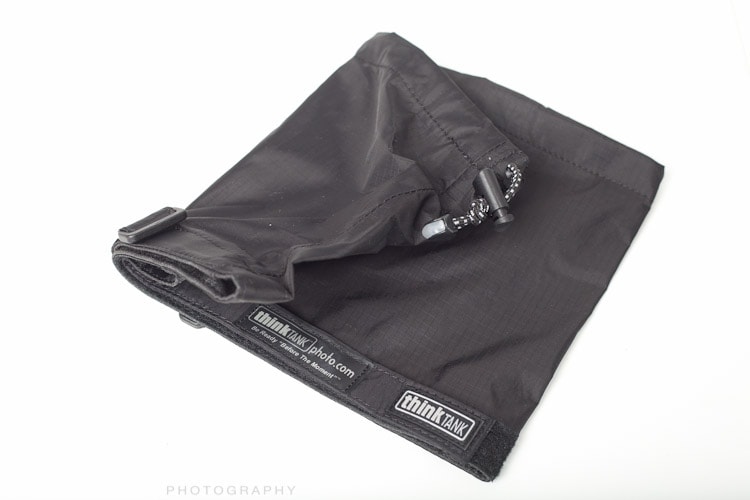 You'll find a couple of accessories in the bag when you open it up. The first one is an extension panel for use with a 600mm lens which uses hook and loop to attach to the main cover.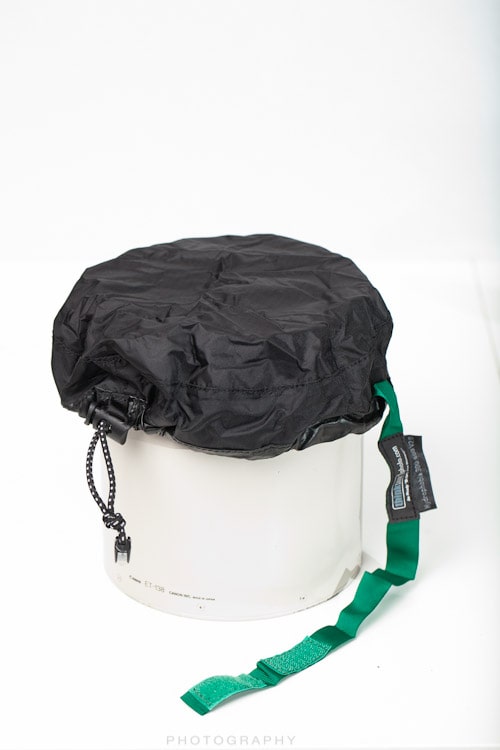 The second is a front lens cover which can be anchored to the main cover. Again green for the 300-600 compared with the blue you'll find on the 70-200 version. Here shown on the lens hood of a Canon 500mm f4 L IS.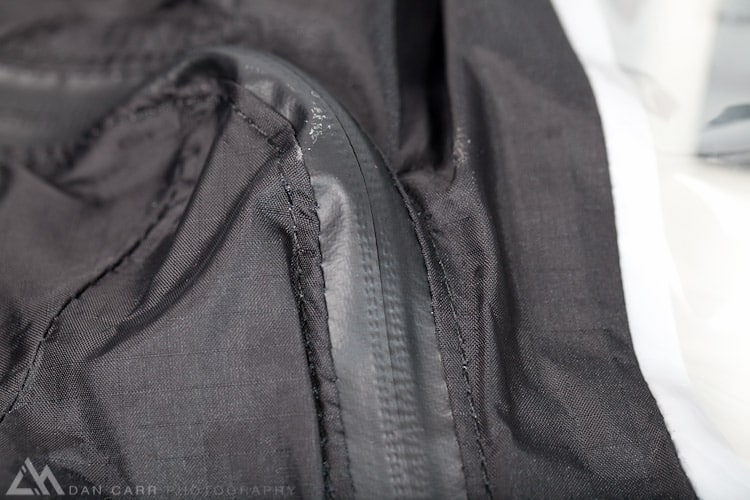 The zippers are seam sealed, just as you would find on high end waterproof clothing.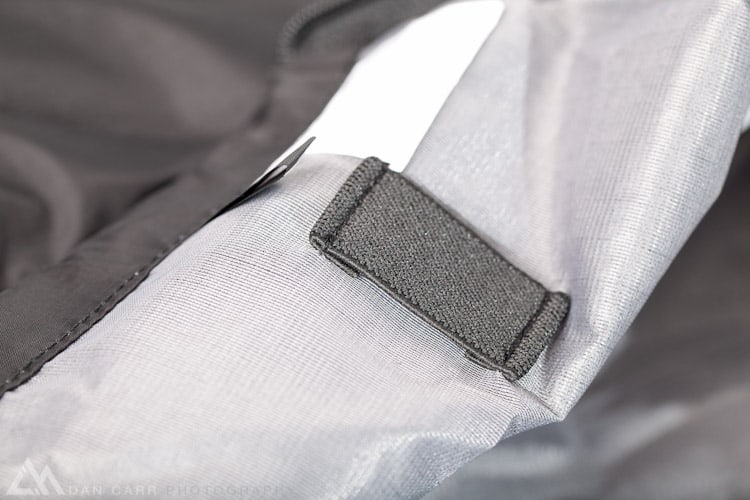 Hidden under the cover is an elastic strap which is designed to secure your camera's shoulder strap. The Hydrophobia 300-600 is deigned to be used in conjunction with either a monopod or a tripod so you don't need your shoulder strap. Nobody is going to be hauling a 500mm lens on their shoulder strap! The problem I had here was that the elastic loop is designed with Think Tank's own optional shoulder strap in mind which is much thinner than any other strap I've seen. Standard Canon shoulder straps or wider, more padded straps like my own OpTech straps do not fit in this elastic loop so it's of limited use.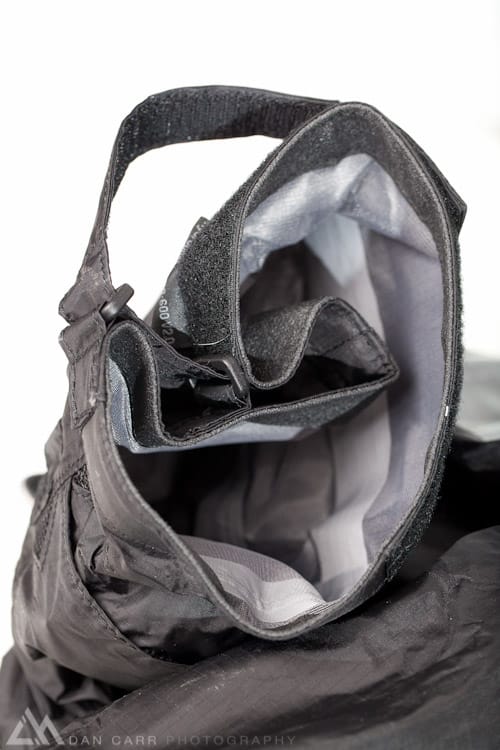 The open end of the cover is highly adjustable to accommodate the varying width of the lens hoods from 300mm to 600mm. A strip of rougher material around the front stops the whole cover from rotating when in use. Simple but very effective.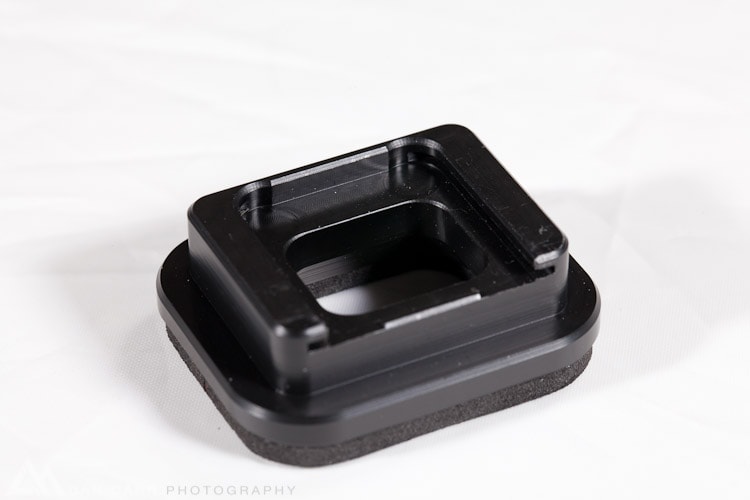 Eye pieces are sold separately due to the necessity to have different ones for different cameras. They are a mandatory addition though and unfortunately cost $35 a piece.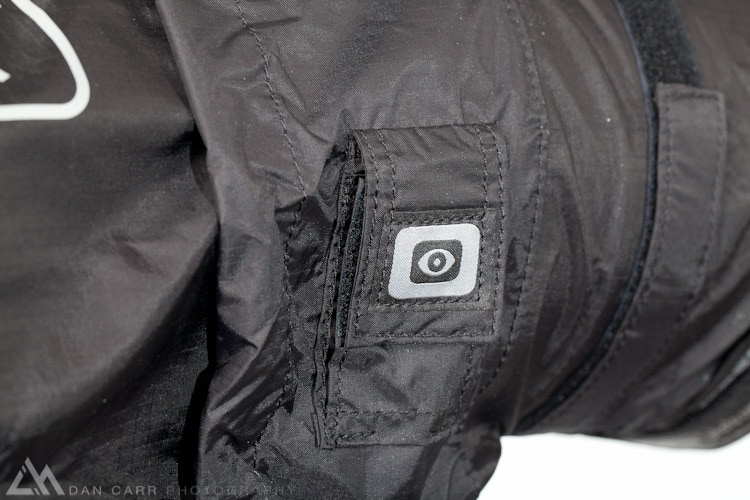 A small pocket on the side is designed to hold your camera's eye piece when you have replaced it with the necessary Think Tank one needed to work with the cover. When you pack it away after use you can store the special eye piece here so you know you'll have it when you need it.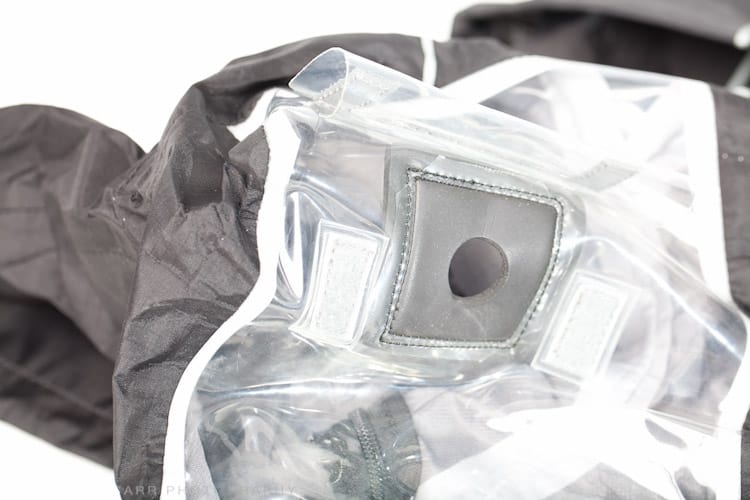 The eye piece pokes through this rubber hole to form a tight waterproof seal.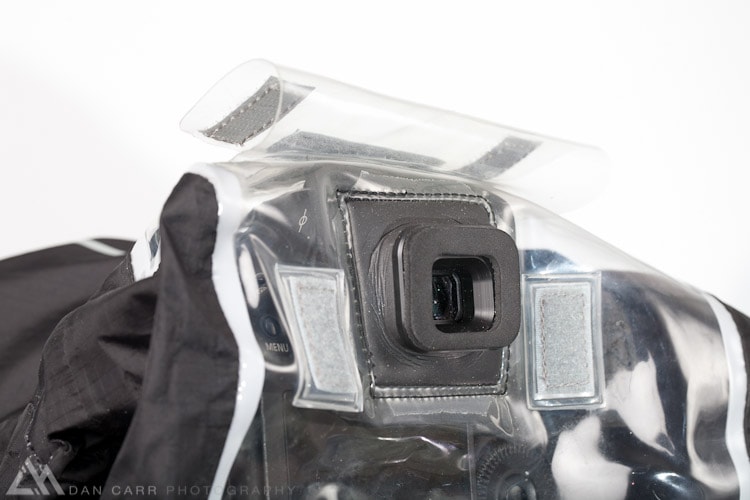 When the camera is not in use a further plastic cover folds down to protect the eye piece.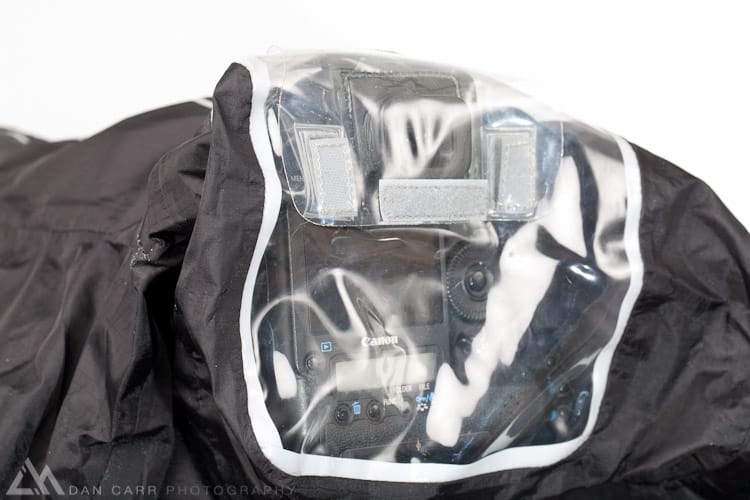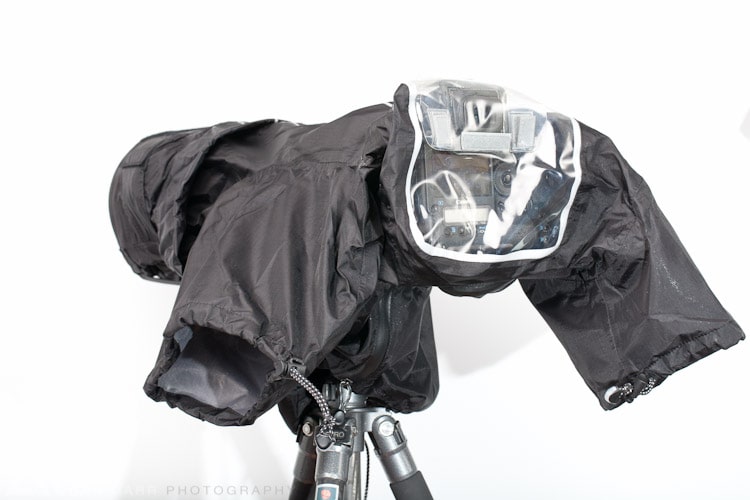 Access to the camera is easy from the right hand side and you can get a hand on the lens barrel to steady it or focus it from the left hand hole. Elastic draw cords can be tightened around your arms to stop flying rain, snow or dust from getting to the camera.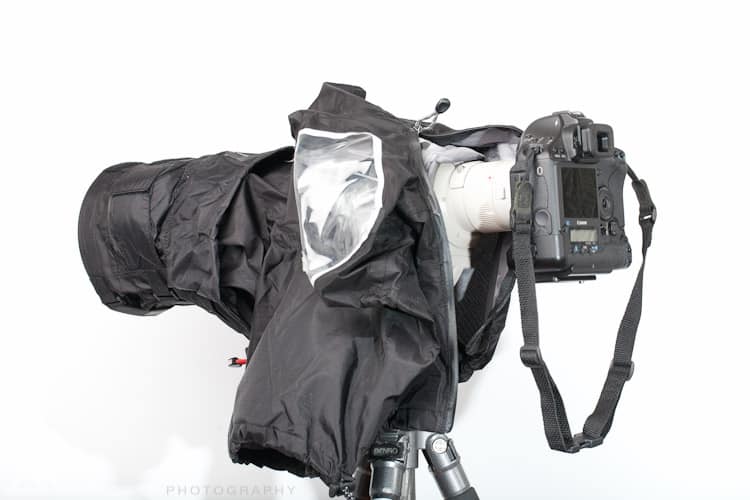 One main zipper runs down the side and under the lens. The resulting large opening makes it quick and easy to take the camera on and off.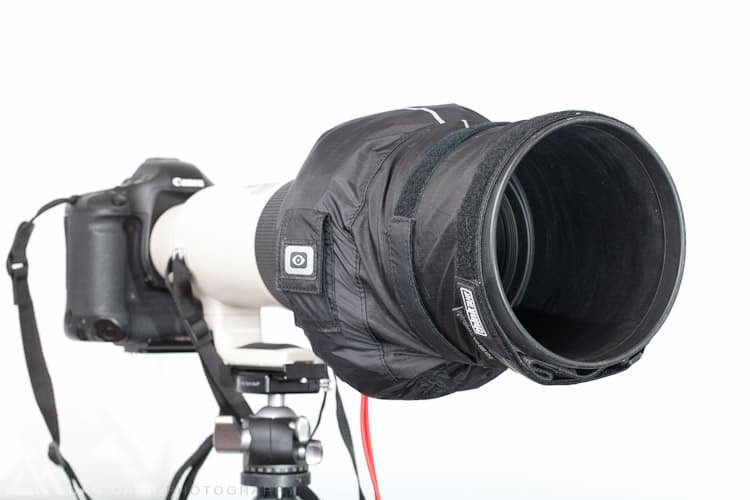 One of my favorite features of the 300-600 is that you can attach the attach it to the front of the lens and then roll the rest of the cover up into itself. This means that the cover can always be ready for deployment. Simply undo the red elastic cord and pull the cover over the top. If a rain shower come unexpectedly while you are on the sidelines, you can have the camera covered in under 30 seconds.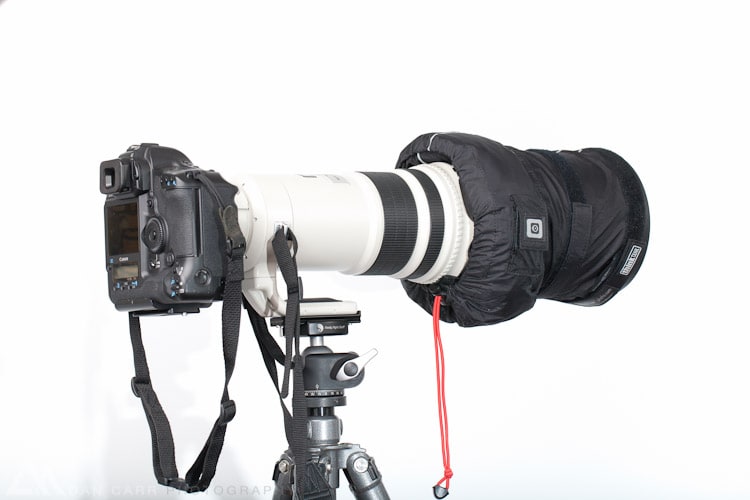 The one problem with this is that the cover obscures the buttons that are found around the end of Canon's super tele lenses. These buttons can have a number of different uses assigned to them such as AF-Start. I personally don't use them , but you have to figure that some people do as they continue to be included in the lens design.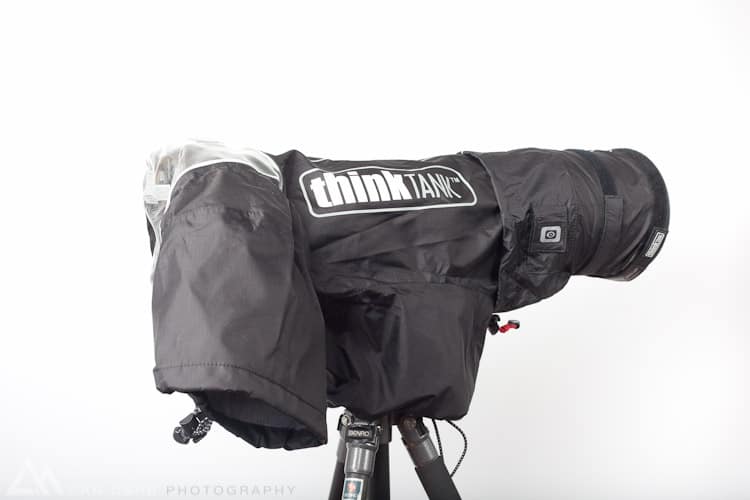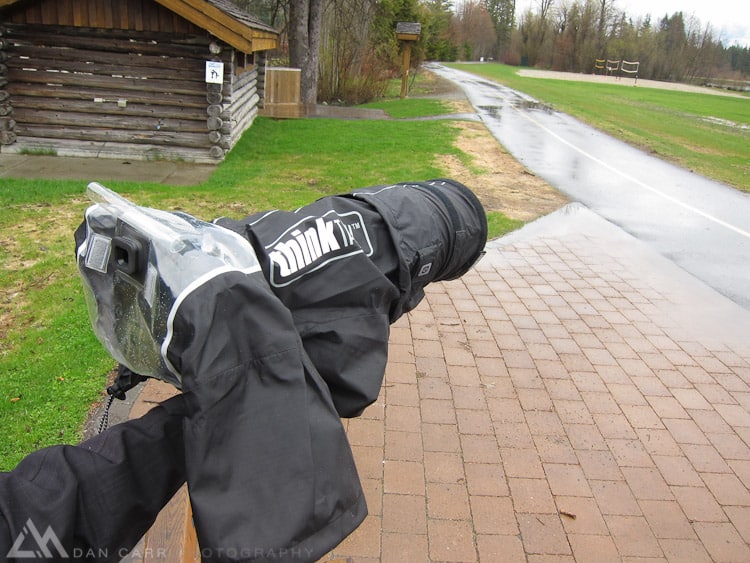 Since buying this cover about a month ago I've used it for some wildlife shooting and also, as I mentioned at the beginning, a trip to France to shoot some sports. It did end up raining at Le Mans during the race so I was grateful of having this cover with me and it performed just as I hoped it would. The quality of the waterproof materials and the welded seams and seam sealed zippers means that water really doesn't stand a chance at getting to your gear. I found the positioning of the arm holes to be just right and rotation of the camera through 90 degrees to portrait was no problem at all with the cover in place. I did not use the cover with a 600mm lens, only a 500mm and a 300mm but I can't see the experience being any different. I was a bit worried that excess material would get in the way on the 300mm and whilst it wasn't hugely annoying, I wouldn't have minded an extra elastic strap to wrap around the lens barel to secure the excess material with the 300mm. Think Tank used to have a cover for remote cameras called the Remote Control 10 which is now sadly discontinued. I own one and find it very useful so not sure why they stopped making it but it had such an elastic strap to secure excess materials. A minor quibble though and apart from that and the elastic strap being too small to hold my shoulder strap it's hard to fault the overall design of the cover. Considering the quality of the seam welding and the of the materials itself I find the pricing to be just right but as with my 70-200 review I do have to inject a complaint about the price of the custom eye pieces. At $35 a piece it seems like robbery to me , especially of you need a couple for 2 different cameras. It seems uncharacteristic of Think Tank because whilst a lot of their stuff is priced on the high end, I find it to all be well worth the price as soon as you hold the product, let alone use it. These eye pieces though are simple pieces of molded plastic with foam stuck to them. On two of the three I own, the foam isn't even stuck on straight and is threatening to peel off and they aren't made to the tolerances I would expect from Think Tank products. Two similar ones I have for Canon 1 series cameras have a completely different fit when you try them on the same camera. For $1 more than the price of an eye piece you can get a Skin series 75 Pop Down bag. I own the Skin 75 and it's a hell of a useful bag with all manner of features. It's just not right that it's $36 and the eye pieces are $35.
Overall though I'm very happy with the cover, it does the job it's supposed to and I'm sure it's going to stand up to plenty of use. If you get both Hydrophobias then at least you won't need to buy two full sets of eye pieces so you can save a little money that way!
Get a FREE bag from Think Tank!
If you spend more than $50 in the Think Tank online store by clicking through the links on this page, or this one HERE then you will be able to select a free product (from a selection of 4 or 5) at the time of checkout.