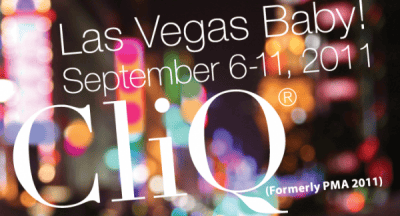 The re-branded PMA trade show Cliq, the largest photo trade show on the 2011 calendar, has been cancelled and moved alongside CES in January 2012 in Las Vegas.
PRESS RELEASE
PMA and CES announce colocation at 2012 International CES
JACKSON, Mich. – The Photo Marketing Association International (PMA) today announced a partnership agreement with the Consumer Electronics Association (CEA), owner and producer of the International CES, to move the September 2011 PMA International Convention and Trade Show (aka CliQ 2011) to colocate at the 2012 International CES, scheduled for January 10-13 in Las Vegas.  ??PMA@CES will offer industry-specific content and display products representing all aspects of digital imaging. PMA will also offer its well-known educational seminars, complementing and enhancing CES programming.
"PMA colocation with CES creates a great opportunity for our combined audiences to learn from each other, grow, and take full advantage of the integration and connectivity of personal content (in the form of digital photography) and home entertainment," notes Ted Fox, executive director, PMA. "This convergence will expand with continued enhancements to camera phones and tablets."
"This collaboration will significantly enhance the 2012 International CES digital imaging product offerings for our retail and other audiences," says Gary Shapiro, president and CEO, CEA. "Technology is speeding the rapid convergence of digital photography and home entertainment systems. The breadth and scope of digital imaging product offerings that PMA will now bring to CES will complement and further expand the extensive growth of CES in this product category."
According to Fox, "Our agreement [with CES] is an excellent example of two trade associations coming together to constructively and proactively address challenges and provide new opportunities."
PMA@CES will be located at the Sands/Venetian and will be sponsored by PMA.