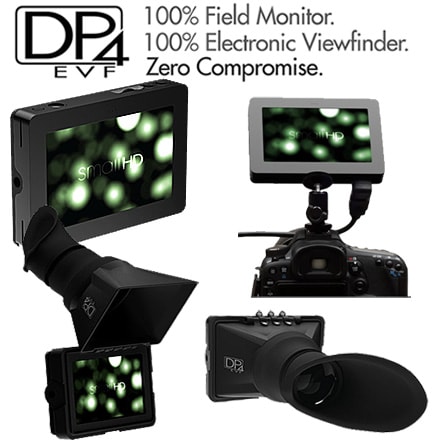 The guys from Small HD have produced some great looking LCD screens over the last few years and at NAB 2011 they bought an interesting addition to their lineup, the DP4.  The DP4 is a 4.3″ LCD screen that can be used with the additional eye piece to create an EVF similar in function the Zacuto EVF that I previously posted about.  It features all the necessary functions such as peaking, zebra stripes and full screen scaling to ensure that DSLR output signals are filling the screen entirely.
From the Small HD website:
Each DP4 Field Monitor Ships With:
LP-E6 Battery Plate
Ball MountSun
Hood
Screen Protector
US Power Supply
DSLR Scale
Larger Image: Scales DSLR Image up to provide a larger 16:9 image than current 5-inch monitors will provide.
Sharper Image: Uses full resolution of monitor for image from DSLRs, no black pillarbox
Accurate Guides: Full Screen Scale means Frame Guides that actually work when shooting with DSLRs
Adapts to Change: Compensates for Resolution Switching found on the Canon 5D, 60D, and T2i.
Superior Compatibility
Inputs include HDMI, Component (YPbPr) and Composite (CVBS)
Capable of displaying 1080p signals: Ideal for RED,Sony NEX FS 100, KiPro, NanoFlash, etc.
HDMI Pass-Through
Run a second monitor via the DP4's HDMI passthough output
Superior Power Options
Variety of Dual DV battery plates provide extended run-time
Professional Locking-Connector Power Plate
Headphone Output
Monitor incoming audio transmitted via HDMI
Future Proof
Field-updatable firmware from USB thumbdrive
Purpose Built Optics for DP4's 4.3-inch Screen
Doubles as a useful Field Monitor
2 X More Screen Area than on 3.2-inch EVF Screens
Rugged Aluminum + ABS Construction
Stands up to the rigors of the high-end production
Hinging Viewfinder/Loupe uses Magnetic Locks to stay in position