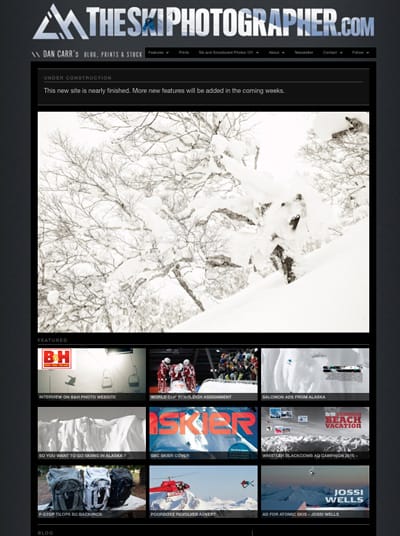 IMPORTANT UPDATE: If you looked at the site in the last week with Internet Explorer it will have been broken and look a total mess.  The problem has now been fixed , please try again!
Over the last couple of years my website has expanded from a simple portfolio site, to a ski photography blog/site and then further into other realms of photography. I want to take this opportunity to thanks everyone that reads my posts on a regular basis. I can't believe that there are thousands upon thousands of you every day, it's quite overwhelming !
In the last 6 months or so this site here has taken on a more general photography blogging role as I explore the things that interest me in the industry. While my main professional job is a ski photographer , I know many people started reading this blog to hear about my latest work and travels to the snowy parts of the world. Since that content was beginning to get slightly swamped with all the other photography postings on this site, I decided to create a new site. Enter www.theskiphotographer.com
This new site is currently about 90% complete.  I will be adding an archive and a newsletter among other things, but I wanted to show you guys the site as it stands and ask that you take a look around and if you see something that is not quite right then please do let me know!  This site will now be the home for all of my ski photography stories, tips, work and general blogging about my winter sports work.  There is already new content on there that you will not have seen before ( and some that maybe you have) I hope you like what you see there.  The content on this site (dancarrphotography.com/blog) will not change but winter sports specific things will now appear on the new site.
You can SUBSCRIBE to the RSS feed of The Ski Photographer HERE
Of particular interest to a lot of you will be the extensive gear guide on the new site.
This site will continue to expand discussion on general photographic subjects and equipment reviews and commentary.  Now that I'm splitting things into two I hope to add more about the business of photography on this site too.