Ok lets have some fun this week! What would you like to see from Canon in the 5d MKIII ? I asked myself this question and this is what I came up with.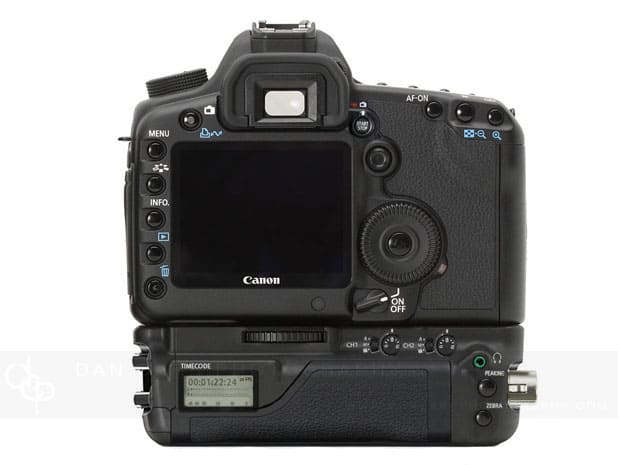 There's no doubt that the 5D MKII was a revolutionary camera both in terms of it's video capabilities and also it's full frame still image quality at a much more affordable price than then 1DS MKIII. I have no official information on 1DS sales figures but it's pretty safe to assume they took a huge hit with the 5D MKII's introduction, to the point where the ever squeaky rumor mill is now suggesting that the the 1DS MKIV might never come to light. If Canon were keeping to historical time lines we would have already seen it by now.
I should note at this point that this is all 100% speculation on my part. I am not privy to any inside information whatsoever and the photo of the 5D MKIII above IS a photoshop mock up, purely of what I would like to see.
Two things I'm confident about though is that Canon is working on two cameras right now that have a good chance of coming to light in 2011. Indie film makers are clamoring for a solution from Canon that has a more video friendly form factor and I suspect that this camera will not offer a full frame sensor because APS-C sensors like the one found in the 7D are actually much closer to Super 35 size than a 35mm still frame is. Even the new Zeiss LWZ.2 will not work with a full frame camera so to avoid complications with the existing cine lenses out there it makes much more sense that this camera will use a smaller sensor.
But I don't want to dwell on the possibilities of that camera for the moment because we are here to discuss the other camera that Canon is surely working right now, the 5D MKIII. This one will never be anything but full frame and likely in the 29MP range for still images. But what sort of form factor will this camera take on ? Canon has to hit two targets with this camera, the stills crowd and then the video shooters who are using Canon (and other) lenses. The stills photographers, myself included, will not want to deviate from the tried and tested form factors that most current Canon bodies are based around. But even if Canon does release a separate video camera, there will always be those that want to shoot full frame video with this camera and they are demanding a feature list that is hard to fit into such a form factor. One possible solution is in my 5D MKIII mock up. This is what I would like to see and I don't doubt that others will have varying opinions on the usefulness of this setup but bear with me and let me explain……..
In this mockup the camera body is not altered all that much from the current MKII, but adds a dedicated video switch similar to the 7D. I have shot with both the 1D MKIV and the 7D and I much prefer the 7D implementation of liveview and video record button. This means that for those people that want to buy the MKIII for still shooting, the experience is not compromised by lots of video features that they have no desire for. It would work just as any other Canon camera they have ever had.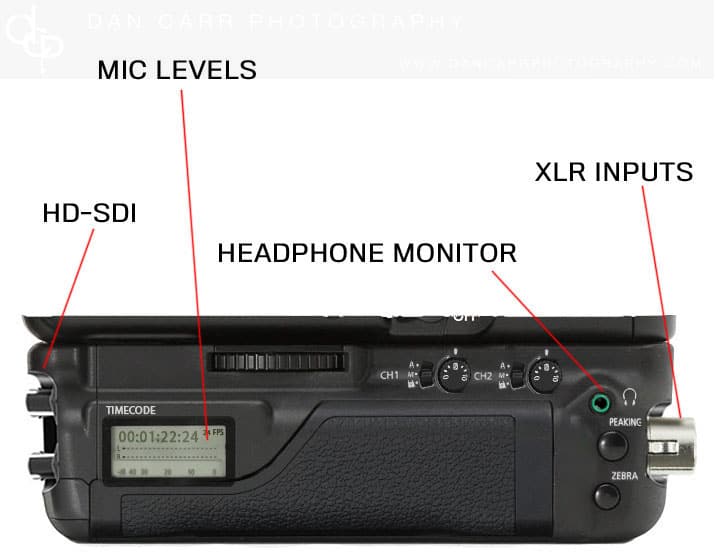 People wishing to shoot professional productions with the camera are looking to have XLR inputs for mics and BNC connectors for HD-SDI outputs for monitors. Why not incorporate all these features into a modular element that can be mounted onto the bottom of the 5d MKII ? We are quite happy attaching XLR inputs to the bottom in the form of Beachtek or Juicedlink boxes, so why not have something purposely designed by Canon for the same solution? It could also feature a dedicated LCD for mic levels and timecode as well as pass through to sync timecode with other cameras. The compactness of the 5d MKII was often ruined by the need to attach so many different additional boxes to it. XLR inputs with microphone levels, powered HDMI splitters and HD-SDI converters etc. A tailor made solution like this would keep the size of the rigs down and allow the camera to be used even more in situations where small size matters. The 5d MKII first made it's way into Hollywood being used as fight cams mounted to helmets and jammed into other small spaces where big cine rigs could simply not go. If Canon do make a video solution with a more cine friendly form factor it will probably be much larger and designed purely for life on a tripod. Having a modular solution like this 5D MKIII mock up ensures that there is still a niche for a very small and very high quality video camera too.
I'm very much approaching this as a stills photographer who occasionally makes a video so I don't want to see the stills camera compromised but would also like pro video features available in a simpler manner. What do you guys think ? What would you like to see ? Remember this is just a bit of fun though!