I have a new limited edition print available so I thought I would post up some shots of one already printed up and framed.  This is a photo of Austin Ross skiing across a fallen tree in Whistler, BC.
This example is printed at 24″ x 16″ on archival photo rag and then sprayed with an archival spray on top to keep it looking perfect for a very very long time!  The printing is done by a company who I consider to be the best professional printers in Vancouver.  I can ship anywhere and shipping is charged at cost.  If you have a specific image of mine that you would like to have framed then this can also be arranged.  Christmas is on it's way and a nice framed print is always a great gift !  Click through for more pricing information and print options.
You can buy a signed print on it's own in this size for $160 or you can buy it framed, as in the above image for $500.  The framing is customized again by the best framer that I know of.
Giclee Archival Prints
Other sizes of giclee are also available as follows: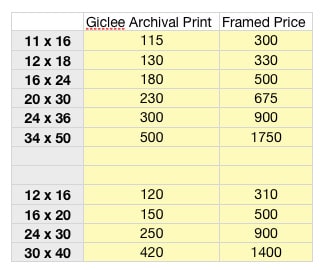 Canvas Prints
There is also the option to print the image onto canvas which I find works very well to bring out textures in black and white tree images like this one.  Canvas prints are available in a few different ways.  Firstly you can purchase the print on its own, rolled up like any other print.  But they are not designed to be put behind glass like giclee prints, instead they are stretched onto a wooden frame and you can hang them straight away.  You can see an example of this below, albeit with a different image.  Stretching the canvas onto the frame is an additional cost and the price is listed below as well.  Once stretched they come ready to hang and they look great, but if you want to go all the way you can get the canvas fitted into a separate sunken wooden frame, again pictured below.  This is a beautiful way to finish things off and works out slightly cheaper than framing into a glass frame.
Print on canvas ans stretched onto wooden frame with black edges
Stretched canvas prints come ready to hang
Or additionally they can then be framed into a further 3/4″ sunken frame
The canvas prints in the sunken frame are a favorite of mine.  They are a very unique way to display an image and the frame can be chosen in almost any color you can imagine.  I will ship anywhere and I charge the shipping at cost.  Prints on their own are sent rolled up in tubes.  Deliveries of framed items is also possible within the sea to sky corridor here in BC.
Canvas Prints