Apple has this morning launched a new Macbook in their lineup, the 11.6″ and  Macbook Air.  The Macbook Air in itself is nothing new, it has been around for for a few years though I have yet to meet anyone that actually uses one.  The similarly sized and better specc'd, cheaper 13″ Macbook Pro was always a no-brainer when choosing between the two.  Apple has addressed this today with the introduction of the smaller 11.6″ Macbook Air.  Much thinner and much smaller than a 13″ Macbook Pro you can begin to see some advantage to this solution if you are really looking to travel as light as possible.  Now I am always looking to shave a pound or two off the weight that I carry when I'm traveling. My camera gear weighs me down big time!  And often when I am away, all I need to do is update the blog, check some e-mail and download and backup memory cards.  I had high hopes for the iPad initially because it could deal with the internet side of that problem, but it failed miserably on the memory card download a backup side of things.  But the new Macbook Air can handle that without issue, 2xUSB ports allow me to connect an external drive and a memory card reader and for my SD cards, the reader is built in to the body.  As Steve Jobs said in the presentation, this is what happens when a Macbook and an iPad hook up!  But there is a lot more to it that simple portability….. read on.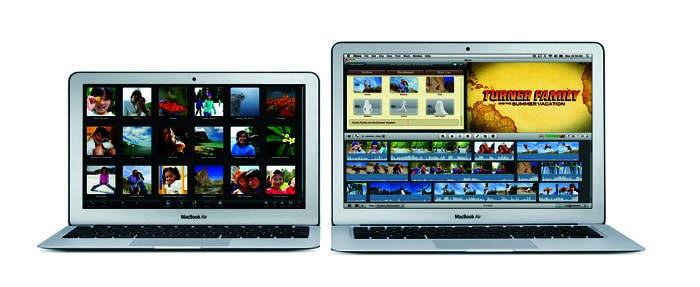 Features
Available today!
11.6″ or 13.3″ screen
Core 2 Duo
NVIDIA GeForce 320
Instant on
Built in SD Card reader
5-7 hours battery life
2xUSB posrt
Fash storage, no hard drives!!!!
0.68″ Thick at its thickest point tapering to 0.11″
1440×900 pixel display! Or 1366 x768 pixels for the 11″
2.3lb 11″ 2.4lb 13″
Up to 4GB of Ram available
The original Air was criticized for being underpowered but this new version goes some way to fixing that problem.  Whilst not quite as fast as the larger Macbook Pro's it is still possible to configure a version that is approaching the speed of my current early 2009 Macbook Pro 15″.  And I have no problems running everything thing I need on that machine. Amazingly the computer runs off a flash storage system and not your typical hard drives.  This difference alone should really help to speed up the computer.  For traveling photographers this is great because it is much faster to read and write and there are no mechanical parts to break in the drive which should lead to dramatically increased durability.  Perfect for people continually on the move.  This also allows the computer to feature their "instant on" feature.  Press the power button and it's on, no booting up!  Some people are going to complain that they are used to having 500gb of storage in their Macbooks and this will mean that external drives are necessary if you want to travel with a huge collection of movies and music but at least this allows you to connect such drives, where the iPad does not.

The Price
A nice surprise here is the price with the base model coming in at $999 for the 11.6″ with 64 gb storage  $1199 for 128GB.  The 13″ comes in at $1299 and $1599.
For $1399 you can up your 11″ specs to include 4GB of Ram and a 1.6 Ghz processor with your 128GB storage option.  Pretty reasonable pricing.
Final thoughts
This wouldn't be a laptop that you want to use if you do a lot of editing on the road.  The screen is very small.  But all I do is backup cards and wait until I'm back at the office to do my editing on a more color accurate monitor.  At more than $800 for the top of the line iPad, personally I would rather spend a little more and have a bit storage space and the usability of a full on computer.   This is their answer and it seems like a great compromise between the two.
I'm not going to run out and buy one just yet……  I'd like to see some speed tests done first, but it's something I will be keeping an eye on.  I wish the processor speed was a little faster and that will limit how much editing you want to do but like I said if you are an edit-on-the-road kind of person this is not for you.  For downloading cards and doing internet things this should be just fine I hope.