The big news of the day is the launch of another camera in Nikons prosumer lineup.  Nikon's popular D90 will live on in its current form, the D7000 is just joining the ranks.  Standout features include dual SD card slots and a 100% viefinder.  At the price point they are aiming it, this will be going head to head with the new Canon 60D.  The 60D has a swivel screen and the D7000 does not, but the D7000 has a 100% viewfinder while the 60D only has 96%.  The 6oD is 18MP and the D7000 is 16MP.  Its going to be tough to chose between the two. UPDATE: Now available for pre-order at Amazon.  And also pre-order from B&H
Main Features:
100% viewfinder
39 Point AF system
Dual SD memory card slots
Magnesium-alloy body
16.2MP CMOS sensor (DX)
Expeed 2
1080 HD video @24p | 720 @30,24,25p ,

640 x 424 pixels at 25/30fps.

20 min video recording
Save images from video
AF during video
Stereo mic input for video
6 fps
Virtual horizon
One touch video and/or live view
Improved ISO range: 100-25600
39 AF points
Wireless flash
Weather proof
New battery system
Expected price: $1199 for body only and it will be ready to ship in October
More photos and full press release after the break.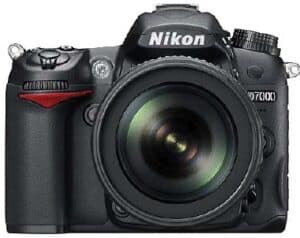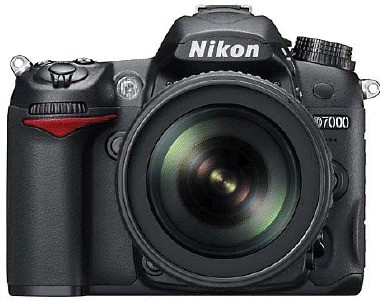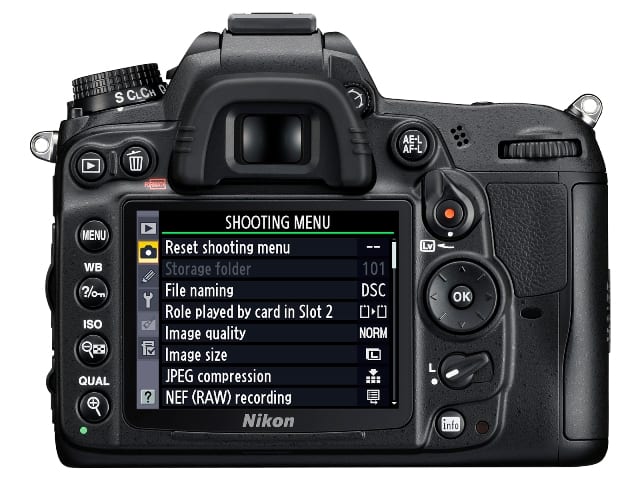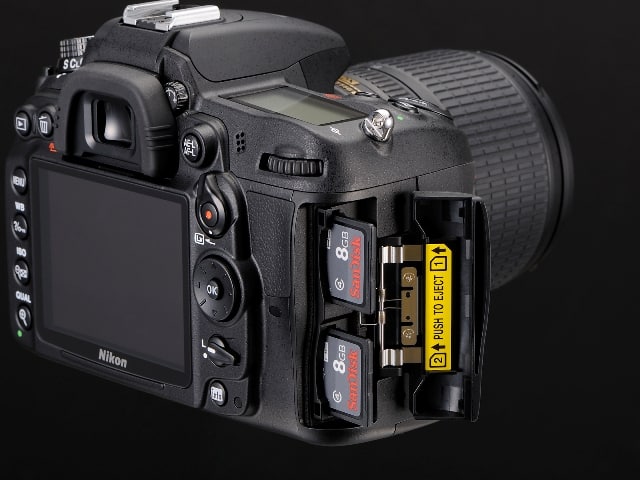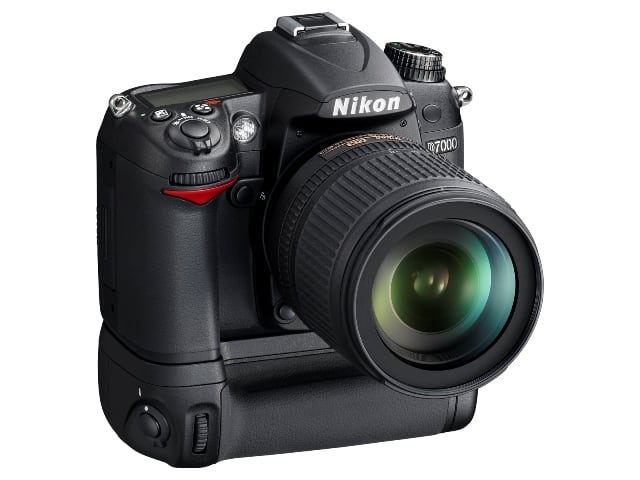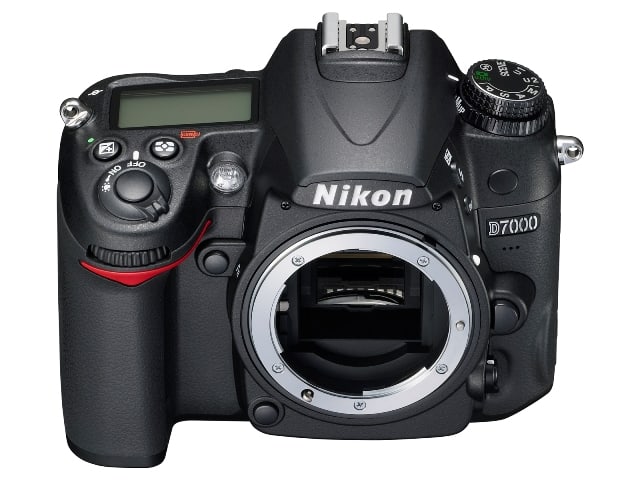 Nikon UK, 15 September, 2010 – Nikon launches the D7000, a D-SLR that offers exceptional image quality, reliability and performance packed into a durable and portable body.
Jordi Brinkman, Product Manager for Nikon Europe, says: "The exciting new D7000 is the ideal next camera for D-SLR owners who want to further indulge their passion for photography with a camera that boasts more advanced features providing creative power. It has a new image sensor, EXPEED 2, AF system and metering sensor to ensure great performance in a highly durable body. In fact, it has everything you need in your next SLR but in a size you wouldn't expect."
Exceptional image quality
The D7000 includes a range of new features to ensure superior image quality including 16.2 effective megapixels with the newly developed Nikon DX format CMOS image sensor. The camera boasts a new image-processing engine, EXPEED 2, which delivers higher image quality, higher speed processing and multiple functions with more power. And the D7000's increased ISO sensitivity (100-6400, extendable up to 25600) ensures exceptional detail with minimal noise when capturing fast moving subjects or in poor light situations, even without the flash.
Outstanding reliability
The D7000's bright Glass Pentaprism Viewfinder with approximate 100% frame coverage and 0.94x magnification gives you the most precise view and focus of any scene, and it is always ready when you are with a shutter speed of 1/8000s, tested to 150,000 cycles. What is more, the camera is protected by magnesium alloy top and rear covers and has durable sealing against dust and moisture so it is prepared for even the most testing of situations.
When it comes to storage, the D7000 again provides you with maximum reliability. The twin SD memory card slots allow for added storage capacity and give you the freedom to manage your images and video in the way you want to either by saving more of them, keeping different formats separate or always having backup space when you need it.
Enhanced performance
The D7000's newly developed AF system featuring 39 focus points, including 9 cross-type sensors in the centre, gives you the sharpest focus, no matter where your subject is in the frame. And with Nikon's new 2,016 pixel RGB metering sensor to enhance the effectiveness of the Scene Recognition System, plus High Speed Continuous shooting capability at 6FPS, you can be sure to capture incredibly accurate, high-quality images every time.

Full-HD D-Movie with AF-F mode
The D7000 has direct access to a movie record button so you can capture footage in full HD (1080p) with greater ease. The AF-F gives continuous focus during movie recording, which is captured using MPEG4 AVC/H.264 compression, and has a stereo microphone jack for quality sound recording. This means superior image quality and operability when using the D-Movie function.
The D7000s built-in movie editing functions also give you the freedom to chose the start and end points of your footage and switch to selected frames for capturing still images without relying on a computer – letting you edit and share your films quickly and easily.
Optional accessories
Nikon is also launching the new Speedlight SB-700, a feature-packed yet easy-to-use flash unit. The SB-700 offers lighting benefits that greatly surpass the camera onboard flash, allowing total control over scene or subject lighting to create beautiful, professional looking results.
To guarantee great performance for longer, the D7000 also has a dedicated Multi-Power Battery Pack MB-D11 (optional) that enables seamless switching of power supply with the in-camera battery, vertical shooting and further stabilizes the body when using a long telephoto lens.
The D7000 is compatible with the GP-1 GPS (Global Positioning System) unit which records location information in the image file and of course, the camera supports a wide variety of NIKKOR lenses.
Key features:
Nikon DX-format, newly developed 16.2MP CMOS sensor: with expanded sensitivity range, this high-pixel sensor offers outstanding colour and detail for both pictures and movie
New EXPEED 2 image processing: achieves higher image quality, higher speed processing and multiple functions, with lower energy consumption
High ISO (100-6400, extendable up to 25600) sensitivity: offers low noise whilst still providing extremely sharp detail
New 2,016-pixel RGB metering sensor: the high-pixel RGB sensor will enhance the effectiveness of the Scene Recognition System for high-quality images every time
Newly developed AF system featuring 39 focus points including 9 cross-type sensors in the center: delivers superior subject acquisition and tracking performance, so you can achieve the right focus no matter where your subject is on the screen
Glass Pentaprism Viewfinder with approx 100% frame coverage and 0.94x magnification: for the most precise view and focus of any scene
High durability with magnesium alloy top and rear, sealing against dust and moisture: allowing you to shoot with confidence even in the toughest conditions
Full HD D-Movie with AF-F modes and in-camera editing functions to choose the start and end points of your movies and save individual frames as still images. It also supports an external microphone input for quality stereo sound recording
HDMI connectivity: so you can view your images or watch your HDTV movies on a full HD television
Easy access Live View with new Contrast-detect AF modes: face detection with contrast AF is faster and more powerful than ever. Up to 35 people can be detected within approx. 0.08 seconds, even if subjects are not directly looking at the camera. Subject Tracking keeps moving subjects in focus. Normal area AF is recommended for pinpoint focus and wide-area AF for handheld shooting
Durable shutter unit with shutter speed up to 1/8,000: proved by 150,000 cycles of shutter-release testing
Twin SD memory card slots: offer more capacity for saving images, more options for organising your images and videos or extra backup so you can manage your images exactly as you want them.
High Speed Continuous shooting at 6FPS: With approx. 0.05-second release time lag and 6 frames-per-second shooting, you won't miss a moment
Extensive playback functions: including 72-thumbnail display, calendar display and image sorting by date
In-camera retouch functions (retouch menu) including movie editing function and new color sketch
Tone and colour control: Picture Controls lets you set the look and mood of your pictures and movies before you shoot
ViewNX 2 free bundled software, will be bundled with the D7000: It inherits the basic operations of ViewNX whilst providing much enhanced operability, including a refined GUI, and a range of easy-to-use features allowing you to edit photos as well as movies
7.5 cm (3-in.) LCD Monitor:, the approximately 920k-dot TFT LCD monitor has a VGA wide-viewing angle (170°) with reinforced glass so you can immediately see your work in detail
Supports a wide variety of NIKKOR lenses
Rechargeable Li-ion Battery EN-EL15 : intelligent power management to give maximum performance with minimized power usage