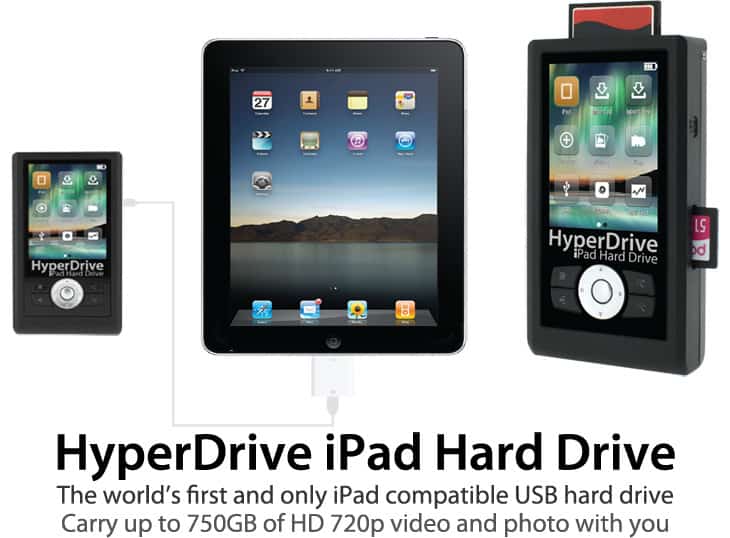 A few months back I wrote an article about how the Aple iPad can be used by photographers. The biggest disadvantage of the iPad has always been it's limited internal storage and inability to connect external drives for additional storage. Today though, Sanho has announced a new version of their excellent Hyperdrive UDMA (which I reviewed last year) which can successfully be used as an external drive on the iPad when connected via the camera connection kit.
This is some pretty huge news for photographers that want to travel with the absolute minimum of gear.  You can download your images from your CF or SD card directly into the Hyperdrive via its own memory card slots, and then transfer them over to the iPad if you need to do anything more with them.  Make small edits, upload to a blog or FTP to a client for example.  It also allows you to carry your full music or movie collection with you for entertainment on the road.  It would seem that files cannot be played or edited from the Hyperdrive, instead they must be transferred over to the iPad first, but this is a big step in the right direction!  Full press release after the break if you want all the details! 
Using the Apple Camera Connection Kit, the iPad is able to connect to SD cards and self-powered USB devices. However there is a size limitation of 32GB, making it impossible for larger USB hard drives to connect to the iPad. HyperDrive iPad Hard Drive overcomes this limit with its unique patent pending ability to turn individual file folders into virtual 32GB drives on the fly that is readable by the iPad.
Users can first transfer their entire movie and photo library, organized into folders on the HyperDrive. They can do so by connecting the HyperDrive to their computer via USB or copy directly from memory cards via HyperDrive's built-in card slots. Once that is done, users will have up to 750GB of media accessible to the iPad anytime.
To transfer media from the HyperDrive to the iPad, users just need to connect the HyperDrive to the iPad via a USB cable and the Apple Camera Connection Kit. Using the HyperDrive's built-in 3.2″ LCD screen, users can select a folder on the HyperDrive, and the folder contents will appear on the iPad screen, giving users the option to chose which media to download to their iPad.
"HyperDrive iPad Hard Drive lets you carry your entire HD movie and photo library with your iPad," says Daniel Chin, President of Sanho Corporation. "HyperDrive is as compact as your portable USB hard drive and yet at capacities up to 750GB, can hold more data than your laptop," he added. "The iPad is the perfect media player but its capacities are limited and it requires a computer and iTunes to transfer media to the iPad," he continued. "HyperDrive releases the iPad from this restriction and truly turns it into a media consuming device," he concludes.
Like its predecessors, HyperDrive iPad Hard Drive is also a memory card backup device capable of downloading data from 12 different types of memory cards in 2 of its built-in card slots at speeds up to 40MB/s (or 2GB/minute). The HyperDrive will be useful for photographers and videographers who want to perform backups in the field or simply capture more photos and videos beyond what their memory cards allow.
HyperDrive iPad Hard Drive also functions as a USB external hard drive when connected to the computer. Its 3.2″ QVGA color LCD screen displays JPEG and RAW images. Other advanced features include memory card data recovery, memory card and hard drive speed tests and diagnostics checks.
Features
– Connects to the iPad to transfer photos, movies and other media
– Connect HyperDrive as a USB hard drive to the computer
– Import any data from memory card directly, without a computer
– Browse through RAW or JPEG photos on built-in 3.2″ color LCD screen
– Image slideshow, R/G/B/L histogram and EXIF display
– Advanced photo browser and file manager
– Manage all files that are stored on the HyperDrive
– Recover deleted, corrupted photos on the memory card
– Perform hard drive and memory card diagnostic checks
– Support multiple partitioned hard drive formats
– Hard drive and memory card benchmark tools
Price and Availability
The HyperDrive COLORSPACE UDMA is available now at the following manufacturer's suggested retail price (120GB:$299, 160GB:$349, 250GB:$399, 320GB:$449, 500GB:$499, 640GB:$549, 750GB:$599). It is available at http://www.hyperdrive.com/ipad