Last week I posted 10 essentials for the traveling photographer. This week we are moving up the scale a bit to check out some things that you don't necessarily need, but would be awesome to have if you have everything else on the previous list!
1. G-Tech Hard Drives
In the essentials list I put hard drives and recommended the LaCie Rugged drives. If you are going to take a step up though then you have to check out the G-Raid Mini from G-Tech. This tiny enclosure houses 2 hard drives that can be configured in any Raid configuration meaning that with RAID 1 setting you have totally redundant backup of your data without having to worry about manually copying data onto 2 different drives. In this configuration though you should still copy to your laptop internal drive though and store the G-Raid and the laptop in different places just in case one gets stolen if you are flying. But if you travel nationally by car and can always have your gear on you this may not be such a worry to you. The next option is to get a pair of G-Drive mini SSDs. The solid state drives are WAY more expensive than regular drives but being SSDs there is far less to go wrong inside so you can in theory subject them to way more, and they have the added bonus of being much faster than regular mechanical drives!
2. Really Right Stuff TVC-24 Carbon Fiber tripod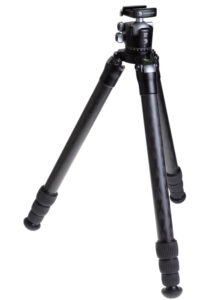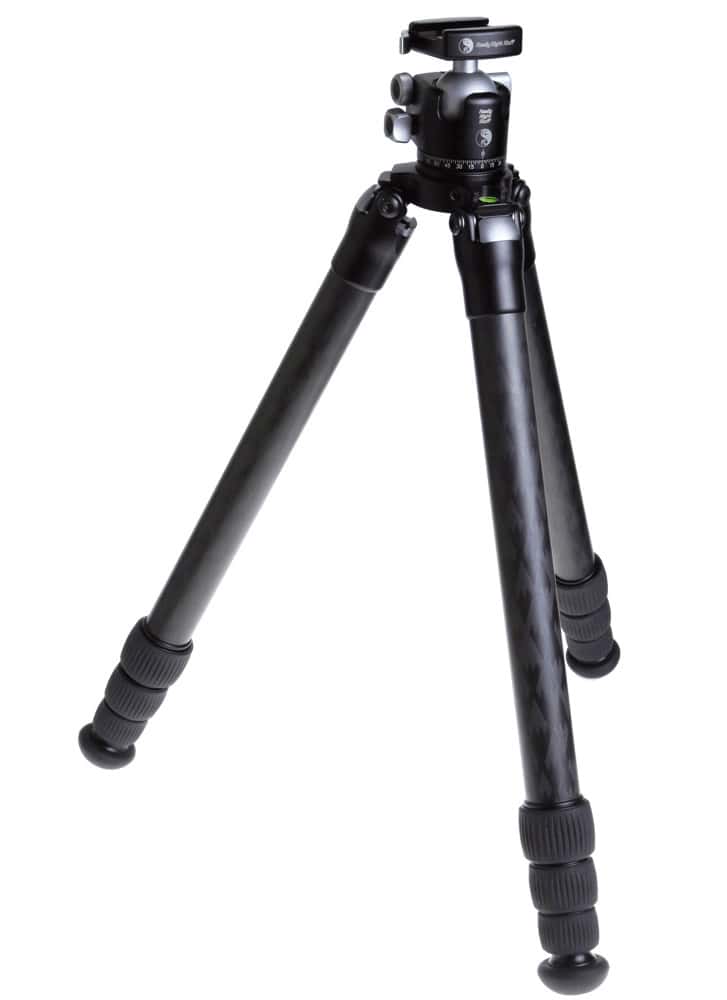 In my opinion Really Right Stuff makes the best camera support gear on the market. I have written before about the awesome BH-40 ballhead and I also have a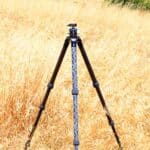 selection of RRS quick release plates on all my long lenses and cameras. At the end of last year RRS released the TVC-33 tripod. A no-nonsense tripod built purely to be the best, with no compromise in the quality of the design or the parts used to construct it. It came at a price though, $925! The TVC-33 though was designed to be paired with the fairly hefty BH-55 ballhead which is not the best option for a traveler due to the weight and bulk. The BH-40 makes much more sense though and just a couple of weeks ago RRS announced the new TVC-24 tripod designed to be the perfect partner to the BH-40. The TVC-24 is lighter than its bigger brother and also has a 4-section leg design making it much more compact when fully closed. Only 18.7″ in length compared with the 26″ of the TVC-33. A much nicer package to travel with. It also carries a very impressive load rating, matching up to a 3 series Gitzo tripod but in a considerably smaller and lighter package. Again the price is high at $910 but with these guys you get what you pay for. This is the tripod you buy once in your career.
3. Apple Airport Express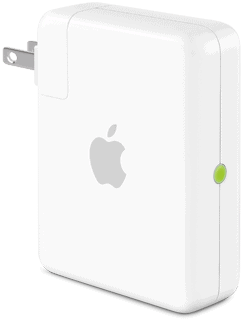 Sick of using hotel room internet chained to the tiny desk with the awkwardly small chair ? For some reason there are still a lot of hotels around the world that insist on using standard network cables to provide you with internet. If you are like me then maybe you prefer to sit on the bed while you check your mail or browse your favorite sites. Well then the Airport Express is for you then. With this little plug in device you can create your own simple wireless network in your hotel room and easily browse the web from the comfort of the bed, or even the bath! If you are sharing a room with someone then you can also both use the same connection simultaneously instead of waiting in line to get the next turn with the blue cable!
4. Hyperdrive Album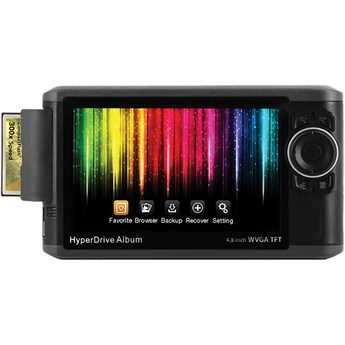 I have an extensive review of the Hyperdrive Colorspace UDMA on my site already but the Hyperdrive Album is an updated version with a new form factor and a much bigger 4.8″ screen. The Album is available in several different drive sizes from 160GB up to 500GB or you can buy the empty case and put whichever drive you want in it. This makes it great for future proofing it as you can upgrade in the future. All the best features of the Colorspace are carried over so you have the ability to recover damaged or deleted photos from your cards as well as checking the integrity of the files as they are copied from your card. Having one of these with you is a great way to backup one set of shots from your trip. When I travel I have one copy of my shots on my laptop and one copy on my Colorspace, but if I was in the market for one I would definitely grab the new larger screened Album version.
5. Hypermac Battery packs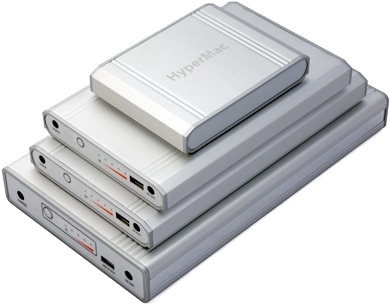 These Hypermac packs are actually from the same company as the above mentioned Hyperdrive. Again they are available in a variety of sizes to suit, and they will give your laptop or USB powered devices a few more hours of juice for those long trips with lots of time in the airport or on planes that do not have built in power to the seats. They will even power your iPad for hours and hours of movie watching. The exact amount of extra powered time you will get depends on the size you get but even the smallest one witll give you 34 hours of power to your iPad and the largest one will even power 17″ macbook pro for 26 hours! They have a use port too so you can charge your iPod or camera while you are using your laptop. Awesome is the word. They even have new smaller versions that are designed specifically to be used with iPhone or iPod.
6. Travel scales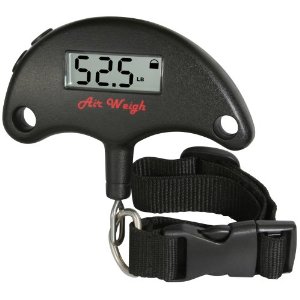 I wasn't sure whether to put this in the essentials section of the luxury. If you are like me then you are always on the borderline of allowable baggage. No matter where I travel I always end up in the terminal next to the check in gate weighing my bags on the scales and trying to balance things out so I don't get charged excess fees. In fact a lot of times I am already committed to the excess fee and am simply trying to get the bags under the maximum allowable weight so they don't have to go as freight. I really need to pick up one of these scales for my home so I can figure it all out before I leave….. There is a huge selection of luggage scales
available from Amazon. All different sizes and styles from portable ones that travel with you, to massive semi-permanent ones to leave in your garage. Very useful if you are packing heavy!
7. Leica M9 + 35mm f1.4 summilux II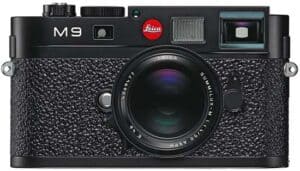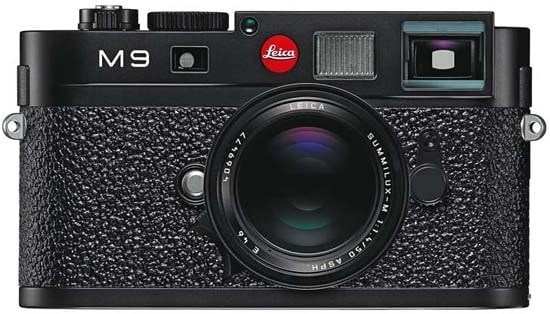 I did say this was a list of luxuries right? For the photographer who already has everything else the Leica M9 must surely be on the bucket buying list. Leica's very first full frame digital camera has been met with nothing but praise from those who test it. Every one of it's 18 megapixels rendered beautifully by the legendary Leica M lenses. To fit a full frame sensor in such a small package is a remarkable achievement and this is what makes it good for people who travel. Its discreet looks and low weight make it an ideal street camera. Combined with the brand new version of the 35mm f1.4 summilux lens you have a lens+camera combination that can capture detail you never thought possible. But it comes at a price! $6995 for the camera another $6000 for the lens!
8. Apple iPad
For the moment I think the iPad must still stay on the luxuries list. I have written before about the potential uses of an iPad for photographers. That article was written in the run up to the launch and since that day there have indeed been many photographers integrating the iPad into their workflow in one way or another. To be honest though, until there is a little more development into some of these applications the main benefits of an iPad are travel related rather than photography related. Being able to carry many travel books, phrase books and guides all in a small package is useful. Not to mention the entertainment provided by the movies and games that are available. The limited storage space on the device is still a problem, but using it as a preview device has some mileage. Mamiya just recently announced their new RZ33 medium format camera for example, and at the same time an iPad application that allows remote viewing of the photos on an iPhone or iPad. This is certainly a potential usage but i'm waiting for some of the larger companies to jump into the arena before I consider it a necessity. In the meantime though, its still an great device to travel with if you need books, music and movies all in one place.
9. HPRC Hard Cases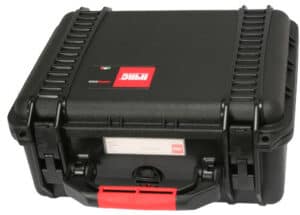 I only recently discovered HPRC cases as they are an Italian company with fewer distributors in N.America than Pelican or other such hard cases. Nonetheless they are now available from some of the larger online photo stores such as B&H photo. Sp what makes these so special then? I often travel with some gear in a pelican case. Sometimes it is unavoidable but it always causes trouble trying to get within weigh limits for airline travel. My Pelican 1610 for example weight 24lbs EMPTY ! And that right there is the main problem I have with the pelican cases, sometimes they are just too heavy. Well the HPRC cases are designed to be up to %25 lighter than equivalent competitors cases. I checked out a few examples on their site and compared them to the Pelican equivalents. Sure enough, every single one of them came in several pounds lighter. But they are still rated to be pretty much indestructible and whats more, they are almost all available with modular camera inserts. Various models have the usual wheels for easier transport and even those ones come in much lighter than other cases on the market. They have a carryon legal wheeled case to rival the Pelican 1510, called the 2550w and they also have carry bags to put the cases into to make them look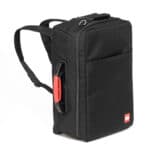 less conspicuous and add shoulder straps to those that have no wheels! This last part is fantastic because a hard case sticks out on a baggage carousel like a sore thumb and can often be a worry for photographers. It looks like it contains expensive gear and for slipping through customs without much hassle I often put a pelican case in a duffel bag. I have nothing to hide of course! But I prefer to get in and out of the airports as quickly as possible. HPRC have this covered though and a multitude of accessories are available for all the cases!
10. Zoom H1 Digital Audio Recorder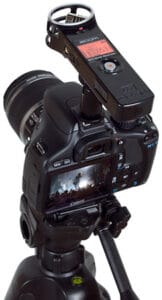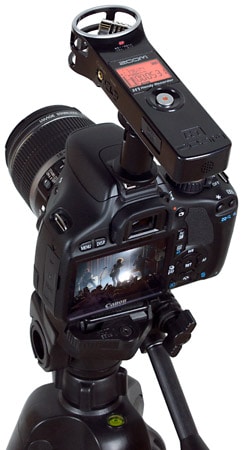 Depending on your exact position in the professional photographic world (if indeed you are professional) this item may soon move from the luxury to the necessary list. More and more photographers are being asked to shoot multimedia assignments for their clients. Video or audio to be combined with image slideshows and interviews are now something that many people need to consider when they are traveling. Audio from built in mics on cameras such as the Canon or Nikon DSLRs is poor at best so a separate audio recorder is the way to go. The brand new Zoom H1 is a perfect pocket sized partner. You can either record stereo audio onto the SD card in the device , or use the stereo mic in the H1 to record a signal straight into your camera. I have written much more about the H1 on my blog before so if this one interests you then check it out.