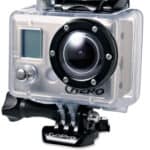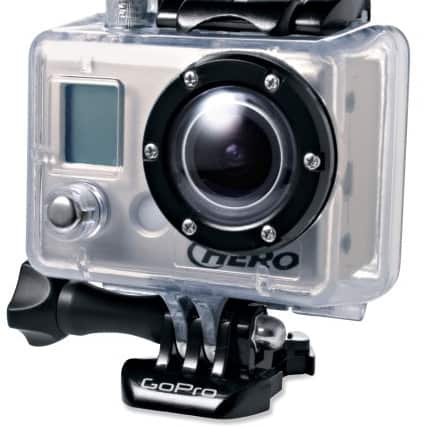 I picked up a HD Helmet HERO
helmet package back in January and have taken it with me in my camera bag for most of the winter. The Hero camera is available in several different packages depending on what you want to document. I picked the Hero Helmet package as I primarily wanted to have it with me when I was skiing. But you can also buy an HD Motorsports Hero if you want to record some laps at your local track day, an HD Surf Hero if you want to show your off your surf skills from your summer holiday. Or simply get the HD Naked Hero which forgoes any possible mounting options and allows you to pick and choose the mounts that best suit you from the web store. All of the packages contain the same GoPro HD HERO Camera
and the fully waterproof housing that you can see in the photo on the left here. On top of that the Helmet package contains multiple methods to attach it to your helmet, and also a head strap that allows you to wear it without a helmet. The Motorsports package contains a large suction mount and several connectors to allow you to easily adjust positioning and the Surf pack contains a much wider and flatter suction mount to stick it to the front of your surfboard. Helmet and Motorsports packages retail for $299.99 while the Surf comes in at only $269.99. Naked is $259.99 and all the mounting options are available separately from the web store.
Out of the box the most impressive thing to begin with is how sturdy the waterproof housing seems. I think it's fair to say that the GoPro's main competitor is the Contour HD which although is fairly weatherproof, does not come with a fully waterproof housing. I wanted something that I could use in the winter and also take surfing in the summer. One small gripe I have with the GoPro housing is that the latch to close it can come off sometimes when you un-clip it, but once its closed and ready to shoot it is very solid and I have no qualms about tossing it into the ocean or strapping to my board while I get pummeled by waves. For engineering simplicity, all the controls are handled by two buttons. One turns the GoPro on and off and the other cycles through menu options and acts as the record button. Whilst the operation of the menus in this way is fairly clunky I can appreciate why it was done on such a small device, but one thing I would really like to see in future updates is to speed up the menu. There is a huge lag between button press and menu action and I often find myself pressing a button a second time thinking that I didn't press it hard enough the first time, only to find it then skips through two menu items.
I found though that the majority of the menu items I set when I first got the camera, and after that the only one that I regularly returned to was the video resolution.
The Hero has 5 resolution settings
1080p = 1920×1080 pixels (16:9), 30 fps, 15 Mbit/s data rate
960p = 1280×960 pixels (4:3), 30 fps, 12 Mbit/s data rate
720p = 1280×720 pixels (16:9), 60 fps, 15 Mbit/s data rate
720p = 1280×720 pixels (16:9), 30 fps, 8 Mbit/s data rate
WVGA = 848×480 pixels (16:9), 60 fps, 8 Mbit/s data rate
I put an 8GB Sandisk SD card in mine and found that it was just about big enough on most days to record in full 1080p without worrying. I would rather shoot in the highest possible resolution and then down-res as necessary when I get home but this is a personal preference. One interesting thing to note though with the Hero is that the 960p setting actually gives you a wider field of view than the other settings. Horizontally it is the same, but the 4:3 aspect ratio shows more vertically. If you have it mounted on your helmet while you are skiing for example, you will see your feet much more easily with the 960p setting although I still preferred the look of the 1080p. Another factor in this decision is that if you are editing your footage afterward, it is much more time consuming and less visually pleasing to mix footage from two aspect ratios into the same video. The video below shows you a quick example of the field of view captured but the GoPro in 960p mode. For people reading the RSS feed please click through to the site in order to see the embedded videos!
960P mode with the GoPro® HD Helmet HERO Camera
If you are shooting short clips of yourself doing something crazy then you might want to switch to 720P mode at 60fps which will allow you to play back the clip as half the regular speed.
Generally speaking the video quality that the camera produces is very impressive in my opinion. When you take the Hero out of the waterproof housing you can really appreciate just how small the camera is. To cram all the functionality into this package is quite an achievement. The best way to see this though is to check out some more footage that I shot. On a trip to Alaska this year I mounted the Hero to a chest mount (available separately from their web store) and captured some shots of what I was doing up there while I shot some stills images for some magazines and other clients. The video has been posted on my site before so some of you may have seen it, but it shows the cameras performance in a variety of lighting situations. Click through to the Vimeo site if you want to watch it in full HD.
1080P mode with the GoPro HD Helmet HERO Camera
http://vimeo.com/10519454


Pretty impressive I think you will agree!
One thing that I did experience problems with was the interior of the housing fogging up around the lens. If you leave the camera switched on for a long period of time, even without recording it gets quite warm. Combined with cold temperatures while skiing and a few times I missed some good shots because I did not realize that it had fogged up. If you put the camera in it's case while you are at home, it worth opening the case at the top of the mountain to equalize the pressures and relative humidity between the outside air and what is inside the case. When I remembered to crack open the case occasionally, and switch it off when not in use, I didn't have any troubles.
Apart from the video settings, the GoPro also has a few bonus tricks up its sleeve. It can be set to take photos up to 1920×1080 px , and even set to shoot a timelapse. In timelapse mode, one photo is captured every 3 seconds and these are all stored in a folder on the card. It does not natively produce a timelapse video, but you can drag the folder of photos into Quicktime Pro and it will create the HD video for you in a matter of a few seconds. Not a function you will probably use very often but for making some quick, fun videos for the internet its a nice feature to have and setting it up only takes a few seconds. The video below is a timelapse I captured in this manner in a Restaurant in Japan earlier in the winter. You can see that the camera struggled with the white balance (but even my $5000 canon camera struggles with that sometimes) and occasionally flickering of the exposure signals some confusion caused by the number of interior lights, but overall it did OK in a demanding situation.
Timelapse with the GoPro Hero HD
Conclusion
I purchased this camera with a very open mind and fairly low expectations of the video quality but it has far exceeded my expectations and I find myself grabbing the camera all the time. While traveling around Japan earlier in the winter I would often take it out of its waterproof casing and slip it in my pocket in place of my point and shoot camera to capture some fun videos to remember my trip by. I ended up shooting more than 100GB of video with it on that trip!! In some scenarios is certainly has uses in the professional video field. I know many of the top ski and snowboard film makers have been using them extensively this past winter to capture helmet mounted shots for their movies and in that sort of capacity its well worth the money. I would even go so far as to recommend it to someone who needs to travel light but wants to capture some video on a backpacking trip or something similar, it really is a fun little camera to have around and you barely notice its in your bag. On the back
Positive points
Price , starting at $259.99 I think it is great value
Size , decently small package
Large assortment of attachment options
Video quality is excellent for such a small sensor
60fps slow motion is nice to have
Expansion port on the back leaves room for upcoming accessories like a screen and a remote control!!
Negative points
Slow and clunky menu system
Needs an anti-fogging coating inside the housing
Housing closure clip can come loose when the housing is not closed
Video files need converting from h.264 codec for video editing
My Score : 8/10