Ever find yourself skiing,snowboarding or biking with a 40lb pack? Chances are your bag is full of speedlights, cameras and lenses with 4 lightstands hanging off the side just waiting to crack you in the side of the head at every turn.
This winter when I started to slimline my gear a bit in an effort to save my back, I decided that i needed to find some super lightweight lightstand solutions. I tried out some $10 tripods from ebay, you know the ones, shiny and silver , made from 1/2 mm think aluminum. Lightweight they are, but they are still too bulky if you have a few of them.
In the end, the solution was pretty simple. Why take a stand at all if I already have skis and ski poles (or bike handlebars and tree branches depending on the season). All I needed was find a way of attaching the flash to my ski tip or ski pole and then I can just stick that wherever I want.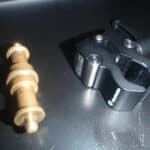 Enter the Manfrotto 386B Nano Clamp. Most photographers are familiar with the ubiqutous Manfrotto Superclamp. This thing is bombproof and very sturdy but also far too big and heavy to be considered portable. Last year Manfrotto came out with it's little brother, the 386B. It only weighs 110g but is rated to hold 4kg and it fits in the palm of your hand. On one side of the clamp is two threaded holes, 3/8 and 1/4. Then all you need to buy is a camera stud or spigot like this one. Having both 3/8 and 1/4 threads on it gives you some flexibility in what you attach.
If you carry 3 or4 lightstands, I wouldn't necessarily replace all of them with these. But you could almost certainly replace 2 of them. The 386B clamp is extremely solid and well made (hence the slightly high price) but it will easily hold a couple of flashes. For more flexibility you could also add a very small ballhead onto the stud to help with aiming the flashes.