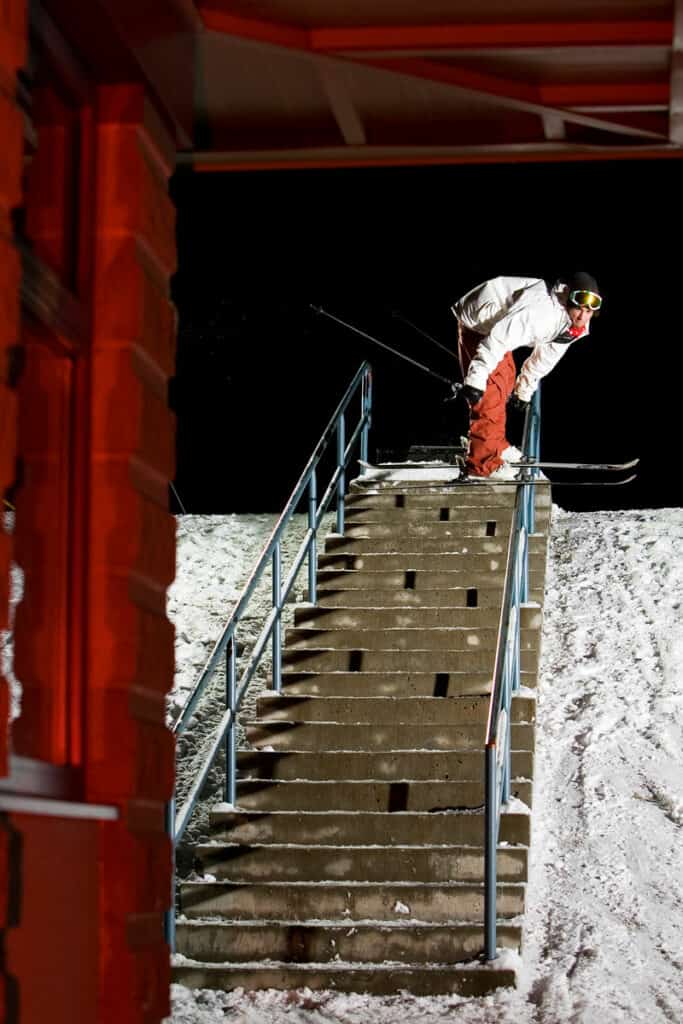 This is my favourite shot from an urban ski filming trip one winter in British Columbia when a large part of my business was still providing content for the world's skiing magazines. For a while I struggled to find a good angle to make an interesting shot at this location. There was nothing on either side of the rail to use for composition and I was disappointed with the shots for the first half hour. Then I decided to get right up against a wall in front if the rail to add some depth to shot using this common layering technique….. looking better, but still not quite right.
After a couple of shots like that it still needed something extra. I grabbed a red gel and fitted it to a Canon flash, and then I placed it in the camera's hot shoe and angled it towards the wall. I plugged my Pocketwizard flash trigger into the PC socket on the side of the camera because previously it had been in the hot shoe that was now needed for the Canon flash.
I chose red because it matched the colour of the skier's pants, but I can imagine that several other colours would have worked very well, too. The thing about gels is that they are cheap, and easy to take with you on every photoshoot because they weight next to nothing. If you use flash in ANY WAY, you owe it to yourself to have these in you bag just in case. You probably won't use them too often, but when you do find the right time, it'll really make your images stand out.
Flash Setup
Lighting was from three sources. On camera flash with red gel pointing at the wall. Elinchrom Ranger at full power about 10ft to camera right and 2x Vivitar 285s on full power at the top of the rail just off to the left hidden by the wall (shown in photo below). Remote flashes triggered with Pocketwizards.
The Elinchrom Ranger served as the key light which lit the majority of the scene with its much larger 1200w/s power pack. The two smaller Vivitar flashes at the top served as a rim light to light the side of the rail and the back of the skier. A rim light adds a bright line to the edge of your subject to help pick it out from a darker background.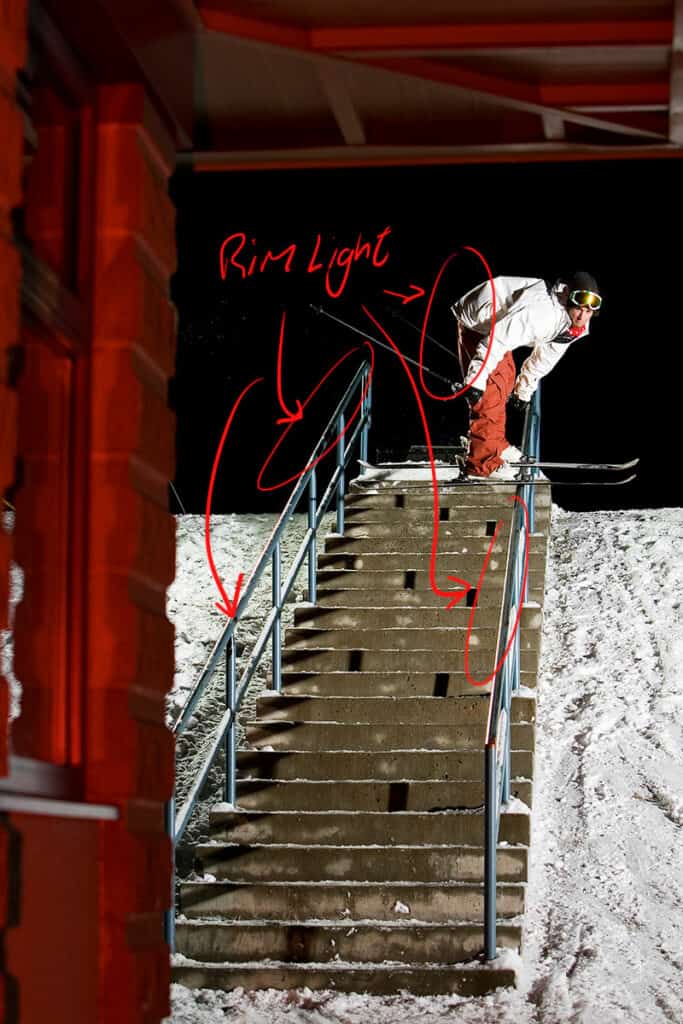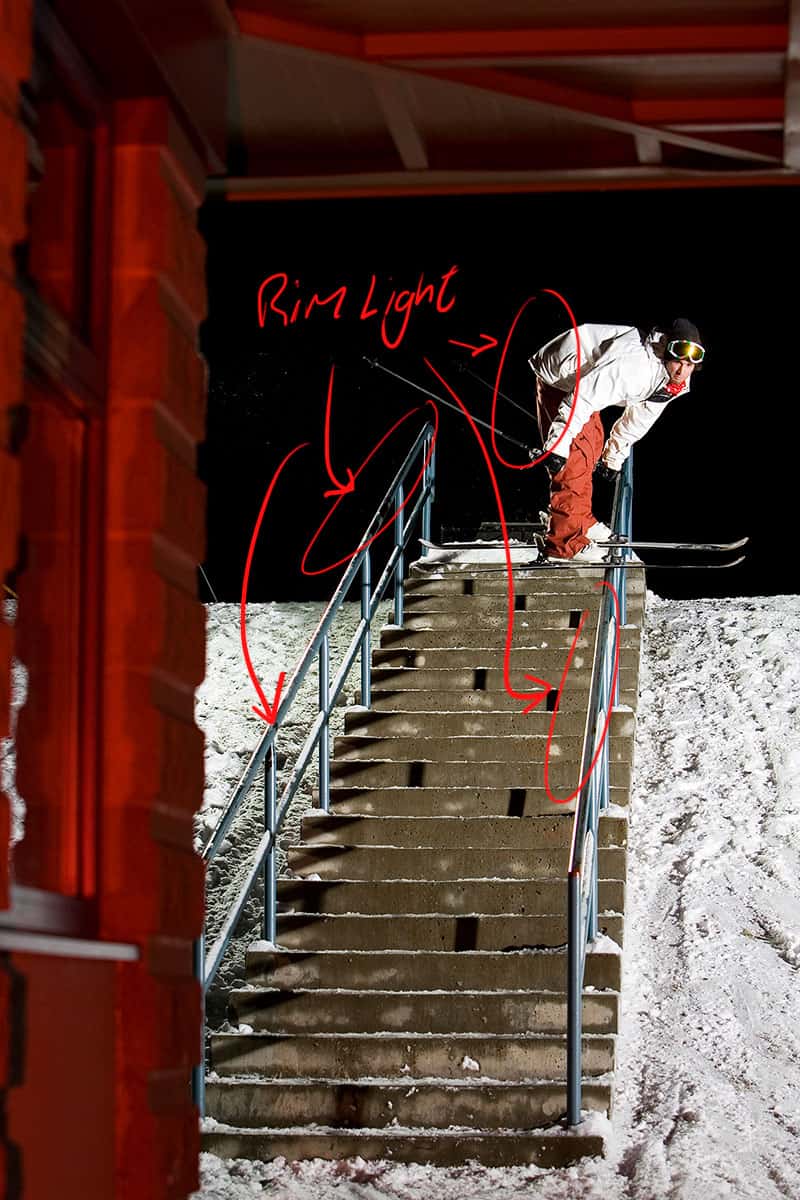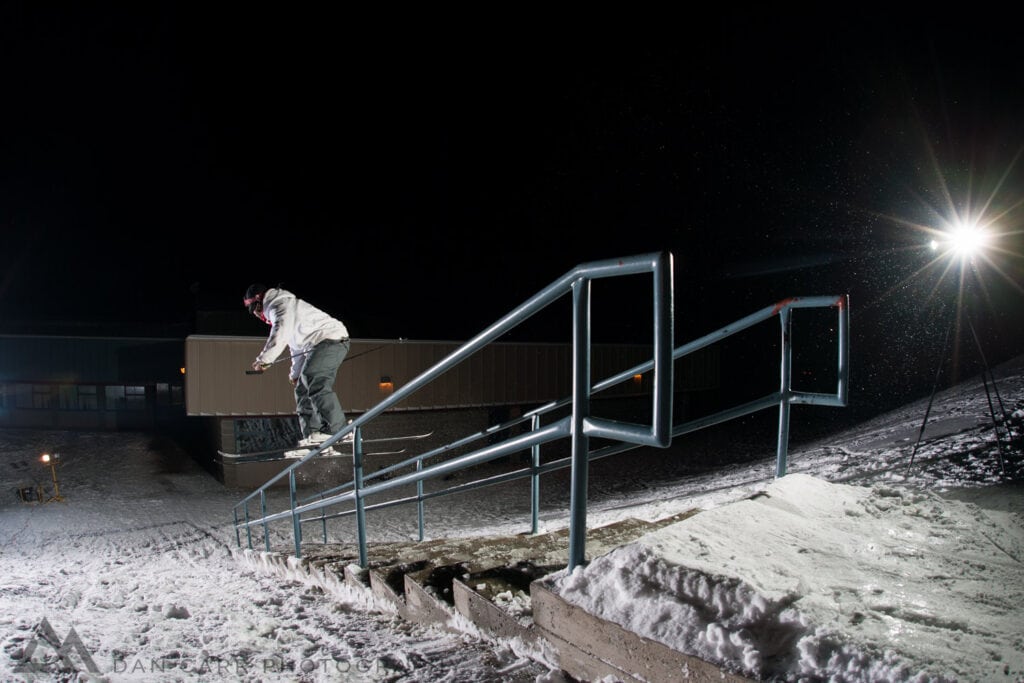 Equipment Used For This Shot