Over the years Black Friday has become a harder thing to keep track of as brands and retailers start their deals at various times, often long before Black Friday.
If you're reading this and it's not quite Friday the 29th, then there may be more deals to come. Sometimes I am made aware of deals, but given embargo times that prevent me from sharing them before that time. So, check out what's on the page already, but come back to the page regularly this week, and particularly on Friday, Saturday and Sunday if you want to make sure you've seen it all.
I promise some awesome deals have not yet been revealed!
---
The Big Stores
Particularly notable deals from these stores:
B&H Photo 0% Financing Special

B&H Photo is offering 0% financing deals over 6-month, 12-month and 24-month periods. This option is only available for purchases made before December 2nd! How about 2-years to pay off that camera or lens you have always wanted, at no additional cost?
Photo Gear
---
Peak Design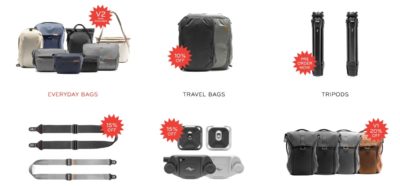 As well as totally revamping the entire Everyday Series of camera bags this week, Peak Design also have some great deals.
Think Tank Photo / MindShift Gear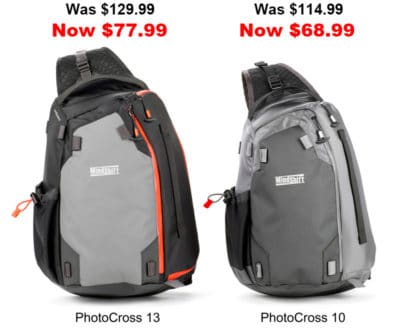 Note: This deal runs from November 29th to December 2nd.
The Photocross Sling is a great adventure and outdoor photography bag that I have reviewed in the past. Get it during the Black Friday sale for a huge 40% discount while supplies last.
On top of the discount, you'll also get a free gift that you can select at checkout, as long as you visit their site through one of my links, like this one.
Formatt Hitech Filters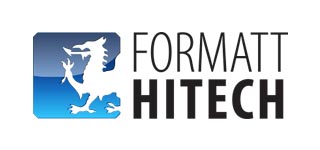 Save an additional 20% on all products in the Formatt Hitech stores with coupon ShutterMuse20:
LensRentals

Atmosphere Aerosol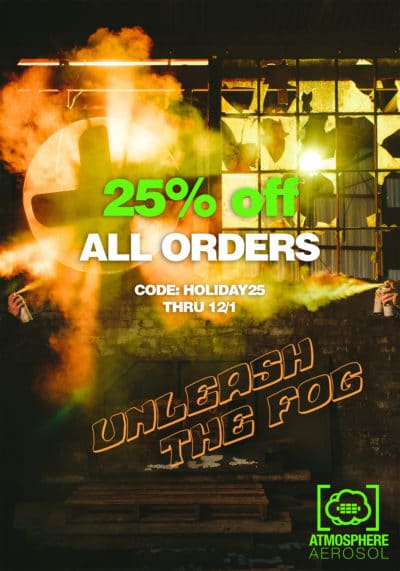 Use the code HOLIDAY25 to save 25% on your cans of atmospheric fog in a can from Atmosphere Aerosol. Perfect for dramatic portrait photography.
Tragopan Photography Blinds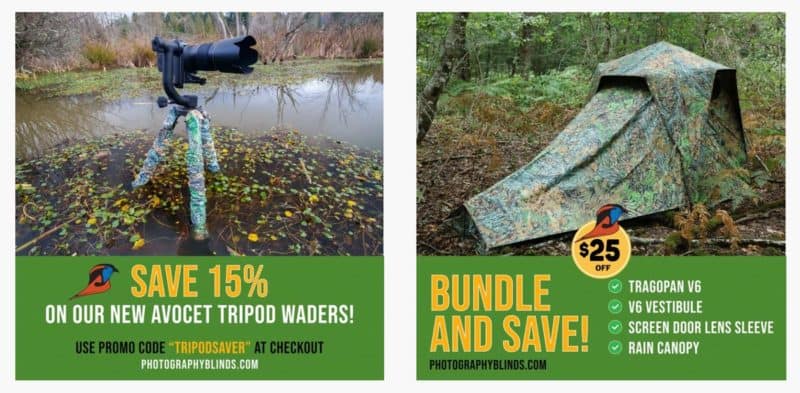 Every wildlife photographer should know about Tragopan. They make the best portable photography blinds in the business, as well as a variety of other cool accessories for avid outdoor shooters. This year they have several Black Friday deals that start at midnight on the 27th:
Aquatech Water Housings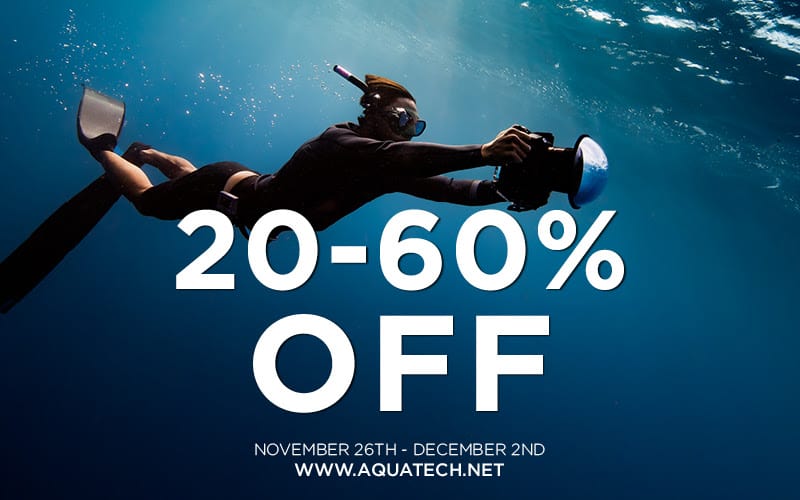 I absolutely love my Aquatech underwater housing so I'm pleased to be able to recommend these products and share a great deal. I'm definitely going to pick up some more gear myself from this one! they even have a 20% discount on the brand new housing for the Sony A7RIV, a housing that only became available this week!
Photo Editing
---
Skylum Software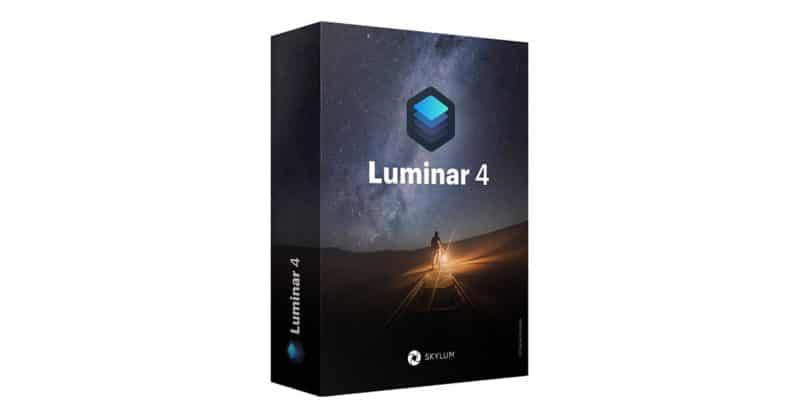 Skylum is running a fantastic bundle deal for Luminar 4. The deal runs until December 2nd.
Skylum Luminar 4 Black Friday Bundle Pricing:
Bundle #1 (US$79) – Luminar 4 + 2 bonuses of your choice
Bundle #2 (US$99) – Luminar 4 + 5 bonuses of your choice
Bundle #3 (US$129) – Luminar 4 + All bonuses
List of bonuses:
PDF Expert – $80 value
Look Packs (Skylum) with free presets – US$50 value
Rocky Nook free book of your choice – US$44.99 value
Clipchamp 3-month subscription to the Create account – US$30 value
Xpozer discount – US$75 value
ViewBug 1-year Pro plan – US$118 value
Envira Gallery Basic plan + 30% off other plans – US$29 value + up to US$90 discount
Topaz Labs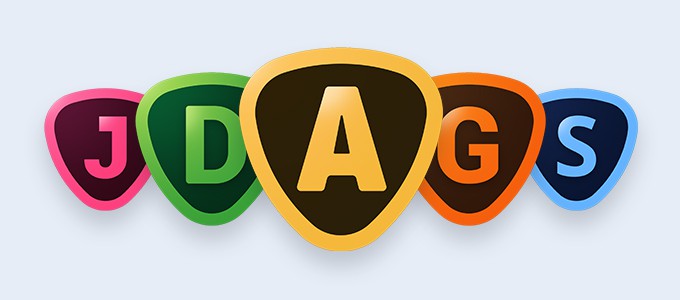 The Black Friday Bundle will include the AI Suite (Adjust AI, DeNoise AI, Gigapixel AI, JPEG to RAW AI, Mask AI, and Sharpen AI) as well as Studio 2 for just $299. That's over 50% off!
Important notes about this deal: Users will only pay for what they don't own!! This is very cool, and I applaud Topaz for doing this because it means loyal existing customers still get a great deal and aren't paying for things twice. Awesome. Read on…
If you own one or more of the Topaz AI Products or Topaz Studio 2, your bundle price will be even lower than $299.
Find out your exclusive bundle price at topazlabs.com/blackfriday. Make sure you're logged in to see your exclusive price!
Capture One Pro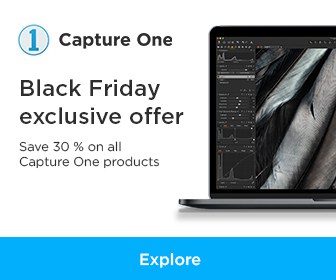 Note: This offer ends at 11:59 pm on December 1st
Save 30 % on all Capture One products (including bundles, upgrades and subscriptions) when using coupon code BLACK-FRIDAY-19
As a double benefit, customers can get a FREE upgrade to Capture One 20, if they purchase any of the below-listed products! The products that include a Free Upgrade:
Capture One Pro 12, perpetual
Capture One Pro 12 perpetual + 3 Styles
Capture One Pro 12 perpetual + 6 Styles
Capture One Pro Fujifilm 12 perpetual
Capture One Pro Fujifilm 12 perpetual + 3 Styles
Capture One Pro Fujifilm 12 perpetual + 6 Styles
Capture One Pro 12 (for Sony) perpetual
Capture One Pro 12 (for Sony) perpetual + 3 Styles
Capture One Pro 12 (for Sony) perpetual + 6 Styles
On1 RAW

Get a HUGE pack of bonus extras when you upgrade to Photo RAW 2020 during Black Friday Week! ON1 product owners like you can use promo code BF10 to get an additional $10 off your upgrade.
With version 2020 you get AI Auto Tone and AI Match, powerful new filters like Weather, Channel Mixer, Color Balance and Sun Flare, massive speed and performance gains, and much more.
Perfectly Clear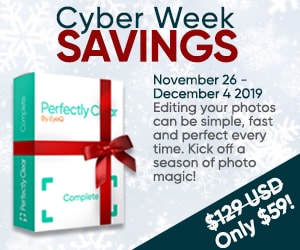 Get perfectly Clear for only $59 (regular $!29)
Dotphoton Raw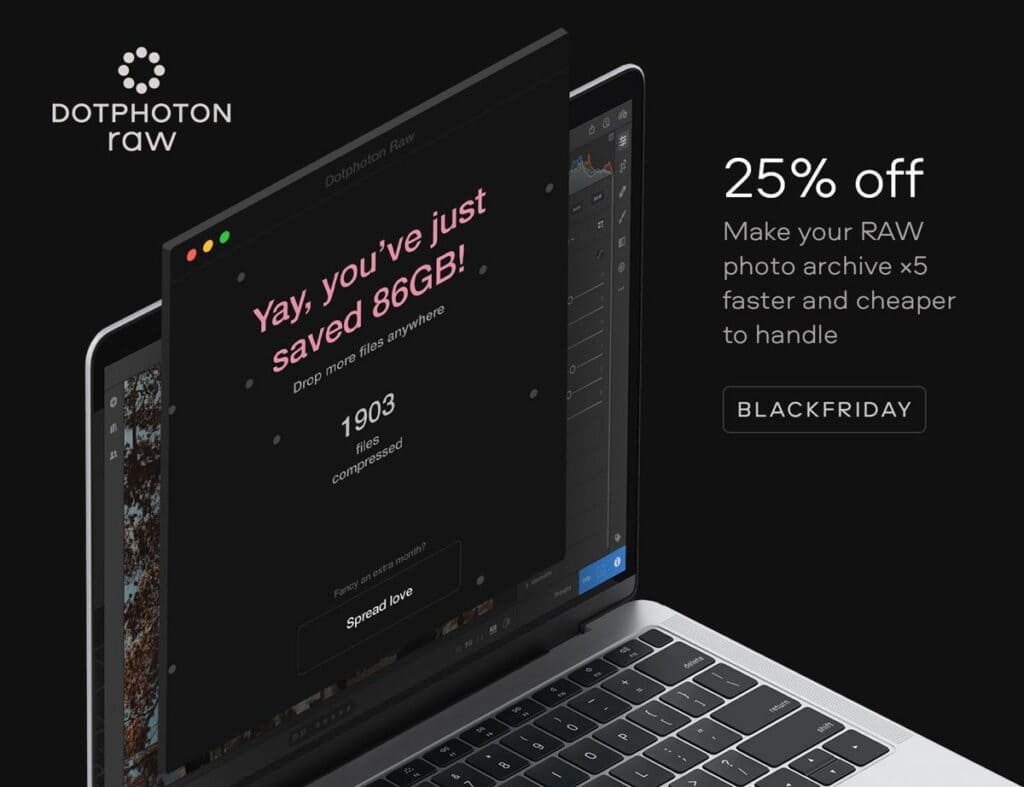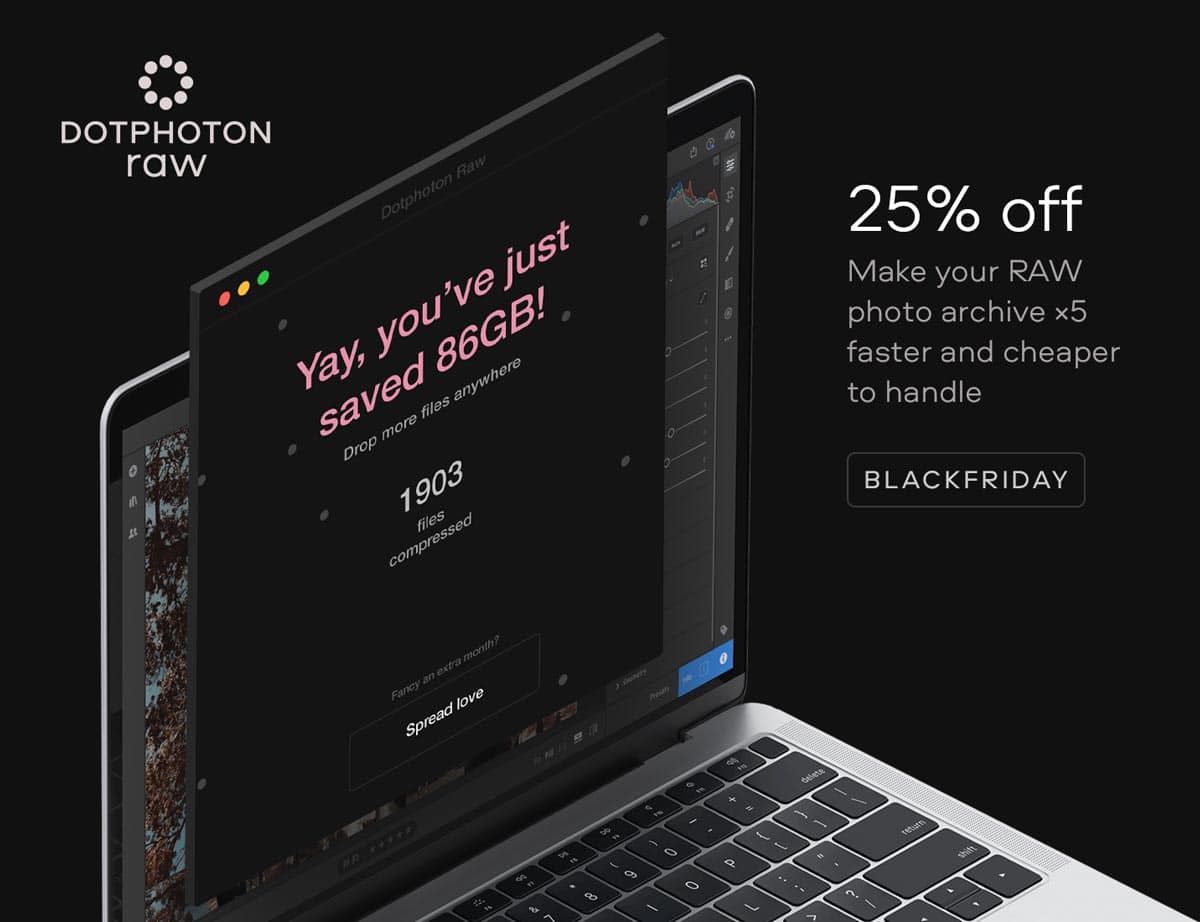 Forget about buying extra hard drives/cloud storage and "Startup disk almost full" warnings during editing. Dotphoton Raw is the first dedicated RAW image optimization app for pro photographers. With 30+ top cameras supported and quantum tech under the hood, it allows RAW file size reduction by up to 5 times, while preserving the full raw dynamic range and resolution of your images.
Save 25% between now and December 5th using coupon code BLACKFRIDAY
Watermarking Your Images
---
Photologo

Note: This will be a very short term deal so act now! It ends at 9 PM GMT on Nov 30th. Hurry!
Using a professional-looking watermark on your images is something that I believe is important. In the past, I have reviewed a cool service called Photologo, which make hand-drawn signature logos to use as watermarks. You can read my review here.
For Black Friday, Photologo is offering up to an additional 30% discount on their services. That means you can get your own unique logo for just $29.99.
Only for a few hours, you can get:
---
Photography Websites
I'm a big fan of creating photography websites with WordPress. If you are too, then these WordPress deals might be of interest to you:
Imagely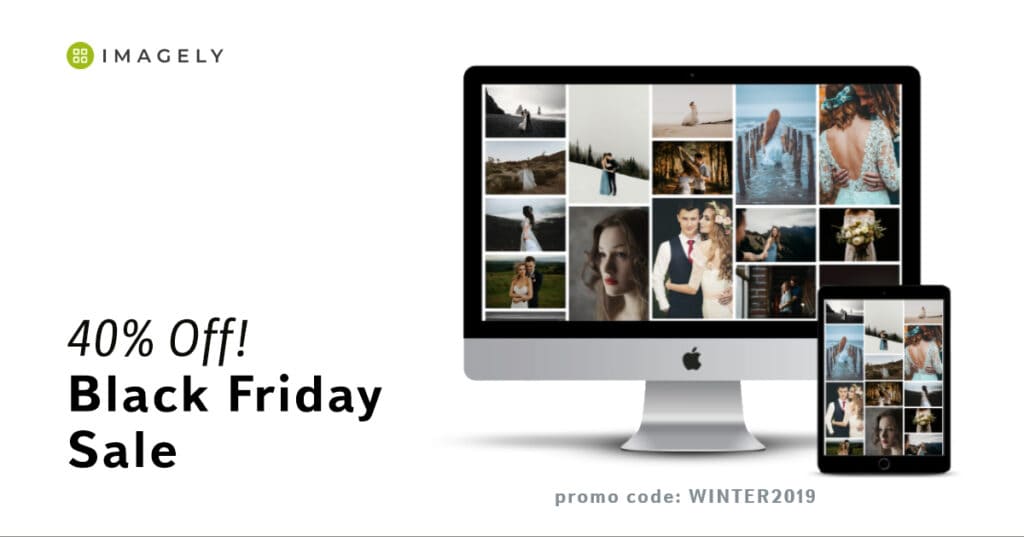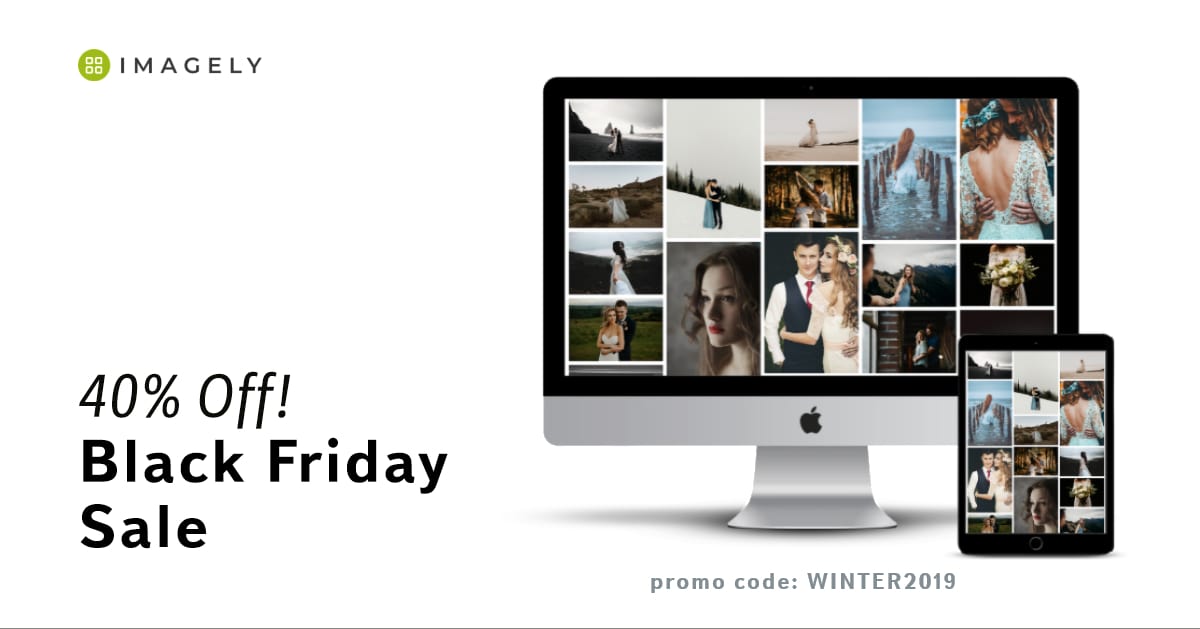 Photography e-commerce with Stripe and PayPal built-in. Sell digital downloads, prints, photo proofing and so much more. Grab one of the most powerful and popular WordPress gallery plugins ever, at 40% off.
Now featuring automated print fulfillment!
Pixpa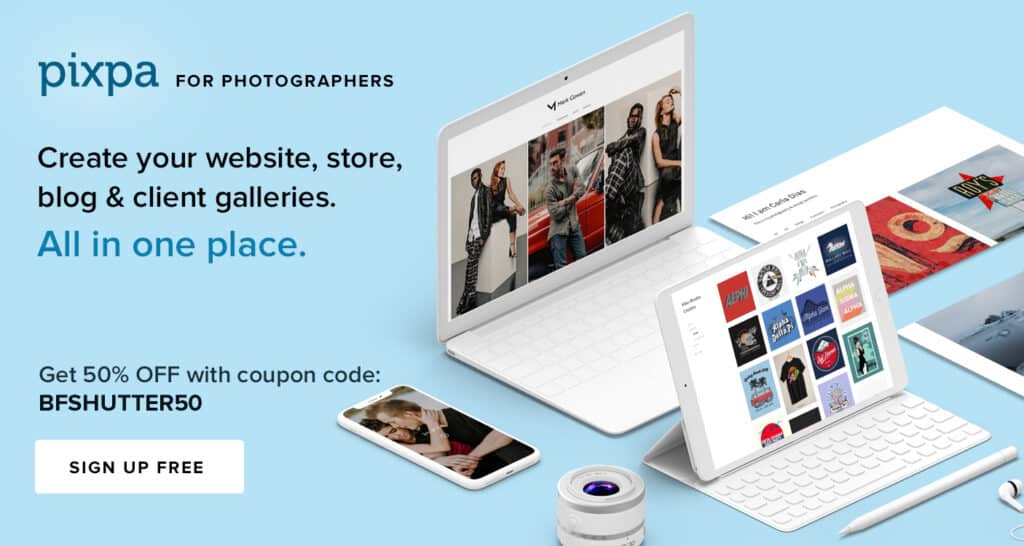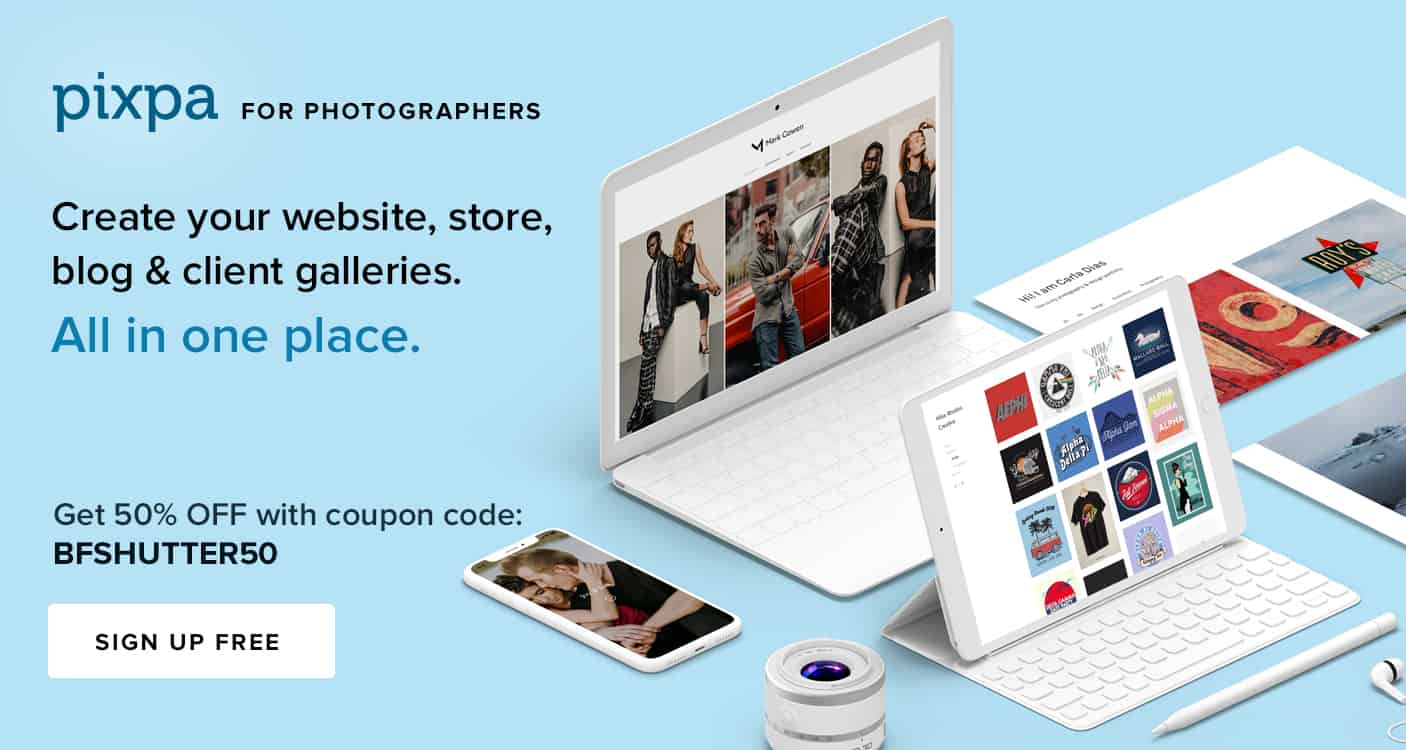 Pixpa makes all-in-one portfolio websites for photographers and other creators. For Black Friday this year, they are offering a significant 50% discount.
Create your portfolio website on Pixpa and get 50% OFF for the first year on all plans. Claim your discount with coupon code – BFSHUTTER50 before 31st December 2019.
SmugMug


If you don't want the added complexity of WordPress websites and want to keep it simple, SmugMug has a 40% discount on their websites. This includes the unlimited plan which gives you unlimited online storage, so it's also a good backup option as well as a great way to build a website.