A recent aerial photography flight in Whistler reminded to tackle the subject of the best lens for this kind of work. Without a doubt, it needs to be a zoom lens because objects pass quickly and you simply can't be wasting time switching prime lenses. For me the clear choice is a 24-105mm zoom with image stabilization, assuming you're working with a full frame body. If you have a crop body of some sort, a lens with a 15-70mm zoom range or similar, will provide the same field of view. All the major brands offer their own lenses in this range, as well as Sigma and Tamron.  I'm a Canon shooter so I'm using the Canon 24-105mm f/4 L IS II myself.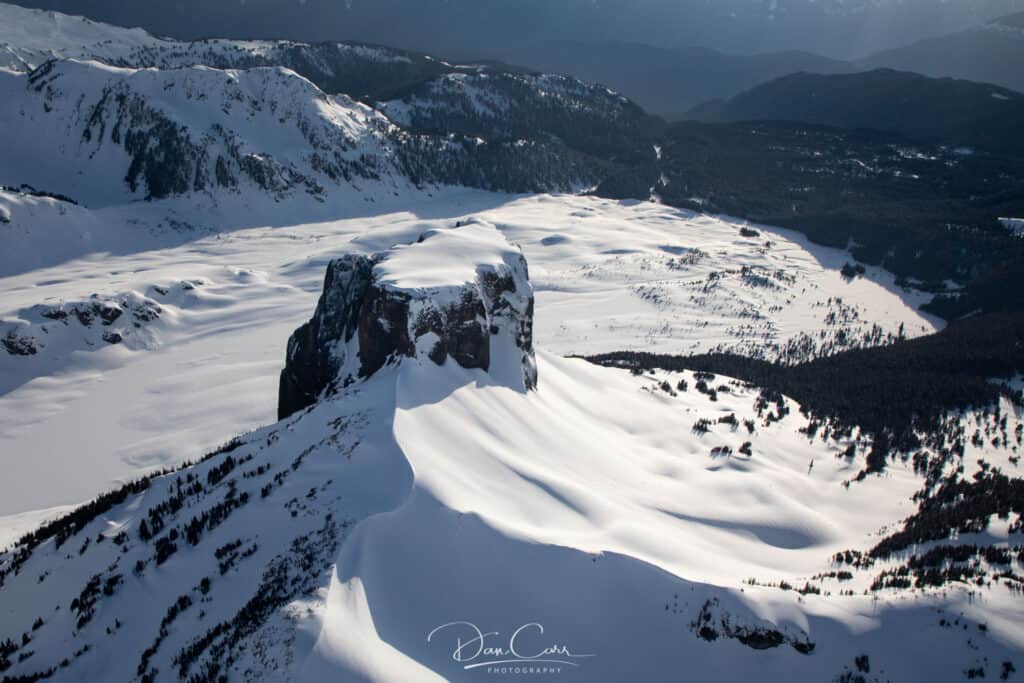 In the past I've experimented with wider zooms such as the 16-35mm or even the Canon 11-24mm. The difficulty with these is that it's all too easy to get parts of the aircraft in the shot, or the rotor blades in the top of the frame if you're in a helicopter. Of course there can be times when they work well, but if you're just going to use a single lens then the 24-105mm would be my recommendation. I also own a Canon 24-70 f/2.8 II which is a sharper lens, but the lack of stabilization, and the short zoom range keep it firmly in "second choice" territory. If you're in a helicopter there are considerable vibrations to worry about, and if you're popping the window on a small plane and sticking yourself out of the window as I often do, you'll be faced with some serious wind buffeting. Image stabilization can definitely give you an edge.
After a flight I always scroll through my photos in Lightroom and look at the focal lengths that I have tended to gravitate towards with the zoom. I find myself working mostly in the 24-50mm range of the lens, but every now and then I'll push it right to 105mm. Without exception, I always make use of the full range at some point You have to work fast when you're flying because it's over i a flash!
If you're going for a flight but don't own a 24-105 (or equivalent angle of view for cropped sensor cameras) you can always rent the lens for very little money from someone like Lens Rentals.