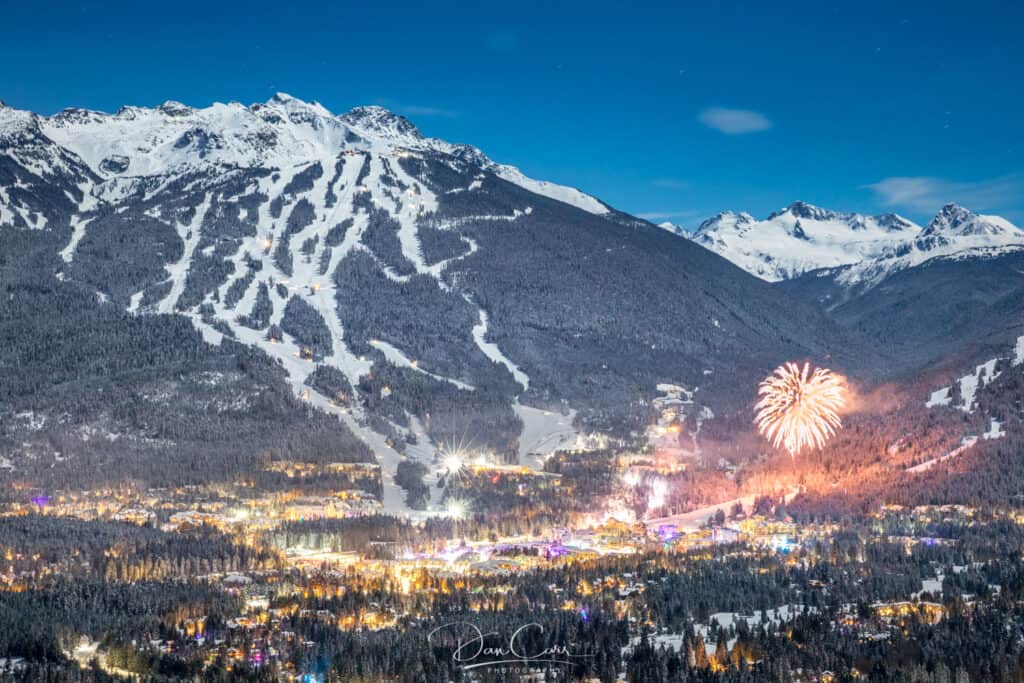 Happy New Year folks! In this BTS post I'm going to be talking about a nightscape photo of the Whistler, BC, that was taken right as the clocks ticked over into 2018.
Equipment Used for this Shot
Having just returned from a two-week vacation over the holiday period the day before, I decided to get right back to work on December 31st. Mountains of fresh snow had just fallen in the valleys around my home town and a high pressure area was set to bring clear skies. On top of that, a nearly full moon (91%) was scheduled for the same night so that got me thinking…
Every year there's a huge fireworks display at the base of the ski resort to ring in the New Year. Fireworks are fun to photograph, but it can be tricky to come up with fresh ideas. The problem that you're often battling is that fireworks are much brighter than their nighttime surroundings, so it's tough to create a photo that doesn't have a lot of black in it, and then some big bright streaks.
I wasn't much interested in a photo like that because I wanted to show the snow-covered trees and mountains. This is where the clear sky and full moon really came into play! In fact the moon was gearing up to be a super moon on the night of the 1st, so it really was incredibly bright. The moonlight allowed me to showcase the details in the landscape, and then all I had to do wait for the fireworks to start at midnight.
With the temperature hovering around -15 degrees celsius it was a cold nighttime mission to climb up to my vantage point on the opposite side of the valley. Luckily I had planned things pretty well, packing hand warmers, a thermos of tea and my giant Arcteryx Firebee Parka to get comfy in when I reached my destination. Winter adventures can be pretty dangerous in deep snow and cold temperatures like this so I also carried my InReach satellite messenger device and left some information with my girlfriend about where I was headed. The snowshoe travel was all in the tree line well below the alpine so I wasn't concerned about avalanches, but it's always good to let people know where you're headed if you're going to be out there alone.
I have to be honest and say that when I was thinking about doing this little photo mission, I just wanted to go back to bed. A long day of travel the previous day had seen me climb into bed at 4am, and jet lag wasn't helping matters at all. But I knew that this combination of snow, moonlight and clear skies on a particular calendar date (Dec 31st) was a rarity. I fuelled up with coffee and promised myself a day of rest on the 1st if I got the shot.
I did.
In fact when I got home and examined the photos at around 3:30am, I was so pleased that I actually edited it and posted it online immediately. Waking up the next morning I was pleased to see that it was one of the top 5 most-shared images from my Facebook page for the whole year, and there were several print requests already! (Get your print here.)
There are never any guarantees when it comes to outdoor photography, but being aware of the conditions and understanding how they will change the scene is an important part of the planning process. In this instance, I took the time to consider what was going to make this night special and how I could then use that to my advantage. The full moon would provide details in the dark, and of course the New Year celebrations would provide the interesting fireworks. Whilst I think the photo would be great without the fireworks, that added flash of interest and colour does add a nice balance to the image when you have the towering mountain on the opposite side of the frame. It also adds a sense of life to the scene, and it makes me think of all the thousands of people down below enjoying a beautiful night of celebrations in the snow. I've lived in this valley for over a decade, but this is on right up there with my favourite photos of it because it sums up so much of what's great about this place.