Instagram is one of my favourite ways to share my work, and on my website I have a page where you can view my latest Instagram posts. A few people have asked me how I created this Instagram gallery, so I wanted to address it here in the Readers Questions section of the blog.
Firstly, this site runs on WordPress so for this particular solution, I'm afraid you're out of luck if your site doesn't use the same platform. One of the most powerful things about using WordPress is that there are tens of thousands of plugins available for it, that allow you to add some very specific functionality to your site. My Instagram gallery is created using a plugin called Envira Gallery, a plugin which has rapidly risen to the top of my list of essential WordPress plugins for photographers. Envira Gallery has far too many individual features to list in this post, because right now I just want to concentrate on the Instagram integration.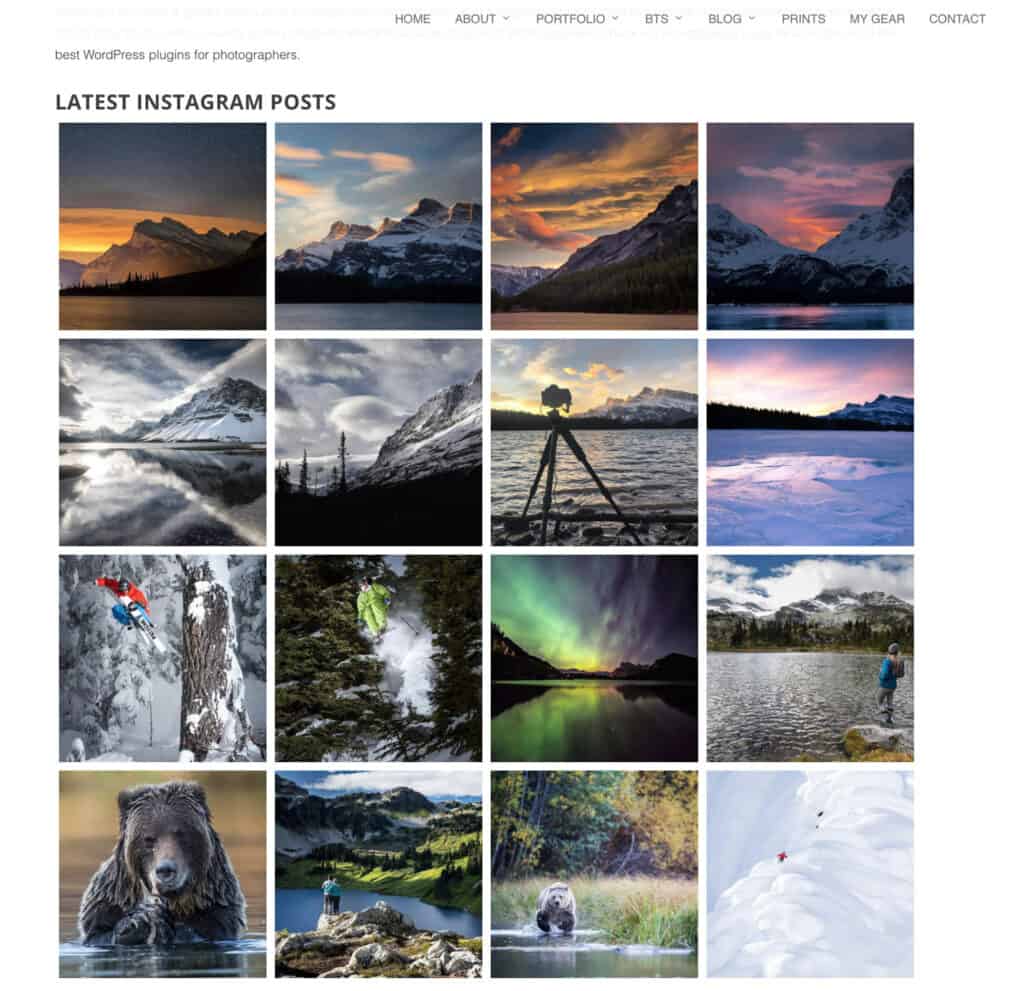 Once you have installed the Envira Gallery plugin, you'll need to install the Instagram add-on too. To keep the core plugin lightweight, the folks at Envira keep some of the more powerful features as add-on plugins (view add-ons here), allowing users to only install the elements they need, and thereby keeping your site nice and fast (good for SEO per my book).
Once you've connected your Instagram account, you can create a new gallery just as you would for a regular Envira gallery, but this time, in the section where you would add images, you'll want to select the second tab that says "External Images" instead of the default which says Native Envira Gallery. In the External Images tab, you'll see other services that you've connect as images sources, such as Instagram (for this example) or Dropbox, which is available via an additional add-on.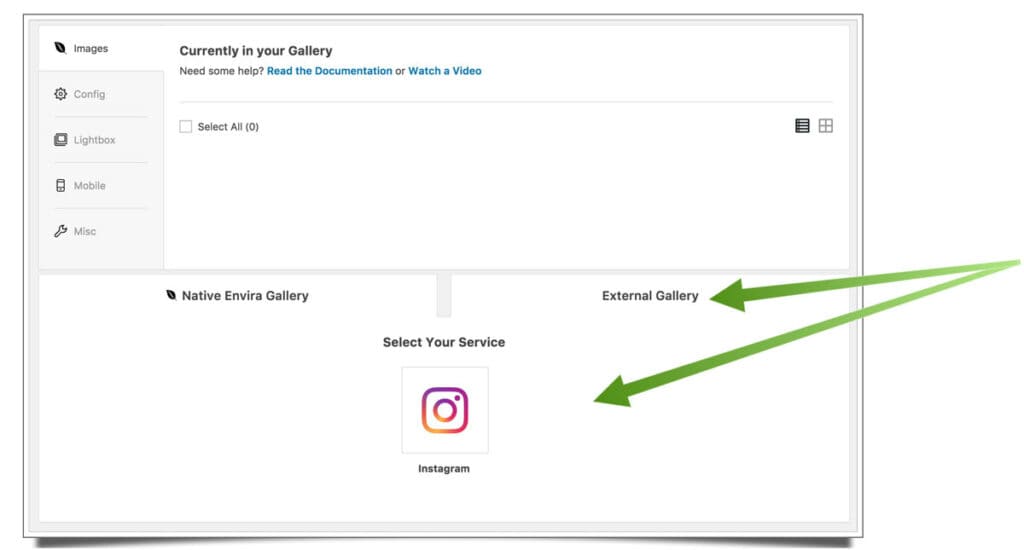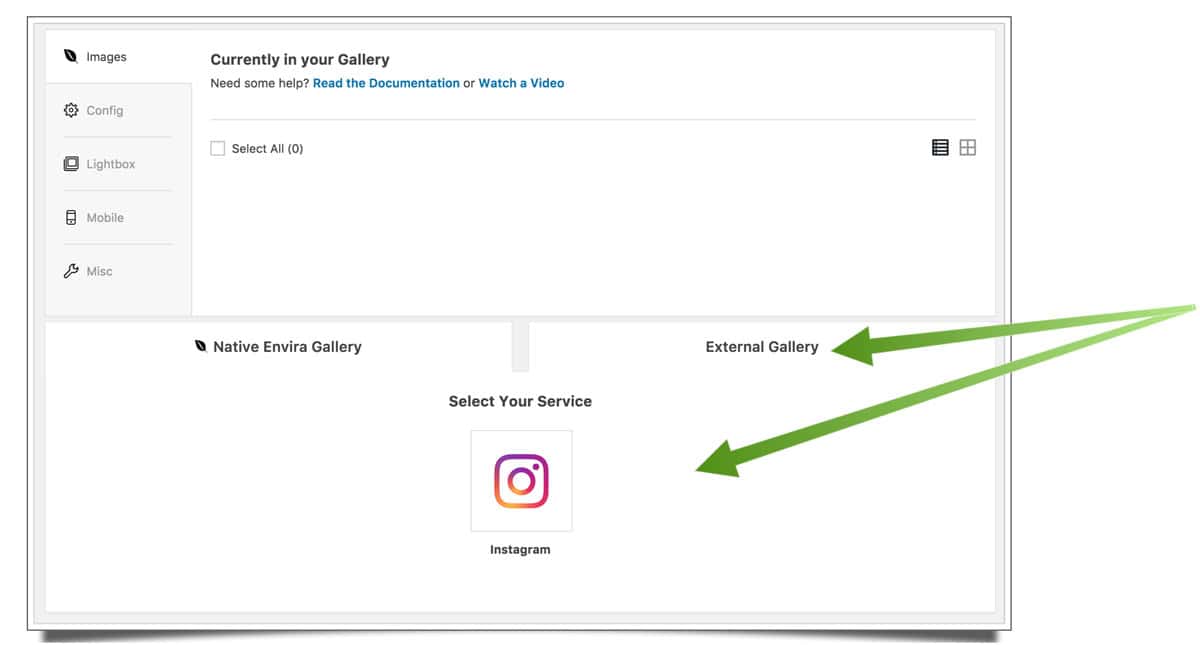 The first great thing about this is that it updates itself automatically when these external services are connected, so you never have to lift a finger once your gallery is set up. The second great thing is that you can create as many galleries as you like, and use Instagram as the source. This means that you can have vastly different gallery designs for different purposes.  For example, I have the large full-width layout on my main Instagram page using one gallery, but I also created a second gallery that's designed in two columns, with much smaller images, for the front page of my site.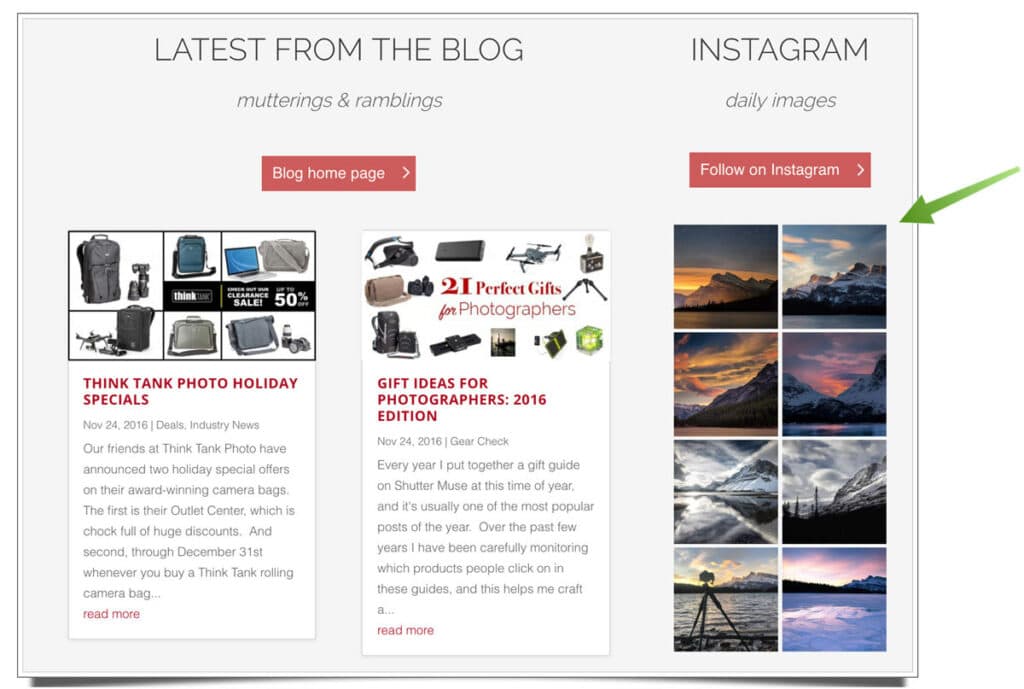 Of course, Envira Gallery gives you the full range of layout options to craft the design you want for your images. You can define how many rows the gallery has, how much space there is between the thumbnails, how big the thumbnails are and what happens when you click one of them. You might want the click to send people to the Instagram image on Instagram's website, or maybe you just want it to pop up as a fullscreen lightbox on your own page. It's totally up to you!
Envira also comes with a WordPress widget so that you can easily add you gallery to a widget area, such as the sidebar or footer of your site.
Click thumbnails to view gallery options
No, it's not free… but it is the best
There are many free plugins for WordPress, but ultimately, over the years I have swapped them all out for paid plugins so that I can get support and timely updates whenever they are needed. Free plugins often go stagnant and can cause all manner of issues on your site. It's not the case with all of them, but I've certainly had my fair share of problems over the years. There is a free, simple version of Envira Gallery, but you'll need to buy a license if you want to install the Instagram add-on and achieve exactly what I've done. Remember that you aren't just getting the Instagram gallery when you buy Envira, you're also getting what I consider to be the best and most powerful gallery plugin there is, so you can show off your photography in many different ways.
Don't let your website get stagnant!
We spend so much time choosing images for Instagram, crafting great captions for the images and picking hashtags to increase their reach. What I've always noticed though, is that people will often go for years and years without updating the photos in their online portfolios! It seems crazy when you think about it, because why wouldn't you want to have your latest work displayed prominently on your site?  Why do we spend so much time updating social media, when those images sink quickly to the bottom of the pile, yet we seem unwilling to make constant updates to our portfolios, which are really the modern day business card! Envira Gallery solves this problem nicely with their Instagram integration. After just a few minutes setting it up and deploying it in a prominent position on your site, things will never look stagnant again. You could even create a simple one-page portfolio site that centred entirely around the Instagram feed if you wanted to! For many people, that, along with a contact form, would be all that's needed, and most certainly better than nothing at all.
P.S. Follow me on Instagram here.