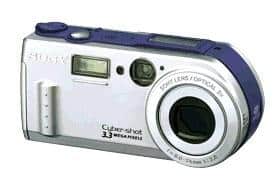 I get this question often enough that I thought it worth a post of it's own. Growing up in the UK I never skied or snowboarded when I was at high school, but before I went to university I decided to take a year out and travel to Canada with a friend of mine. We settled on Whistler, BC as our destination and I spent the winter learning to snowboard and working the lifts at the ski resort. At the time the only camera I owned was a 3MP Sony Cybershot DSC-P1 which my parents had given me before I left for Canada. The little Sony was my first digital camera. After my year in Whistler I returned to the UK to go to Southampton University where I started a degree in Aerospace Engineering. I joined the university ski and snowboard club and soon found myself as captain of the university snowboarding team. This allowed me to make a few trips to Europe every year and one summer I decided to learn to ski too. For the next few years I continued with my degree until it was finished but I still couldn't get Whistler out of my mind so I decided to get a student work visa and head back there again for one more year before I settled down and got a job with my newly acquired degree. Just before I left for Whistler this time, I decided to get a Canon 10d and a 17-40mm f4 lens. Now that I think about it this was a pretty odd decision because at the time it was quite a lot of money for me to be spending and I still didn't have more than a passing interest in photography. Nonetheless I'm glad I did it because that decision changed the course of my life.
I settled down in Whistler again with some friends from university and lived the ski bum lifestyle for a while. Whenever I skied though I took my camera with me and since a couple of my housemates were pretty good skiers I started to get a few cool shots that I was pleased with. I forget the exact circumstances of the next part of the story but somehow I ended up showing the photos to the editor of a small local magazine. He said he was interested in using a couple of photos and I was surprised to see the following month that one of them was on the cover! This was a real turning point for me, there is nothing quite like seeing your first photos in print. I continued to work for Whistler Blackcomb running ski lifts but I began to spend a lot more time researching everything about photography on the internet and taking more time to shoot photos when I was out skiing on my days off.
After shooting for the rest of the winter season I was beginning to think more seriously about a career in photography but I still wasn't convinced it could work. I'd just spent many years getting my degree in something entirely un-related and I had no formal photographic training at all. I returned to the UK and quickly decided to take all my savings and head back to Whistler for another 6 months. I told myself that I would take this time to really try and create a portfolio of skiing images. I didn't worry about working, just learning photography and taking photos. I picked up a Canon 1dMKIIN and a 70-200 f2.8 L IS to go with my 50mm and 17-40mm. For the next few months all I thought about was how to shoot photos and I deliberately didn't trouble myself yet with how to sell them and make money. I wasn't ready for that yet, I needed to concentrate on my portfolio while I really had the opportunity to do so. I was lucky that I had money saved up that afforded me that opportunity.
After my 6 months was up I returned again to the UK and began to learn how to build websites so that I had a place to display my new portfolio. I was quite proud of some of the photos I shot that year and realized that a simple, clean looking website was needed to make myself seem like a professional. I'd spent everything I had so I had to figure this out on my own and it took me a couple of months. The result was the original version of this site, which remained almost entirely unchanged for nearly ten years.
I worked a couple of months at home and then set off in search of more snow… this time to New Zealand, to get some more shots for my portfolio to really finish it off and the following winter I sent in an entry to the Pro Photographers Showdown at the Telus world Ski and Snowboard festival in Whistler. The Pro Photo Showdown is a very prestigious event and at the time I never dreamed I would be selected for the finals. Only the year before I had been watching the event myself from the crowd, dreaming of being in it one day. That day came sooner that I had imagined and I soon found myself in a room with 1000 people up against 4 other well known photographers from around the world. Time to start taking this seriously I thought! This was the final confidence booster for me that convinced me the life of a professional photographer was a true possibility despite the talented competition just in Whistler, let alone other parts of the world. The Showdown had given my name some credibility and I began to push my website out there a bit more and get people to take a look at my portfolio. After that it was easy to get athletes to shoot with and things snowballed from there as I met many ski film makers and professional athletes while they passed through town. A short while later I got my permanent Canadian residency and now live year round in Whistler.
Initially I concentrated heavily on the winter sports industry and after a few years my work had been featured in over 50 skiing publications around the world, as well as being used commercially by the biggest brands in the industry such as Salomon, Oakley and Nike. My photography taste continued to develop though and to this day I have an almost insatiable desire to learn more about every aspect and genre of photography. I now find myself shooting a huge range of images from wildlife to landscape, travel and international sporting events. I take great pleasure in challenging myself and then passing that newfound knowledge onto other people either though my website, or though seminars, eBooks and educational content for leading industry brands such as Canon and PocketWizard.
Of course I have had to skim over a few details here and there or this would turn into an essay of many thousands of words. The point I'm trying to make though is that anyone can succeed in if you really put your mind to it. Just be methodical in how you approach the task at hand and don't rush. One of the main things I attribute my early success to was my slick and simple website and the tightly edited portfolio that I spent a whole year working on. I made a lot of mistakes in my early photos but I learned from them and was sure to never let them water down my good work within my portfolio. If you aren't sure about whether your website is up to scratch or which images to include in your portfolio then I offer a photography website consultation service though my company, Shutter Muse.