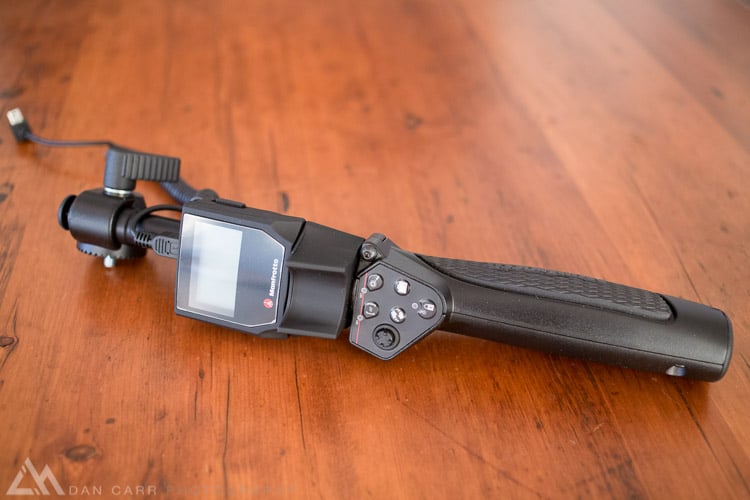 At NAB this year Manfrotto launched a couple of interesting new products to compliment their SYMPLA rig lineup, the Deluxe HDSLR Remote and the Clamp On HDSLR Remote.  My interest piqued because there are relatively few other options out there that can accomplish the same thing and none from a company with Manfrotto's experience.  So what are we talking about here ?  We're talking remote control of your Canon HDSLR when shooting video.  Not just simple record Start/Stop functionality but control of aperture, shutter speed, ISO and even focus.  Sounds pretty cool right ?  I immediately contacted my friends at Manfrotto Canada and asked to be able to try one out.
Features & Functions
I was sent the deluxe version of the remote which takes on a different form factor to the Clamp On HDSLR Remote. The Deluxe features a much larger feature set and price, offering total exposure control and focus with an LCD screen to view settings whereas the Clamp On Remote offers focus and liveview control only.  Take a look at the video below to begin with for an overview and then read on for further discussion.
The Deluxe Remote's functions are as follows:
3-step, ultra-precise focus speed
Fixed or variable focus control modes
Customizable focus speed limit
Focus Memory settings
Live View control
Auto Focus control and Auto Focus point selection
Live View Digital Zoom control
Video recording start/stop
Photo shutter release
Remote control and camera battery status
Customizable focus direction
ISO
Shutter speed
Aperture
Color temperature
Exposure level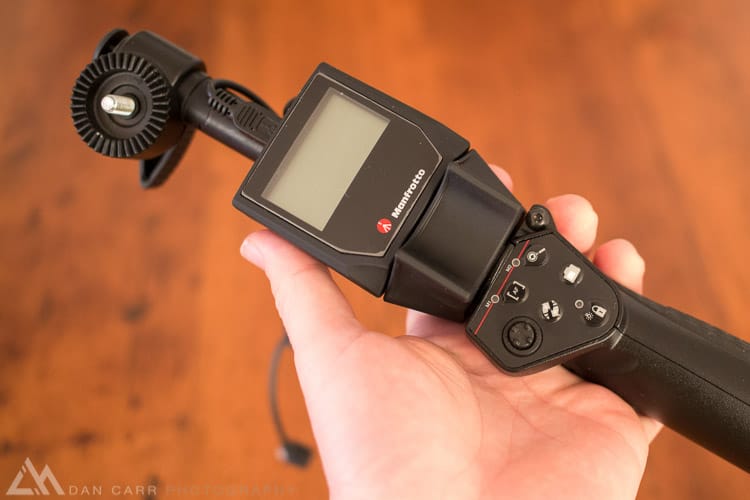 As I said in the video, the build of the product is extremely good.  I always find that Manfrotto products are solid and by that I mean that they can be quite heavy, but intended for extended usage and built to withstand the rigors of professional life.  My opinion is always one that you should never have to baby your pro gear, it takes away from your abilities to concentrate on the creative and this remote passes that first test, it's SOLID!  From a design standpoint my only issue was the rather strange directional pad.  It had positive clicks in all directions but the signal from the pad was clearly sent before you got to the click.  It's a hard thing to describe but essentially what it boils down to is that it was far too sensitive.  Simply brushing your finger over it was enough for it to move something on screen, you don't have to push it down until it clicked to get it to do something.  Often I would press down and it would also move to the left simultaneously.
Control of the liveview and changing the exposure on the camera works as you would expect.  The jog dial on the underside of the remote works well and commands are transferred to the camera with very little lag when changing exposure settings.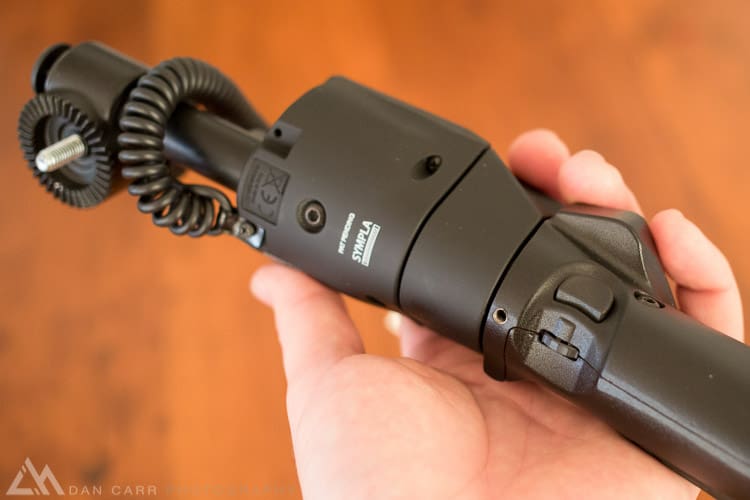 The feature list is also pretty long and impressive when you consider that there is no official API from Canon for developing remote control via USB as far as I'm aware.  Some controls are possible through normal tethered shooting with a computer but those controls do not go so far as to offer a way to focus incrementally from one end of the lens to the other.  In essence then it seems Manfrotto has managed to hack into the Canon cameras to force this kind of control.  It's very clever but also brings a few problems which I'll discuss as we go along.
Why would you want a remote ?
Remote control of cameras has long been practiced using the LANC protocol, ports for which were included on almost all pro /prosumer and sometimes consumer digital video cameras.  They offered a similar set of control to the one I'm reviewing here today and they are typically used when a camera is mounted on a tripod.  Manfrotto makes many such remotes so it makes sense to move on to offering the same functionality for HDSLRs as many people begin to shoot with those types of cameras as well.  From a position standing behind a tripod it's extremely convenient to have a pan handle mounted remote to start and stop recording as well as zoom in and out, something that was typically possible using LANC remotes.  Unfortunately Canon EF mount lenses don't have motor driven zooms so that benefit is not possible with this remote and never will be.  Still if your HDSLR is rigged up in a studio, caged in and surrounded by all manner of recorders and audio equipment then the ability to operate the cameras functions without having to get your hands in and physically on the camera is a nice one to have.  Likewise if you're using an Canon DSLR as a b-cam on a shoot, perhaps tucked into a place where you are unable to fit a much larger camera then being able to run a USB cable from the camera to the remote would be a really great option.  I'm imagining a DSLR tucked up against the back window of a car for example, shooting forwards so the controls are not accessible.  Using this remote would allow you to adjust pretty much anything you need as long as you are also running a monitor of the camera's HDMI port as well.  Another use would be a camera on a crane or jib arm.  Simple remotes exists to start and stop the recording but being able to adjust exposure from the operators position could be a real bonus in certain situations.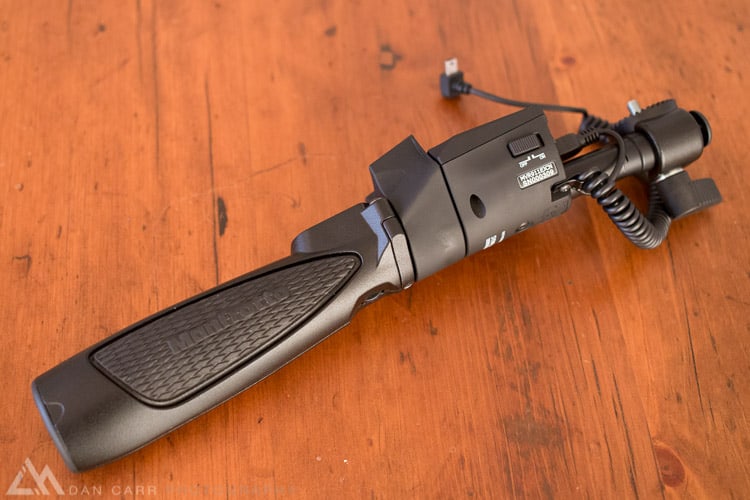 The remote is also part of Manfrotto's SYMPLA rig system and adapters are available to incorporate the remotes within their shoulder rigs.  Given that DSLRs were not really designed to be used for film making, their buttons and controls are not accessible easily in a shoulder mounted rig.  The remotes offered by Manfrotto address this issue, bringing control right down to your fingertips allowing you to keep the camera on your shoulder for run-and-gun situations.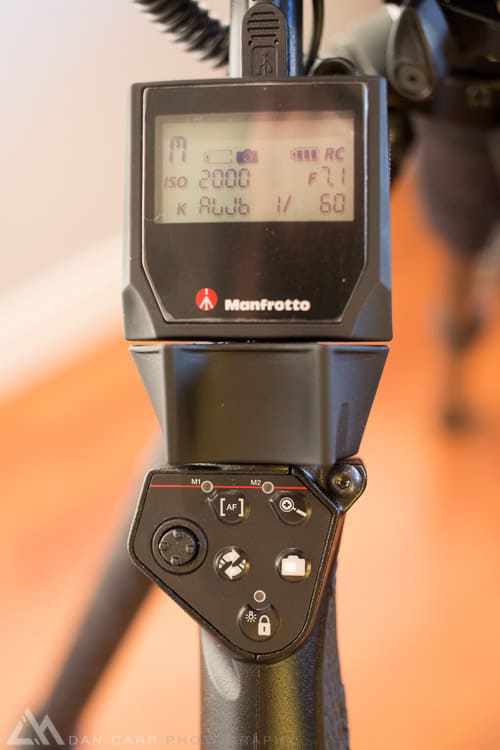 Focus with the Deluxe HDSLR remote
This feature needs it's own sub-heading because for many people it will be the reason they want to look at these products.  Having a big heavy follow focus unit on your rig can be cumbersome and the option to control focus from your fingertips sounds ideal.  Unfortunately having tested the deluxe remote I can say that it would be impossible to use this in the same way a follow focus works and I do not believe that it could be a replacement for one.
The problem is that Canon lenses were not designed for this, their motors were never intended to provide a continual smooth motion.  The remotes offer three focus speeds and it's possible to set the focus rocker to single speed or progressive.  In progressive mode the rocker offers you all three speeds depending on how far you push the focus rocker.  It's not a linear change in speed though, rather three 'zones' of speed throughout the throw of the switch.  Several problems arise though when focusing with this remote and the first is simply the speed.  To go from one extremity of focus to the other on my 100mm f2.8 L IS takes literally 10 seconds!  Other lenses vary between 3 seconds to 7 seconds and that is on the fastest setting.  The second problem is simply the huge variation in the way the lenses react, it makes it very hard to practices and 'get better' at focusing using the unit.  For example my 40mm f28 STM lens was one of the quicker ones and the STM motor provided a pretty smooth focus all in a lens that costs a couple of hundred dollars.  Then I tested my 24mm f1.4 L II lens which has a USM lens and it was positively jerky through the zoom range to the point where you simply couldn't hit a focus point as the focal plane would jump a foot with each jerk of the focus.  Then you have lenses like the 100mm that I mentioned taking 10 seconds to focus from one thing to the other.
Now you can't really blame Manfrotto for this, the lenses were simply not designed to be used in this way but it is VERY important for me to point this out because it still falls short of my expectations given the $700 price of the product.  The other problem that I had with focusing is the severe lag in the system.  Focusing using the rocker and looking at the screen I would release the focus switch when the subject came into focus but the remote would continue to adjust focus for another 1-1.5 seconds.  This made it absolutely impossible to nail focus on even a still subject when using the faster speed.  You could use the slower speed but it's painfully slow and even then the lag is there, it's just you miss the focus by a smaller amount as it's moving so slowly.  The true potential of the lenses focus speed is never attained either though and the 100mm f2.8 I tried is a prime example again.  If you use the cameras AF system to focus from infinity to close focus then it IS able to do this at a much much faster speed than the remote control allows it to do.  So whilst the issue can be partially blamed on the lenses not being designed to work in this fashion, there's clearly performance to spare in some cases.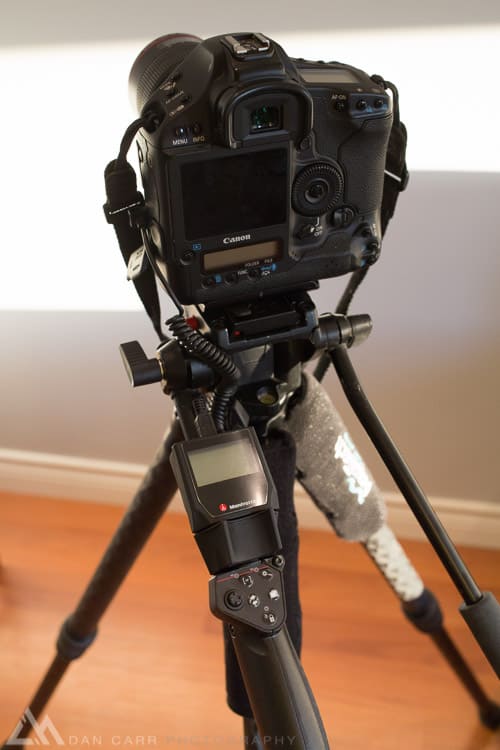 I really wanted this area of the remote to work better but several hours of playing with it using every lens in my tool box just left me frustrated with the variations, inaccuracies and slow speed.  I honestly think that Manfrotto, who surely discovered this during their development, should have left the focus functionality out of the product entirely and just offered a remote that gives you exposure control, liveview control and start /stop functionality at a lower price.  Instead it's touted as a major feature on both the deluxe and the clamp on version neither of which are low cost products at $699 and $389 respectively.
Can it be used to focus at all ?  Well yes , if you aren't in a hurry or the camera is so inaccessible, then yes it is possible to confirm and adjust your focus but stay away from the 'fast' speed 3.  So for situations where remote usage is caused by not being able to physically get your hands on the camera then this is certainly better than nothing but as a follow focus replacement it would be impossible.
Pros & Cons
Pros
Not really much else on the market that offers this kind of control at all
Solidly built
Easy to add longer USB cable
Exposure control works well and adjustments can be made quickly
Cons
2 second delay pressing shutter button to taking a photo
Lag in focus control makes it inaccurate
Firmware update software only available for the PC despite all creatives I know using a Mac
Variation in focus speed with different lenses
Lens focus speeds do not attain maximum possible by the lens
High price, higher than LANC remotes are for regular cameras
Progressive focus speed mode is not linearly progressive
Overly sensitive directional control pad
Some lenses, even hugely expensive USM L lenses, exhibit a jerky focus motion rendering recording while changing focus a non starter
Specific to Canon HDSLRs , if you change camera systems you are out of luck
Conclusion
I think most people will have been excited about the potential of this product because of the focus control.  Unfortunately in this area it really is too slow, too inaccurate and too unpredictable with changing lenses.  There's simply no way I can recommend it for that purpose, stick with a follow focus.  As for remote control of the exposure, this works well and I'm sure that certain specialists could find a use for it but given the high price of the product it would be a hard pill to swallow knowing that one of the main features you are paying just doesn't work very well.  If you only plan on using it on a jib mounted camera , or any other rig where camera access is very limited then it's much much better than no control at all though so long as you can set your focus to a specific point for each shot, forget about changing the focus during a shot. I wish there was a simple version available that simply offered the exposure controls and a friendlier price point.