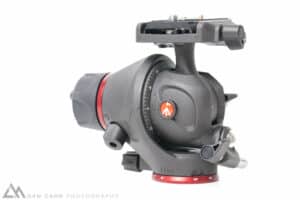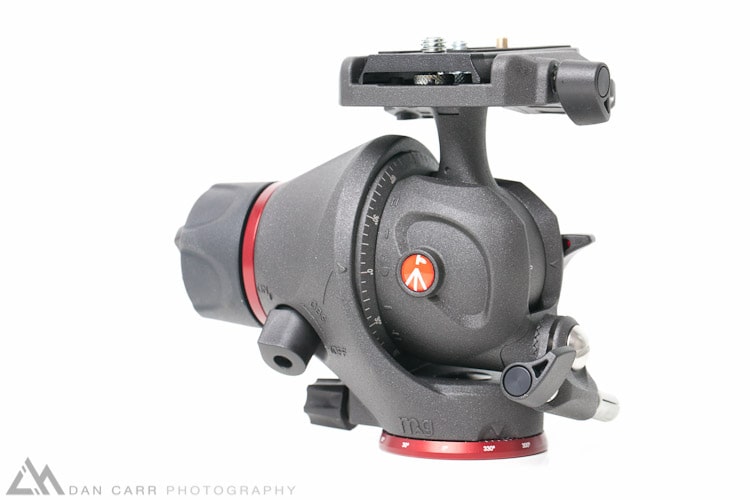 DSLRs with HD video capabilities have changed the way many of us shoot and many photographers are being asked to return from assignments with videos, or simply making that choice themselves to make their business stand out from the crowd.  The problem is that DSLR video is incredibly susceptible to camera shake because in-body image stabilization has yet to be implemented in these larger cameras.  Combine that with the tendency to create rolling shutter artifacts when panning too fast and you quickly realize that a good video head (fluid head) is necessary to get even a reasonable job done unless you are using a large shoulder mount system.  An extra accessory to pack in your gear bag is never welcome though, especially if you travel a lot (which many photographers do) with ever decreasing baggage allowances.  Most photographers already have a regular ballhead for stills photography and I know that on more than one occasion I have eagerly added my video head ( a Manfrotto 701 HDV) to my to-be-packed pile before a trip, only to cull it from the list at the first indication that my bags were over weight.  Manfrotto have set out to solve this conundrum with the 055 Mag Photo-Movie head..  A head that can be both a photo ballhead with 3-axis adjustment, and a fluid video head for pan and tilt movements.  So how does it perform ?  Read on to find out…..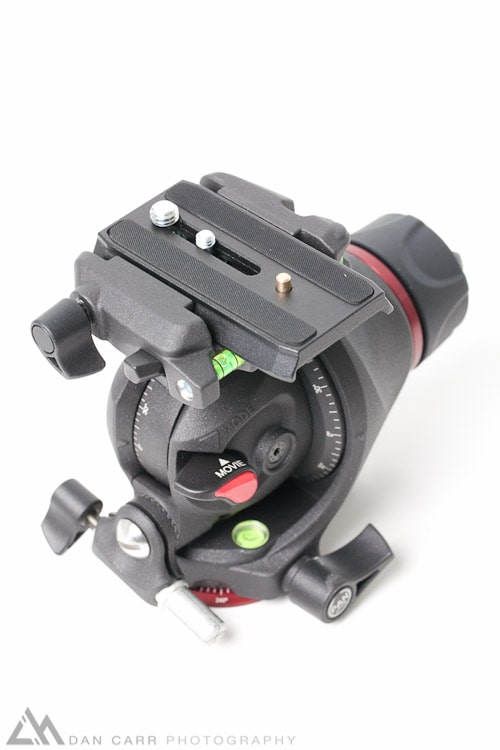 Photo-Movie Head – Tutorial Video from Manfrotto on Vimeo.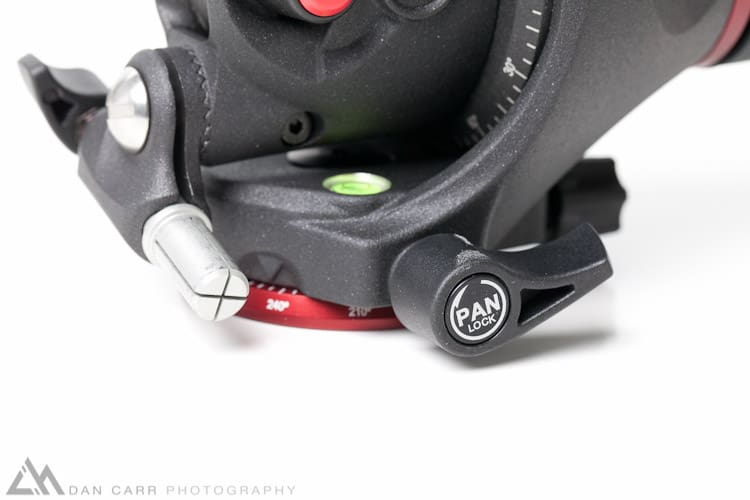 The pan lock feels like the weakest point in the design and doesn't have a quality feel to like the rest of the knobs and switches.  It gives you a feel that you are simply screwing something physically into the panning base to lock it in position.  I didn't feel like I wanted to put a lot of pressure through it and it just felt too plasticky for my liking.  It's by no means a cheap product and this stood out to me as an area that could do with improvement.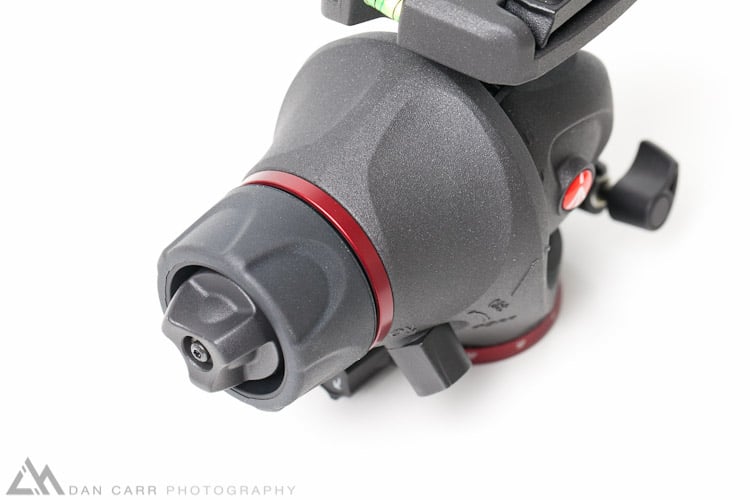 The main lock knob has it's drag knob built into the center.  The knob has a solid, smooth feel and due to it's size it is easy to apply a VERY solid lock to the whole thing whilst still having no problems releasing it when you need to.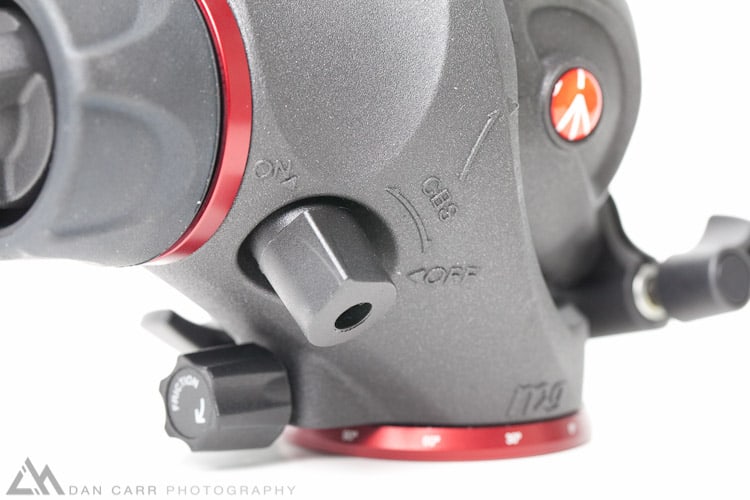 The counterbalance knob is either on or off but you can select different strengths of counterbalance depending on the angle at which you turn it on. You can see in the shot above that there is an arrow above the CBS marking.  This arrow points to a scale on the ball and lining up a position on the scale before engaging the counterbalance determines the strength of it.  Its a bit of a fiddly way to do things and in a head of this price I would really have liked to see a simple, single knob that can select multiple strengths.  If you have the pan bar set up for using with your left hand then you are on the wrong side of the ballhead to see the knob and the scale so it's an awkward thing to set up if you are always changing lenses and hence having to always change the counterbalance.  On DSLRs, the lens is such a large proportion of the weight of the camera that constant adjustments might be much more necessary than when using a more standard form factor video camera.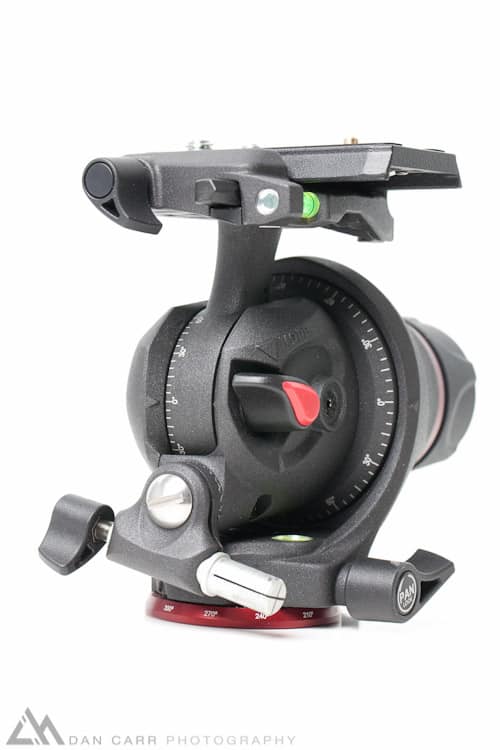 Distinctive design will have passers by asking you what the heck it does !
The impossible maneuver for all other video heads.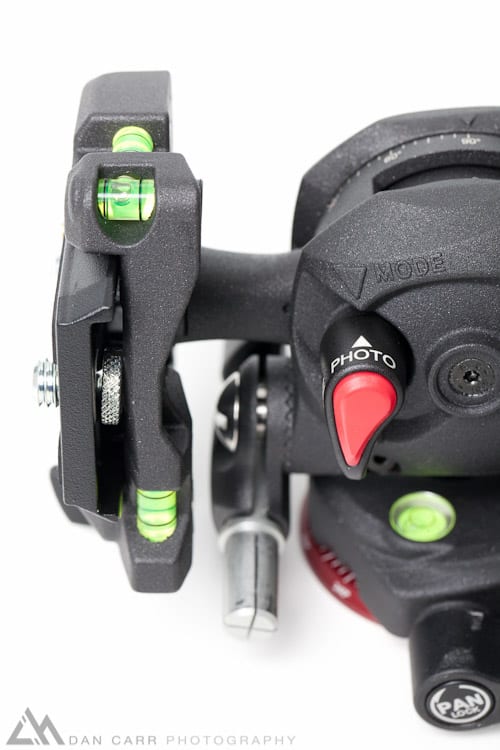 When you flick the switch from Movie to Photo you can now position the camera into a portrait orientation.  When I initially saw that this was a switch, and not a threaded knob to tighten I was a little concerned that when the head was returned to movie mode there would be a little side-to-side play in the clamp part of the head.  My concerns were unfounded though and thankfully Manfrotto has clearly spent a lot of time on the internal design of that particular mechanism.  The switch throws easily but it lock VERY solidly into video mode.  I tried to get it to wiggle but I just could not !  A nice piece of design inside.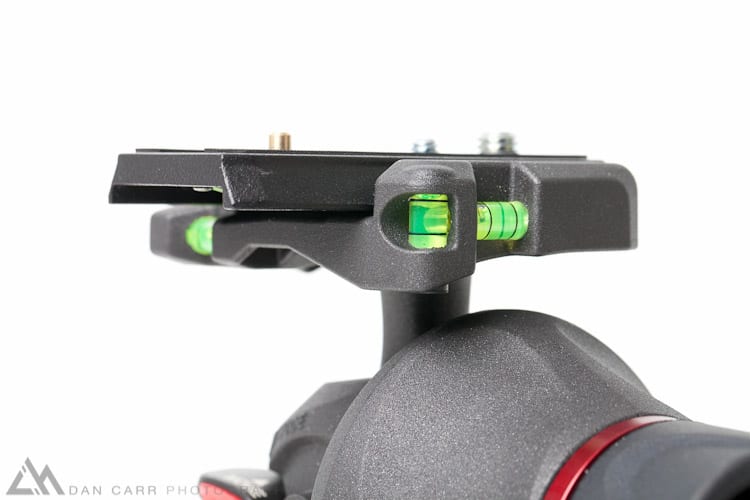 Levels all around make it easy to get set up when you need to in a hurry.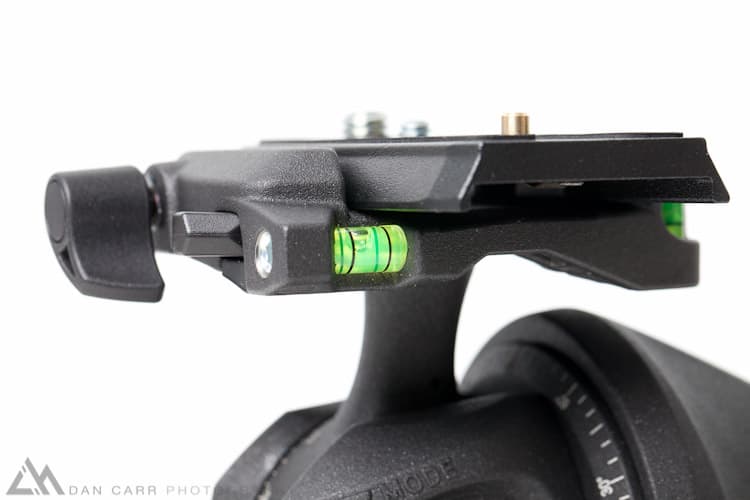 Bubble levels are located on both sides of the clamp head for you to level all 3 axis..  On my photo ballhead I don't have levels but having used this I can see a value to it for quick setup in the field.  They are nicely sized and easily readable.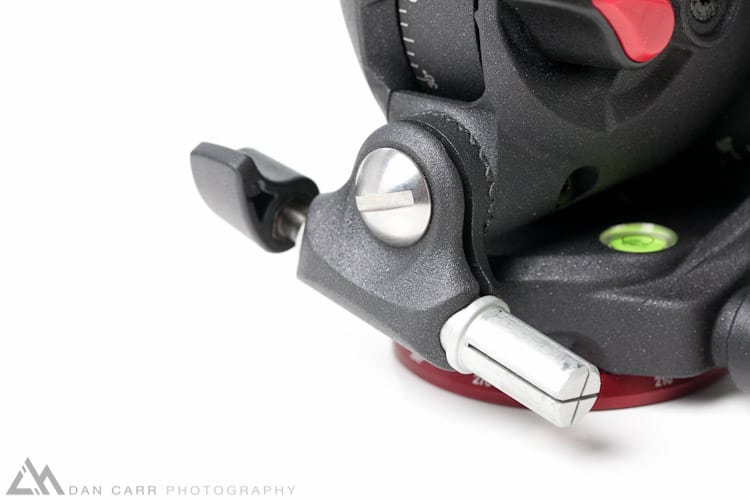 The head comes with a new style of easy release pan bar.  The lightweight bar is hollow and inserted onto the expanding silver piece you see on the shot above.  A quick turn of the opposing threaded knob and the bar is securely in place.  This is a great feature!  It makes it so easy to pack the head in your bag without having to fit the pan bar into an awkward spot.  Simply remove it and tuck it wherever there is room.  I used this feature every time I took the head out to shoot and it means that if you are heading on a shoot where you know you have absolutely no reason to use the pan bar you can simple leave it at home.

With or without, your choice
Compared to….
I use Really Right Stuff support gear for all my photo needs.  The BH-40 fits the bill for my photo ballhead needs and for the small amount of video stuff I do I have found the Manfrotto 701 HDV to be mostly sufficient.  As you can see in the photos below, over this particular combination the 055 Photo-Movie actually does not save all that much bulk on taking both my other heads on a trip.  The 701 is a pretty small video head though and many will have much larger than that.  The 055 head has a load capacity twice that of my 701 incidentally.  Of course bulk and weight isn't the only thing you can save by using this head.  There is also the time factor.  Switching continuously between 2 heads is a pain in the ass, particularly when there are 2 types of quick release plate involved.  I often find myself thinking I ought to grab a quick video shot only to decide a split second later that it would take too much time to be worth it.  Not so with the 055 Photo-Movie head though, just a flick of a switch.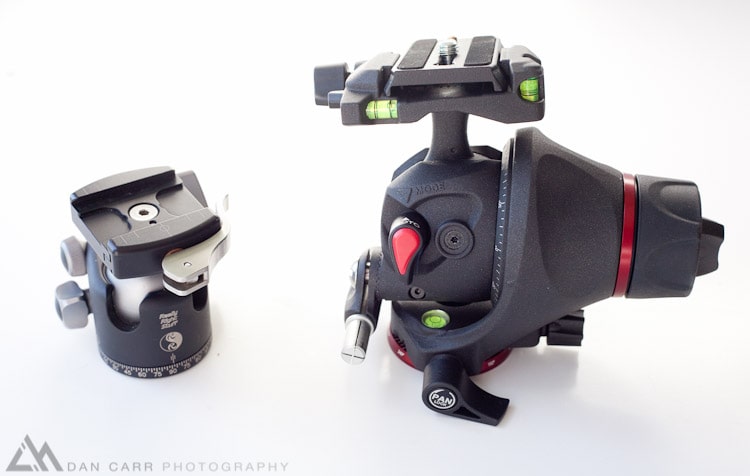 Really Right Stuff BH-40 Vs. Manfrotto 055 Photo-Movie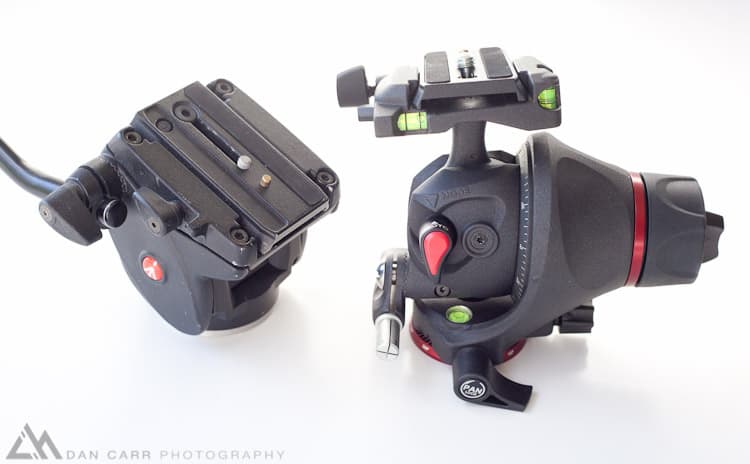 Manfrotto 701 HDV, Manfrotto 055 Photo-Movie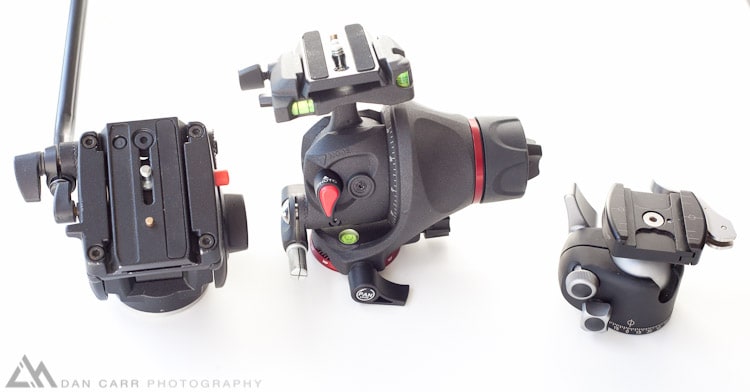 Manfrotto 701 HDV, Manfrotto 055 Photo-Movie, Really Right Stuff BH-40
Pros & Cons
Pros
Removable pan bar
Solid build on the main body of the ballhead
3 axis bubble levels on the clamp head
Rock solid clamping into Movie mode
Nicely sized tilt clamp knob
Cons
Panning base lock and drag knobs not as solid or nice feeling as the rest of the head
Slightly awkward shape for packing into tight spaces
Price seems slightly high to me
Conclusion
You have to hand it to Manfrotto for appreciating the need for a head like this in such a timely manner.  Some ballhead manufacturers out there have rushed out add-ons that "help" you to use their heads for shooting occasional video but Manfrotto clearly started from scratch and came up with a striking design.  I think the price and relative size of the head will keep it away from some of the amateur market though and I hope that in fact now they have got the general design idea done, we might yet see a smaller cheaper version aimed at those who might previously have been using something like their 701 HDV head.  Comparing it to my 701 head it preferred using the 055 Photo-Movie for video shooting.  The tilt seemed a lot smoother and the panning was at least on par.  On the photo side of things I didn't prefer the 055 over my RRS BH-40 because I just found the size of it a little clumsy feeling.  That said though, the 055 more than supported the weight of my usual setups for photo shooting and it always locked solidly in place.  There's no doubt that I could certainly achieve the sum of both my current heads , with the 055 Photo-Movie though.  But I keep coming back to the size factor……  and this will bug people to varying degrees depending on what your current setup is , and what proportions of your work are photo and what are video.  The bulky shape won't be much of a problem if you shoot in the studio and whole thing is more than solid enough to hold some serious camera/lens combinations.  If you shoot photos and video in fairly equal parts though, and this falls roughly into your price bracket I don't believe you will be dissapointed at all.  I'll certainly be recommending it as a decent lower end fluid head even if you use it for photos only occasionally.
Direct Purchase Links
Amazon