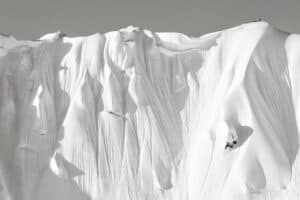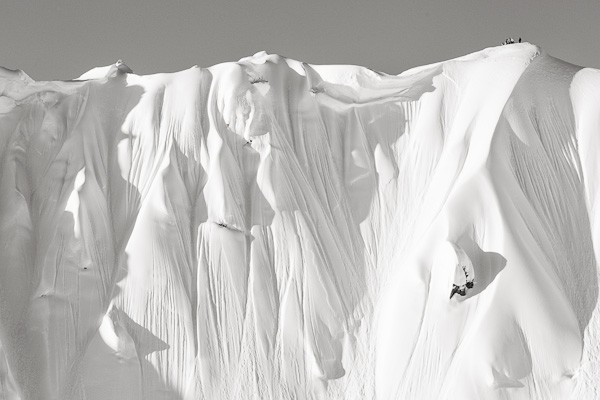 I'm becoming very very familiar with the interior of the hotel room in which I'm currently sitting. The front door is a portal to the 1970s, wood paneled walls that creak in the night, vinyl flooring and a selection of electrical appliances that would make an interesting museum exhibit. They call it the "slow roast" here in Haines, Alaska, and nobody knows how long it will last. When I first arrived in town 2 weeks ago the skies were blue for a couple of days and we got right into it. But since then our fortune has changed. We have flown for 1 run in the last 7 days….. and its beginning to drive us insane. The weather patterns seem totally unpredictable, even by the most seasoned of Alaskan forecasters. We have given up even checking on them, the only way to go is to look out of the window.
I'm here with a crew from Poorboyz productions, working alongside them while they film for their new movie, Revolver. Our stacked list of pro skiers consists of Dane Tudor, Tim Durtchi, Julien Regnier, Pep Fujas and JP Auclair and I'm doing some shooting for Atomic Skis and Salomon . The trip actually started out with a bang though….. flying into Juneau from Vancouver I was greeted with beautiful sunshine. There are only 2 ways to get from Juneau to Haines, sea or air. And we aren't talking 737s here , you need to pile into a tiny 4 seater Piper Cherokee with all you ski gear and camera equipment. When the weather is nice the plane is the way to go and saves you a ton of time and for $100 you get one of the most beautiful flights you could ever hope for as you fly up the Chilkat inlet towards the port town of Haines. As soon as we landed we headed straight up to "33 mile", the base for Alaska Heliskiing , located 33 miles outside of Haines. It was already late afternoon but we did all the necessary paperwork and safety checks that are required when you go heli skiing, so that we were ready to fly the next day if the sun held out.
Unfortunately, as usual, I cant show you any of the skiing photos until they have been used in next winters ski magazines but here is a few other shots from our trip.
On the flight from Juneau to Haines I jumped in the front seat with my Canon 1d MKIV and my 24mm f1.4 II lens. Due to limited space I could only take the camera and one lens but I made a quick little video. These little planes are shaky, could have done with a gyro to stabilize things a little bit. If you want to watch it in HD you can head HERE
Shooting in AK is very different from normal shooting in most situations. The cost of using a helicopter is huge, nearly $3000 per hour to be exact. There are several ways to approach using a heli and they both have their advantages and disadvantages. If you rent a private heli then you have to pay a minimum cost per day, whether you use it or not. This cost varies but it can be upwards of $4000 a day. When you often have huge long stretches of down time like we have had, having your own heli can really ruin your month! On this trip we have experimented with various options, including splitting a heli with a snowboard film crew that is also up here. The disadvantage is that you get less drops on a good day, but at least you dont go broke if you have some major down time. Its not unheard of for people to come up here and spend all their budget without ever getting to fly at all! So you finally get up in the air on a bluebird day and that clock starts ticking, you pay for the heli for every minute that you are flying in it, $50 per minute. Taking hours to search all the lines in the area is financially not really an option so the riders have to be on the lookout for something they want, and we have to quickly make a decision as a team, as to whether its going to look good on film and photo with the light that is currently on it. Knowing the area is a huge advantage, knowing which lines get light at which times and which ones get sun-baked by a certain time. Its a huge learning process for the younger riders in the crew like Dane and Tim. When a zone is selected the heli spins round to let the riders snap a photo of the zone and then often they are dropped straight on top of the line, only seconds after seeing it. From there everything looks very different and picking your line down by looking at the photo is an art in itself. Because of the limited weather windows and the huge costs, there is always pressure on the riders and filmers/photogs to make every shot count, its a very different vibe to most shooting that I do in the mountains. For the skiers , and even myself to a slightly lesser extent, you have to stay constantly mentally prepared. The weather can change quickly and then you get the phone call to gear up and get down to the heli port. As a skier, in an hour you can go from being in bed to standing on top of the line of your life, with no warm up run. And as a photographer you have to make sure that you capture that moment perfectly because you might have waited days and spend thousands of dollars for that split second. There's always a lot of choices to make, where can you stand that is safe (which can be a limiting factor), what lens will you use and when will you take the shots. The lines can be long, and simply holding down the shutter button will have you filling your in-camera buffer in no time meaning you miss the shot as the skiers sends it off the cliff at the bottom of their line. If you don't have a private heli for the day, the riders can only expect to get 3 or 4 runs in a day if its bluebird all day. More often than not, the weather is not that stable and you might get one run in before the clouds roll in and its time to head back to the motel. It's a waiting game.
The video below was shot entirely with a GoPro® Helmet HERO Wide camera. I've had one of these now for a couple of months and been really impressed with the quality of the video. It shoots in full 1080p at 30fps , or 720 in 60fps. It can also be used to take low res photos and you can set an interval timer on that to create a timelapse. These things are a lot of fun and small enough that i can just slip it in my pocket. Most of the shots in this movie were taken using the optional GoPro chest mount. This video is well worth watching in HD on vimeo's site, if only just to see the exceptional quality of the video from such a tiny tiny camera! Hopefully it give you a bit of an idea what its like to shoot a day in Alaska. The video was edited in Final Cur Pro but one thing you should know is that natively the GoPro records to an h.264 encoded file that is not much good for editing. If you want to edit multiple clips together like this you will need to use a program to convert the files to a quicktime file with a different codec like AIC or prores 422. You can use a free program called Mpeg Streamclip to do this. To watch the video in HD please go HERE.
Shooting skiing in Alaska, GoPro helmet camera video. from Dan Carr on Vimeo.
Here is another quick clip too.
Heli shooting in AK from Dan Carr on Vimeo.
What gear do you need to shoot in AK?
You can see some of the stuff I'm using in the video and its a bit of a different selection to what I would normally take skiing.
Canon 1dMKIV – Main camera
Canon 5dMKII – Backup (spends most of its time in the hotel just in case the 1dMKIV has problems)
Canon 70-200 f4 L IS – Good for wider shots of some of the shorter lines round here and good for shooting from the helicopter when permitted.
Canon 300m f2.8 L IS – For lines in Haines I think this is the lens to have. Most of the lines here are between 1000 and 2000ft of vertical and 300mm works pretty well. Its also flexible because you can add a 1.4 teleconverter and still get great shots and even a 2x TC if needed. I have both TCs with me though I only used the 2x twice when we had to shoot from way across the other side of a valley. Its actually the first time i have ever used a 2x TC and I was pretty surprised by the results. Better than I expected. Back in whistler I often use the 300mm f4 L IS but it doesn't handle the TCs very well so that got left behind this time and the extra weight and size of the 2.8 has to be dealt with. The majority of my shots on this trip were with the 300mm 2.8.
Canon 24mm 1.4 L II – Lifestyle shots are great with this lens , far too wide for action shots round here. I don't bother to take the 17-40 with me either as its just too wide for things in AK but the 24mm is just perfect on the 1.3 crop sensor to show a it of environment around the subject, but still isolate them with the 1.4 aperture.
Sigma 15mm fisheye – Only used for some interior shots in the heli
I'm also using a carbon fiber Induro monopod which can be handy as you have to sit around a lot and i can just jam it in the snow to support the camera while I wait.
Dont forget all the other little things like transceiver, radios, safety harness (necessary for heli skiing up here), shovel, lots of layers, gloves etc etc. All of this is packed into my F-stop Tilopa.
Too close for comfort
There is obviously an inherent amount of danger that comes with shooting in the mountains. Everything in Alaska is huge, and the dangers that come with it are amplified. Our guides are the best in the business and they have many years of experience out here in Haines, we know and understand the dangers and prepare for them as best we can. The stability of the snowpack is constantly evaluated and it's important to always have an escape plan from where you are skiing just in case the slope does slide. From our point of view, as filmers and photographers, a lot of the time here we are looking up at things from the bottom. We need to be aware of the dangers that could come down from above, not just from the lines that the skiers are on , but also from surrounding peaks as natural avalanches and cracking cornices occur all the time. You really need to make sure that you are in a safe spot to stand and on our third days flying up here we really proved why you need to be constantly aware in these mountains……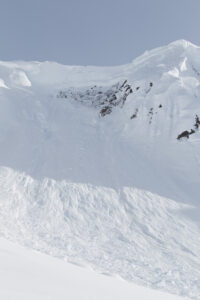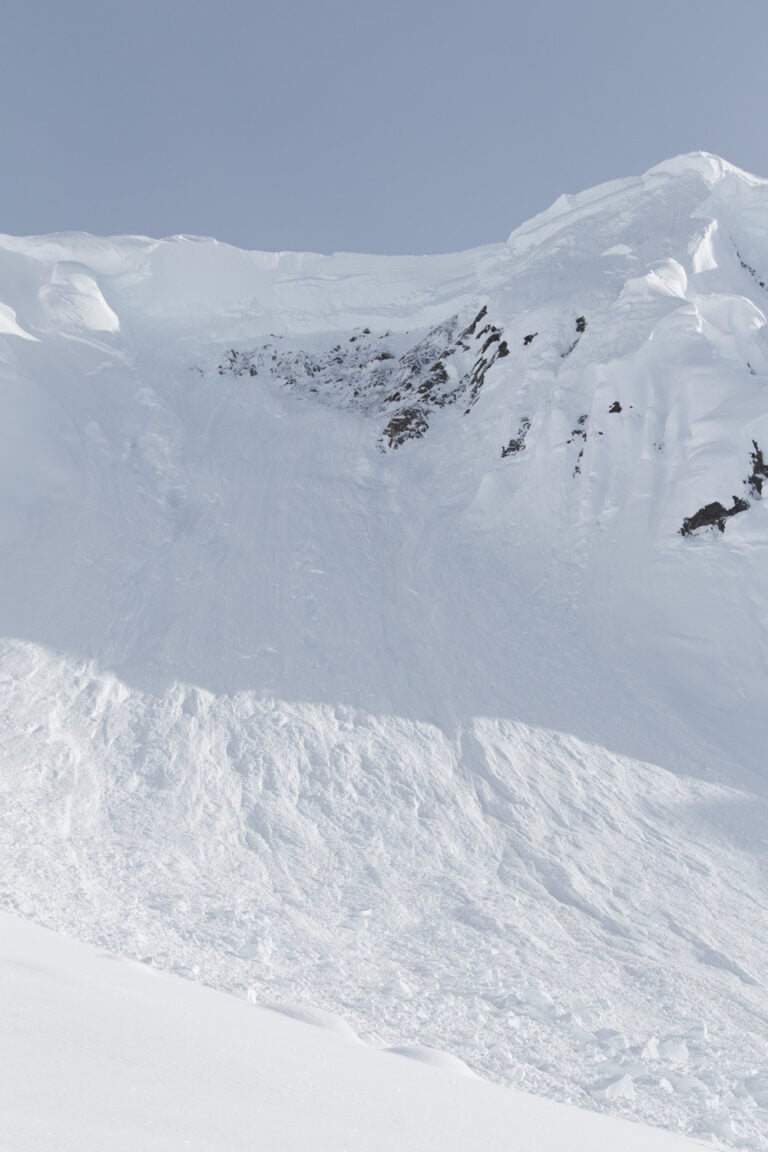 This photo on the left shows the view from where I was standing. The cornice there is roughly 25ft thick, and when it hit the slope below it you can see how the whole slope ripped away right down to the rock, leaving a 5 or 6ft crown below the cornice. The panorama actually doesn't even show the full length that the debris slid, there were chunks even further down out of my view from that vantage point. That sort of volume of snow makes an indescribable noise as it picks up speed. Immediately a cloud of cold smoke rose up from the ground as the huge cornice chunks mixed amongst the now moving slope. We had picked our vantage point carefully, perched up on a slight rise in the middle of the glacier. An avalanche will follow the path of least resistance so we knew if something happened it should turn downhill before getting to us. Of course that didn't prevent a heart stopping scramble through the snow as the slide began to pick up speed. Initially I was sure we were safe, but then the huge cloud of dust grew bigger and obscured our view of the larger pieces of rubble. Many of those chunks were the size of cars and even buses, we wouldn't have stood a chance if we were hit by those. As the dust cloud rolled up and gathered speed and got closer, me and poorboyz filmer Steve Rozendall started to run as best we could. Within seconds we were engulfed by the dust cloud thrown up by the slide. Fortunately the main body of the slide turned downhill and our safe zone turned out to be just that. The skiers might be the ones on the crazy lines, but remember that its coming towards you if things go wrong! Good preparation saved us on this occasion. Once Dane had seen the slide pass by Steve and myself he managed to snap a quick photo of it continuing on down the slope. The panoramic photo of the aftermath above was taken on the wind-lip right next to front of the slide in Dane's action photo on the left below. As you can see, it was still carrying a lot of force at that point in the swirling mass of snow. The photo on the right below shows Steve and Me where we were standing when it slid to give you a bit of scale.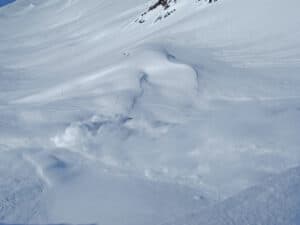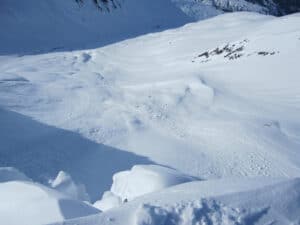 That't about enough on this I think, don't want to go on too long. I'm by no means an AK Veteran like some of the other ski shooters out there. But I always wandered what it was like to shoot up here. Hopefully this gives you a little insight into things. Drop more questions in the comments if you have them.