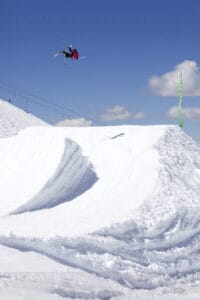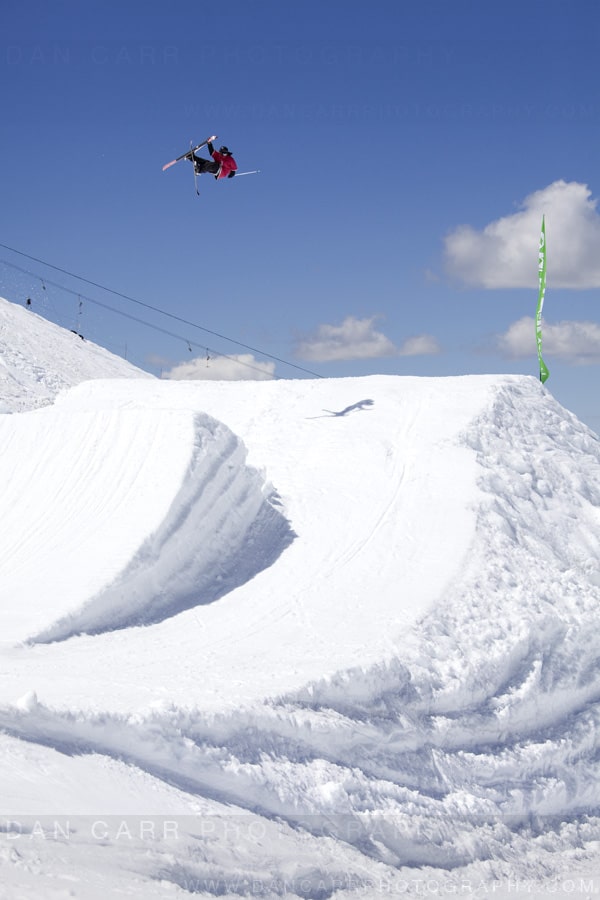 Bit of an odds and ends posting this one. I've been shooting a few things up on Blackcomb glacier in the last week or so. The progression of skiing over the last year is pretty impressive. It seems everyone has a new variation on a double cork or double flip these days. Paul Bergeron (photo on the left) is looking particularly impressive. I also shot a quick video of Peter Olenicks new double which seems to be a kind of misty 5 to switch backflip. Crazy stuff.
Pete Olenicks new dub from Dan Carr on Vimeo.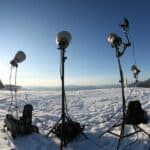 A few nights ago I went up to Camp of Champions for a sunset shoot with the 4frnt crew. CR Johnson, Matt Sterbenz and Finn Anderson were on hand along with local skiers Mack Jones and Carl Fortin. As with this shoot last year , we were blessed with perfect conditions and a beautiful sunset. The photo on the left shows the collection of Elinchom Rangers set up by myself and a couple of other photogs. In the last couple of shoots I have been experimenting with some different pocketwizard setups to try and increase the usable range. What I have learnt is that moving the PW away from the light stand and flash head can make a noticeable difference. A Manfrotto magic arm with camera plate and a cold shoe provide a useful setup because you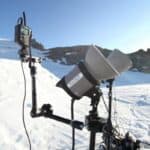 can easily move it around depending on what angle you are shooting. DO NOT be tempted to angle the aerial towards you though. You must keep the aerial pointing vertically. Any deviation from the vertical seems to cut down the range again. This was the first shoot in a long time that I have not experienced major pocketwizard frustrations and in fact I managed to get the new TT1 transmitter to sync incredibly fast with my ranger.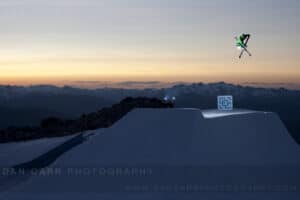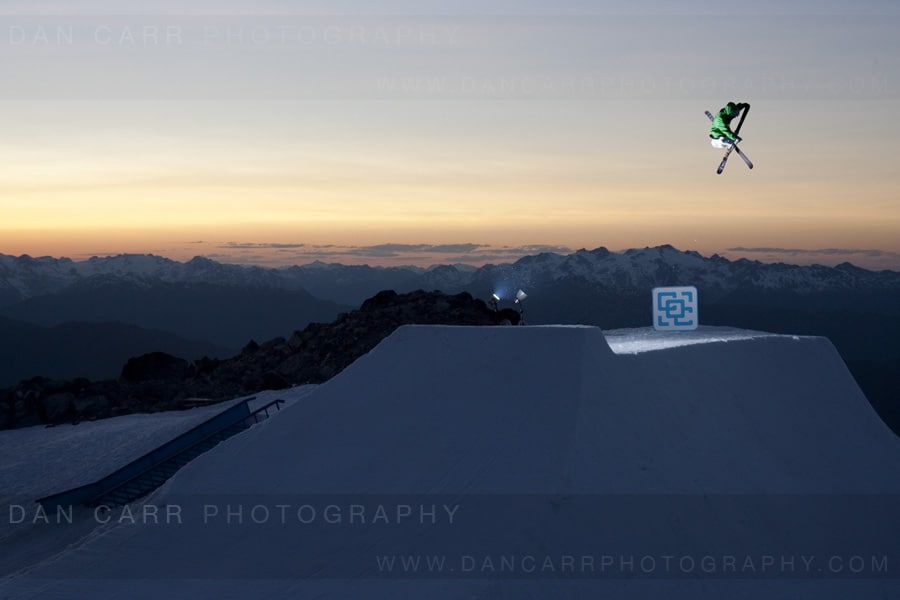 Carl Fortin, Camp Of Champions, Whistler, BC
Canon 1dMKIIN, 1/320, f5.6, 24-105mm at 50mm, iso 400
Coming up this month there will also be a sunset shoot going down at Momentum ski camp and i'm working on the marketing material for a new spa here in Whistler when i'm not shooting skiing. At the end of the month i'll be packing up and heading to New Zealand for a team shoot with another ski company. It's nice to get back to shooting, the last few weeks I have spent many hours in front of my computer screen sorting through the winter shots and getting them sent off to all the ski magazines around the world. A necessary part of the job and certainly not my favorite part.