The lack of updates over the last few weeks might lead you to believe that I have been off adventuring round the world chasing snow storms….not quite.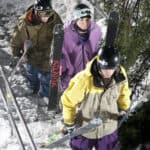 It's been a strange winter here in British Columbia. The snow didn't really come in November and December leaving the mountains still looking like mountain bike resorts. A lot of my plans went down the plughole and I was left twiddling my thumbs for a few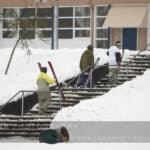 weeks. Then on December 26th Vancouver received nearly 60cm of snow (though nearby Whistler got only a couple of inches). With more snow than Vancouver had ever seen I quickly organized a trip down there to meet up with the Poorboyz crew and we hit some rails for a few days with Mike Henitiuk, Matt Margetts and Leigh Powis. When a city that normally doesnt get any snow, receives nearly 2 feet, the place comes to a standstill. Jeff Thomas met me at his house in North Vancouver by coming down his road on his snowmobile…..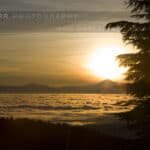 As soon as that trip was done I headed back to Whistler for the Deep Winter photo challenge that I wrote about last week. After the Deep Winter I headed back down to Vancouver for a shoot at Grouse Mountain which saw the beginning of another strage weather pattern. As we arrived at Grouse it looked like the day was going to be foggy and overcast but a quick trip up the gondola quickly showed that the temperatures were inverted and the top of the mountain was bathed in a beautiful orange glow as the sun rose above the cloud layer. This inverted weather pattern stayed around for the next 10 days though bringing unseasonally high temperatures to the alpine regions while the valleys hovered around 0. Up in whistler the temperature in the alpine shot up to a high of 10 degrees and stayed there for the week. The already thin snowpack was melting away…….

Booter shooting in whistler from Dan Carr on Vimeo.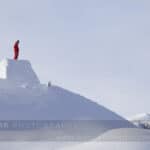 With no real powder to ski anywhere I spent the week building backcountry jumps with the PBP crew. We discovered that the snow on some West facing aspects was still soft enough to land on once you punched through a thin crust so we built a collections of step downs, hips and gap jumps with Anthony Boronowski, Charley Ager, Brandon Kelly,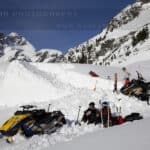 Dane Tudor and Riley Leboe as they work on the new Poorboyz movie to be called………. well I cant tell you that yet but wait until the SIA trade show in Las Vegas next week and all will be revealed. For now though the inversion has dispersed and the slush has turned to Ice but at least that finally gave me some time to do an update!