Following on from Part 1 where I took a look at some useful sound accessories for the 5DMKII, this week I'm going to be taking a look at video heads for your tripod. For photographers out there wishing to take advantage of the video capabilities of this camera , there is no getting around the fact that you won't be able to use your current photographic tripod head. Normally I use a Really Right Stuff BH-40, whilst this does have a separate panning base which might be usable for panning horizontally , it would not allow any vertical panning and i think the horizontal pan would be tough without a handle.
So how does a video head differ from a photographic one and which ones are people most likely to find useful for the 5DMKII?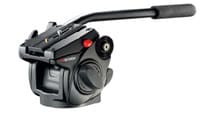 A photographic ballhead is designed to be easy and quick to position in one place and then lock solid while you take your shot. A video tripod on the other hand has 2 jobs. It needs to lock solid should you wish to to shoot something statically but also move smoothly should you wish to shoot a panning shot horizontally or vertically.  As with photographic ballheads you can spend as much or as little money on one of these as you want. I asked around several film guys that I know and it turned out that all of the use the exact same head, the Manfrotto 501HDV. Further investigation showed this head to be extremely popular and surprisingly good value for around $200. It weights 1.6kg and will hold a load of 6kg. But 6kg is a lot more than I am going to need to hold, the 5DMKII only weighs 810 grams and I dont have any lenses that weigh 5kg!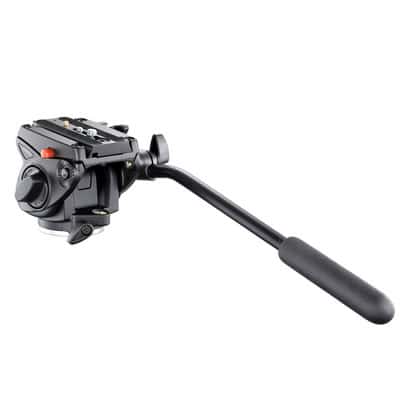 Manfrotto offers a solution to this though….. the 701HDV. Introduced in May 2008 as a replacement to the 701RC2, this is the most affordable true-fluid head on the market today and looks just like a shrunken 501HDV. It has a capacity of 4kg but weighs half the weight of the 501 which is also useful if i need to carry it around as well as all of my usual photographic gear. I ordered a 701HDV along with my 5DMKII which arrived a few days ago and so far I have been very impressed with it. The panning base locking knob is somewhat crude but it does the job and pans very smoothly with an easily adjustable resistance. The vertical panning relelase is via a large knob on the side (see photo) and it locks solidly when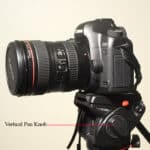 you dont want things to move around. Construction is also impressively solid, and feels like it will stand up admirably to the harsh environments that I use my equipment in. A spirit level is included on the base and the panning handle is switchable to whichever side of the head is most comfortable. All this for $170! I'm a big fan of this head, for the price I don't think you can beat it. Considering the relatively light weight of the 5DMKII compared to most other video systems, I think this is the perfect solution.
For those people that are looking for a little bit more weight capacity you might want to take a look at my review for the Manfrotto 503 HDV.