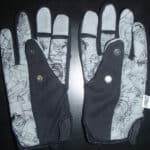 Another question that comes up quite often from readers of this blog and visitors to my site is "what gloves do you wear when you are shooting in the snow?" I've seen this question discussed on several other photography websites too, it's not just ski and snowboard photogs who are in need of a decent pair of winter shooting gloves. Of course the problem is that we want to stay warm but also retain the use of our finger tips for operating the camera controls and most importantly, the shutter button. Wearing a think pair of winter gloves, it's all too easy to miss a shot because you were not pressing down hard enough to squeeze the shutter through the thick material.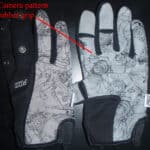 The Photog glove from POW solves this problem perfectly. The tips of the thumb and the first two fingers can be folded back and held out of the way by the ingenious implementation of a few small magnets. When it's time to shoot, fold a couple of finger tips back for full dexterity and fire away. The palms of the gloves are also covered in a camera based pattern but this is not just aesthetic. The pattern is made from a very sticky rubber to give you great grip on your gear in the cold. The gloves are suggested for temperatures from 25 to 65 degrees F. If you plan on using them in even colder climates, they work very well as a glove liner which is how I tend to use them, wearing them inside a large glove such as the POW Assault.
So where can you get your soon-to-be-warmer hands on these gloves? If you live in a ski resort town check your local stores first but if you draw a blank you'll be able to pick them up from backcountrystore.com
Support the site - It's easy!
Did you find this post useful and interesting?
- I've invested thousands of hours into creating the content you find for free on this blog. The best way to say thanks is to use the product links in the post when you make your purchases. I may make a small commission when you do this, and that helps to keep the site running. Click
here
to find more links that support the site, or use these primary ones:
B&H Photo|Amazon|Adorama|Think Tank (free gift on $50+ spend)|MindShift Gear (free gift on $50+ spend)
|
Coffee
Thanks for your
support
and readership!