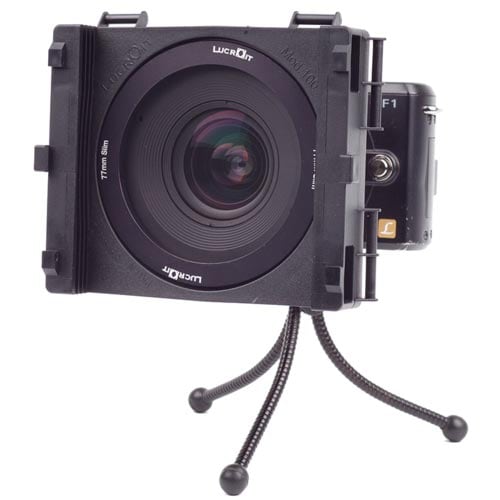 I use the Lucroit filter holder because they have some wonderfully innovative adapter rings for mounting it to your lens. Usually you would have to use a 105mm circular polarizer on the front of a filter stack. These are big, heavy and expensive. With the Lucroit system, they make adapters that allow you to screw a smaller polarizer into the adapter ring so that it sits between the lens and your square or rectangular filters. This means I can use my smaller 82mm polarizer, and it also keeps the stack height much smaller which means less vignetting. In fact, they even have a second set of adapters that mount onto your lenses using the thread that's usually used for clipping on your lens hood. This means your polarizer can remain directly attached to the lens. Two great, innovative options.
Formatt Hitech Firecrest Graduated NDs (2-stop, 3-stop, 4-stop)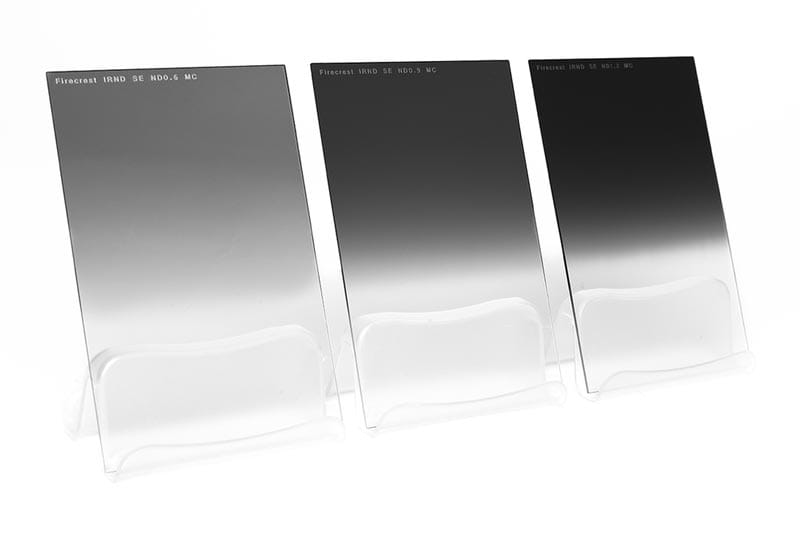 Graduated ND filters are an important part of my filter kit. I regularly use 2-stop, 3-stop and 4-stop filters. I found that a lot of filter kits come with a 1-stop grad, but even though I have owned them in the past, I never found a use for them. I can easily pull a 1-stop graduated edit in Lightroom, but anything more than this would be pushing it. The 3-stop is by far the most used grad, if I could just own one grad, that would be the one. If your budget is limited then you can get an awful lot of landscape photography done with a 3-stop grad and a polarizer!
Formatt Hitech Firecrest 3-Stop ND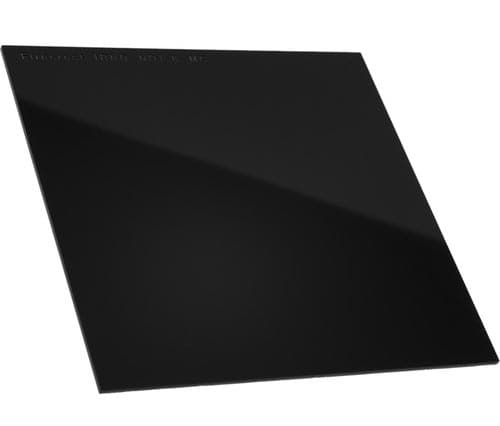 I have a square Firecrest 3-stop ND that I mainly end up using on cloudy days, particularly for long exposures of water in the woods where light levels are much lower and hence there's no need for the 6-stop version. It's also a useful density to have for long water exposures right at sunset and sunrise.
Formatt Hitech Firecrest 6-Stop ND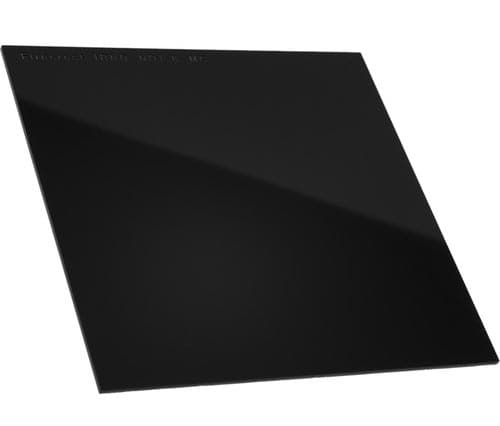 I have both a square 6-stop ND and a screw-on 6-stop ND because I find the 6-stop ND to be the most useful general purpose landscape photography ND filter. If I could just have one ND filter, this would be it. If I'm traveling super light then I would probably just grab the round one and a polarizer. If I'm taking the full filter kit then the square one will come with me instead and I'll use the full filter holder setup.
Formatt Hitech Firecrest 16-Stop ND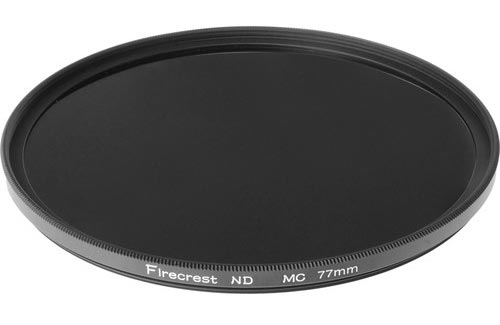 The Firecrest 16-Stop ND filter is a pretty crazy thing! It allows me to make long exposures in broad daylight that are roughly 5 minutes or more. I have to say that this is a very specialized filter and I definitely don't use it often, but it allows you to try some interesting things right in the middle of the day where the harshness of the light might otherwise make it tricky to make something worthwhile.
For super long exposures I prefer the screw-on filters because it helps to prevent light leaks.
Canon 52mm Drop-In Filter
This filter holder drops into Canon's super telephoto lenses. It doesn't come with a filter in it, but you can screw in any 52mm filter. I keep a 3-stop ND filter in mine, and I use this in my long lenses when I want to shoot with a slower shutter speed for panning shots in bright sunlight. Panning is a great technique that can add a sense of speed and movement to many wildlife and sports photos, but sometimes there's just too much light to get your shutter speed down to the level you desire. This filter holder solves that problem.
The other consideration for using this, with an ND filter, is so that when you are panning, you aren't always at your smallest aperture like f/32. That small aperture makes every microscopic piece of dust on your sensor visible, and that can take time to fix in Photoshop or Lightroom. If you're working an event and cranking out hundreds of images, it's just something you don't want to have to deal with. Using an ND filter will allow you to pan with your f-stop back in the middle of the range where you'll likely not need to worry about cleaning dust spots off all your shots.
Various Circular Polarizers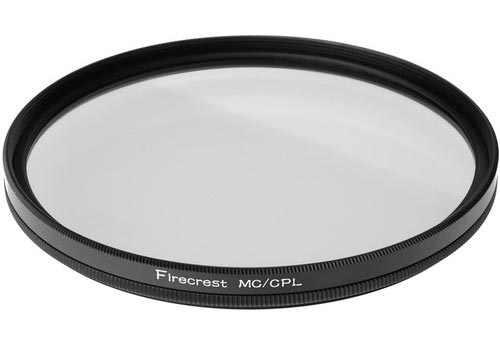 Out of all the filters I have, my circular polarizers are the most important because they can have such a dramatic effect on the image right out of the camera. Colours are punchier and water can be rendered completely see-through. Since it's so important, I have several of them because I often like to leave them on certain lenses, like my macro lens for example.
When new photographers are looking to make the next step up in their gear, perhaps from their first DSLR and kit lens, they'll often ask what lens they should get next. If they have shown any interest in outdoor photography, I'll always tell them to get a circular polarizer, not a new lens. The difference they'll see in their landscape images with a polarizer will be vastly more appreciable than a minimal step up in sharpness that comes from upgrading a lens.
If I was putting together a first filter kit on a budget I would go for:
Circular polarizer
6-stop ND filter
3-stop Graduated ND filter
With those three filters you can do an incredible amount of landscape photography!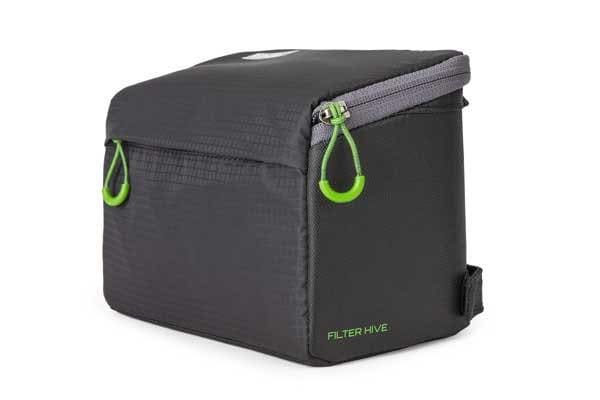 If you need a case to store all your filter gear in then the MindShift Filter Hive should be top of your list. It holds 6x 4x6 filters and 6 circular filters, as well as having additional space and pockets for a filter holder and spare parts. The internal section removes from the main case if you need to store it inside another bag, and there's a hanger for suspending it on your tripod while you shoot.
Various Other Filter Pouches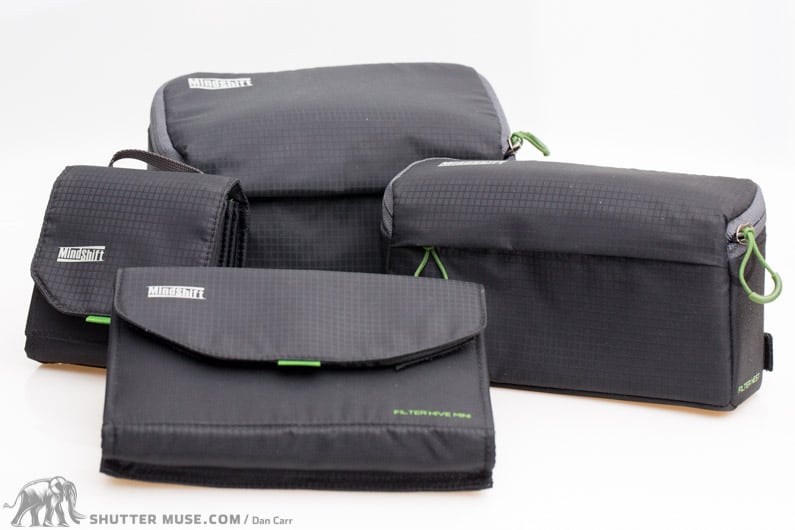 Whilst I use the Filter Hive for most things, MindShift also make a variety of other filter pouches for different gear profiles. If you just want to carry a couple of round filters, or a couple of 4x6 filters, then either the Nest Mini or the Hive Mini would be a good option. If you have a ton of different circular filters, but don't go in for using the big square or rectangular ones at all, the Filter Nest is the one for you, holding up to 8 round ones. Lots of options!
One very handy thing is that the Canon drop-in filters for super telephoto lenses fit into the Filter Nest Mini perfectly, so you don't need to carry the large cases that they package them with with when you buy them. You can even fit extension tubes in there at the same time so the Nest Mini makes a brilliant super telephoto lens accessory bag.
Leave it in the comments below!