Ultimate Adventure Photo Combo
Like a lot of photographers, I have a pretty good collection of camera bags and you can see the full current list in the bag section of the gear guide. The way that I usually tend to work is to have one main camera bag that suits the vast majority of my shooting situations, and then keep a few others in the closet that suit more specific uses. I don't like to chop and change bags on a daily basis because I always end up forgetting things somewhere when I do that.
Recently I've discovered a new setup that has really reduced the number of times I have to delve into the closet for more specific bags – actually it's more like a combination of bags! This is as close as I've ever come to finding the perfect camera bag setup for my style of photography. Now, I can't profess to know whether it will be as perfect for you as it is for me, but what I can do is explain how and why it works for me, and if your kind of photography matches mine pretty closely then I think you'll love it!
A Quick Note About MindShift Gear
The bags in my Ultimate Adventure Combo are all from a company called MindShift Gear. Regular readers of my site will be very familiar with this company by now, but just in case you're not, here's the lowdown: MindShift is the sister company to Think Tank Photo, one of the biggest camera bag manufacturers in the market. Think Tank bags are the de facto standard for rolling camera bags, and their range of urban-inspired packs and shoulder bags is unrivalled. MindShift bags are all designed in the same place, by the same people, and the bags are built to the level of quality we've come to expect from Think Tank. The only difference is that MindShift caters exclusively to the outdoor and adventure photography market, including wildlife photography.
Get A
Free Gift

From MindShift Gear

When you click one my links to the MindShift website and spend more than $50 in their store, you'll automatically get the option to choose a free gift when you get to the checkout. For more details on this special offer, I've detailed everything here. The important thing is that to initiate the automatic process of getting the free gift, you need to click one of my links to their store, like this one, or any of the product specific ones further down the page.
MindShift Gear Ultralight Dual 36L
MindShift Gear Multi-Mount Holsters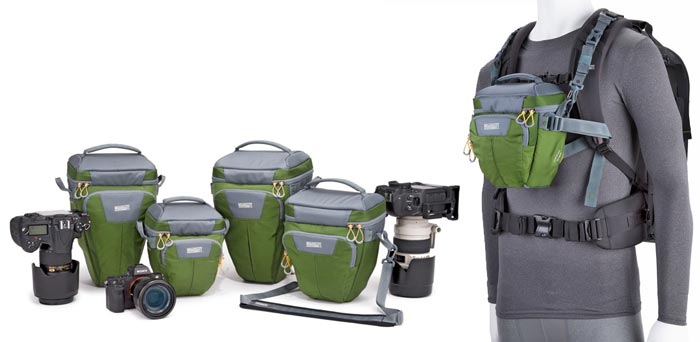 MindShift Gear House of Cards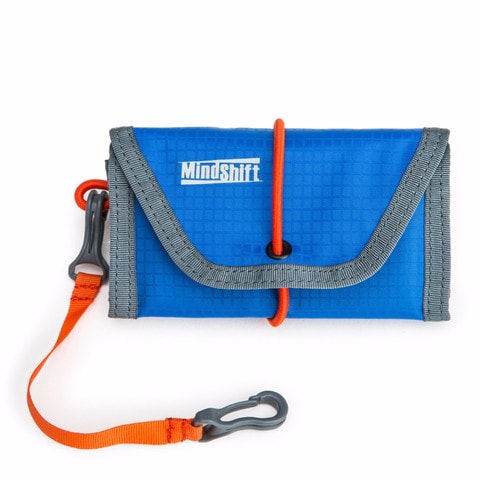 MindShift Filter Nest Mini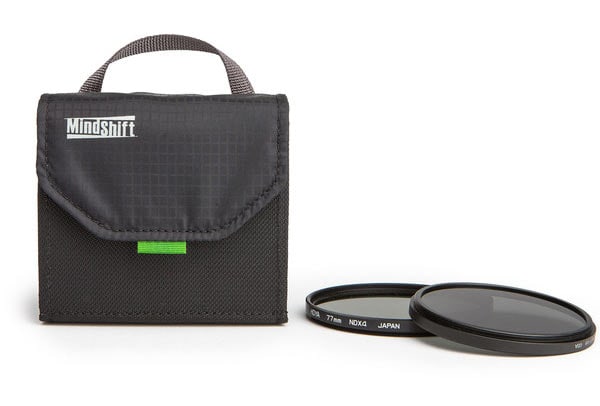 Why Is This Combo So Great?
Ok, I'm going to break down some of the ways you can use this combination and you'll see that the underlying theme is versatility. The Ultralight Dual 36 is incredibly versatile on its own already. You have a 36L backpack with a side-access camera section in the bottom which will hold pro bodies and any lens up to the size of a 70-200 f/2.8 or a 100-400. In fact, even my Canon 400mm f/4 Do II fits nicely in there. This camera section in the base of the bag is removable, and it comes with a shoulder strap so you can carry it as a shoulder bag if that kind of setup suits you better once you arrive at a location. The camera section also has a belt loop on it so you can use it like a giant fanny pack on a belt, or put it onto the waist belt of the backpack. The next feature that adds to the versatility is that once the camera block is removed from the bag, you can open the divider between the top and bottom sections of the pack. This leaves you with an ultra lightweight 36L regular style backpack. In a situation where you just want to carry a small camera with one lens, and a lot of other outdoor gear, this option can help maximize your packing options. Importantly, it then allows you to carry much longer items because now you have the full height of the bag. I can actually fit my tent in the bag, giving me the option to use the bag for an ultralight overnight camping pack. To make this work, you need a very small volume sleeping bag and sleeping mat, but it's doable for camping in the warmer months if you keep a light and tight kit.
This bag isn't really designed for wildlife photography with super telephoto lenses, I have the MindShift First Light pack and the BackLight Elite for those setups, but the ability to remove the internal divider does mean that my giant super tele lens can fit inside the backpack if needed. I simply wrap it in a LensCoat Travel Coat to provide lens-specific protection, and then pack my clothing around it. Lots of options!
The top half of the Ultralight backpack can be used for whatever you like. Fill it with outdoor gear, or add some protection to carry more camera gear. Initially I used the MindShift Panorama insert in the top to allow me to carry a second camera and another lens or two. This works great, and still leaves room in the top for other items. Then along came the brand new Multi-Mount Holsters…
With the Multi-Mount Holsters, MindShift have taken the traditional holster bag design, and really concentrated on making it a versatile carrying solution by giving it five distinct mounting options: Shoulder, Front, Chest, Pack and Belt.
Click to view larger images.
It comes with a shoulder strap, but also a waist belt so you steady the bag when hiking with it on your side. It also comes with a set of straps that are designed to help you mount it on the back of your pack as additional storage space, and another set of straps that allows you to mount it on the front of your pack for quick access to a camera while hiking. All these straps can also be used to carry the holster on your chest as well, something which is great for activities like kayaking.
Combining the Multi-Mount holster with the Ultralight backpack gives you a sixth distinct way to use it: Camera protection in the top half of the backpack. As soon as I got the Multi-Mount, I swapped out the insert from the top of my bag and began using this instead. When it's in the backpack, it provides me with extra space to carry more camera gear, but it also allows me to fill the top of the bag with other stuff and mount the holster on the outside of the bag, or the front. Did I mention that it's an absolutely brilliant little holster for climbing photography as well?  I can actually remove the camera section that comes with the Ultralight Dual 36 and fill that part of the bag with climbing gear, or the whole bag, and then carry a camera in the holster, ready to go on my harness for the climb. I feel like there's very little that you can't do with this combination!
Size Variations
Note that the Ultralight backpacks, and the Multi-Mount holsters are available in a variety of sizes so you can customize this combo to your particular gear. If you shoot with a mirrorless setup for example, you likely won't need the largest bag, maybe the smaller 25L or 16L will suite, and perhaps you'd want the Multi-Mount 10 instead of the 20, 30 or 50.
Accessories
House of Cards
The House of Cards memory card holder is my favourite card holder because it features a nice split between SD cards and CF cards, and the elastic opening keeps it silent when I'm around skittish wildlife. With the Ultralight + Multi-Mount combination there's several dedicated places to securely clip the card holder, so I always makes sure there's one of these in my bag
Filter Nest Mini
MindShift have a variety of different filter holders, but I'd add the little Filter Nest Mini to the combo because it allows you to carry the most important filter which is, in my opinion, a circular polarizer. You can view my full filter kit over in the filter section of the gear guide, and whilst I often use the larger Filter Hive so that I can carry 100mm filters, there's always a Filter Nest Mini clipped into the keychain clip in the top pocket of my Ultralight Dual 36 pack. The reason for this is that if I break out the Multi-Mount Holster for kayaking, climbing, attaching to the front of the pack or just as a shoulder bag, the one filter I never want to be without is that circular polarizer. Even if I've been using the larger Filter Hive for the full kit, the Filter Nest Mini is important because it fits conveniently into the Multi-Mount Holster! The polarizer will be in there, but I'll usually add a 6-stop ND filter as well so that I have something for long exposures of clouds and water.
Leave it in the comments below!