IMPORTANT NOTE
Gura Gear acquired the Tamrac brand and merged the two together. Gura Gear as a standalone brand is gone, and all of their bags have been renamed to be sold under the Tamrac name in the G-Elite collection. Aside from small aesthetic changes to use the Tamrac logo, the bags have remained the same. Throughout this review I have used the name Gura Gear, but when searching for more info on these products, or searching to buy them, you should now search for the Tamrac G-Elite bags instead. The Battaflae 26 has become the Tamrac G-Elite G26.
It used to be the case that if you wanted a bag that worked well and was designed specifically for outdoor and adventure photography the pickings were slim. In the last few years though there has been a number of companies targeting this market and as photographers we're now somewhat spoiled for choice. Gura Gear have quickly become a popular brand in this category and the Kiboko 30L pack was highly regarded amongst wildlife shooters when it launched alongside the Kiboko 22L. Not owning a 600mm myself , I purchased the smaller 22L version to try out and I posted my thoughts HERE. Whilst I liked the bag there were a umber of areas that I pointed out for future improvement. The Kiboko 22L had a laptop compartment which felt out of place on a pack that size and went entirely unused in my time with the bag. This compartment lessened the available height within the packs main area and made packing taller pro-bodied DSLRs a tight squeeze. The clever hideaway harness from the larger 30L was not present on the 22L which was also a shame.
Fast forward to the end of 2012 and Gura Gear announced the new Bataflae pack range and I was immediately glad to see that the 22L was replaced with a 26L that featured no laptop pocket. Instead the laptop carrying ability was put into a smaller Bataflae 18L instead. The clever hiding harness system from the 30L was now present on the 26L and the harness itself had been slimmed down a little bit as it was a touch too bulky on the Kibokos. The stand out feature of the Bataflaes though is the so-called butterfly opening which not only maintained the useful left/right compartmentalized opening of the Kiboko series but now also opened up the entire way around for those instances where it is beneficial to see all of your gear. In short, on paper Gura Gear seemed to have fixed all the little foibles I had with the Kiboko 22L , but kept all the good stuff like ultra lightweight (but super strong) sailcloth materials for construction.
Materials
420D dia square nylon w/ 2x PU backing
100D robic diamond nylon lining w/ 2x PU backing
YKK RC-FUSE zippers with water repellency
N/500D Spandura reinforcement
Woojin (WJ) hardware and pullers
Padded air mesh
70D 190T nylon w/ 2x PU backing
Features
Patent Pending butterfly multi-access system
Stowaway harness with removable waist belt
Lightweight design utilizing high quality materials and techniques
YKK RC-FUSE zippers with WR coating
Fits the overhead compartment of most commercial aircraft worldwide1
Seam-sealed rain fly / ground cloth
Fully riveted handles
M.O.L.L.E. compatible attachment points with quick-hook side straps
Multi-point tripod / monopod configurations
Color-coded zipper pulls
Lockable main compartment
Fail-safe shoulder strap buckles
Full-length front pockets for accessories, jacket, travel documents, etc.
Maximum interior capacity for large camera bodies and long lenses up to 500mm
Water bottle pocket
Expandable exterior mesh pocket
Multiple interior mesh pockets
Interior zipper garages
Fully adjustable divider system
Velcro strap keepers
Key fob
Subtle branding treatments
I fortuitously took delivery of this bag just a few days before a trip to Death Valley. I think the 26L size works very well for a landscape photography kit where the larger 32L would be too big for this purpose and possibly more than you would want to hike with. I packed a couple of camera bodies, six lenses and all my filters and associated filter holders into the Bataflae. There was still plenty of room to carry things like snacks, torch, rain jacket and timelapse gear.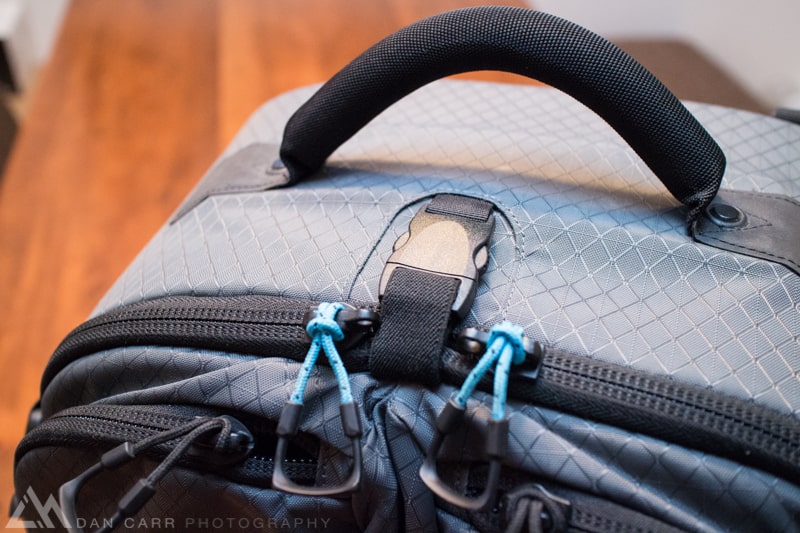 The new butterfly design is simply wonderful to use. For a wildlife setup, or even a sports event setup you can comfortably store your long lens on one side and your camera, short zooms, wide zooms etc on the other side. When you aren't shooting you can slip things back in the pack and the flaps of the lid will offer some easy short term protection. I set out to use the Bataflae in a range of situations though so I also took it to a studio shoot, a location portrait shoot, a hiking trip and several other scenarios. In many of those cases it was far more beneficial to be able to unzip the pack's opening the whole way and see the full contents of the bag with once quick glance. On the trip to Death Valley with the pack I was constantly appreciative of the full sized opening as sun was setting and I was swapping lenses and filters and filter holders every 20 seconds. Of course a bag that opens all the way up is nothing new, it's the combination of this and the centrally divided setup that makes this unique.
For me the next thing that stands out is simply the overall design of the bag. The materials are tough but lightweight and the grey color that I have is much less susceptible to dust and dirt sticking to it than the previous Kiboko was. The bag doesn't look out of place in the back of a jeep in the desert, but it also doesn't look out of place in my hand when I show up to a corporate shoot in an office full of suits! Extremely versatile. The harness system has been slimmed down as I mentioned, but it still maintains all the points of adjust-ability. I still find that this bag, like the Kiboko, is not the most comfortable pack to hike with though. Due to its 'boxy' design it feels like it's just perched right in the middle of your back rather than feeling like it's hugging you as you walk. On more technical hikes it feels much clumsier then something like the Mindshift R180 and on prolonged hikes I felt the weight of the pack on my lower pack much quicker than I would like to.
Tucking the straps into the hidden sleeve at the back makes storage in your closet a breeze though and also aids with stowing on a busy plane. Generously sized handles on the top and the side also help when it comes time to pack it away somewhere and just with general hauling around airports and vehicles. The Bataflae 26L maintains all of the internal pockets from its predecessor and of course comes with a rain cover stored in the front pocket. The front pockets are actually far larger than you might anticipate, easily big enough to hold a flash on one side and a rain jacket on the other side with room to spare for your remotes, batteries, granola bards and other trinkets.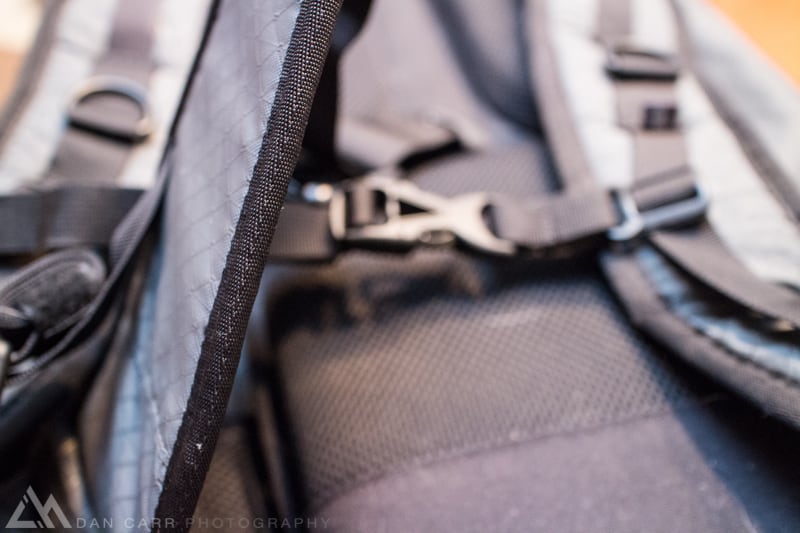 Also new for the Bataflae packs is the tripod holding system which involves a couple of removable straps. The straps on their own will secure a tripod of small-medium size comfortably on the side of the pack and when used together, across the front of the pack will hold a larger tripod centrally on the back. A small elastic cord which Gura Gear calls a Kooh cord, is used to stop the legs swinging about. This whole setup is maybe the weakest point in the pack's design though. The straps have a tendency to come loose and when they do they can easily fall off the pack. I lost one almost immediately and spent the rest of one trip saving the second one just before it too got lost. In the short time that I did have both straps, I found the process of attaching one strap to each side and tightening them, and then a further elastic strap to the bottom to be far too time consuming. I spoke to Gura Gear about this and the reason for the choice in straps was that they wanted to find a strap that could be removed easily for those with slightly less dexterous hands. It's a valid point, I've struggled with some other bags' straps in the past and they can be a real nightmare in the cold, even for those with young nimble fingers. I still think this area needs some work though. Personally I tend to hand carry my tripod for the most part so it's not a real problem all of the time and I was also able to construct all manner of strap variations and solutions out of other straps I had lying around, mated with some carabiners. If you've gotten this far thorough this review then I'm going to guess it's not your first rodeo either and you probably have a small section of your closet dedicated to straps and those fuzzy camera bag dividers……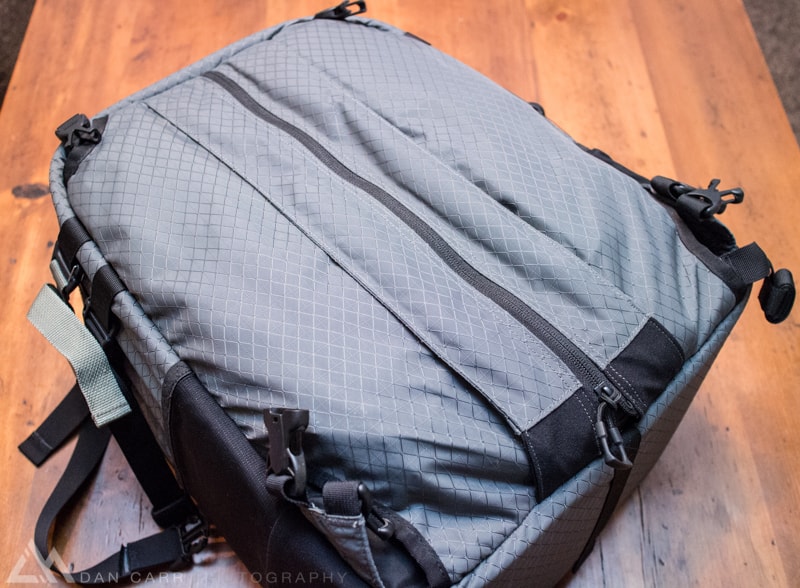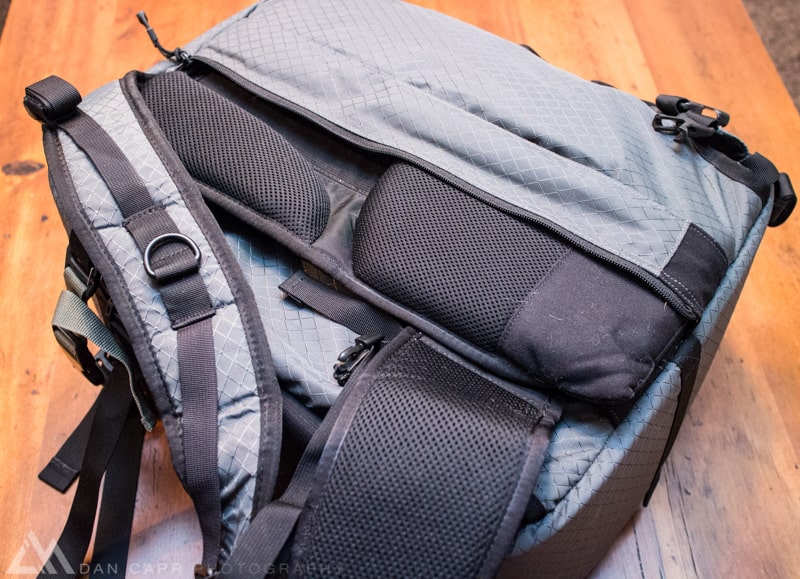 Three Sizes of G-Elite
18L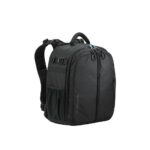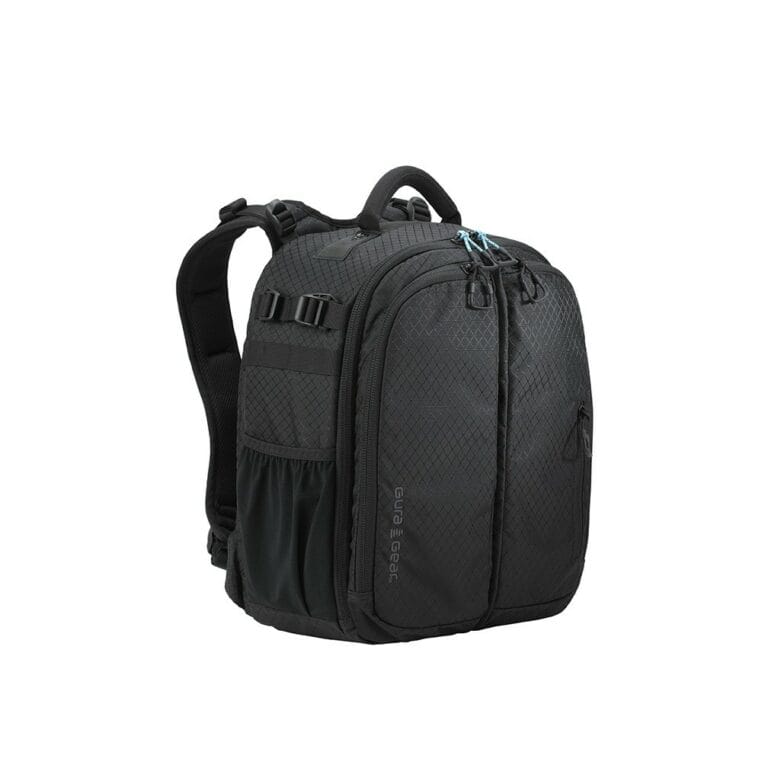 All of the general features of the Bataflae are available in three different sizes. The smallest is the 18L which will hold up to a 300mm f2.8 lens. If that is your largest lens, or you are traveling with an event shooting setup including something like 4-5 lenses up to a 70-200 and a couple of bodies, then the 18L is a great option. It also features a laptop sleeve between the back panel and the camera compartment so you can get everything you need in one pack. Of course this is small enough to comply with all carry-on airline regulations.
26L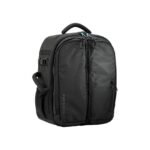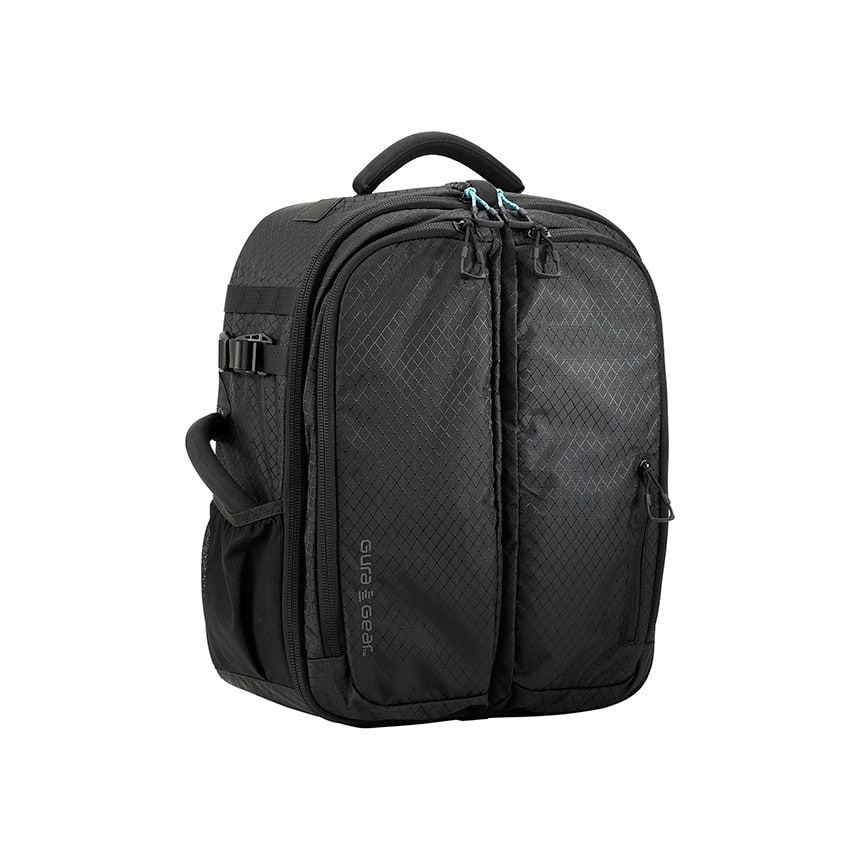 The 26L is the size that I have been using and it's sized to comply with most international airline carry-on regulations. It's large enough to carry a 500mm lens or a 400mm f2.8 with an attached body. Of course that also makes it large enough to carry Canon's new 200-400m f4 L IS which looks set to become the de facto Canon wildlife photography lens. I have just taken deliver of mine and it fits perfectly!
A typical pro sports photography setup will fit very well in this bag for travel with a 400mm f2.8 on one side, two bodies, 70-200, wide zoom, fisheye and flash on the other side.
32L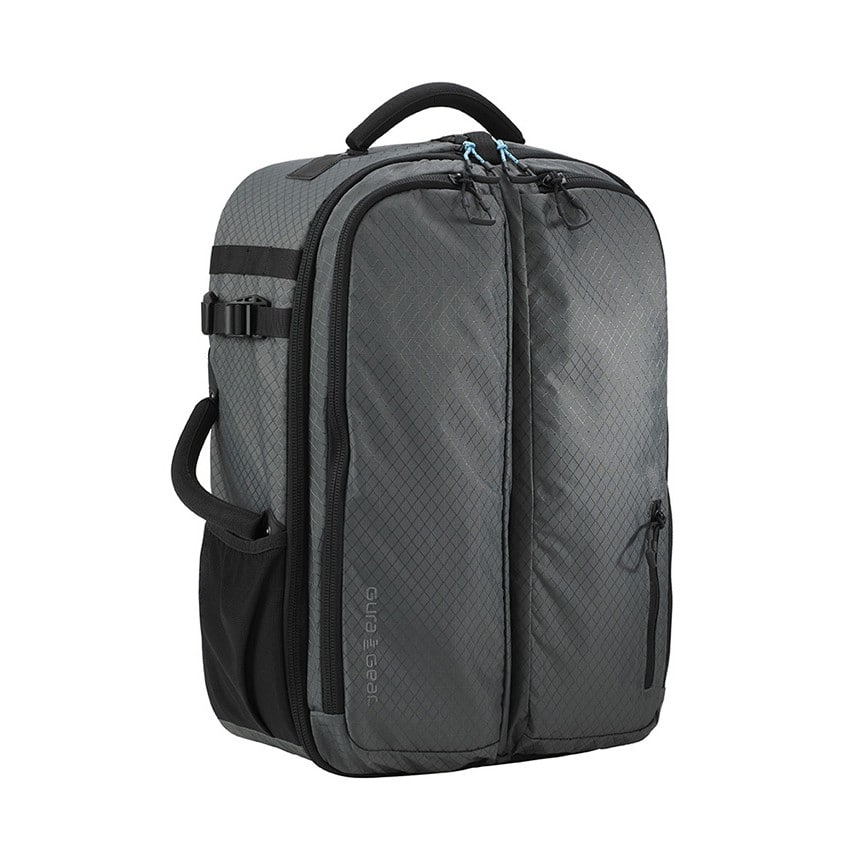 The largest Bataflae pack is sized to fit Canon and Nikon's 800mm and 600mm lenses. It's also large enough to fit a 200-400 with a body attached (or 500 with body attached). If you are looking to carry a 600 or 800 then there is simply no better bag on the market for this right now. On safari there is good reason to also use a 32L even if you have only a 500 or 200-400 because you can keep a camera body attached and therefore ready at a moments notice. A mounted 500 in one side and a mounted 70-200 on the other side is a near perfect safari setup. When traveling with this larger bag though, make sure to careful examine the carry-on regulations of your chose airline. I hear stories all the time of people getting through with large bags around the world, but I also hear from the people who do not have such luck. I've personally had a lot of issue with bags that skirt the limits, particularly in New Zealand and Switzerland for some reason. The advantage that the Bataflae has though is that it is not a roller bag. Rollers simply draw more attention. If you fly with the 32L, try to 'casually' sling it over one shoulder as you board the plane, and don't break a sweat!!
Other Gura Gear Reviews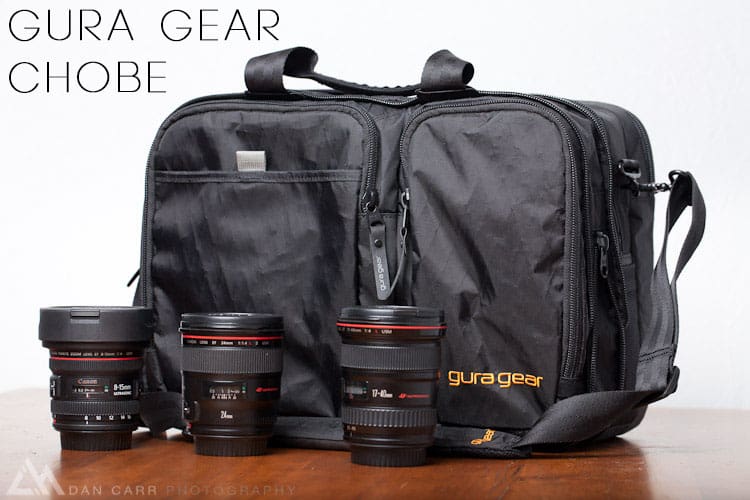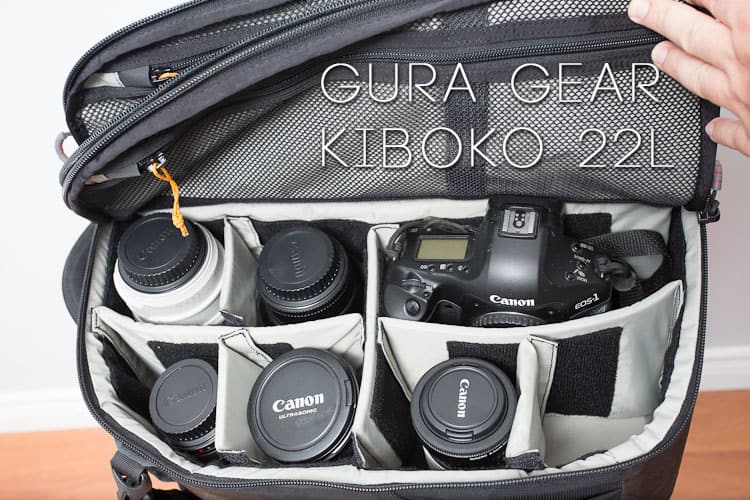 Conclusion
The Bataflae 26L is a clear step up from the Kiboko 22L. As I pointed out from the get-go, most of the Kiboko's problems I experienced have been alleviated with the Bataflae's new design. On top of that, they also added the new top opening feature which expands the versatility of the pack even further to be able to encompass larger gear sets like portable strobe packs and large, flat view cameras that are wider than the width of half the bag. I still find the pack to be less comfortable to hike with than those from F-Stop, Mindshift and Lowepro but there's no denying that the boxy, rather chunky shape that causes this also allows you to carry more gear that those other options. This increased volume makes this by far the best pack for carrying large super telephoto lenses. Even in this 26L I could carry a 500 and a 200-400 if I wanted to. Not that you would, but you could….. There really isn't another bag out there at the moment that can achieve that, let alone do it safely and within airline carry-on limits.
As with all Gura Gear bags, the price is up there but it's not really any different to the other bags that I would consider hiking my gear into the wilderness with. Those who compare this to a cheap Lowepro bag will get sticker shock but those cheaper bags just don't come with the durability of these bags which really are in a different league. There's no doubt that for the moment this would be the bag that I reach for to carry my new 200-400 if I wasn't going to hike a huge distance with it. If I was on safari, or making short walks from a vehicle then it would work very very well. I may reconsider if I was going on a day long hike though with prolonged periods of actually carrying the pack since I think there are more comfortable options but it's not so bad that I wouldn't recommend it to others if you had to chose only one bag. The thing that the Bataflae has going for it is it's versatility. At home in the African Savannah, and also whilst shooting a wedding or corporate gig. This makes it perhaps the most diverse professional carrying solution on the market right now.
Where To Buy
Tamrac G-Elite G26 bags are available at B&H Photo.