F-Stop has continued to expand its brand in the last year or so and they now have several lineups of bags.  There are many more on their website but I tend to stick with talking about their Mountain Series gear here since I only like to review products that I actually use myself for my work and hey, I live in the mountains!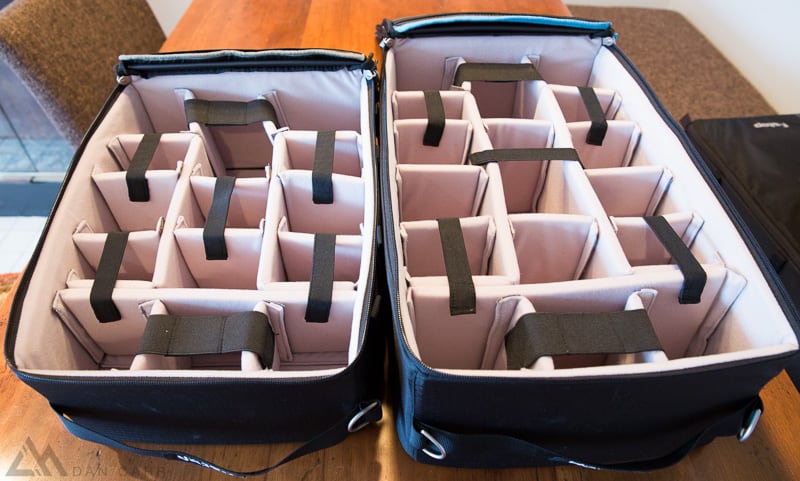 Right from the very beginning of their brand, F-Stops stand-out feature to me was the ICU system that allowed you to purchase the shell of the bag with any combination of internal 'units'.  If you are having a day where you need more supplementary equipment than camera equipment then you can easily outfit any of the packs with a small ICU and take just a couple of lenses and a camera.  If you're going 'all out' then you can slot in an XL ICU and roll with a 500mm, two cameras and several other lenses.  This winter F-Stop has rolled out an update to all of their ICUs as well as adding a few more to the lineup.  I have been checking out the new version of the XL ICU and a brand new size L in the Slope series which has a tapered design.  Overall the changes to existing ICUs are relatively minor but nice nonetheless.  The ICU padding is now a much lighter shade of grey.  This helps immensely when you have lots of gear in the ICU as the black colour so often used for camera trinkets and accessories now has much more contrast against the padding so you can easily see things.  Another change is removable foam padding in the ICUs lid.  Whilst the foam in previous ICUs was removable it wasn't really designed with that intent.  Now it is!  The foam from the lid slides in and out so those who are content with the padding offered by the pack's shell can leave the foam behind.  In a great little piece of forward-thinking, the foam inserts are colour-coded so you can easily spot which one belongs in which ICU by matching the coloured tab on the ICU with the coloured piping on the insert.  Well played F-Stop!  Metal D-rings have also been added in a couple of places to facilitate the easy and stronger addition of a shoulder strap if you need to port gear around in the ICU on its own.
The Slope series of ICUs now features two sizes as well.  Previously there was just a medium but now there is also a large size.  The slope means that a pro-sized camera body will only fit at the 'tall' end of the ICU but a regular-sized camera will fit anywhere.  The tapered design of the Slope series leaves much more room free in the pack for other gear such as clothing and food.  With today's move towards higher-spec regular-sized cameras (think Nikon D800, Canon 5DMKIII, Nikon D7100) I see a lot fewer people using pro-sized bodies these days anyway so I think that this Large Slope ICU will actually be the new sweet spot in the lineup and in particular will work GREAT in the Loka.