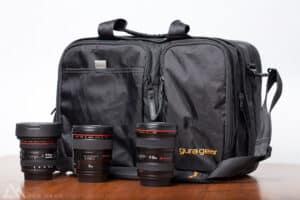 IMPORTANT NOTE
Gura Gear acquired the Tamrac brand and merged the two together. Gura Gear as a standalone brand is gone, and all of their bags have been renamed to be sold under the Tamrac name in the G-Elite collection. Aside from small aesthetic changes to use the Tamrac logo, the bags have remained the same. Throughout this review I have used the name Gura Gear, but when searching for more info on these products, or searching to buy them, you should now search for the Tamrac G-Elite bags instead.
Started by world renowned wildlife photographer Andy Biggs, Gura Gear has gathered a strong following from nature and wildlife photographers in the last couple of years with their Kiboko 30L backpack. The Kiboko was designed by Andy specifically to hold large super telephoto lenses during travel and in the field. It's take a few years but this past Autumn, Gura Gear expanded their lineup to include two new bags; Kiboko 22l and Chobe 19-24L. We'll be taking a closer look at the new 22L Kiboko in the coming weeks but today I want to give you my thoughts on the new Chobe shoulder bag.
Gura Gear Chobe can be purchased directly from Gura Gear HERE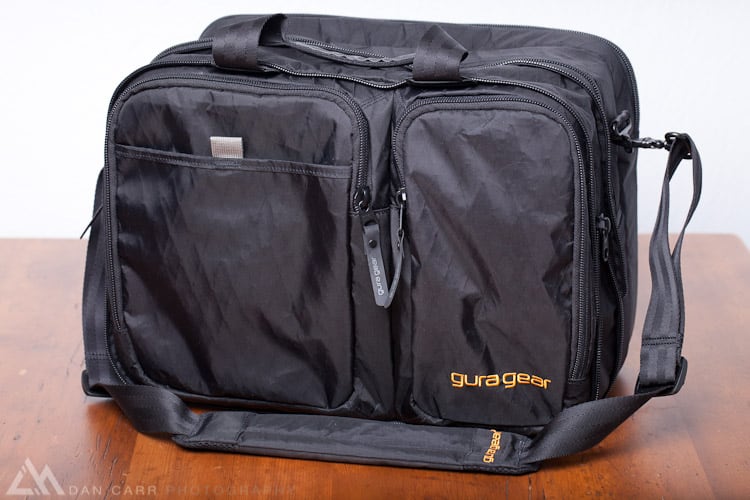 Videos
Colorado based photographer Daniel Kelly Brown made this great little animation of the Chobe which is also worth watching.
GURA GEAR Chobe 19-24L Product Animation from Daniel Kelly Brown on Vimeo.
Design Features
The Gura Gear website makes several mentions of business usage and it's clear that they are trying not to post hole this bag into the photography sector. The Chobe was also featured in the Holiday Gift Guide on fashion website More.com recently. I wander if we will see the company come out with more travel accessories in the future that are designed for the more main stream market ? The Chobe is a great looking bag and time has obviously been spent on the aesthetics but at $299 without the optional insert, is there enough features to justify the high price tag ?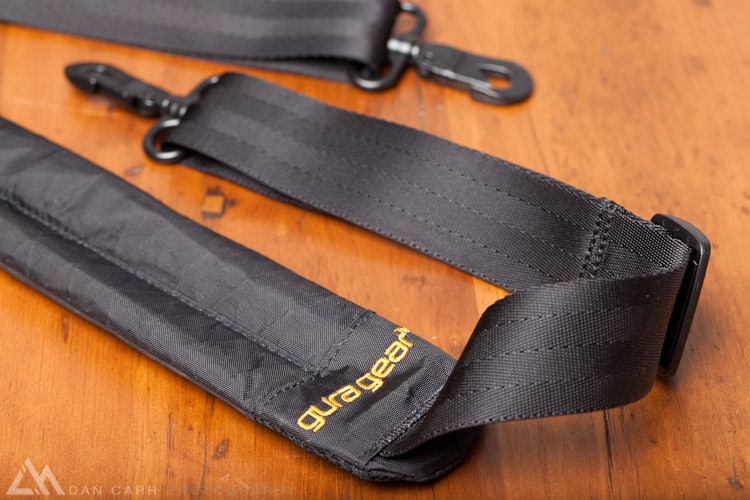 Attractive shoulder strap is relatively lightweight in keeping with the design of the bag itself. To achieve this though is sacrifices and decent amount of padding and prolonged use of a heavy load is certainly not that comfortable.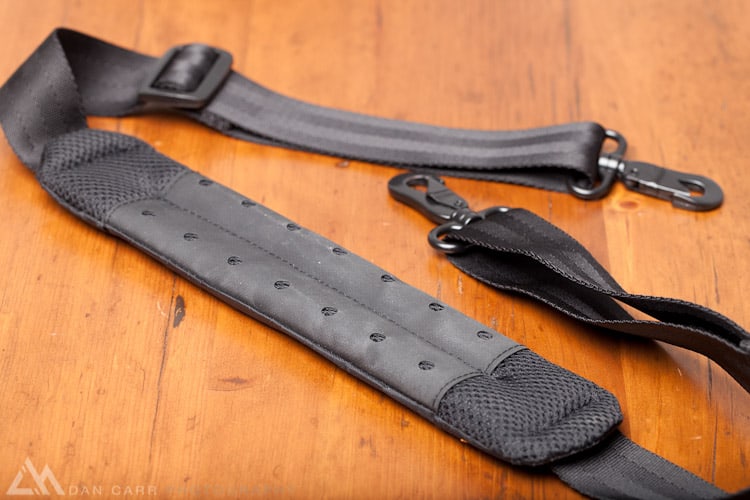 Underside of the strap is high grip rubber which works very well to prevent slipping from the shoulder.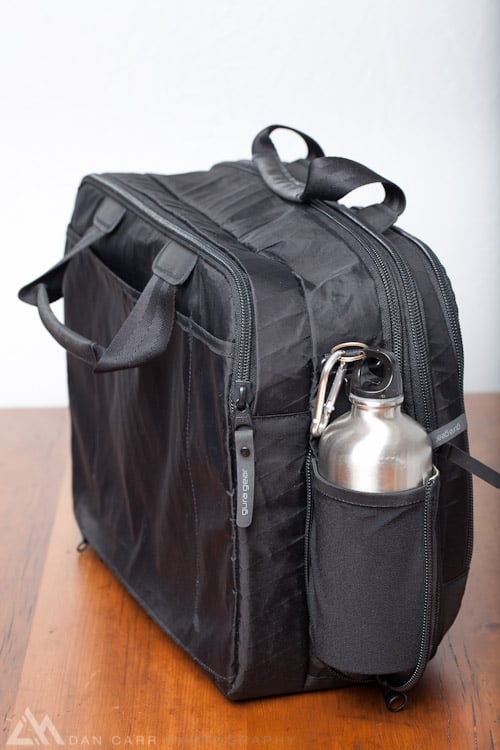 Expandable water bottle holder on the side of the bag works well and is something I always like to see on a bag intended for travel.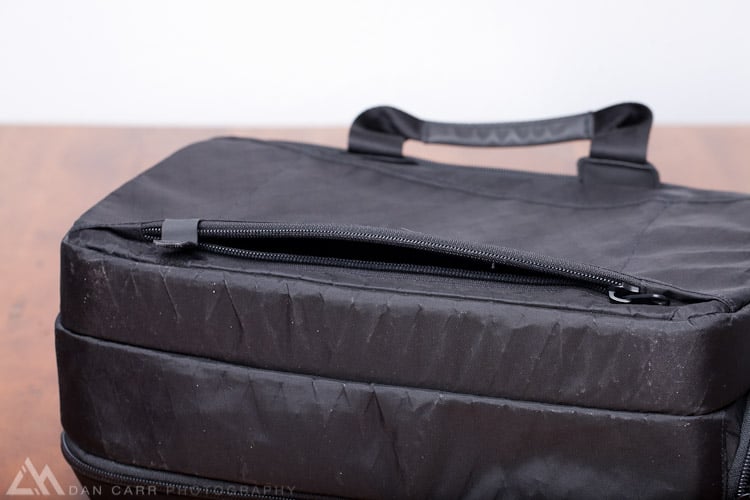 Zippered sleeve on the back of the bag can either be zipped up to create a useful magazine pocket, or opened to allow the Chobe to slide into the handle of a roller bag.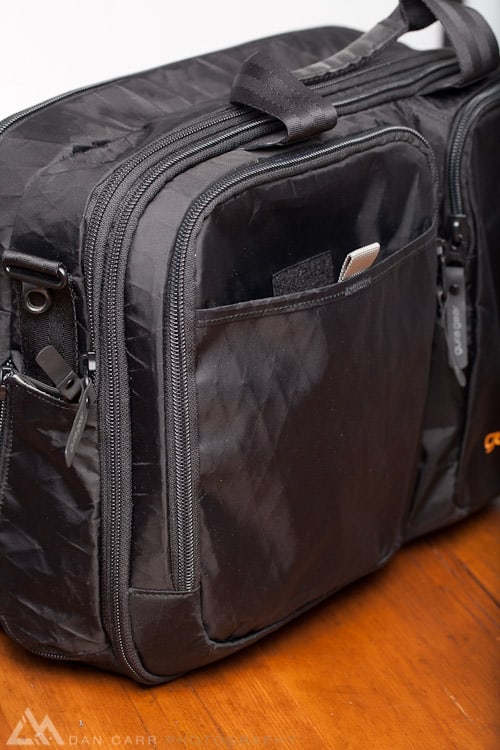 Front velcro pocket proved excellent for temporary storage of boarding passes and passport when transiting airports. With other bags I've always found myself at a loss for a good place to put these things whilst moving from check in through security etc. Having this one empty pocket on the front sounds like a small thing but for me it worked great for this purpose.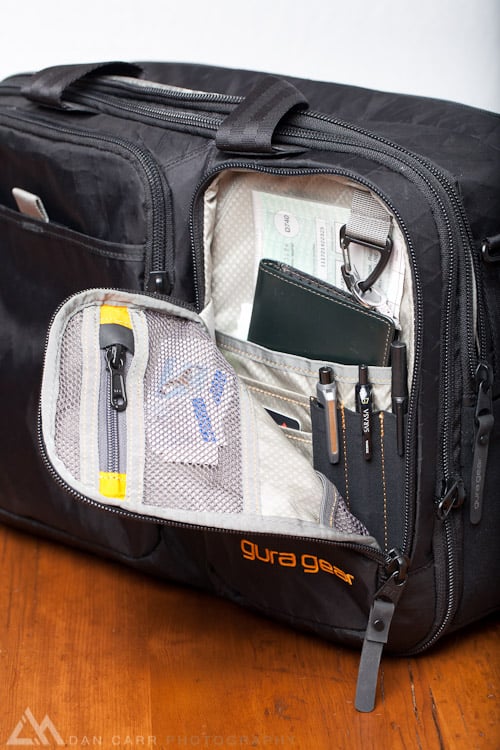 Zippered pocket #1 on the front is the perfect spot for your Passport, business cards, frequent flyer cards and various immigration documents.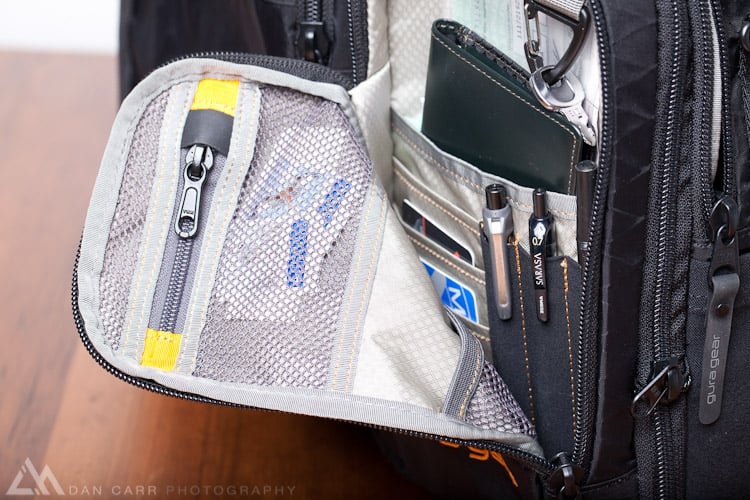 As well as the zippered pocket in the flap there is an additional elasticated one tucked down a bit lower which is great for storing your phone, ipod and headphones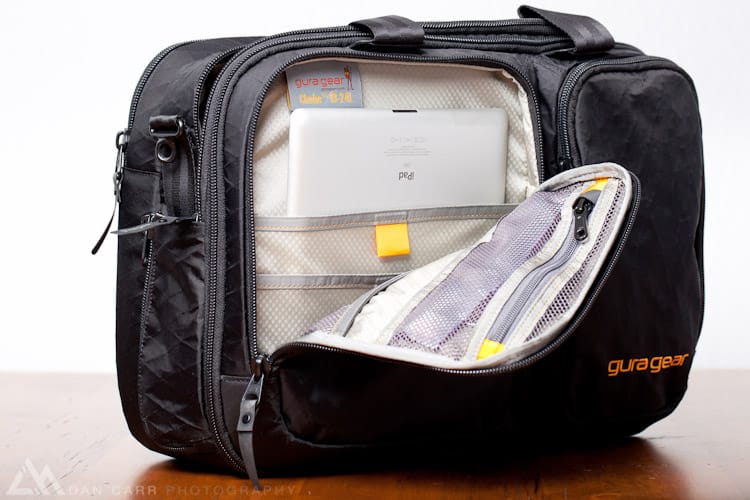 Zippered pocket #2 is designed for your iPad of other eReader device along with other small paperwork and smaller accessories. I have a toothbrush in in the zippered pocket.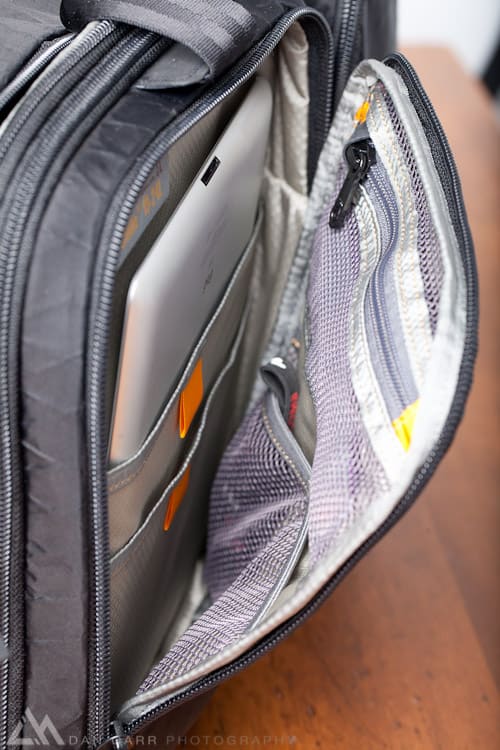 This side on close up shot shows the further elasticated pockets at the bottom of this pocket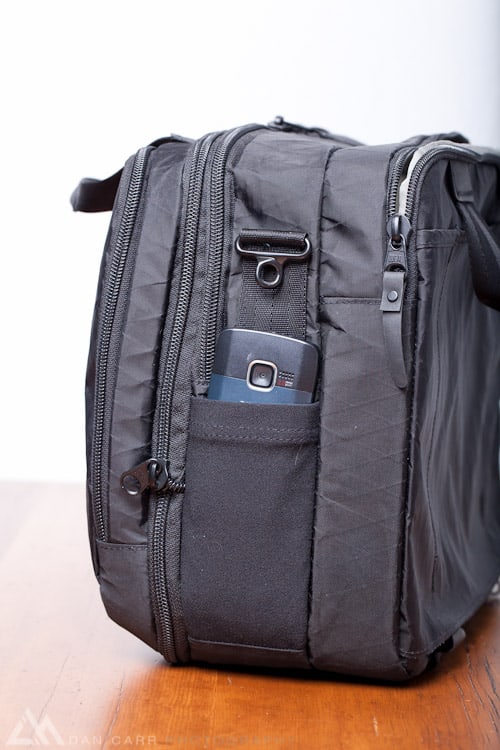 The elasticated side pocket is designed for a phone though I would certainly not use it for this. Seems like an easy place to get it stolen or damaged.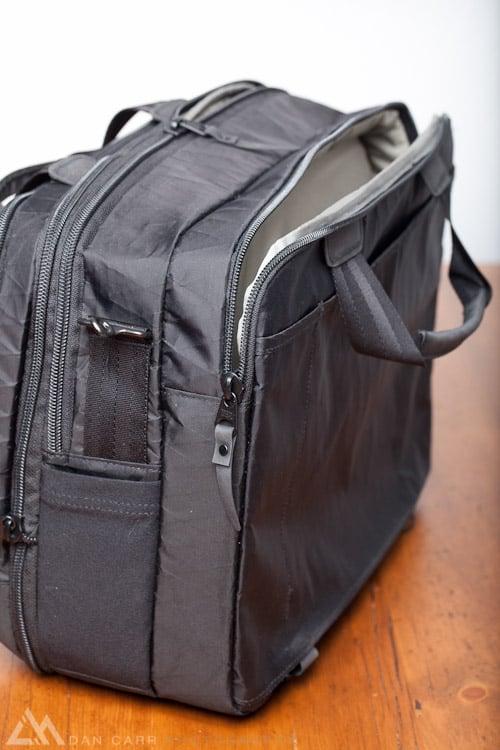 The rear laptop pocket is nicely padded front back and sides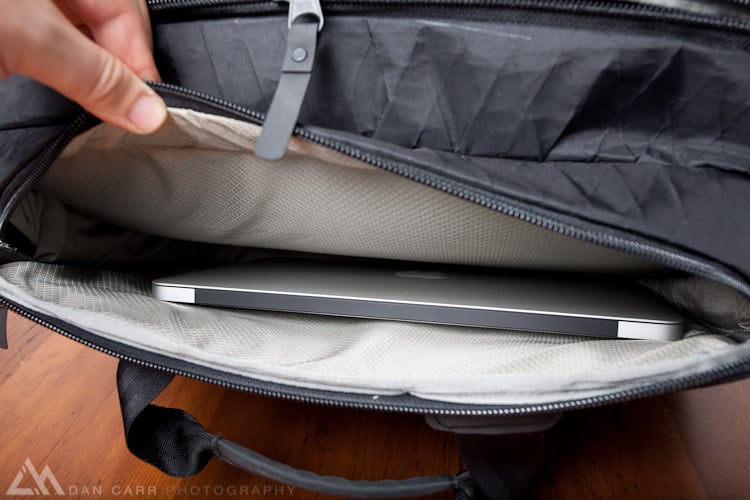 Shown here with an 11″ Macbook Air, but there is room for up to a 15″ laptop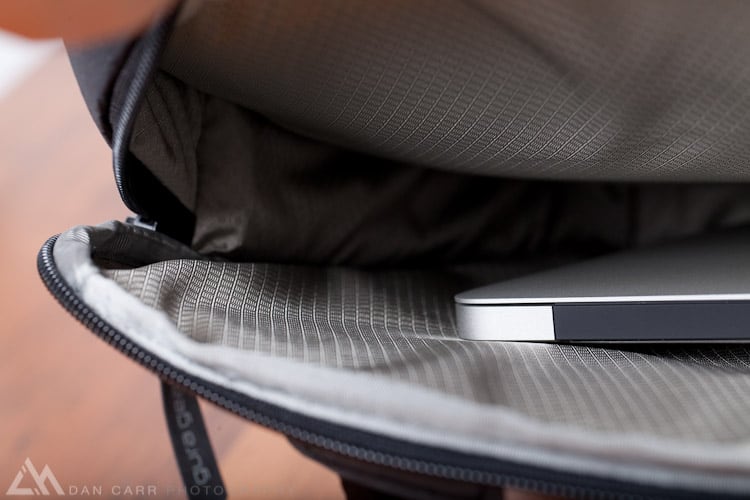 If you use an Air, you'll find plenty of extra room in there for magazines and also your power cables.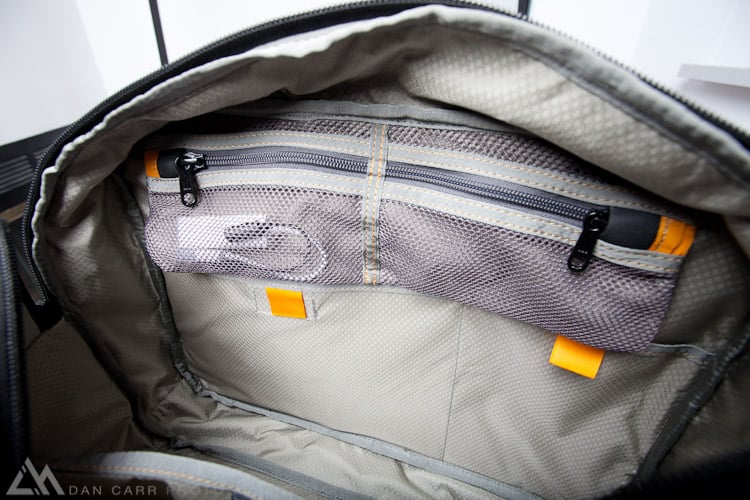 The interior compartment features a total of 5 pockets. Here you can see 2 zippered ones and two thin flat ones that are held closed with hook and loop.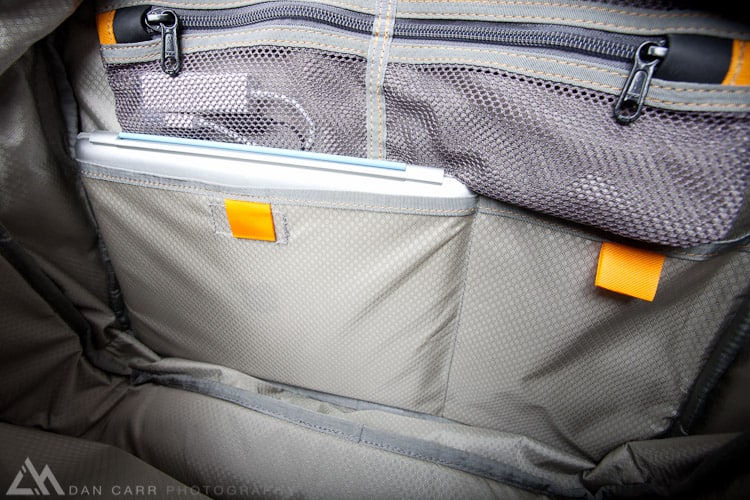 An iPad fits perfectly into the left hand flat interior pocket as shown. The right hand pocket is a perfect sized for a small notebook like a Moleskine book or planner.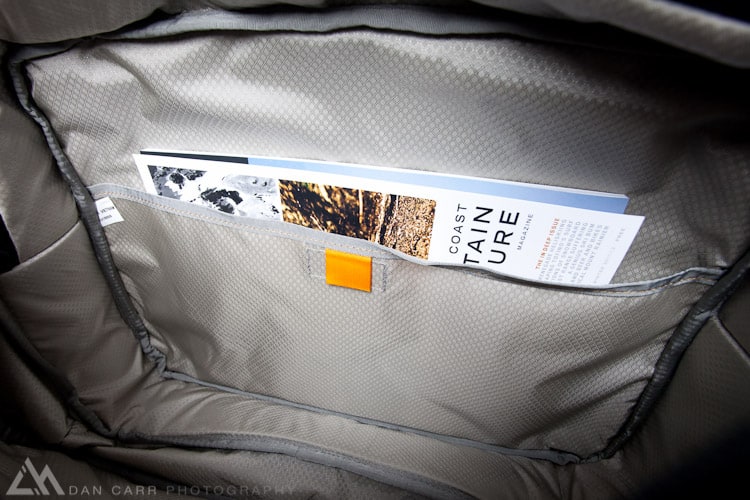 The fifth interior pocket is on the other side and designed to hold your reading material or paperwork.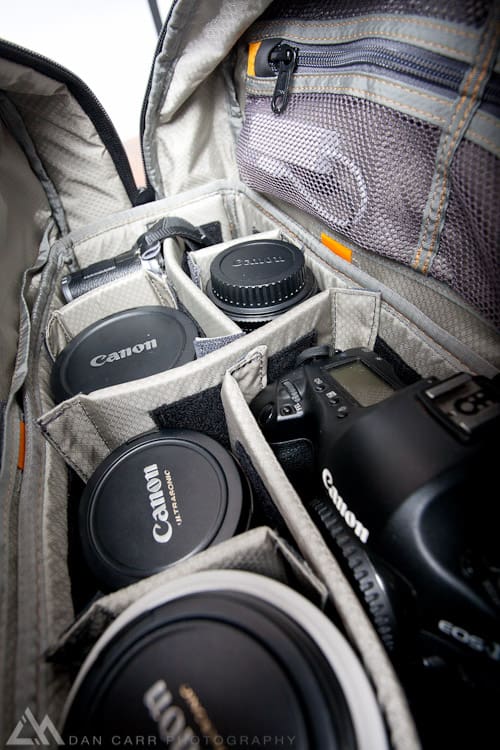 Room to spare with camera insert loaded up
Expansion & Size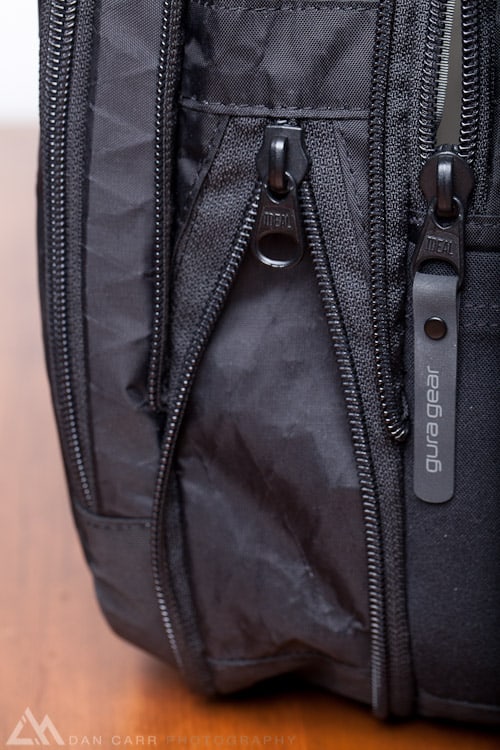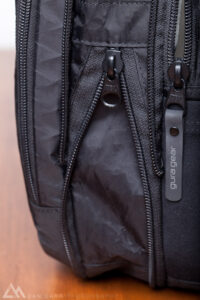 As the 19-24L designation suggests, the Chobe is expandable. Anyone who has ever used an expandable bag will probably be familiar with the struggle to freely move the zipper to achieve the expansion. Typically the excess material that the zipper is gathering up gets caught up and it can be a bit of a struggle. The Chobe is no different in this respect. After just 3 inches of zipper movement you come across a hidden seam which almost always snags. In lesser priced bags I find it more excusable as this is definitely a tricky thing to design in smoothly but this is a premium bag and I believe this area could have been designed much better.
Once expanded though you are left with a bag that is quite a lot bigger than you started with and one that is now wide enough to accommodate their camera insert (more on that later).
Before: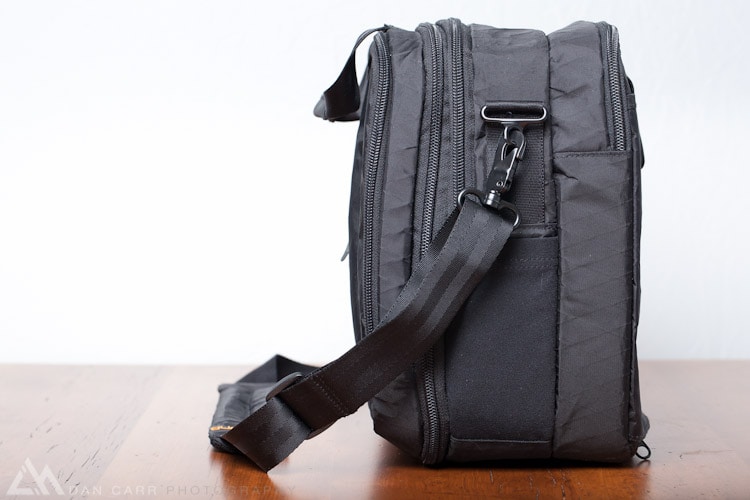 After: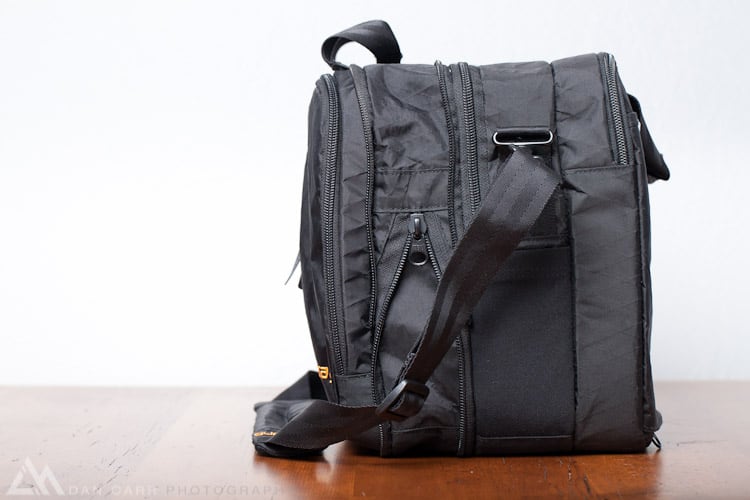 GURA GEAR SAYS : Expanded dimensions: 15 x 11.5 x 8.5 inches (38.1 x 29.2 x 22.9 cm)
DAN SAYS : Expanded dimension: 16 x 11.5 x 10 inches. Based on actually measuring a Chobe containing a camera insert, a laptop in the rear pocket and an iPad in the front pockets as well as passport and other necessities. In no way was the bag bulging or bursting at the seams to achieve that measurement, I would consider it a modest load.
Whilst before we had an excellent travel companion for all of a photographers accessories and computer related trinkets, now we suddenly have a full blown camera shoulder bag capable of holding up to s Nikon 200-400mm f4 lens ! The versatility of this bag is surely it's best feature, a versatility that is backed up by the option to only optionally include the camera insert leaving it otherwise as a very capable overnight bag for quick business trip where you need just a laptop and a change of clothes.
We are seeing more and more clampdowns in carry-on luggage size these days and you're not a professional photographer until you've stood at the entrance to an aircraft gangway arguing with flight attendants about the size and weight of your camera bags 🙂 Experiences differ greatly depending on who you fly with with but it doesn't hurt to be prepared. I used to fly with a packed Think Tank Airport International but on several occasions, despite being within legal size limits it drew too much attention and got weighed. Game over. Recently then I have experimented with using a Think Tank Airport Airstream which is much smaller. The camera body and extra lenses that no longer fit in the Airstream have been placed in a shoulder bag instead, your allowable 'Personal Item'. The personal item can be used to great advantage because it's rarely weighed by the airline staff who assume it simply to be a laptop and a few personal affects. The Chobe then makes an excellent companion as your personal item as you can very easily fit a camera and a few lenses in there along with your laptop and travel necessities. If you are worried about the weight of your main carry-on bag you could put your 200-400, or even a pro body attached to a 300mm f2.8 in the Chobe to lighten the load of your main bag and hopefully sneak more weight overall onto the plane with you.
BUT… You knew there was going to be one right ? There always is with airline travel these days…. But… if you plan on using the expanded size of the Chobe , perhaps with the camera insert in it, the Chobe is all of a sudden a pretty big bag. I have some major concerns about the stealthiness of this bag as a personal item alongside what is likely to be a fairly large camera bag as your main carry-on item. I feel certain that with some of the more judicious airlines you are going to run into some trouble in this regard at some point.
Different airlines have wildly different regulation relating to personal items. Some airlines like Continental, US Airways and Delta do not specify any size or weight whatsoever but some of the other airlines I have flow with recently have strict size regulations for both your carry-on items.
Personal Item examples:
Air Canada: 16 cm x 33 cm x 43 cm (6 in x 13 in x 17 in)
American Airlines: Must not exceed 36 inches( length+width+height) and must fit under the seat in front of you.
British Airways: Must not exceed 36 inches( length+width+height) and must fit under the seat in front of you.
Some airlines state just that your main carry-on item should be put in the storage compartments and that your personal item should be able to fit under the seat in front of you. Having just flown on a Boeing 737 last week with my Chobe I can tell you that when expanded to it's larger size it did NOT fit under the seat in front of me. In it's expanded size the Chobe fails the Air Canada personal item specification. By Gura Gear's measurements it would just sneak into the specifications of American Airline and British Airways but by my tape measure, which measures a Chobe containing a latop, camera inset and items in the front pockets, it would also fail those specs with a total length of 37.5 inches. When passing through an airport last week there was an unmarked personal item cage near security, the sort that they make you squeeze you bag in to check dimensions. The Chobe did not fit in that cage, it was too fat, though the cage was not marked with an airlines name so I'm not sure what it's purpose was but it seemed similar in size to Air Canada specs. I'm not saying don't give it a try fully expanded and loaded up as your second carry-on bag, it seems as if Andy Biggs himself has been doing this without reported issue recently, just be aware that it's a big bag in this configuration and it could bring attention to it. In some cases it does not meet personal item specifications and in other cases it is right on the borderline, if not a little bit over.
Of course one thing to remember is that not everyone will be using this as the second carry-on item. For many people it's big enough to be the main item in which case it easily falls within all international dimension restrictions that I could find out there. In this manner, which is actually how I used it on my recent trip, it was great to have a couple of camera bodies and a modest selection of lenses in the camera insert at the bottom of the bag. On top of the photographic items I was able to place a rain jacket and some reading materials as well as obviously filling all the pockets as shown in the previous photos. For a modest amount of camera gear it does a great job in this capacity, though I have to say I still prefer a small roller for a main bag to save back ache on longer journeys.
The Camera Insert
For an additional $50 you can add the insert to your order. The insert will ONLY fit into the bag in it's expanded 24L capacity though. A you can see in the photos, the obvious way to set things up is in a sort of double-row format for cameras and lenses. I wish that Gura Gear also made a 'single-row' insert that fitted into the bag when it was in the 19L configuration. This would allow a camera body and 2 or 3 lenses to fit in there nicely and the bag would still conform to all the personal item regulations that we discussed earlier. How about it Gura Gear ? Pretty please ?
The insert is very nicely made though and the padding is in all the right places. A personal pet peeve of mine is when bag companies make the padding too thick, but the Chobe insert has a good balance between bulk and protection. A $50 price seems right for this addition.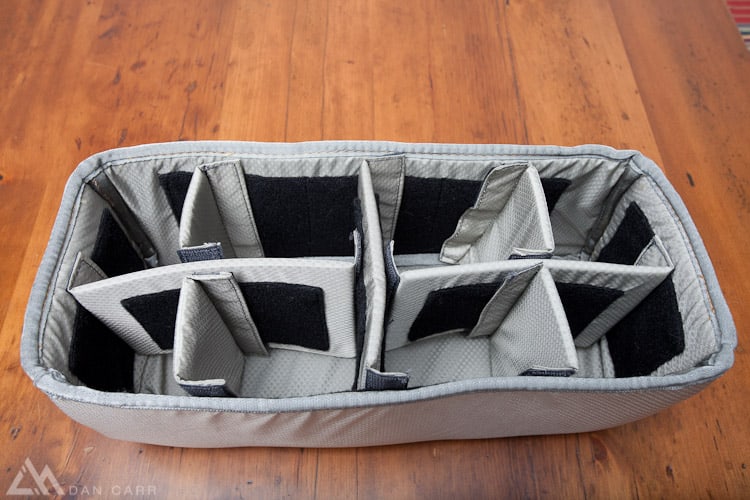 Standard configuration, a stack of extra dividers is also provided
4 lenses and 2 bodies no problem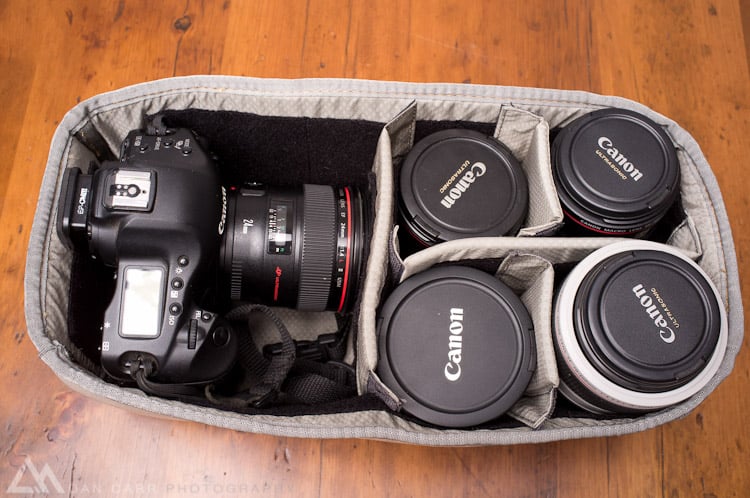 1 body ready to go and 5 lenses total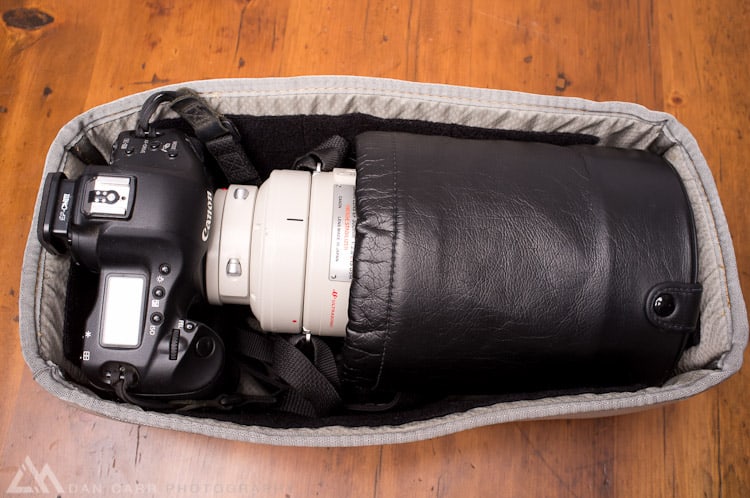 Pro sized body mounted to a 300mm f2.8 L IS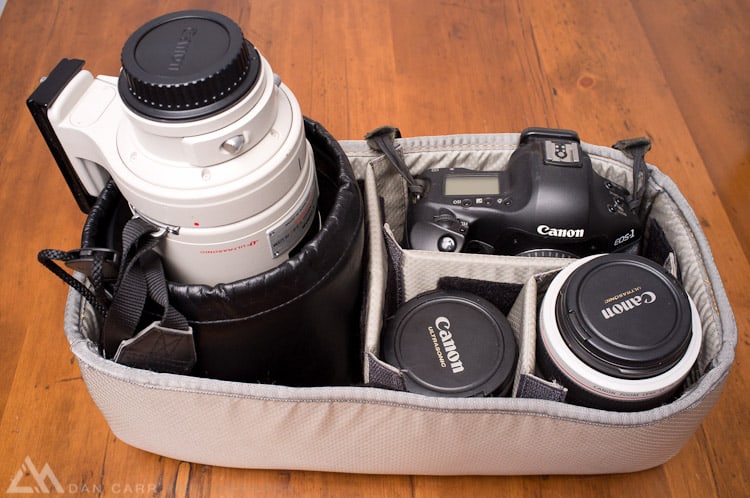 A 300mm will also fit in the bag when it is stood vertically in the insert
The Competition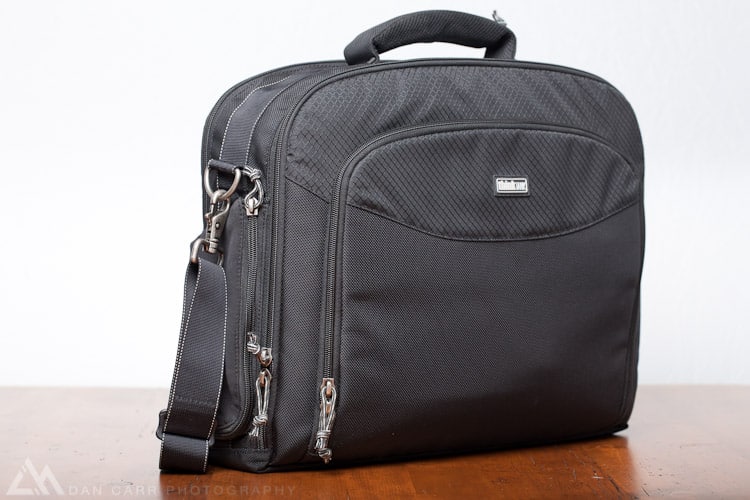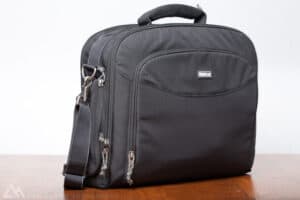 Of course there are other similar bags on the market and no review would be fair without taking a look at the other options. Due to the versatility of the expandable size, the Chobe needs to be compared to a few options and the first, in my opinion is the Think Tank Airport Check In. The Airport Check In shoulder bag is designed specifically as the personal item for a traveling photographer and I have been using one myself for about 3 years now. It lacks the expandability of the Chobe but features many of the other features like tons of pockets, water bottle holder, organizer and ability to attach to a roller bag. In it's only form it is slightly smaller than the Chobe is in it's 19L configuration but it has been a great bag for me when loaded up with laptop, cables, hard drives etc and you are guaranteed to see a huge collection of them in the press room of any major sporting event. It's beautifully made and tough as nails just as all Think Tank gear is. The price: $149. Is it better value than the Chobe ? Yes undoubtedly so. It even comes with a rain cover which the Chobe does not, and it has a much better shoulder strap plus a huge dedicated, removable cable organizer. Is it as versatile though ? No way. But it's not designed to be. As the name suggests, the Check In is a one trick pony, though it scores high marks when performing that trick! I have on occasion tried to put a camera and lenses in the Check In when trying to sneak more gear onto the plane and it just doesn't work for that. The bag is too thin for that and it bulges out uncomfortably.
Chobe Vs. Think Tank Check In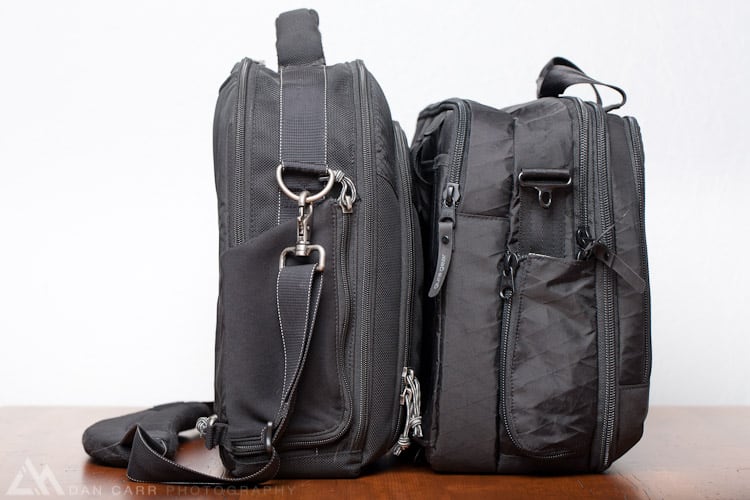 Other comparisons can also be draw with the Chobe and the larger Think Tank Urban Disguise 50 V2.0. This bag sized somewhere between the Chobe in it's 19L and 24L capacities but lacks the easy removal of camera compartments. Of course you can just remove all the padding piece by piece though. Again at $185 though it is fully half the price of the Chobe + insert and for some people that's going to be a tough hurdle. The UD50 also allows you to sling a tripod or lightstand on the bottom of the bag which would have been a nice feature to see on the Chobe too.
From Lowepro the Stealth Reporter 650 AW seems to be roughly equivalent and again comes in less than half the price of the Chobe and even features a full removable insert. I haven't used this particular bag but prior experience with the brand suggests to me that the Think Tank UD 50 would be well worth the $20 premium over the Lowepro bag. Of course there are many other bags out there of this size and I guess what you should take away from this section is that they are all much much cheaper than the Chobe, though I haven't seen one yet that has such versatility and good looks.
The Good & The Bad
Good
Versatility of sizing and optional camera insert
Lightweight and tough materials
Good looking
More pockets than you'll ever know what to do with
iPad/eReader pocket on front is perfect
Pocket sizings in general seem to be very well thought out
Will hold a super telephoto lens if needed like a 200-400
Bad
No included rain cover
Only one size of camera insert available that only works with bag in expanded 24L capacity
Main compartment zipper not designed to allow padlocks (though some small ones work, I would have like to have seem zippers designed for this purpose)
Shoulder strap lacks much padding
Expensive
Expansion/compression zipper gets jammed easily
Sail cloth material holds dirt easily so bag appears to get dirty quicker than you would expect for something black
No ability to attach a tripod beneath the bag
Conclusion
Simply put, feature-wise this is the best photographic travel shoulder bag out there that I have seen due. You can't help but love the sleek looks and feel of the sailcloth material and the expandable size of it set's it apart from others out there. It comes at a high price though but what I can say is that if you can afford to get this bag it will likely last you a very long time and you'll be exceptionally pleased with it. I purchased this bag to review and when I do that I often sell things on afterwards if they don't fit my needs. I'll be keeping the Chobe though, mainly for it's ability to more comfortably accommodate a camera body and a couple of lenses than my Think Tank Check In did.
Purchasing A Chobe
Having spend a month with this bag I can highly recommend it if you haven't yet found your perfect travel companion. I recommend that you buy the bag directly from Gura Gear and you can find the Chobe HERE on their site.