A couple of weeks ago I gave a detailed look at the all new F-Stop Loka backpack.  This week we have its bigger brother, the Tilopa BC which features all the innovations of the Loka, with a few extra of its own thrown into a pack that is both bigger than the Loka and more specifically designed for backcountry and wilderness location shooting.  The Loka is a 37 liter pack and the Tilopa is 50 liters.  If you haven't already read the Loka writeup that I did I'd urge you to take a look at that too so you can really get a feel for the differences between the bags.  Further down the page here I do have a direct comparison with the Loka as well as a complete run through of all the various ICU (internal camera units) sizes and what they can hold.  There is something in the order of 6o photos here but if they still don't answer your question please leave a comment and I'll try my best to answer.
The Tilopa BC, as it's new BC designation suggests is an evolution of last years Tilopa incorporating all the new features shown in the Loka and then a few extra to position the pack firmly as the ultimate backcountry photo pack on the market today.  The suspension system has been improved to allow much greater loads to be carried for longer and a lot of thought has gone into features to allow you to carry your skis and snowboard more efficiently.  The side of the bag has lost the larger pocket from the old version and now features a small cup to sit tripod feet and an extra strap for steadying skis that are mounted on the side.  F-Stop really listens to what it's staff Pro's are saying when they design these packs and its great for them to have an input from so many of the industries leading adventure sports photographers. Now I am part of F-Stop's pro team so you may say that my opinion is weighted slightly, but that is why I have provided you with 60 photos to take a look at and help you make your mind up.  Being part of the team has been great because just like the Loka, I was able to offer my opinions and ideas on the design of the pack at every stage and its great to see that these things have been carried through to the final design.  I am VERY excited about using this pack, F-Stop's designer Ian Miller has done another great job at bringing this one together.
Do your research and read my other reviews !
Guru – 28 liter all purpose mountain pack for small & medium ICU
Tilopa BC – 48 liter backcountry specific pack for small,medium & large ICU.
Loka– 37 liter all purpose mountain pack for small,medium & large ICU.
Satori EXP – 62 liter expedition photography pack for small, medium, large, XL and Monster ICU
The Tilopa BC backpack and ICUs are only available to purchase directly from F-Stop on their website HERE. All their gear features a 45 day satisfaction guarantee and a 20 year warranty against manufacturing defects.
Technical & Materials Details:
Volume: 50 Liter / 3,100 Cubic Inches
Weight: 2032 Grams – 4.47lbs (With Full ICU) / 1392 Grams – 3.07lbs (No ICU)

Dimensions: 12" x 24″ x 10″
Internal Compartment Dimensions: 12" x 22" x 10"
Torso Length: 18.5"
Metal internal Frame for support carrying heavy loads.
Fabric Info: Ballistic Rip-stop Nylon, Abrasion Resistant Nylon Webbing, High Density foam, Heavy Gauge Zippers, YKK Waterproof Zippers, Waterproof Urethane coasted mesh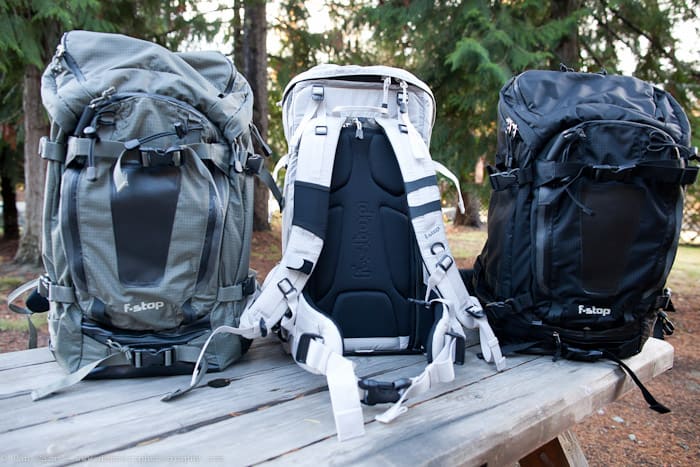 Tilopa BC is available in 3 colors.  Grey Mist, Black and Foliage Green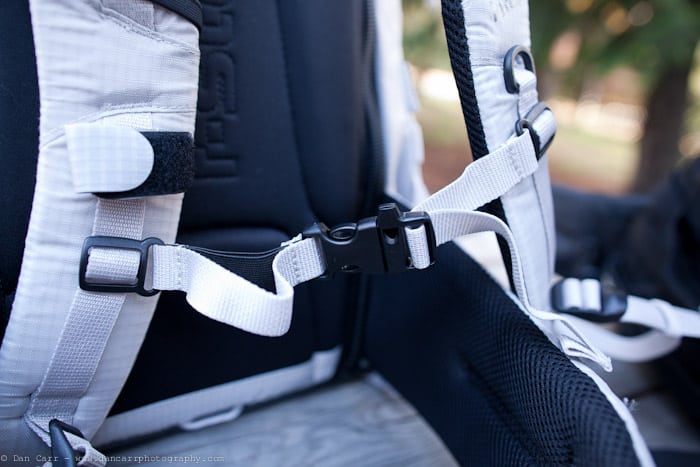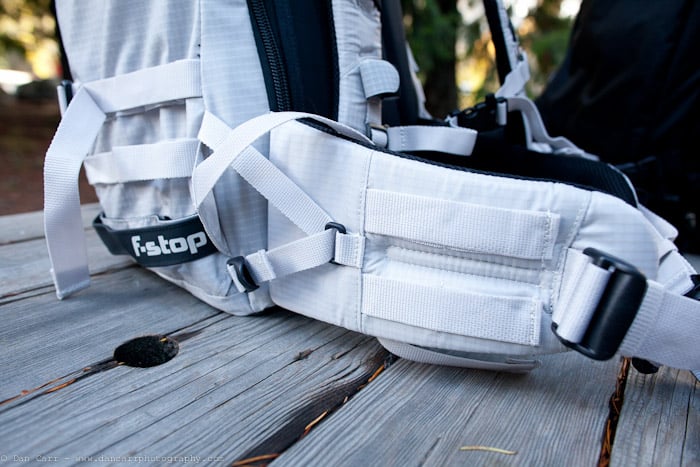 The hip belt on the Tilopa BC has been beefed up considerably compared with the previous version.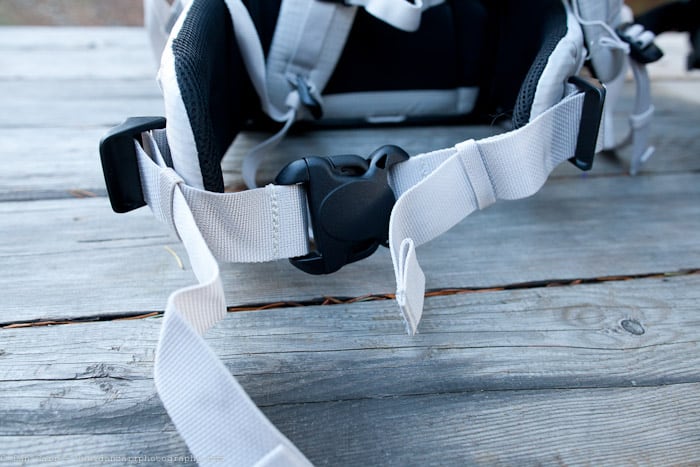 A larger buckle on the waist strap also features a much easier to use way of tightening both sides.  Tightening is done from the bag ends rather than the buckle end and it makes it much easier to pull both sides simultaneously.  You just reach down to your hips and grab both sides and yank them forwards.  Kind of hard to describe, but look at this picture and image yourself in the strap and you'll get what I mean.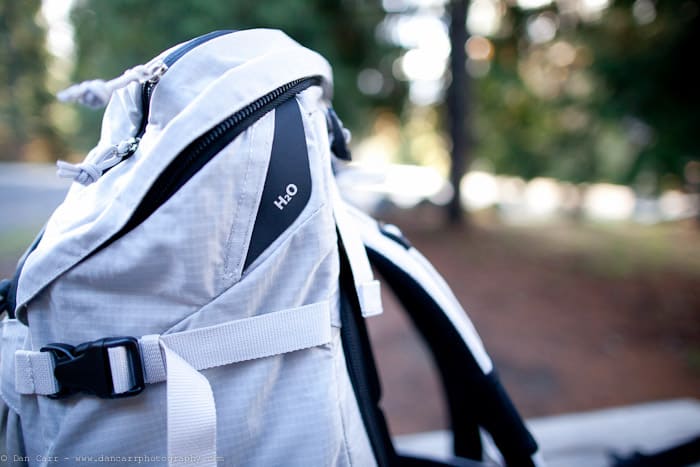 Hydration compatible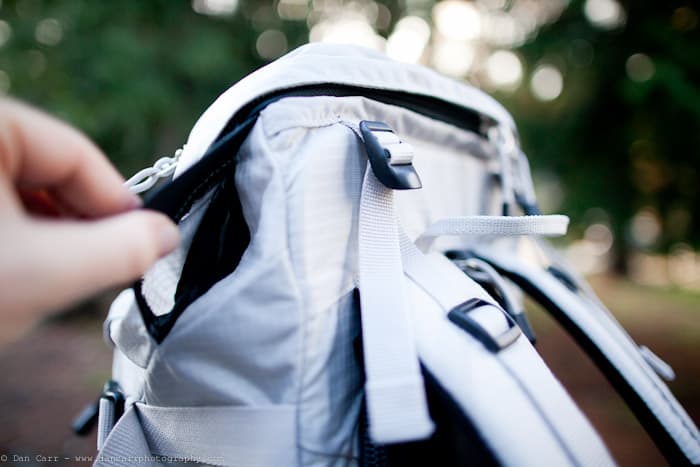 Hydration tube exit velcros shut to prevent snow/sand/rain/dust entering the bag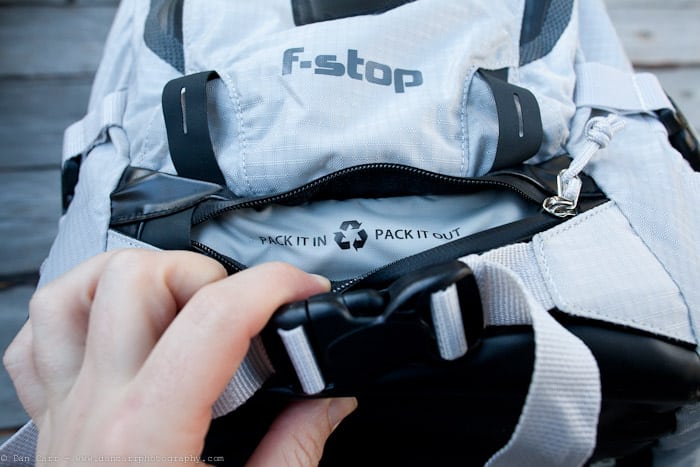 A handy little extra pocket on the front to stash your garbage.  If this isn't already one of your backcountry mottos, make it so.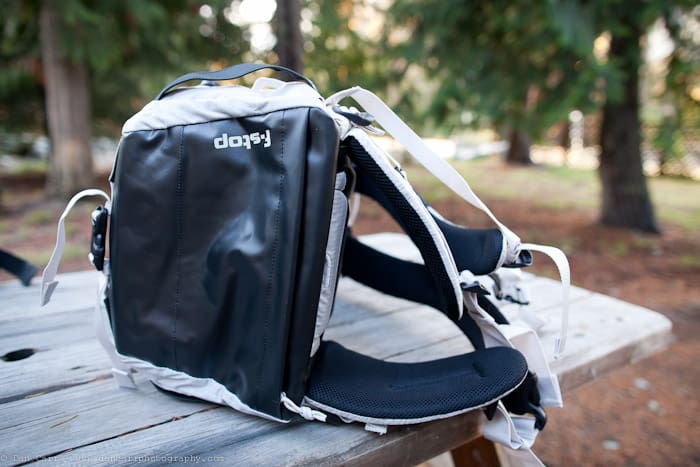 Waterproof TPU plastic base so you can stand it in the snow or a puddle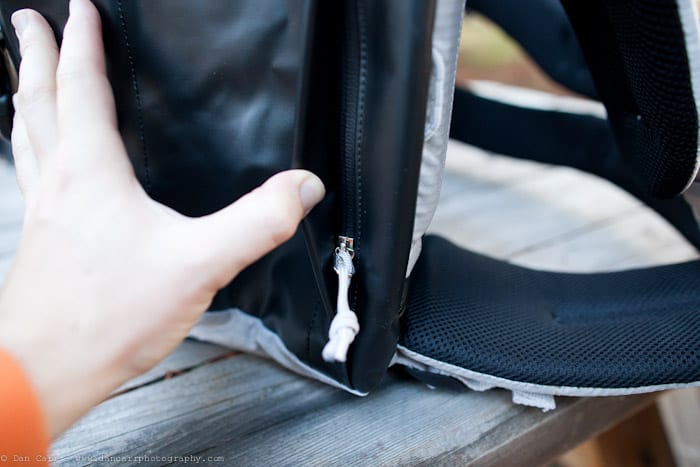 Hidden seam-sealed pocket in the base.  Great for extra snacks or a place to store the rain cover (optional)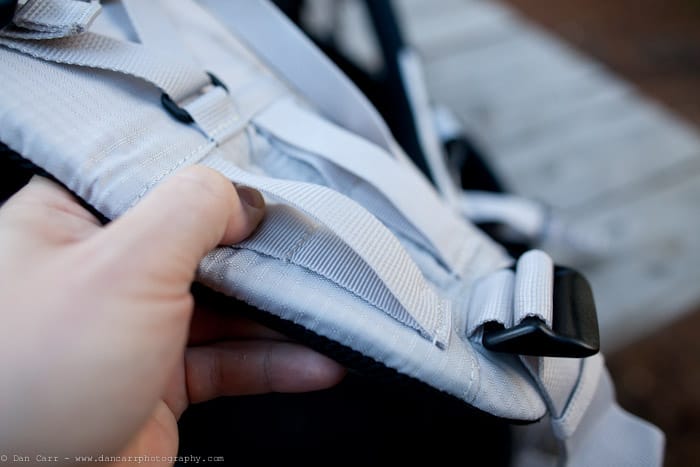 Mollee attachments on both sides of the hip belt as well as an additional loop to take accessories from other manufacturers such as ThinkTank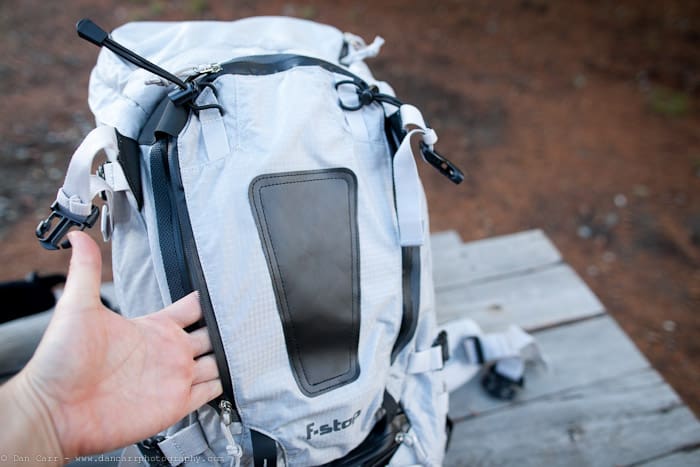 First of the front pockets, sizable enough for an extra mid layer or wind breaker.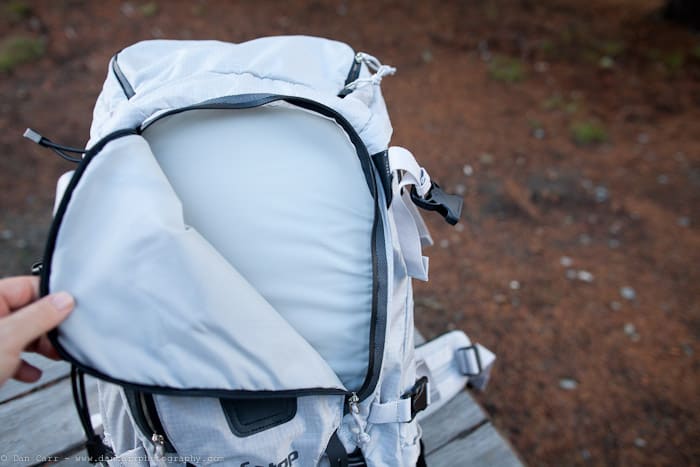 Larger, second front pocket is a totally different pocket to the one in the previous photo. They do NOT interconnect.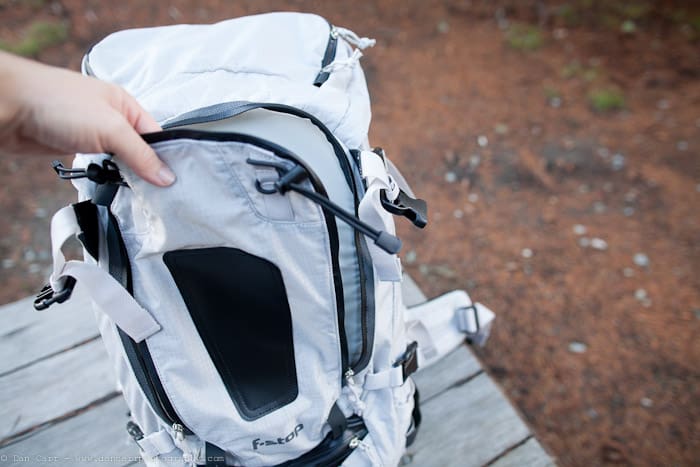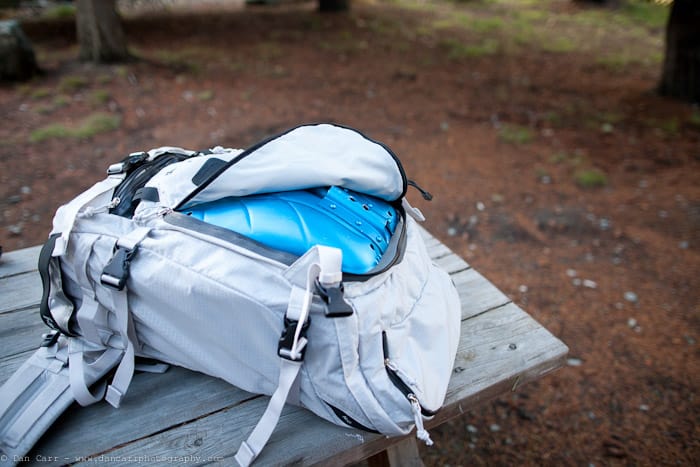 Avalanche shovel fits nicely in this one and the pocket has a drainage hole at the bottom so any melt water from snow on the blade will exit the bag.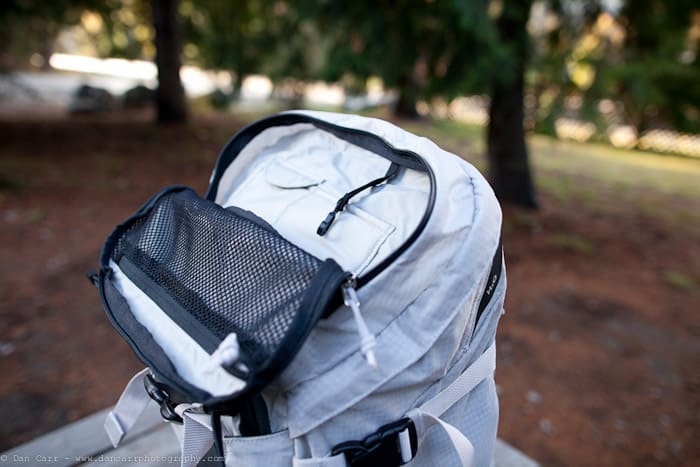 Top lid pocket features a new zippered mesh pocket which is great for granola bars and glove liners or other things you need easy access to.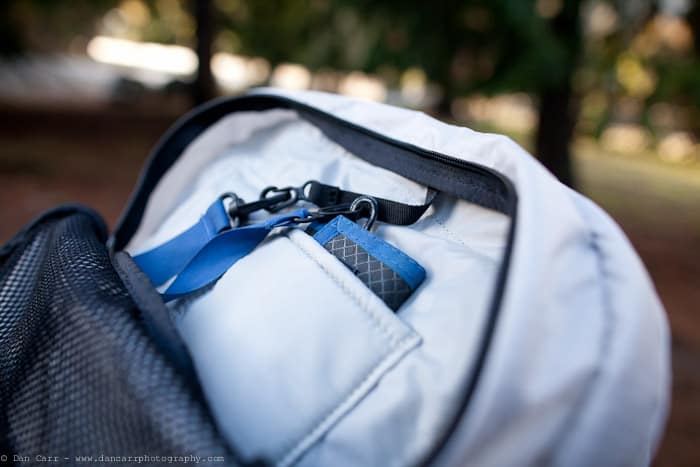 Clip for securing memory card holders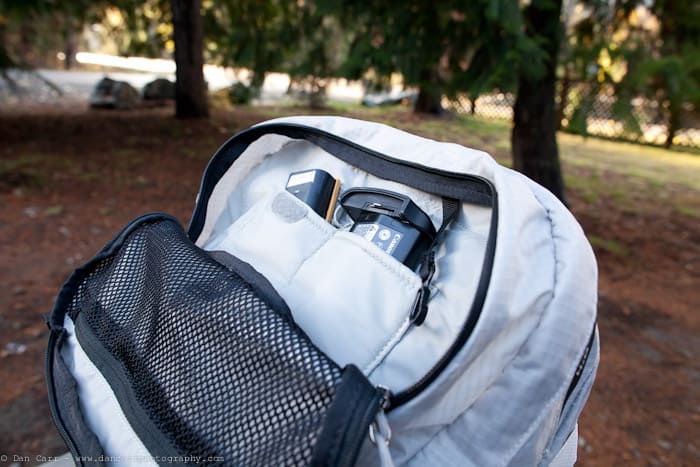 Pockets designed for both pro and consumer sized batteries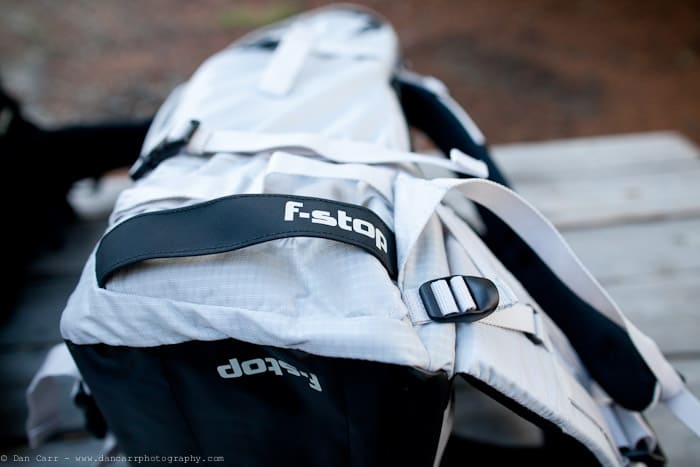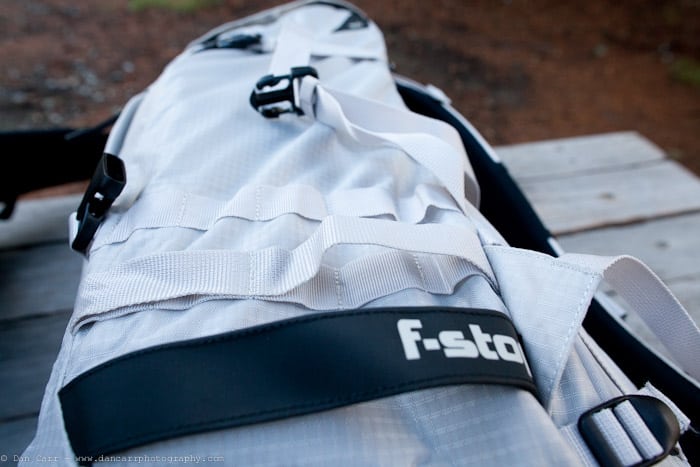 Again, more straps on the side for attaching accessory lens cases either from F-Stop or other manufacturers depending on your preference.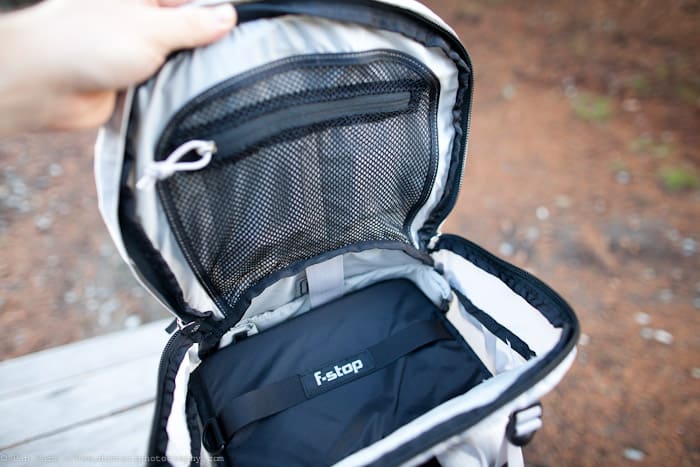 Interior lid pocket & large ICU inside.  Even with the large ICU in there there is plenty of extra room around it to stash gloves, food, monopod, avalanche probe, shovel, laptop….. you name it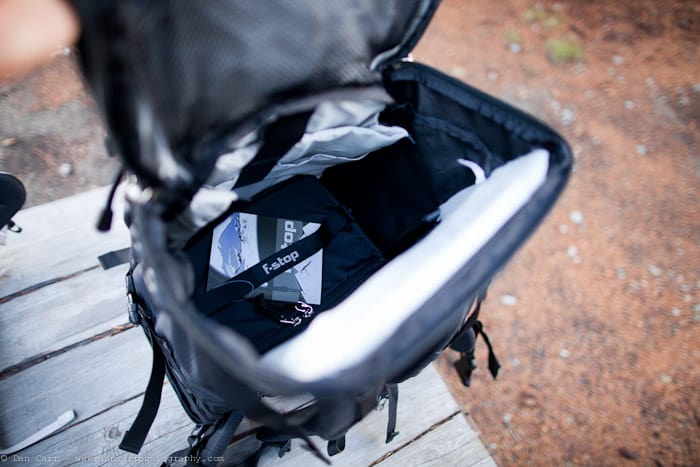 A small ICU in the Tilopea BC leaves a lot of room for extras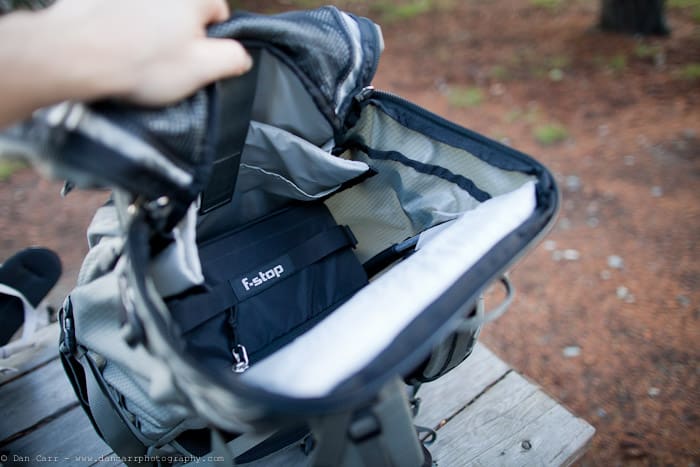 A medium ICU inside the Tilopa BC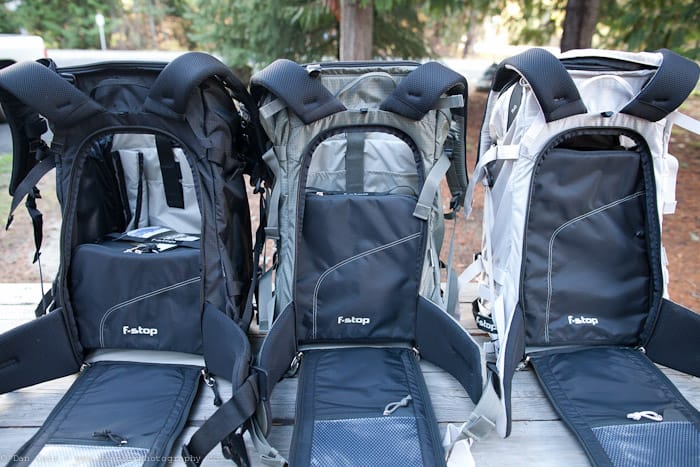 Left to right; Small, Medium, Large ICUs clearly showing how much extra room there is in the Tilopa BC
This photo really tells the story of the whole F-Stop system.  A shell can be purchased, and then any number of ICU units added to your order to create a setup that works for you and many different activities.  Perhaps you want to do a short overnight trip to a backcountry cabin and need to be able to pack a sleeping bag and clothing along with your camera gear.  Or maybe you want to take your full range of gear and just a few extras.  It's totally up to you. Not shown in this picture is the XL ICU which also fits in the Tilopa, although it leaves no extra room on top, and currently the new XL ICU that matches the design of these three is not available, only the second generation one.  Alternatively maybe you want to buy multiple shells for different uses and only one ICU, the options are endless but there is a solution for you somewhere in the lineup!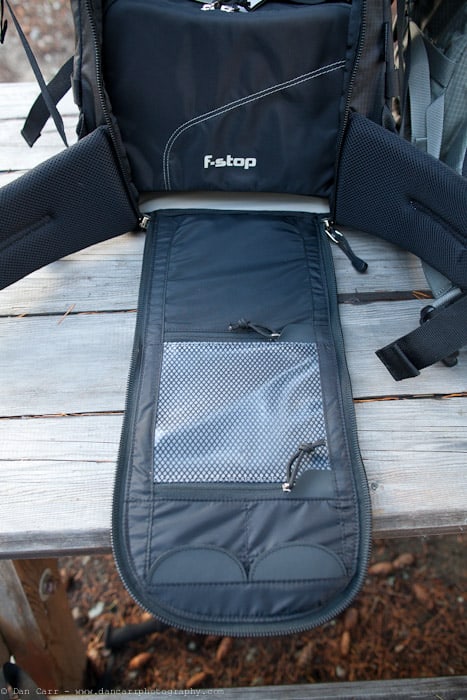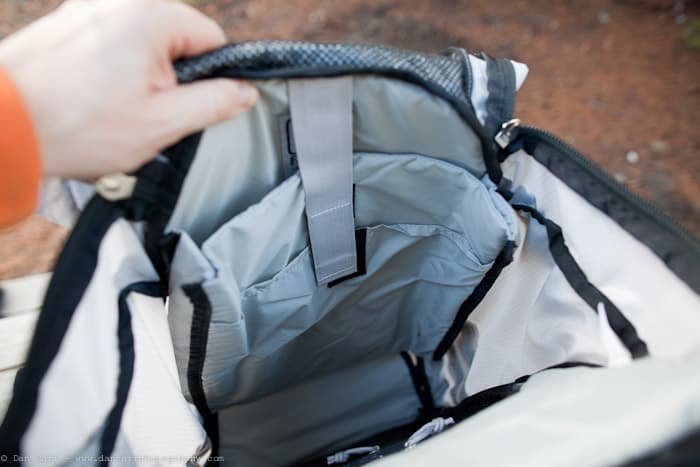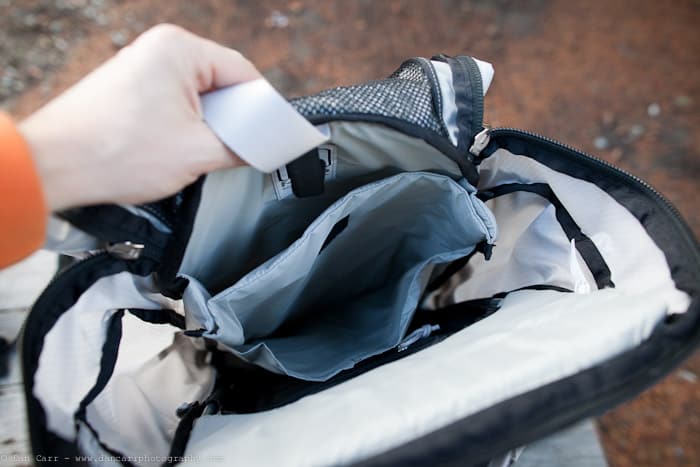 Taking a flight with your Tilopa?  These pockets are great for books, magazines and other little extras.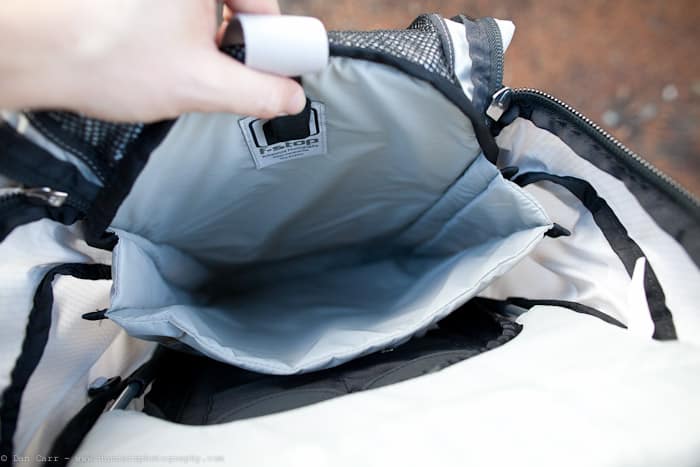 17″ Laptop compatible and padded for protection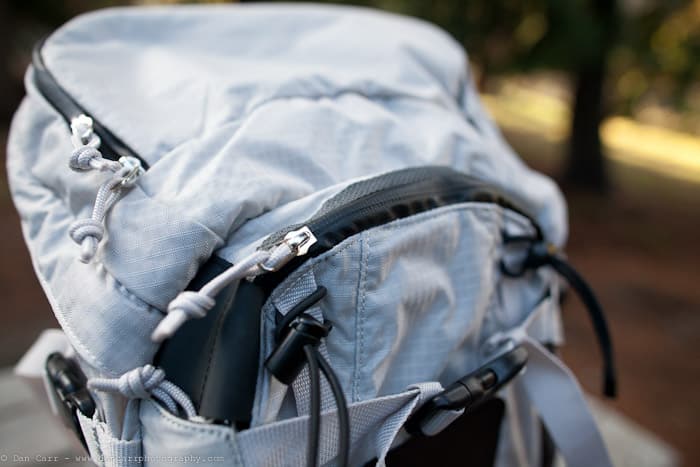 Seam-sealed zippers on the top and the front to prevent water getting in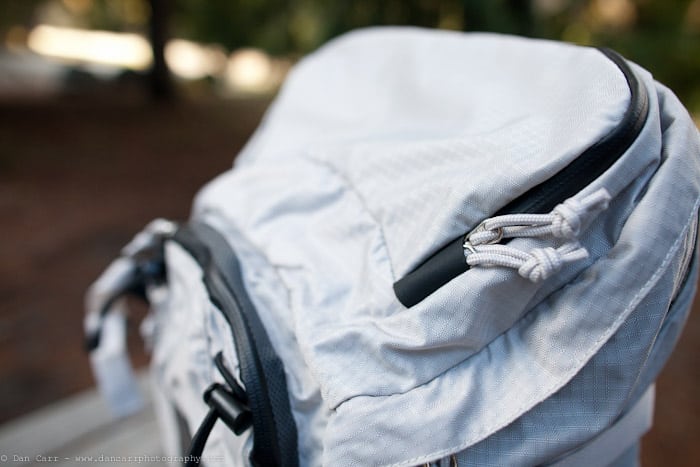 Zippers can be tucked into these protectors at the end of the zip in stormy weather to further protect your interior contents from water leakage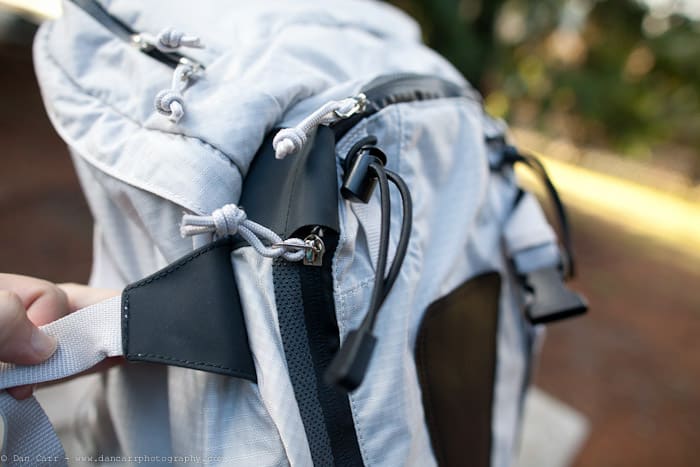 Cross straps on the front of the bag feature extra grippy and durable material to secure a snowboard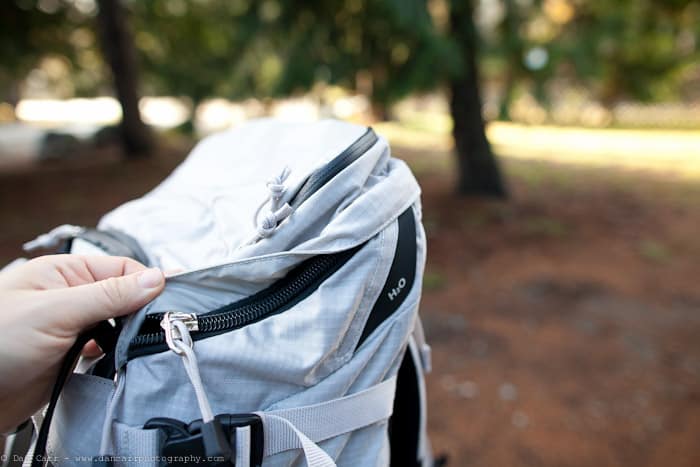 Main zipper tucked away beneath a flap to keep the weather out.  The very first verison of the Tilopa several years ago had seam sealed zippers for the main compartment as well but they do not do so well with the radius ofthe corners which made them tight to undo.  Last year this new zipper was fitted and hidden beneath the flap and it works just as well.  I have been out in many a blizzard!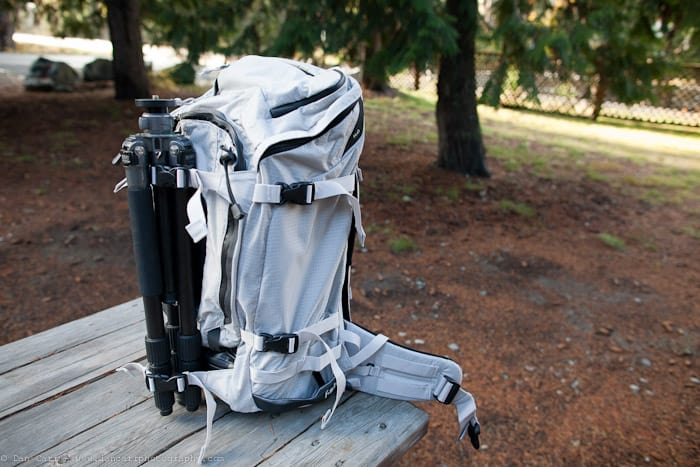 Tripods can be easily carried on the front of the bag…..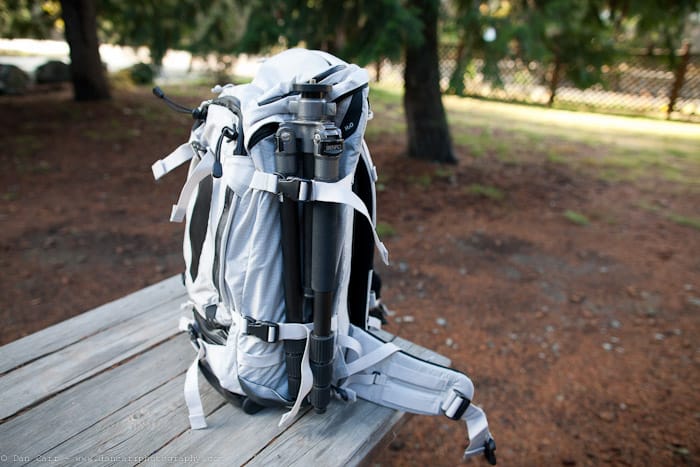 ……or on the side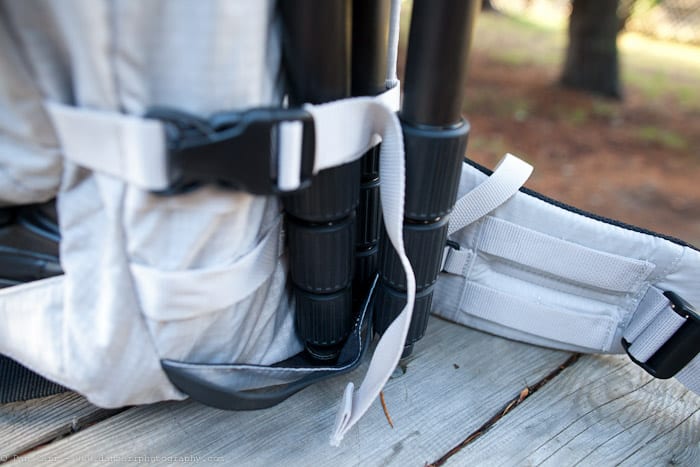 A small cup at the base of the side of the bag allows you to rest tripod feet to prevent the tripod from hanging too low or or pulling all it's weight on the side strap, instead transferring the weight downwards and through the hip belt.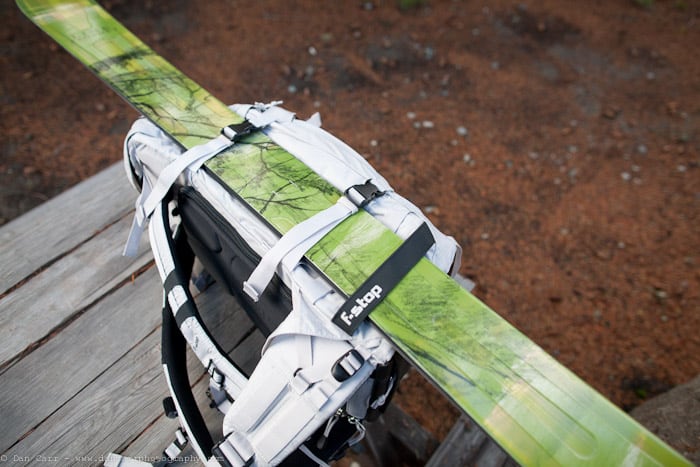 My new skis don't have bindings yet but you can see how skis also fit through the extra loop at the bottom to secure them further and prevent them from moving excessively when you are hiking.  For reference these skis are 115mm at the waist.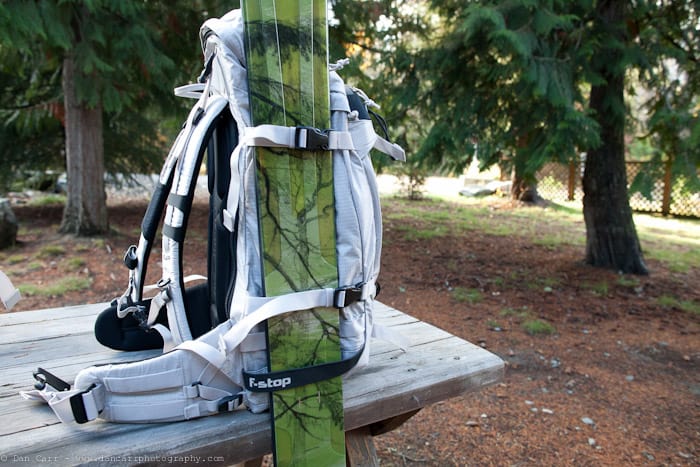 Loka Vs. Tilopa BC
These next photos give you an idea of the size of the Loka compared to the Tilopa BC.  Discussion on this is below the photos.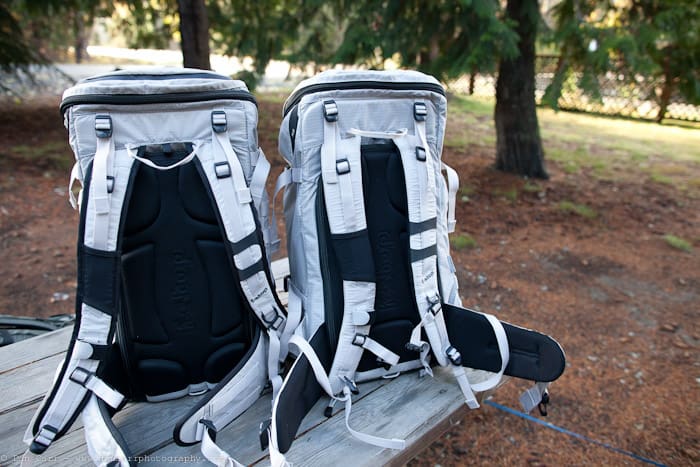 Loka on the left, Tilopa BC on the right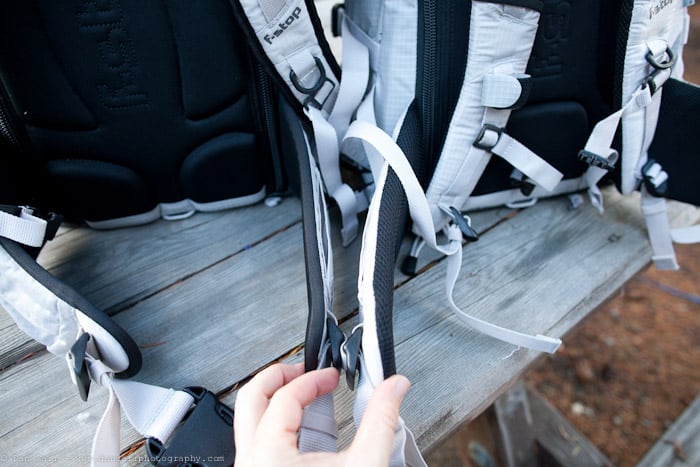 Different grades of hip belt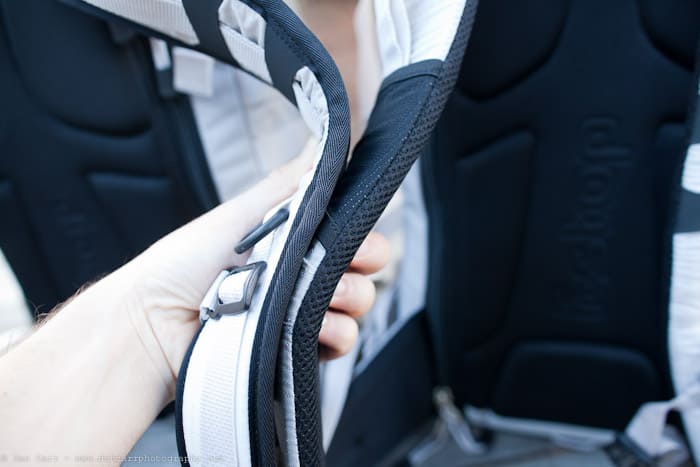 Loka strap on the left, Tilopa on the right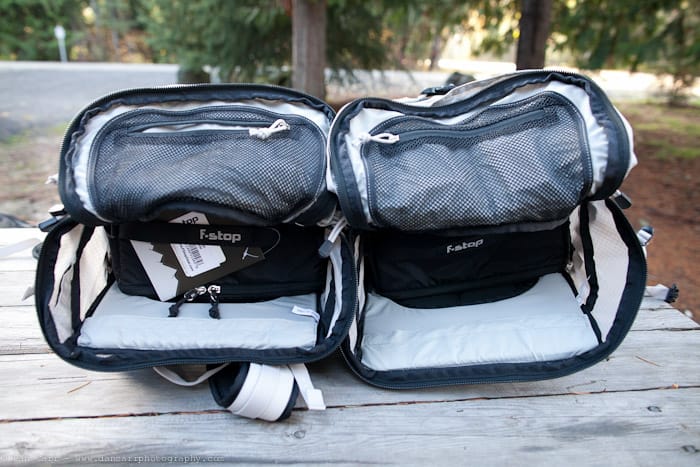 This shot shows a large ICU inside both the Loka on the left and Tilopa BC on the right.  There is a couple of inches more height inside the Tilopa BC.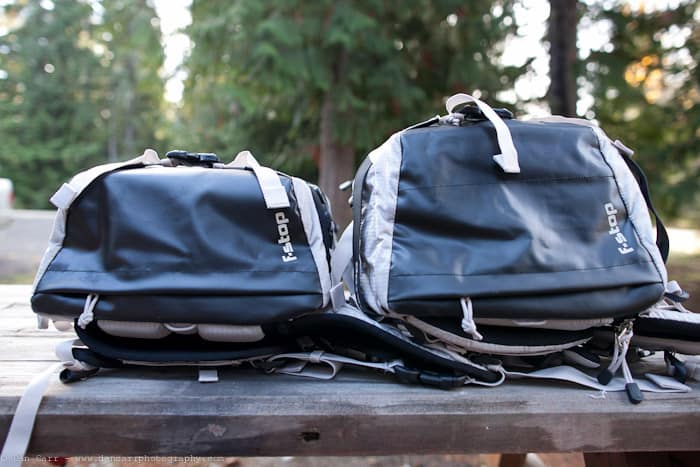 Here you can really see where the size difference comes from.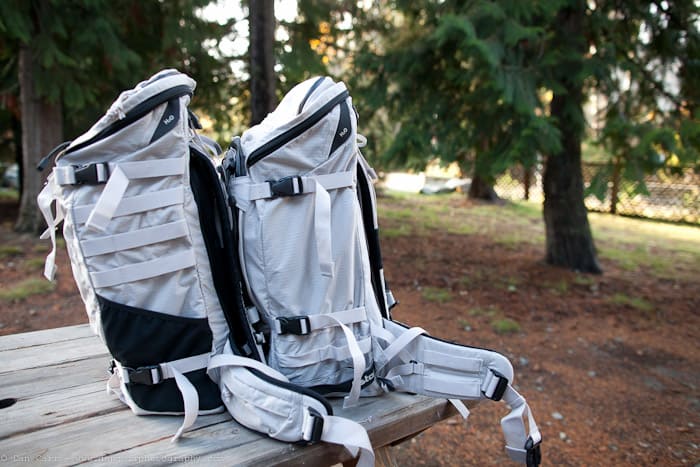 Loka left, Tilopa BC right.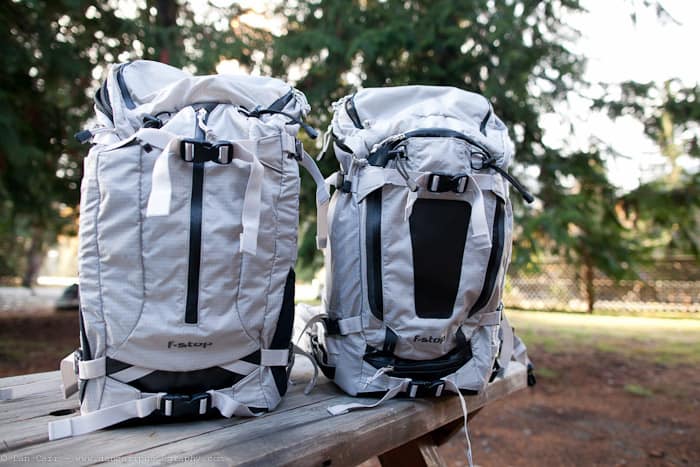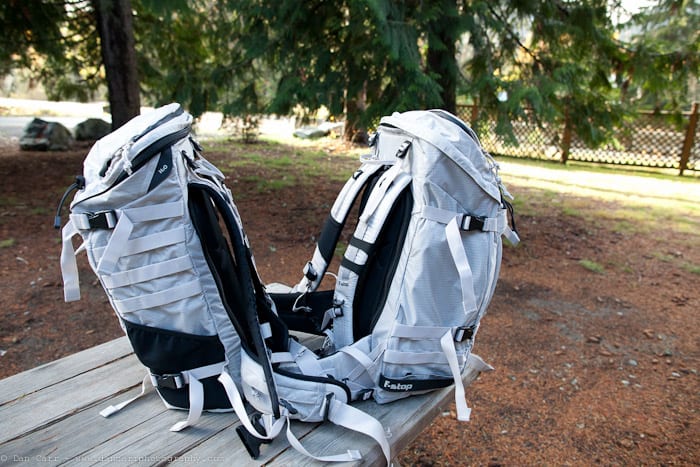 I believe this is going to be a question that gets asked a lot.  Tilopa or Loka ?  The Loka has a 37 liter volume and the Tilopa has a 50 Liter volume but mere volumes do not tell the whole story here.  As you can see from the above images the Tilopa is not much taller than the Loka and both of them hold the large ICU comfortably.  Looking at the photo comparing the bottom of the two bags though you can start to see where the size difference comes in.  The Tilopa is a much thicker pack and has considerable room around the ICU inside the bag for extras.  In all the shots you can see that the Tilopa looks slightly "baggy" with the large ICU inside it, whereas the Loka looks pretty much full.  The Tilopa can hold a huge amount of extra clothing or equipment in the 2 front panel pockets and the interior laptop sleeve.  The Loka has a minimally sized front pocket and no padded interior sleeve.  The other main difference is in the harness and suspension system.  The Tilopa BC is designed to carry a huge weight all day in the backcountry.  If you are going to fill a Large ICU with gear then you will probably want the extra padding of the shoulder straps and thickness of the hip belt on the Tilopa.  If you are mostly thinking of using a medium ICU of small ICU then the harness on the Loka is plenty good enough to keep you comfy with those weights.  Now if you purchase a large ICU for only occasional use then that would also be fine in the Loka, but if you see yourself using a large every day then the Tilopa would be my pick.  Of course if you need a laptop sleeve then the Tilopa is also the one for you.  You should also bear in mind the intended use of the bags.  The Tilopa is really designed for backcountry use, it is the ultimate bag for this.  The Loka has a much broader range of uses because it is slim enough for mountain biking and all sorts of other adventure sports.  When the bags are loaded up, you do feel noticeably more maneuverable with the Loka because it concentrates it's weight closer to your center of gravity and it feels like a much smaller pack than these photos make it look.  With the Tilopa there is no doubt you have a big bag on your back, but the improved hip belt takes all the strain and it feels great, but there is no forgetting it is there.  SO if you are headed skiing at your local resort with your buddies and you want to shred all day and maybe take the odd photo here and there then the Loka would be my choice because you will find it much easier to go about a normal day of skiing or boarding with the pack.  If you spend your days hiking out of bounds of sledding then that is exactly what the Tilopa is designed for.  I prefer the Loka with a medium ICU and the Tilopa with the large ICU.  The Tilopa will also fit the new XL ICU when it is available in January 2011.
The ICU system in all sizes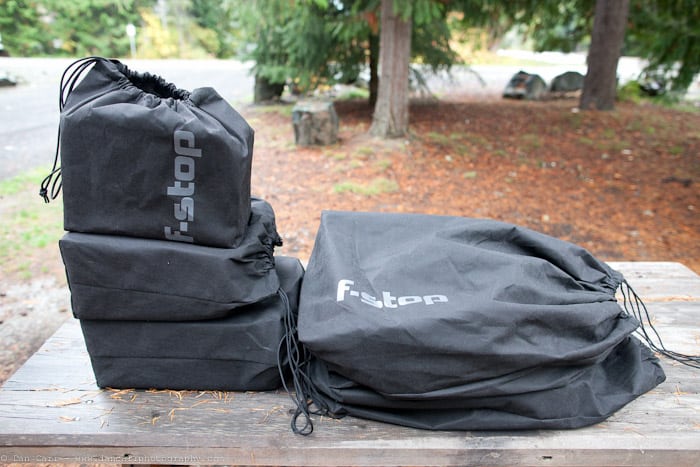 All F-Stop bags and ICUs now come in a protective sack. If you have multiple ICUs of different sizes these are great to store them away and keep them clean and dust free.
Left to right. Large, medium, small ICU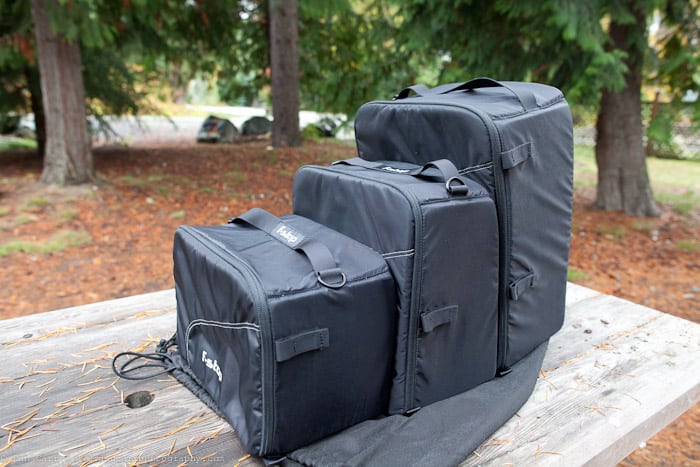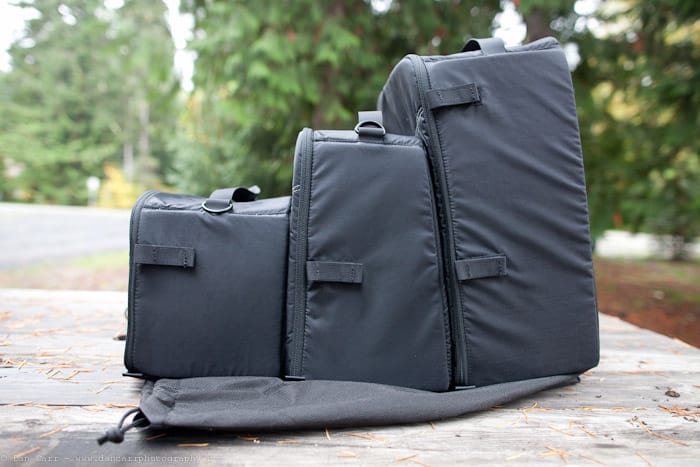 The medium ICU in the center has a tapered shape. One end is tall enough for small DSLR bodies and the other end is tall enough for pro sized DSLRs. This allows a little more room in the bag to pack extra gear like clothing.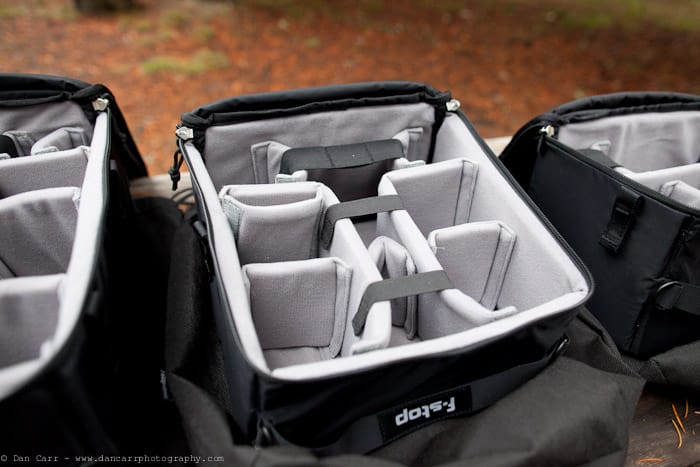 Medium ICU detail. All ICUs now ship with velcro attached elastic straps for securing lens and bodies during adventurous activities and travel.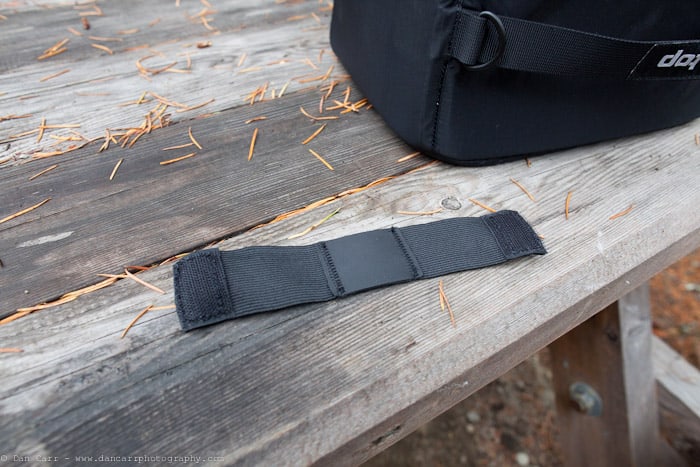 The body retention strap is reinforced in the middle to protect the strap and the inside of the bag from the metal edged hot-shoe on top of your camera.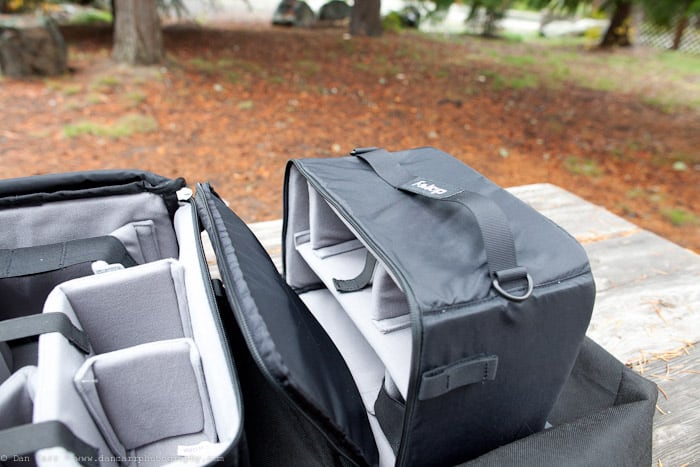 All ICUs have a convenient carrying handle, D-rings for attaching a shoulder strap and loops to retain the ICU inside the backpack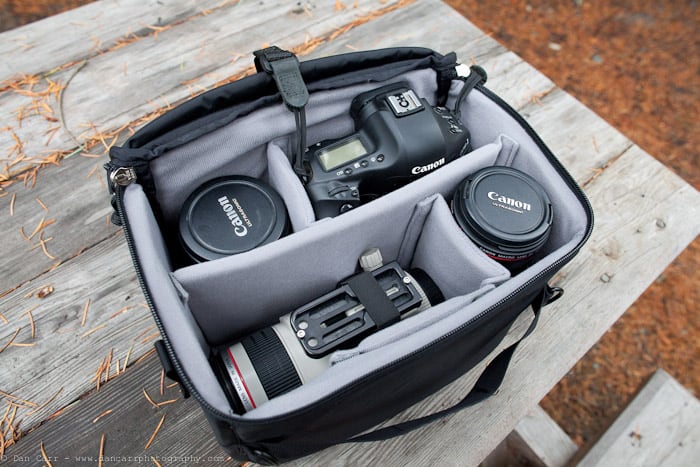 3 lenses and a pro sized body in the Small ICU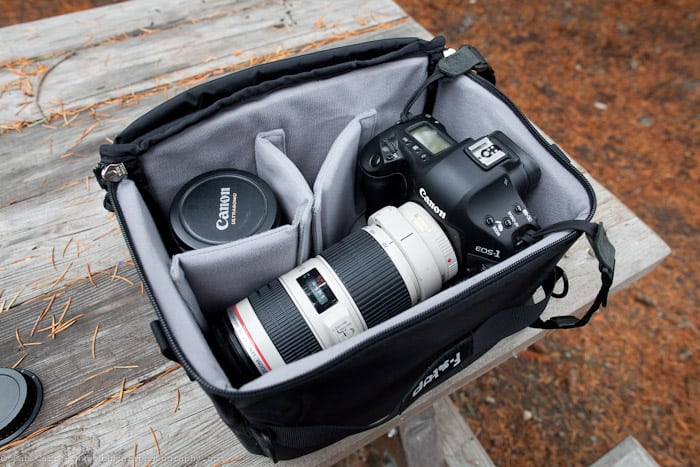 Pro body with 70-200 attached and extra lens in Small ICU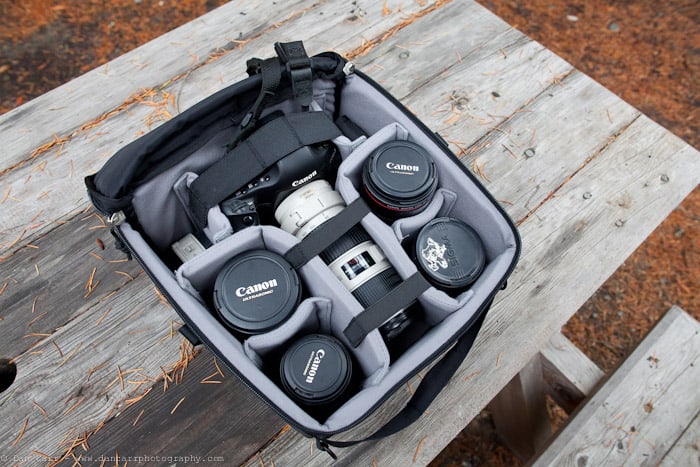 Pro body and 6 lens (with room to spare) in the Medium ICU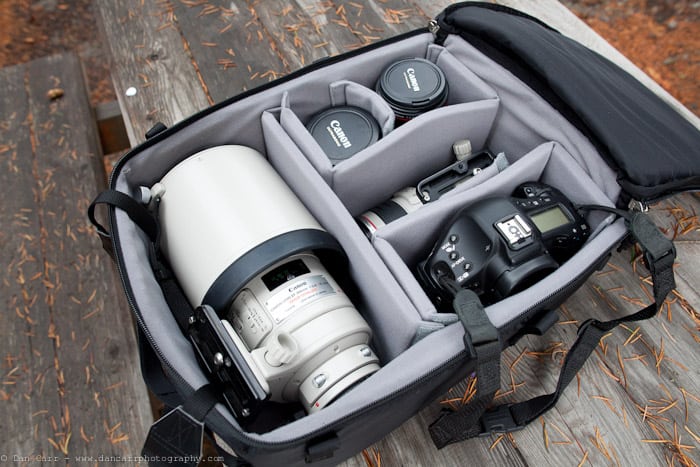 300mm f2.8, pro body and 3 more lenses in the Large ICU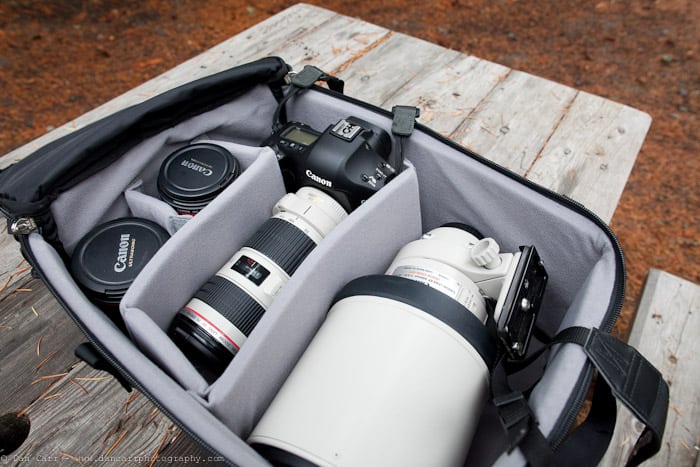 300mm f2.8, pro body with 70-200 attached and 2 extra lenses in Large ICU
300mm f2.8 in Small ICU. Perfect for storage and travel.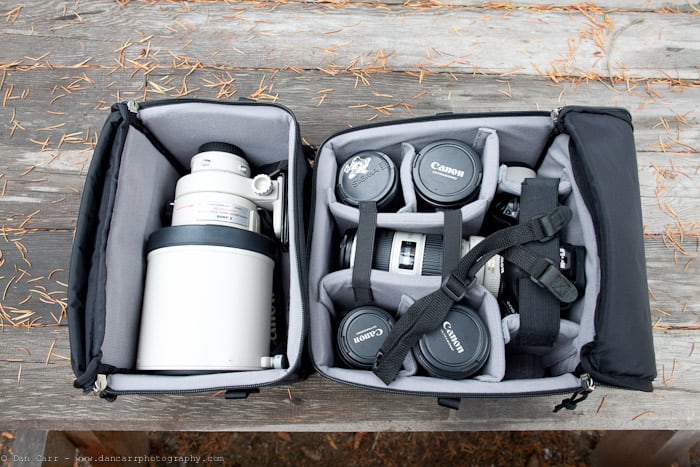 This combination of Small ICU & Medium ICU fits simultaneously into the F-Stop Tilopa backpack. Look at all that gear! In this configuration you can still fit all your backcountry gear like shovels, probes and extra food in your pack!
Pricing
You can place an order with F-Stop here on their website. And tell them I sent you!
UPDATE:I mistakenly put the old pricing up initially. sorry for any confusion.
Pricing for the Tilopa BC is as follows:
Tilopa BC backpack shell only – $345
Tilopa BC + 1 ICU – $419
Tilopa BC + 2 ICUs – $479
Tilopa BC + 3 ICUs – $539
Tilopa BC + 4 ICUs – $435
But you can also order any number and any combination of ICUs via the site.
If you have any questions about the bags or ICU please leave a comment below.  I know them inside out so I should be able to help you out!