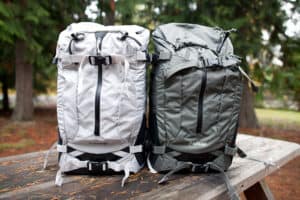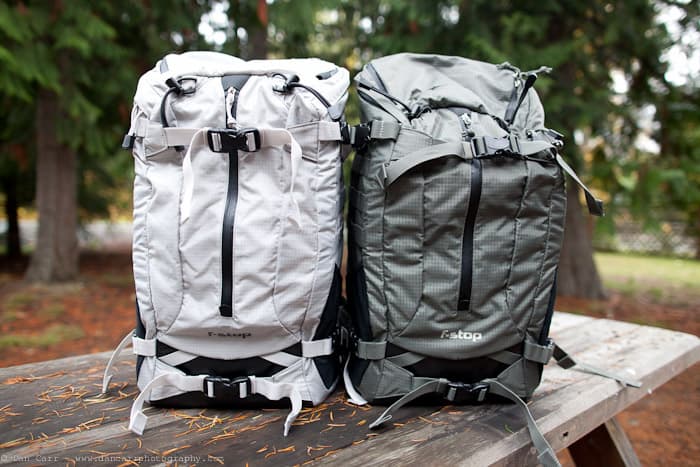 I have introduced the F-Stop Loka backpack before when it went up for pre-order and I have been excitedly waiting for this pack for a very long time, ever since I was signed up as part of F-Stop's Faction pro team a few years ago.  At that time the Tilopa and Satori were the main backpacks in their lineup but there needed to be a slightly smaller pack to fit more peoples needs.  As well as myself, F-Stop also signed up the very best action and adventure photographers like Christian Pondella, Tim Kemple and Sven Martin to test their packs and contribute to the development of the new products.  On top of the new Loka pack, bag designer Ian Miller also began  to develop updated ICU (Internal Camera Units) for the new bags based on our feedback and also feedback from previous customers.  The final production versions of the new Loka and the ICUs have just shipped to pre-order customers so it's time to take an in depth look at them.
Part of the idea behind the F-Stop gear is that it is not just a bag, it is a system consisting of different sized packs and different sized ICUs.  When you buy a bag, you choose which ICUs you wish to purchase with it.  You can choose just one, two or all of them.  Smaller ICUs in a bigger bag allow you more room to pack other outdoor gear that you might need for your adventures.  Right now the updated ICUs detailed in the following photos are available in small, medium and large.  An extra-large version is also in the works for next year.  If there is another backpack or bag that you want in the future, all you need to do is purchase the shell and slide your ICU right into it.  The ICUs also work extremely well for organizing your gear in your office so you might even want to pick up a couple of extra ones to keep on your shelves as storage.  Packing your bags is easy when the ICU is outside the bag and you can make sure you have everything you need before sliding it into the the shell.
Do your research and read my other reviews !
Guru – 28 liter all purpose mountain pack for small & medium ICU
Tilopa BC – 48 liter backcountry specific pack for small,medium & large ICU.
Loka– 37 liter all purpose mountain pack for small,medium & large ICU.
Satori EXP – 62 liter expedition photography pack for small, medium, large, XL and Monster ICU
Great care has gone into the design of the harness system system to make sure it is both adjustable for a variety of sizes and also to make sure that the often heavy camera loads are transferred to your body in the right way when doing adventurous activities.  For those who have had previous Tilopas and Satoris from F-Stop, the Loka features a larger hip belt with a sturdier buckle as well as a redesigned back panel that will dry out quicker by absorbing less water.
As I mentioned before, the Loka is smaller than the Tilopa and the Satori.  It carries its weight much closer to your body and has a slimmer profile than the other bags.  Designed as a lightweight pack for a days mountain biking, skiing or snowboarding at your local mountain or hiking and traveling.  As you will see from the photos below though you can expand the usage much further.  Although the Tilopa and Satori are a little more suited to everyday extreme backoutry missions, the Loka can still carry a huge amount of gear.  I was able to easily fit a Canon 1dMKIV, a Canon 300mm f2.8 and 5 other lenses in the bag along with all the necessary backcoutry gear.  I think you will also find that the bag is so comfortable and aesthetically pleasing that you will find any excuse to use it though!  A weekend city break where you want to take 1 body and a couple of lenses in the small ICU will still leave you plenty of room for clothing for a couple of days.  Airline travel is also an excellent use because its svelte design belies the huge amount of gear you can fit into it and will draw little attention from those pesky gate agents who want to weigh our bags!  It also looks much more like a regular backpack than a camera bag so it has a certain amount of urban camouflage making you less likely to be a target to thieves on your travels.  Unless you are waving a shiny 70-200 around that is.
The Loka backpack and ICUs are only available to purchase directly from F-Stop on their website HERE. All their gear features a 45 day satisfaction guarantee and a 20 year warranty against manufacturing defects.
The specifications of the Loka are as follows:
Volume: 37 Liter / 2,260 Cubic Inches
Available in three colors; Grey Mist, Foliage Green and Black
Weight: 1565 Grams – 3.45lbs (No ICU)

Dimensions: 12.6" x 23″ x 8.5″ (60cm x 32cm x 22cm)  International airline ready!
Internal Compartment Dimensions: 12" x 22" x 8"
Torso Length: 18.5" – Ideal for 5'6″ to 6'2″ (167cm to 188cm)
Aluminum internal Frame for support carrying heavy loads.
Fabric Info: Ballistic Rip-stop Nylon, Abrasion Resistant Nylon Webbing, High Density foam, Heavy Gauge Zippers, YKK Waterproof Zippers, Waterproof Urethane coasted mesh
Instead of listing every little design feature of the bag I thought it better to just take a TON of photos.  We are photographers after all!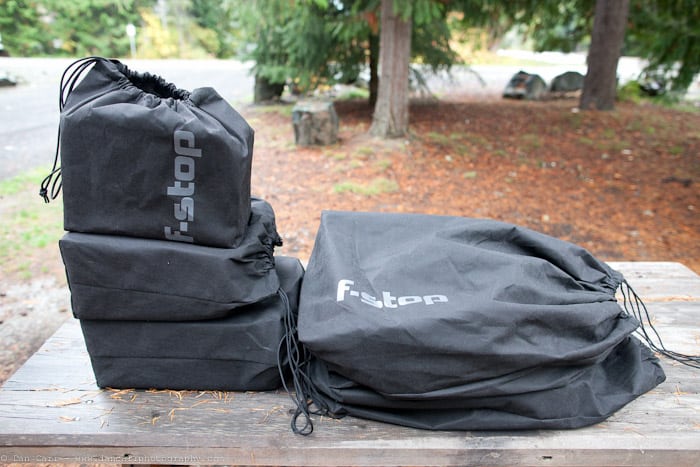 All F-Stop bags and ICUs now come in a protective sack.  If you have multiple ICUs of different sizes these are great to store them away and keep them clean and dust free.
Left to right.  Large, medium, small ICU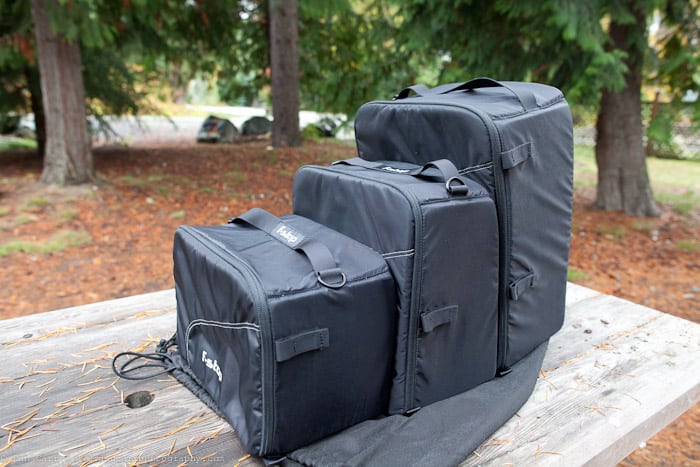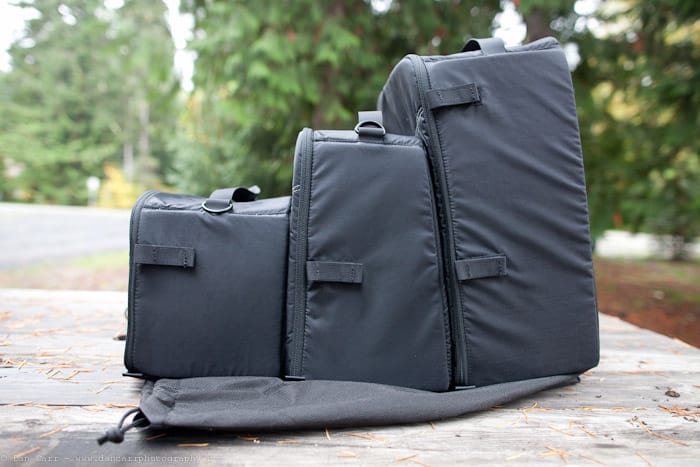 The medium ICU in the center has a tapered shape.  One end is tall enough for small DSLR bodies and the other end is tall enough for pro sized DSLRs.  This allows a little more room in the bag to pack extra gear like clothing.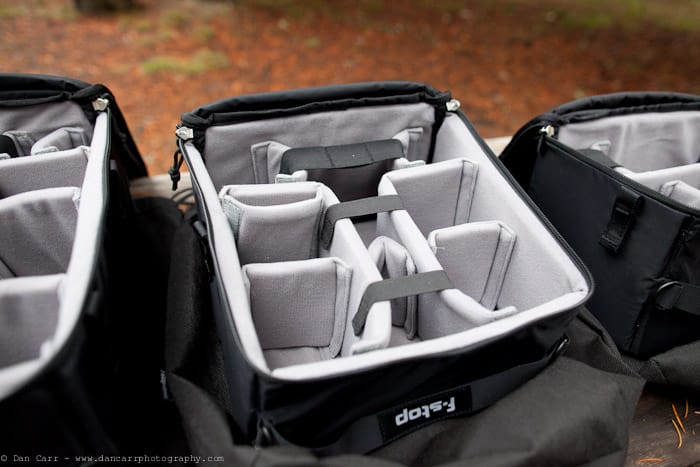 Medium ICU detail.  All ICUs now ship with velcro attached elastic straps for securing lens and bodies during adventurous activities and travel.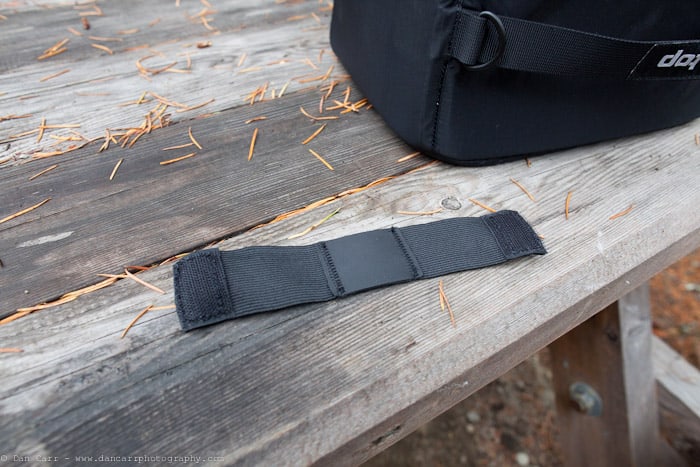 The body retention strap is reinforced in the middle to protect the strap and the inside of the bag from the metal edged hot-shoe on top of your camera.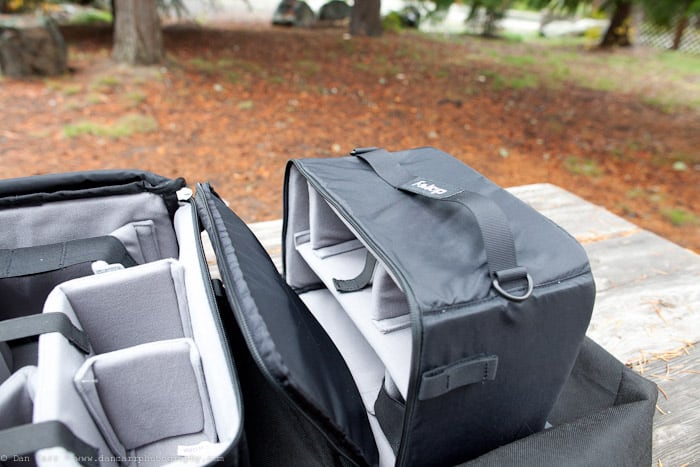 All ICUs have a convenient carrying handle, D-rings for attaching a shoulder strap and loops to retain the ICU inside the backpack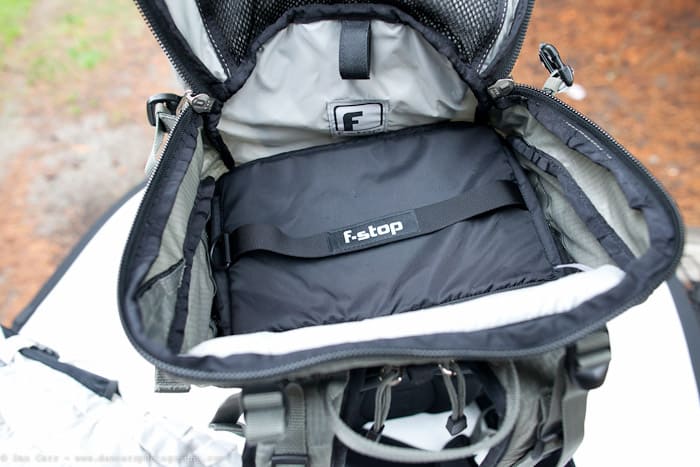 This image shows how much room is left in the top of the Loka backpack with a Large ICU inserted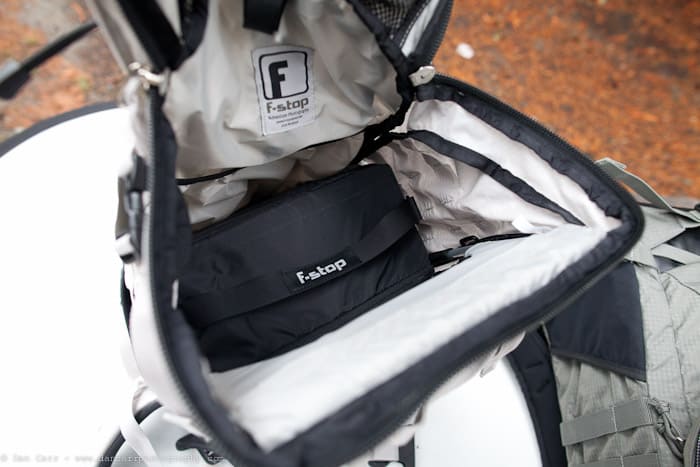 This image shows how much room is left in the top of the Loka backpack with a Medium ICU inserted.  You can see the additional room at the front of the bag created by the tapered design of the Medium ICU. You can also see the elasticated interior pocket which can be used for clothing, shovel blades.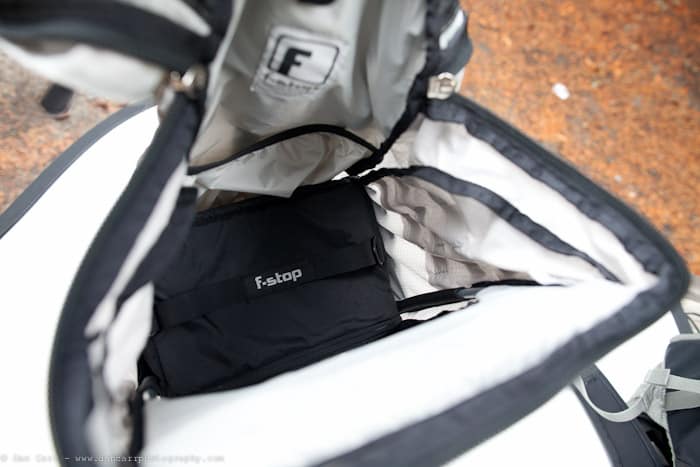 This image shows how much room is left in the top of the Loka backpack with a Small ICU inserted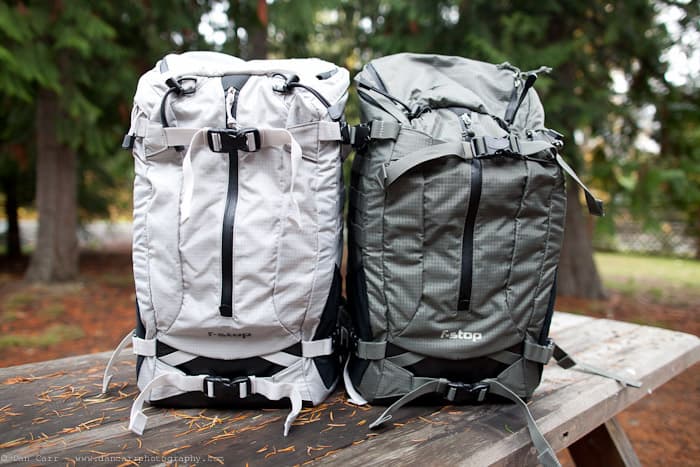 The F-Stop Loka backpack.  Also available in black.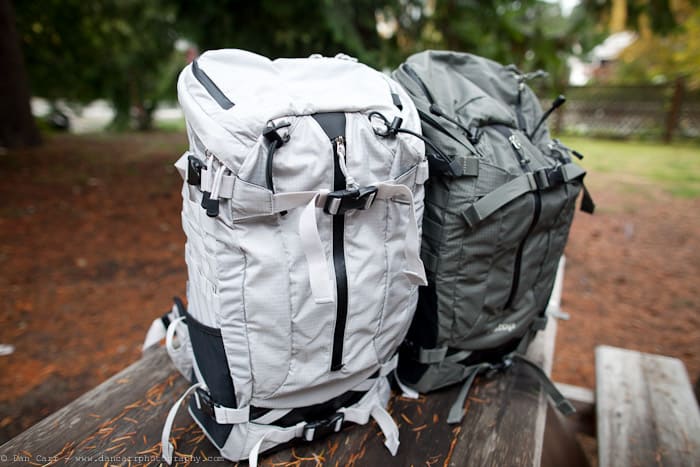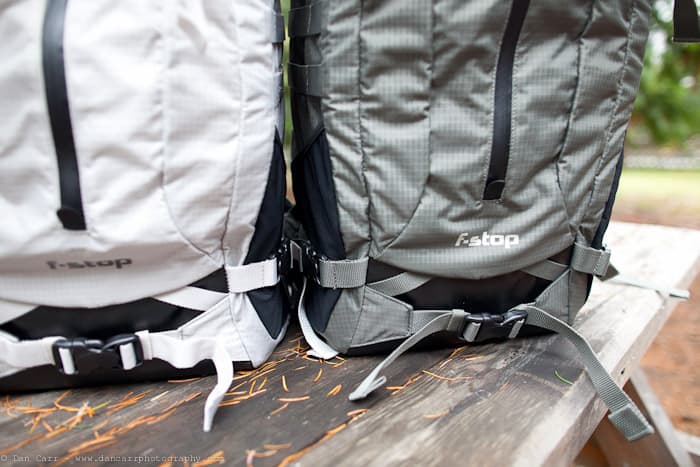 Low placement horizontal straps help to stabilize a snowboard when carrying it on your back.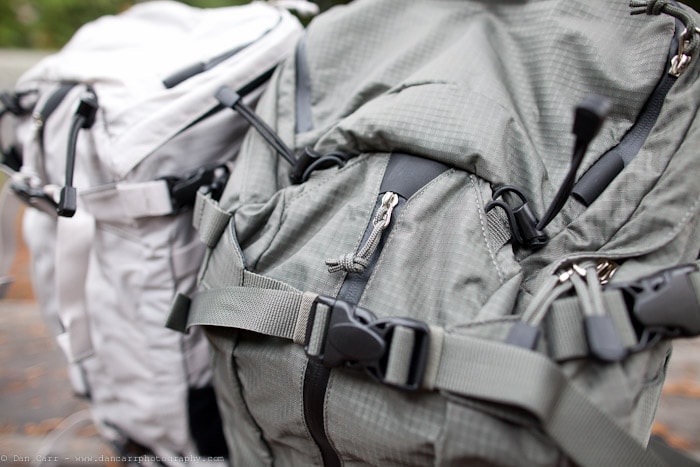 Seam sealed zippers on the front protect from the elements.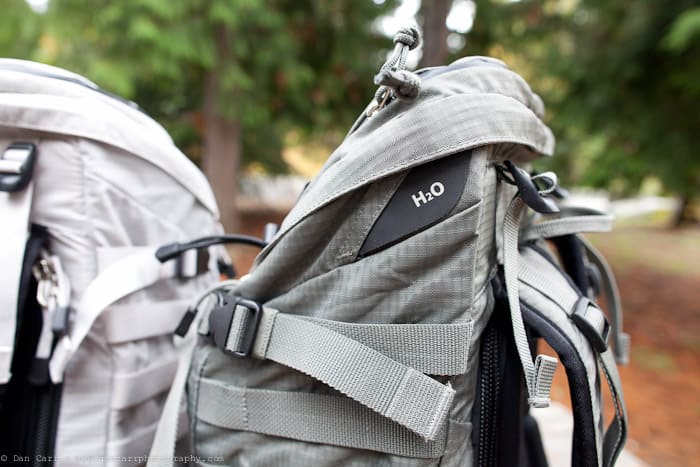 Water bladder compatible.  The hose hole for the bladder velcros shut securely when not in use to prevent snow/sand/dirt/rain from entering the pack.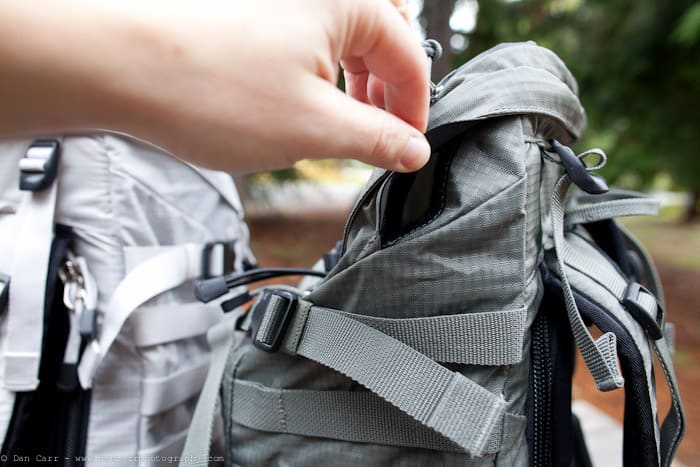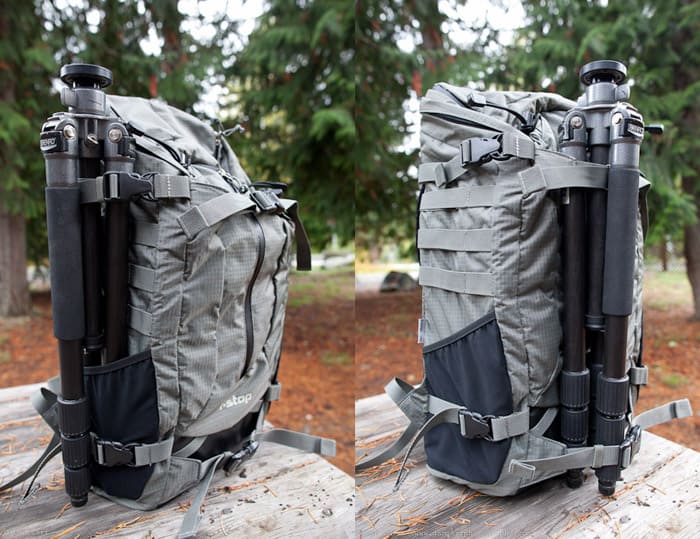 2 easy and secure options for tripod attachment depending on what else you are carrying on the pack.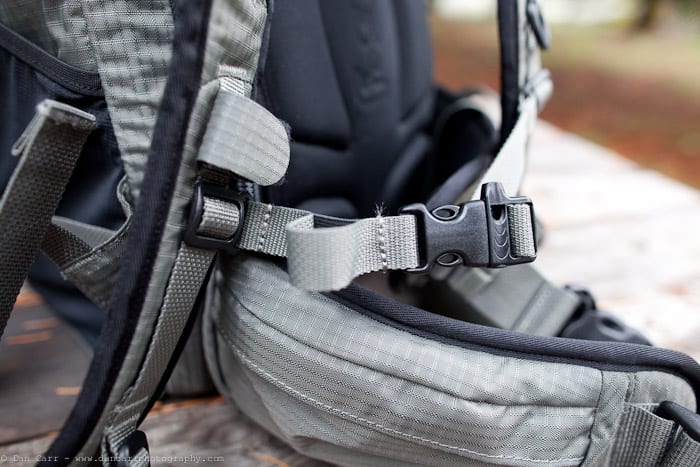 Emergency whistle built into sternum strap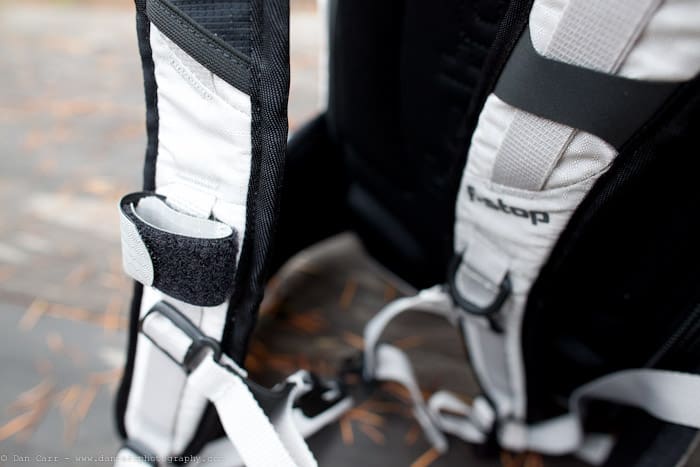 Water bladder hose control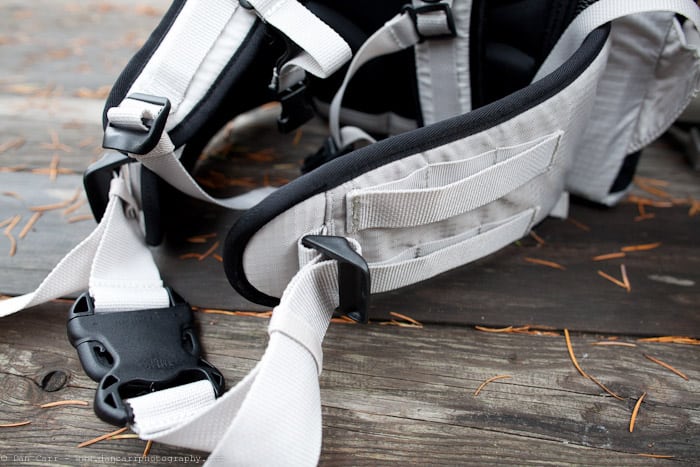 The hip belt featured a zippered pocket on one side and a molle attachment zone on the other side for adding accessory lens pouches from F-Stop or other manufacturers like Think Tank.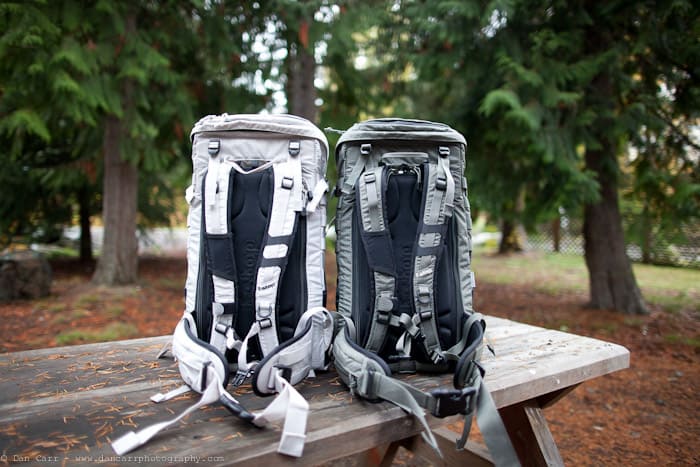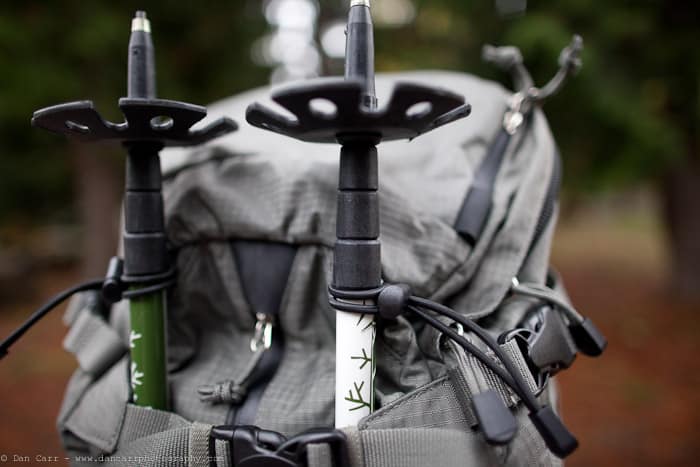 Got ski poles, walking poles or ice axes ?  No problem.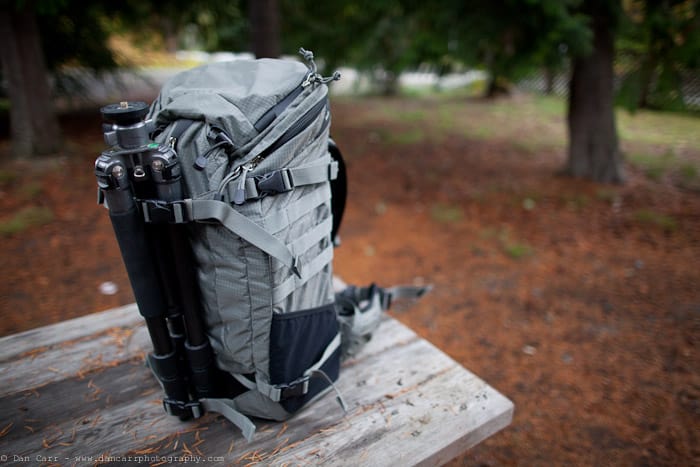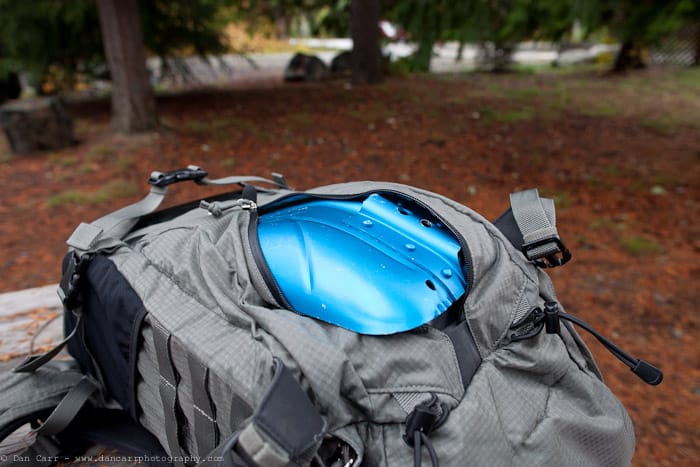 Snow shovel blades can either be stored in the front pocket or in the main interior pocket.
Shovel, shovel handle and avalanche probe inside the pack with a large ICU.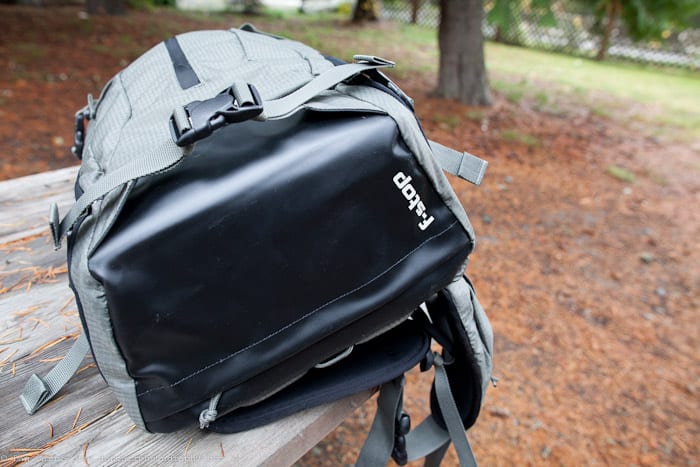 The base of the bag is made from waterproof TPU plastic to protect it from the elements when you take it off your back.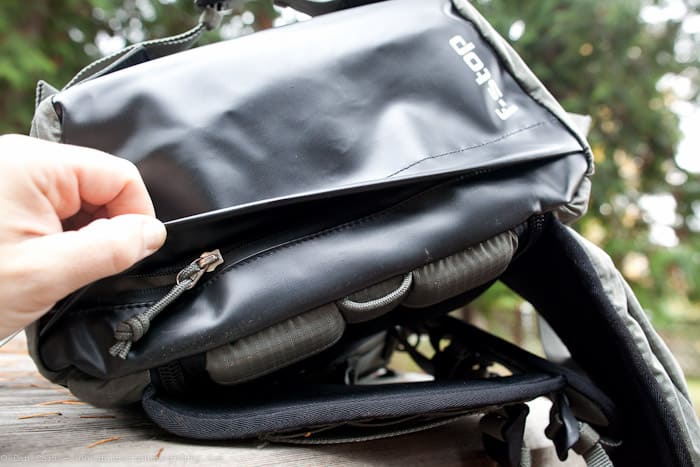 A hidden pocket in the TPU base for storage of the optional rain cover or just a hand place to keep some snacks!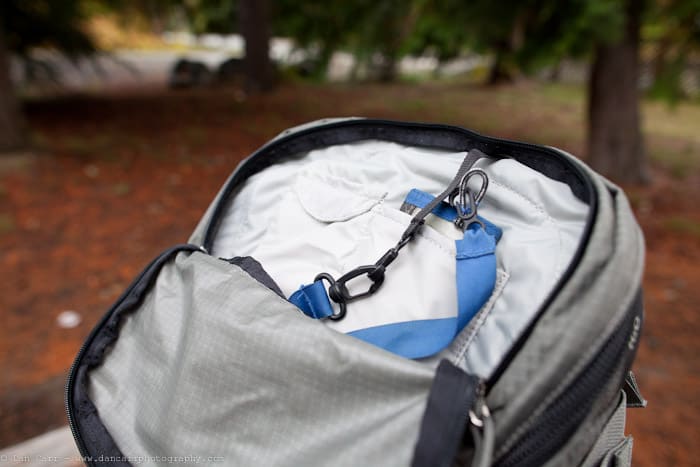 The lid pocket features a clip to secure your memory card holders.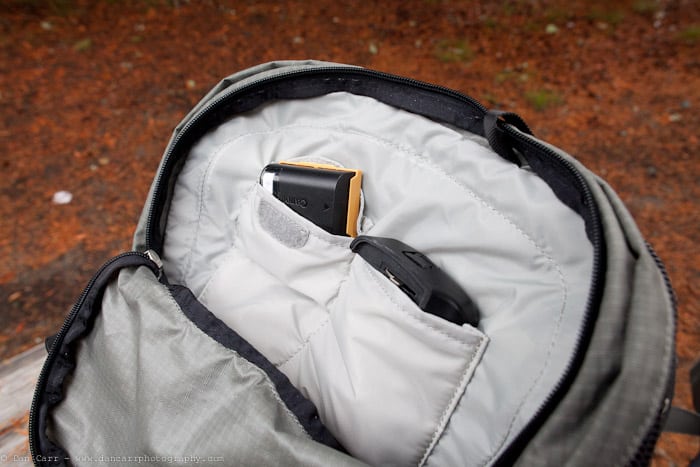 The pockets are designed to fit both pro and prosumer camera batteries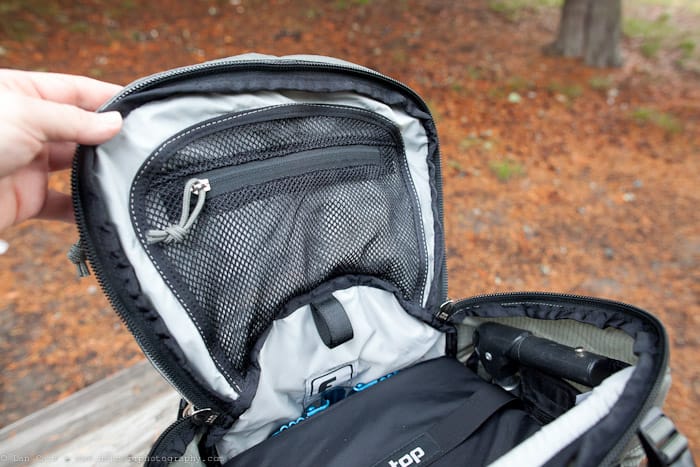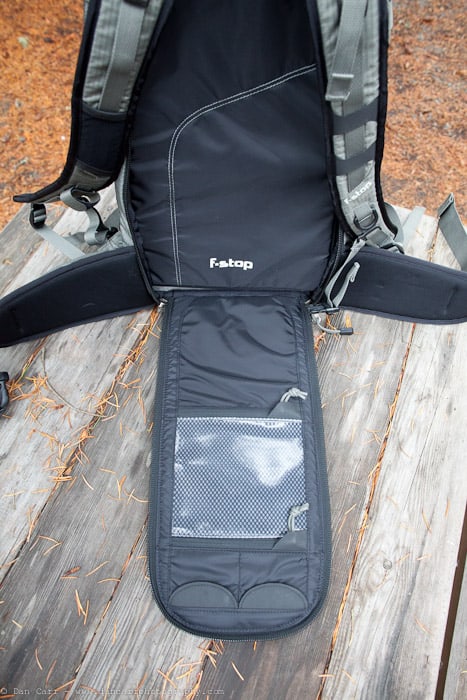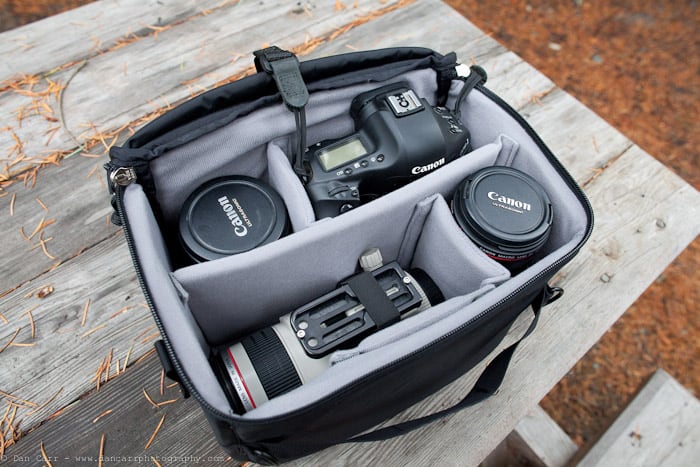 3 lenses and a pro sized body in the Small ICU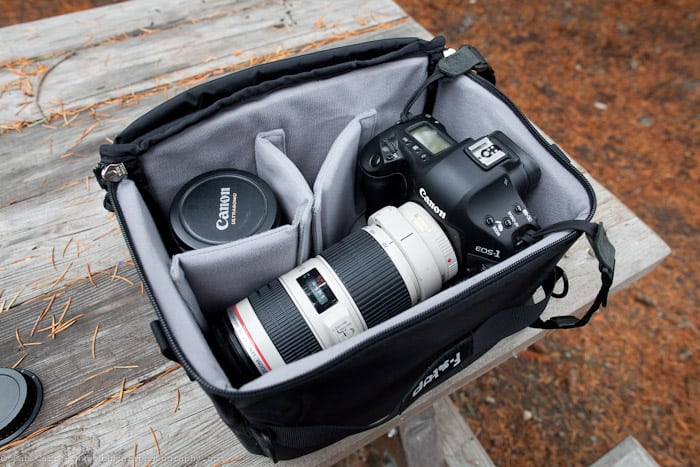 Pro body with 70-200 attached and extra lens in Small ICU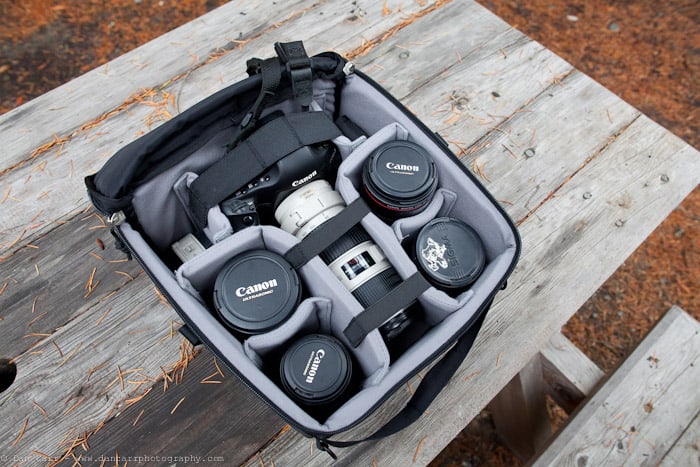 Pro body and 6 lens (with room to spare) in the Medium ICU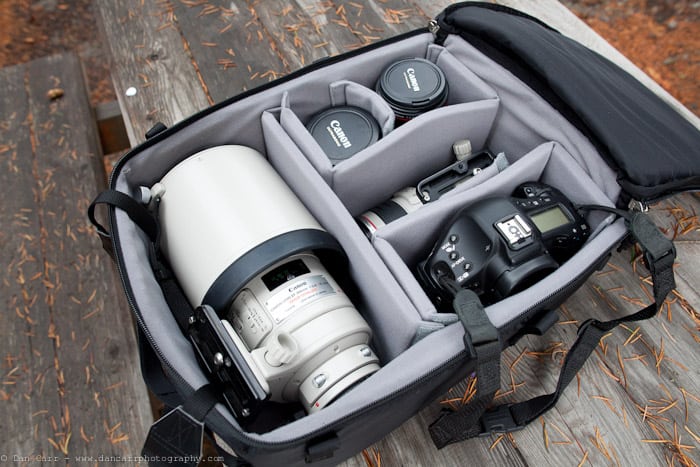 300mm f2.8, pro body and 3 more lenses in the Large ICU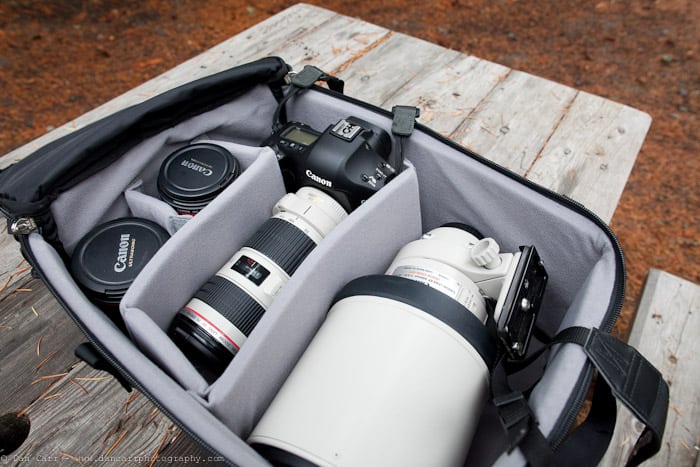 300mm f2.8, pro body with 70-200 attached and 2 extra lenses in Large ICU
300mm f2.8 in Small ICU.  Perfect for storage and travel.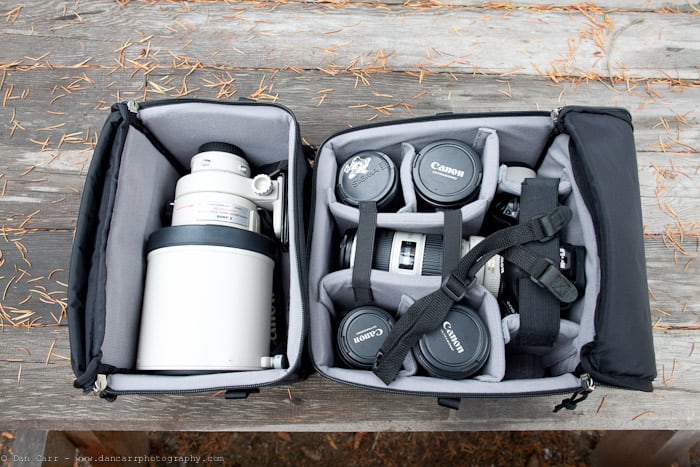 This combination of Small ICU & Medium ICU fits simultaneously into the F-Stop Loka backpack.  Look at all that gear!  In this configuration you can still fit all your backcountry gear like shovels, probes and extra food in your pack!
If you have made it all the way down here to the bottom of the page you have probably gotten a pretty good idea for what this bag is like.  This is a very high quality piece of gear and an incredible amount of time and effort has gone into making sure that this is the best adventure/outdoor photography bag on the market right now.  Obviously I would say that though because it features some of my ideas 🙂 but that is why I gave you so many photos of it because I think you can figure that out by just looking at it .
You can place an order with F-Stop here on their website. And tell them I sent you!
Pricing for the Loka is as follows:
Loka backpack shell only – $279
Loka + 1 ICU – $339
Loka + 2 ICUs – $399
Loka + 3 ICUs – $449
But you can also order any number and any combination of ICUs via the site.
If you have any questions about the bags or ICU please leave a comment below.  I know them inside out so I should be able to help you out!