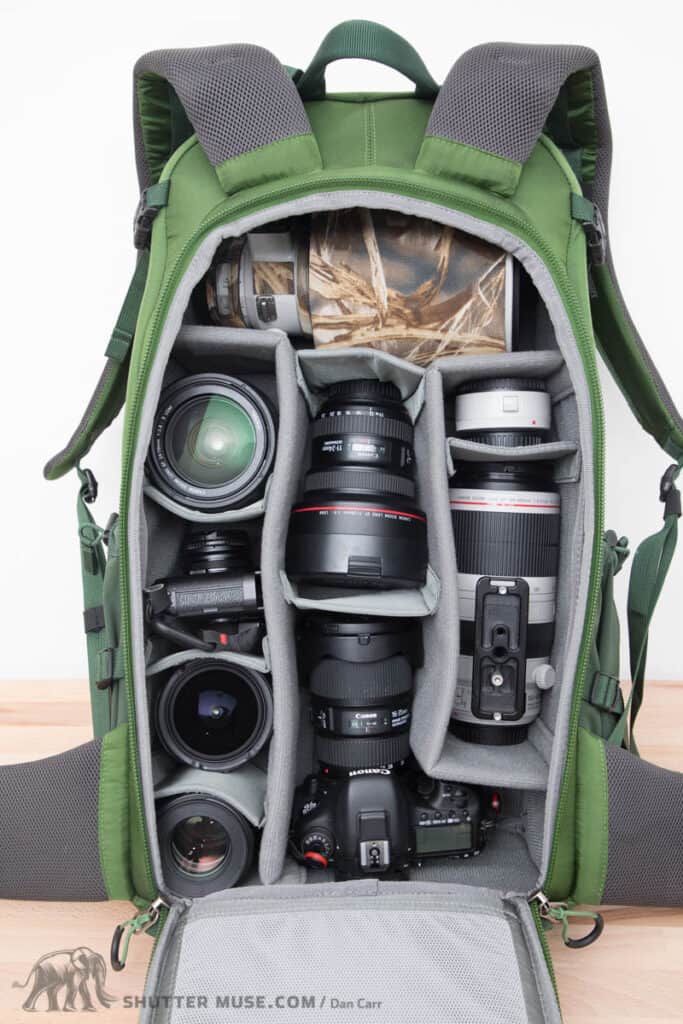 I took this photo for a review of the MindShift BackLight 36L backpack that I posted over on ShutterMuse.com recently. Someone commented that the photo had "nice lighting!", so I thought I would take a second to explain how I did it.
Drumroll…
A single Canon 600EX Rt speedlight bounced off the ceiling of my living room. That's it. No fancy light modifiers, no expensive studio setups and only that one single light source. It just goes to show you how things don't always need to be made too complicated.
I always use the Canon ST-E3 radio transmitter with my 600EX Rt flash, so the flash was directly behind on another table, and simply angled up to the ceiling. Bounced light is always softer, so there was no need for a softbox or anything else so cumbersome. The light coloured walls helped to bounce light from a few different directions, and the result is a nice even light that creates just the right amount of contrast on the bag and its contents. There was no ambient light in this exposure at all, and whilst I did have lights on in the room at the time, they were not bright enough to contribute to this exposure.
Pretty cool eh?  I use this setup all the time, and whilst I prefer to shoot in manual mode, the ST-E3 and 600EX combo can also do wireless TTL if you want it to.
What's in the bag you might ask? Canon 400mm f/4 DO IS II (top), Canon 24-70 f/2.8 L II, Fuji X100F, Canon 8-15 f/4 fisheye, Canon 100mm f/2.8 L IS Macro (left), Canon 11-24mm f/4 L, Canon 16-35mm f/4 L IS on a 7D Mark II (middle), Canon 1.4x extender, Canon 100-400 f/4.5-5.6 L IS II (right).
Support the site - It's easy!
Did you find this post useful and interesting?
- I've invested thousands of hours into creating the content you find for free on this blog. The best way to say thanks is to use the product links in the post when you make your purchases. I may make a small commission when you do this, and that helps to keep the site running. Click
here
to find more links that support the site, or use these primary ones:
B&H Photo|Amazon|Adorama|Think Tank (free gift on $50+ spend)|MindShift Gear (free gift on $50+ spend)
|
Coffee
Thanks for your
support
and readership!