Photography would be much simpler if you just had a camera and a lens, but inevitably there's an array of cables and accessories that need to be carried as well. Every time I add a new kind of photography to my repertoire (macro, panoramic, underwater, flash.. etc.), there's a whole new collection of widgets, trinkets and thingamabobs that need to be remembered.
Over the years I have tried out quite a number of different cable and accessory bags, but recently I finally found what I was looking for: The Think Tank Powerhouse series.
Think Tank Powerhouse Series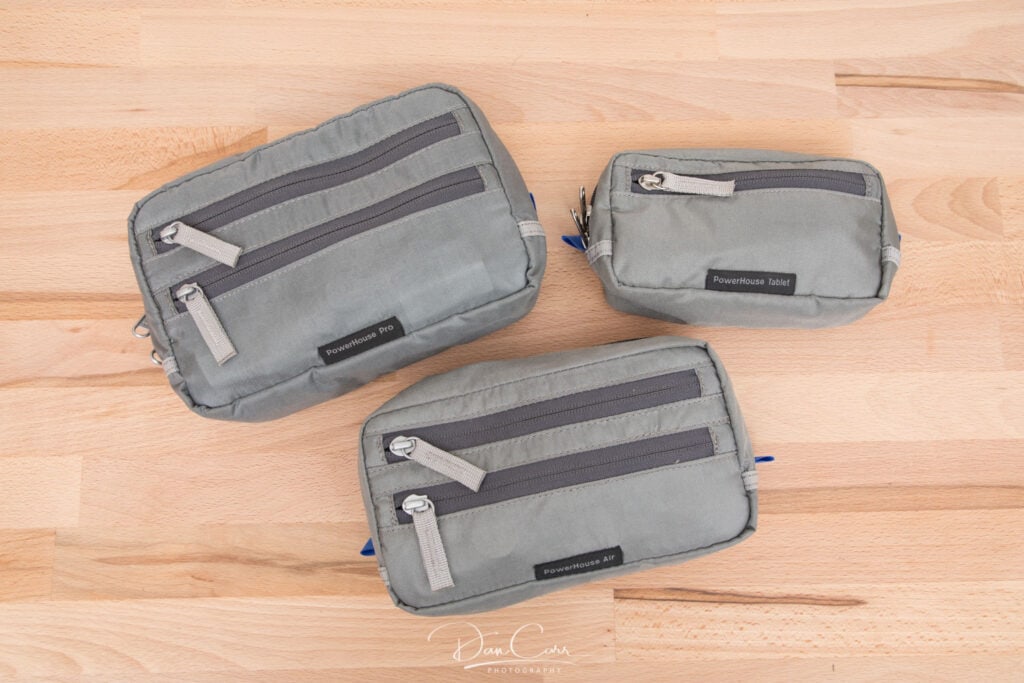 Think Tank Photo make many great camera bags that I've used and reviewed over the years, and they even have a couple of small bags that make up the Cable Management series, but we're going to ignore those! They are NOT the best cable and accessory organizers that they make – despite their name.
The Powerhouse series is technically designed for laptop accessories of various sizes, but they have several distinct advantages over the regular Cable Management bags. Firstly they have a divider in them so you can partition the main pocket, and secondly they have rear zippered pockets that in-turn have small mesh pockets inside them. The regular Cable Management bags from Think Tank do a decent job with just cables, but the Powerhouse series excels at organizing both cables AND all the other little adapters, screws, tools, clamps and brackets that you might want on any given day.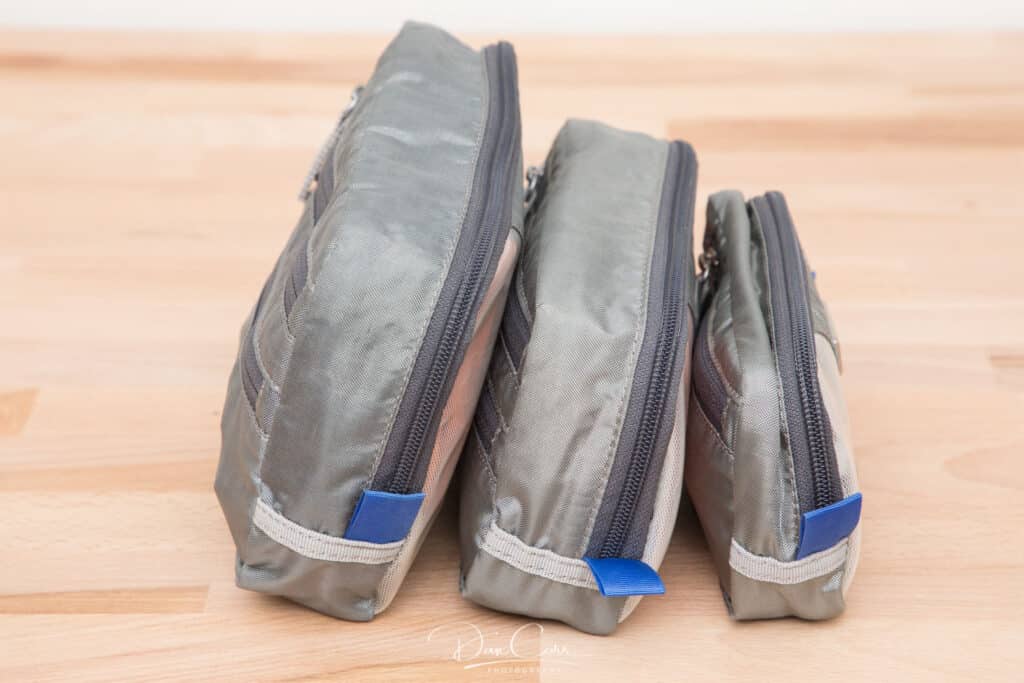 Use Multiple Bags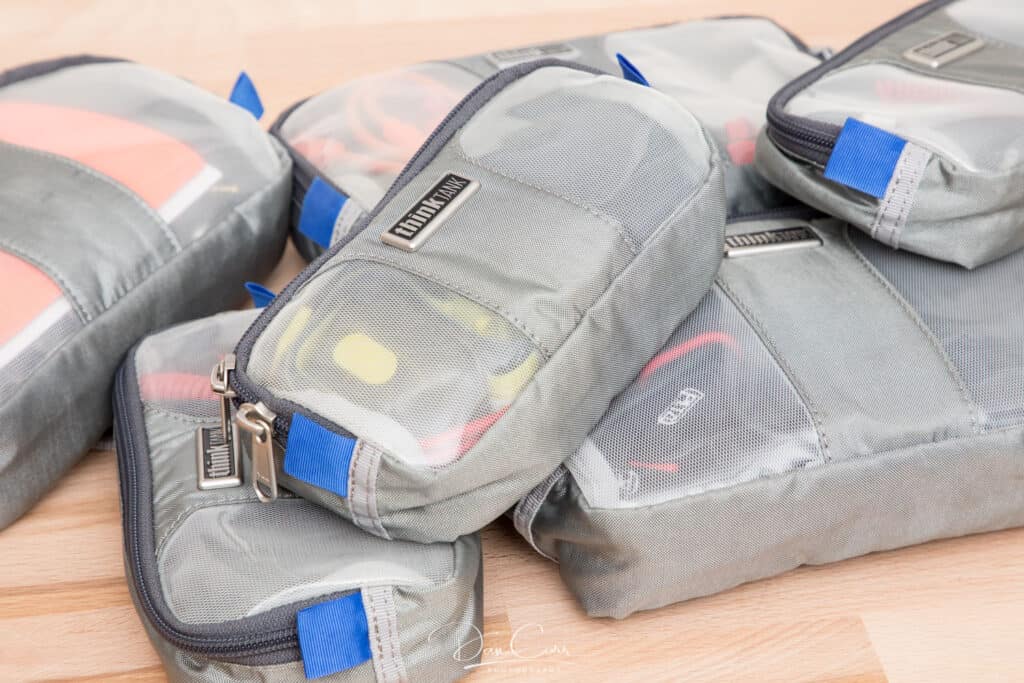 The way I like to do things is to keep all the necessary items for one type of photography in their own bag. I have many of the small Powerhouse Tablet bags for things like remote camera triggers, microphones and GoPro gear, and a larger Powerhouse Air that holds all the bits and pieces for my underwater camera housing. A first Powerhouse Pro holds my laptop charger, memory card readers and hard drive cables, whilst a second one holds all the items that I consider to be necessary to every single shoot. This second bag is always with me, moving from camera bag to camera bag. I've written about its contents before in this article: My Photography EDC Kit – although at the time I was housing it all in a slightly different bag.
Having things organized in these different bags means I rarely forget anything, even when I'm packing hundreds of small items on bigger trips! If I'm packing things in a hurry, it's super fast for me to pick my tiny kit bags and get out of the door with the right gear in just a couple of minutes.
The Size and Shape Is Perfect
Another thing I love is that the smallest Powerhouse Tablet is sized perfectly to fit into lens slots in camera bags. It's super easy to fit them into your existing camera bag layout! The Powerhouse Pro also fits well in most top pockets of hiking packs and many outdoor photo packs. I have experimented with all kinds of cable bags from companies like Peak Design, MindShift Gear, Lowepro  and Think Tank but none of their solutions have a size and shape that is quite so convenient.
Where to buy – Get a free gift!
As always, I really appreciate it when you guys use the links on my pages to buy your gear. I may make a small commission when you do that, but it doesn't cost you a penny more, and it's how I fun the time and effort that goes into all this content.
As friends of this site, you can get yourself a free gift from Think Tank Photo when you click through the links on this page to their store and spend more then $50. If you need more details on that offer, or have trouble activating it by clicking the links, visit this page.
If you're shopping outside of the USA, where sadly Think Tank will not ship to, you can use the links below to find the products on B&H Photo and Amazon. Living in Canada as I do, I shop internationally from B&H all the time and it's an absolute breeze because I can pre-pay all the tax and duties so there's no surprises!
Support the site - It's easy!
Did you find this post useful and interesting?
- I've invested thousands of hours into creating the content you find for free on this blog. The best way to say thanks is to use the product links in the post when you make your purchases. I may make a small commission when you do this, and that helps to keep the site running. Click
here
to find more links that support the site, or use these primary ones:
B&H Photo|Amazon|Adorama|Think Tank (free gift on $50+ spend)|MindShift Gear (free gift on $50+ spend)
|
Coffee
Thanks for your
support
and readership!