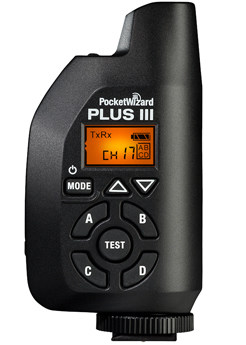 LPA Designs have today announced the third iteration of the Pocketwizard Plus lineup.  It integrates several of the features of the Multimax into a smaller, cheaper package that will actually sell for $30 less than the previous version!  Great news!  There has been considerable physical design changes too including a built in antenna and a sideways profile so as not to get in the way of the photographers view when mounted to the camera.  There is a new long range mode designed for remote camera usage, a repeater function (which was previously confined to the Multimax), 32 channels and a host of other features.  This looks to be an excellent update to the Plus II and LPA designs should be applauded for bringing it a lower price point.
Personally I am hoping that the new aerial design will help with the fluctuations in usable distance that you experience with the Plus II and Multimax when you switch the camera from landscape to portrait orientation.  Previously, both transmitting and receiving aerials needed to be pointed vertically to get the best range.  This meant that sometimes it would work in landscape, only to glitch and miss fire when switching to portrait.
The price is $139.00 and is currently available for pre-order at B&H.
Press Release
Support the site
If you enjoyed reading this post and found it helpful, please consider supporting the site by making your next photography purchase by clicking through one of the links below or one of the links on our worldwide list of supporting stores and services on this page. Thank you!
Think Tank Photo -As a friend of this site, clicking through to the Think Tank site and spending more than $50 will earn you a FREE bag when you reach the checkout. Choose from several different accessory or modular bags for FREE!
There's a full list of worldwide stores and services that you can use to support this blog HERE.