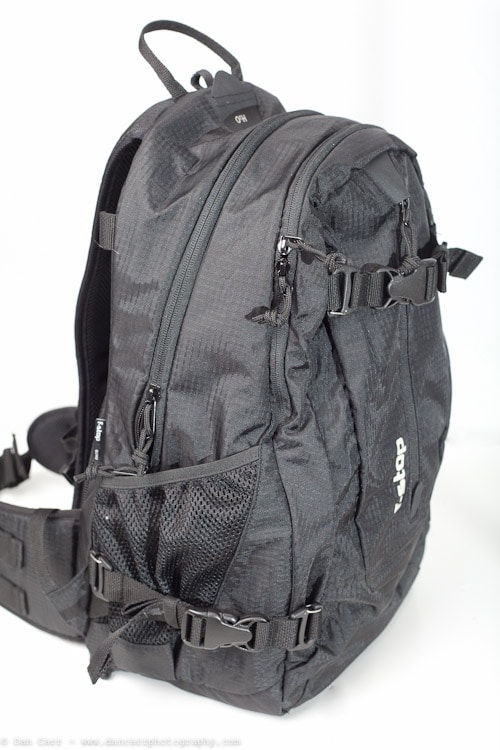 F-Stop have started to ship a new pack in their Mountain Series lineup a couple of weeks ago.  Firstly I should disclose that I am a member of F-Stop's Faction pro team and as such this pack was given to me to use for my work. So as I have done in the past, I'll keep this as more of an informational post about the pack so you guys can get a good feel for it before you place your order 🙂  In all seriousness , given the traffic spikes I see on my site whenever I post about new F-Stop gear, I know you guys love this stuff anyway!
If you aren't familiar with the other Mountain Series packs from F-Stop you might want to take a quick look back at my previous posts covering the Tilopa BC and the Loka. Both of these packs have been incredibly popular and have quickly become the default pack for adventurous photographers all over the world.
As you would expect then the Guru is designed and manufactured to just as high standards as the other packs in the lineup.  The main difference here is that the Guru is the smallest pack of the series with a 28 liter capacity compared to the 37L of the Loka and the 48L of the Tilopa BC.  Towards the bottom of this post you will  find some comparative photos showing all of the packs together.  The Guru is designed to work well with either the small or medium ICU for those with a minimal amount of gear who want to carry a few extra items with them, food, extra clothing etc etc.  As you'll see from the images below, either of these ICUs still leaves plenty of room in the pack.  The Guru also features a comprehensive organizing pocket in the front with multiple internal zippered pockets and slots for all sorts of things.  You could fill it with pocketwizards and cables, or even take it to school with some pens and other stationary in it.  Due to it's smaller size and inconspicuous looks, the Guru can be used for any number of uses.  A great pack for a day in the city or an all day mountain bike adventure.  Shredding pow in the mountains or carrying a camera around your school or college.  It features an unpadded laptop sleeve that will fit up to a 15″ laptop. Guru features the same ripstop nylon as the Loka and Tilopa and let me tell you, it's tough stuff so this is going to last you a long long time.  F-Stop packs are available exclusively through their own store. And prices for the Guru start at $245 for the shell + 1 ICU.  Of course if you already own ICUs for your other packs you can also just grab the shell for $195.

Now please take a scroll through the 50 odd photos below which detail every part of the new Guru including comparisons with F-Stops other bags, possible uses and a look at the all new Gatekeeper functionality.
Do your research !
Guru – 28 liter all purpose mountain pack for small & medium ICU
Tilopa BC – 48 liter backcountry specific pack for small,medium & large ICU.
Loka– 37 liter all purpose mountain pack for small,medium & large ICU.
Satori EXP – 62 liter expedition photography pack for small, medium, large, XL and Monster ICU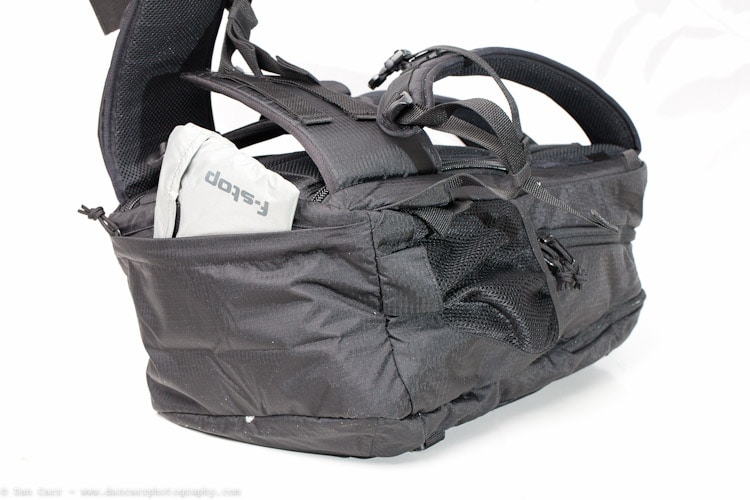 Optional rain cover can be stored in the secret pocket on the base of the pack.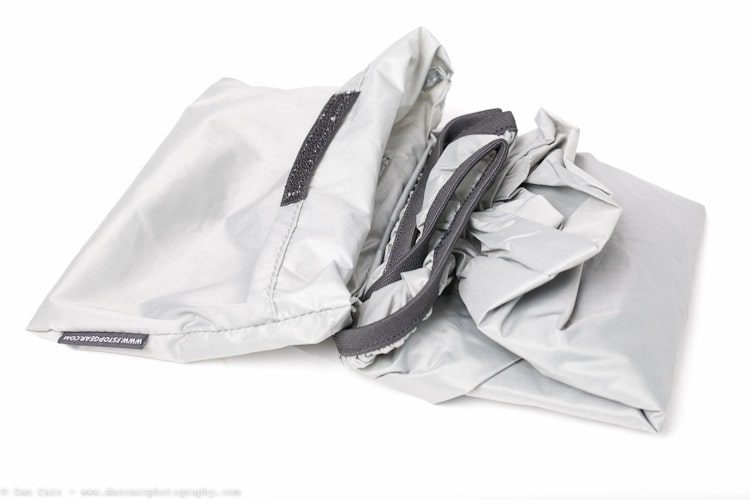 The rain cover is an optional addition.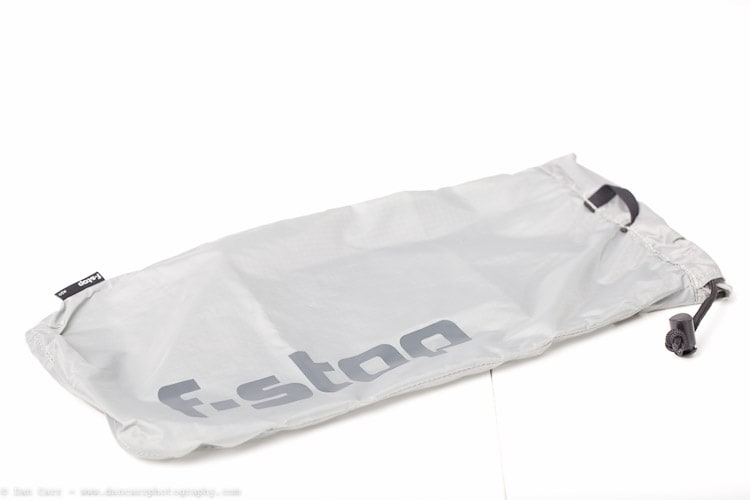 Another optional addition is the waterproof bladder holder which attaches to the inside of the bag to keep potential water spills away from your camera gear.
Added versatility – the Gatekeeper
The versatility of the F-Stop packs has always been their key element.  YOU choose how much camera gear you want to carry in your pack by picking the size of the ICU when you place your order.  Perhaps you want just a camera and a lens to take on a weekend trek, or maybe you want to carry a 10 lens arsenal for a huge one day shoot.  Both are possible with the right selection of ICU.  Now F-Stop has introduced a new feature, the Gatekeeper, pictured below.  The Guru comes with a pair, and more can be ordered from F-Stop should you need them.  The spring loaded clips allow easy release of the straps to re-position them to one of a selection of other mounting points on the pack.  If you would rather carry extra load on the side, no problem, simply move the Gatekeepers.  Or if you want to keep the pack looking sleek, remove them altogether, the choice is now yours.  This new feature will also be included on the upcoming Satori EXP , and future Mountain Series packs.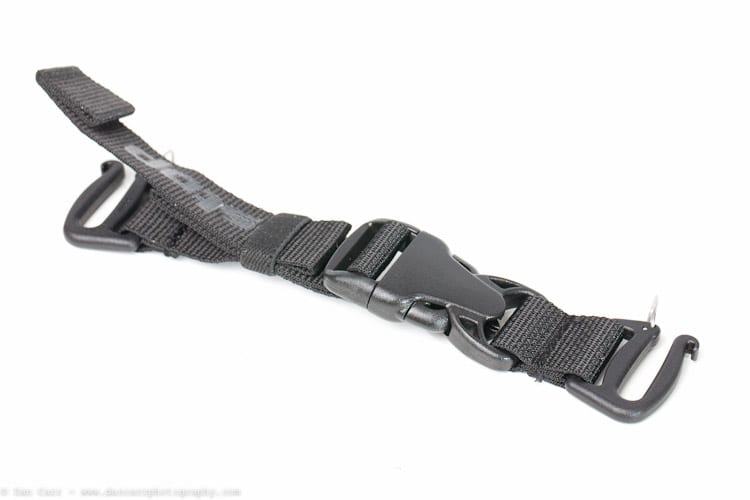 The new Gatekeeper attachments are now an integral part of the Guru's versatility.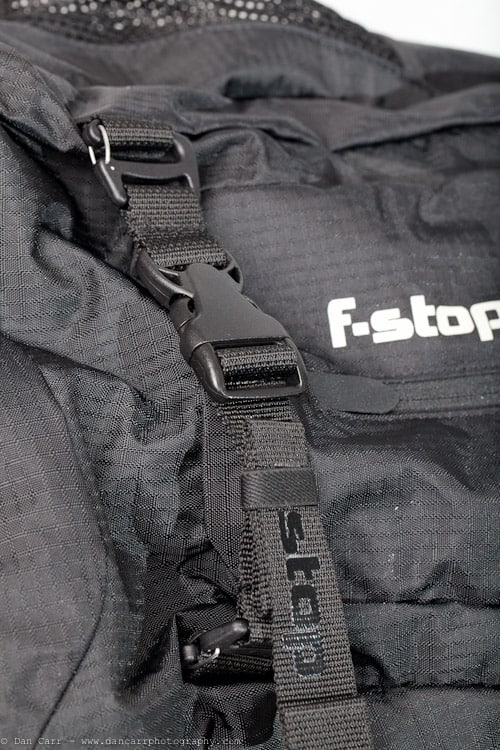 Position them across the front of the pack………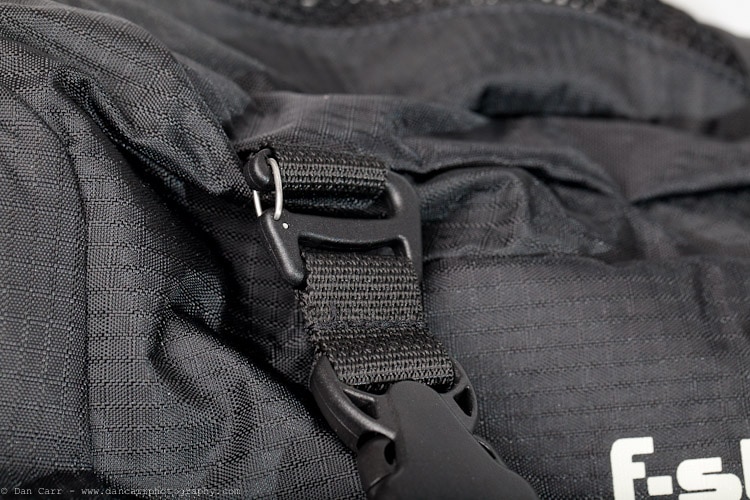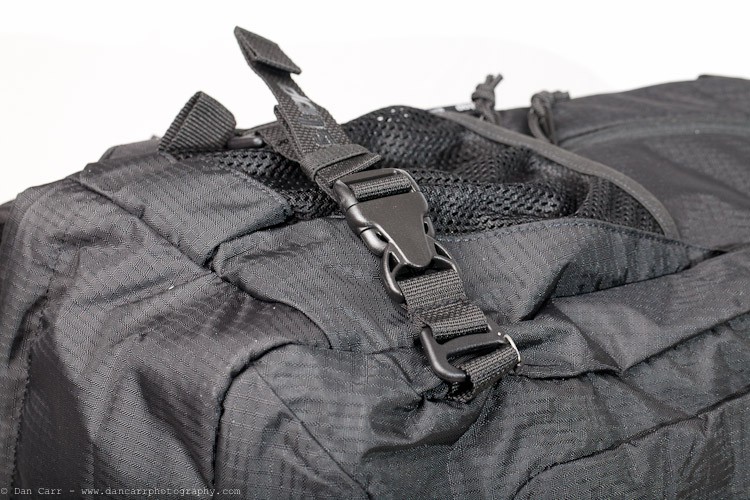 Or move them onto the sides of the pack.  Extra Gatekeepers can be purchased from F-Stop if you want to add more.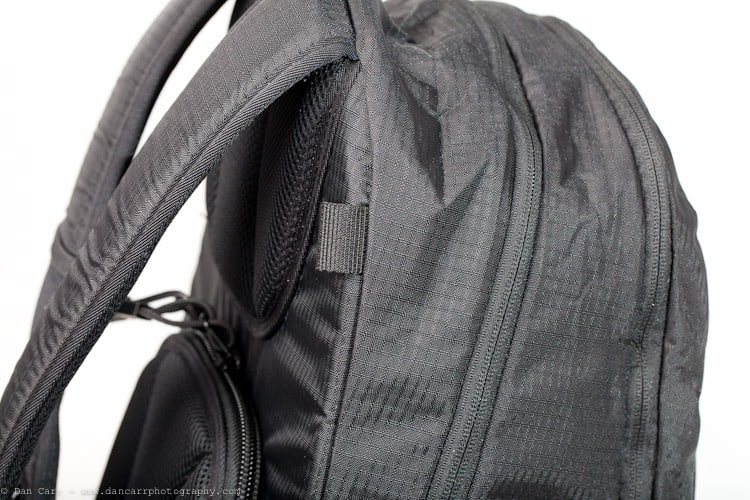 And Gatekeeper mounting points are located all around the pack to customize your attachment points to the gear you want to carry.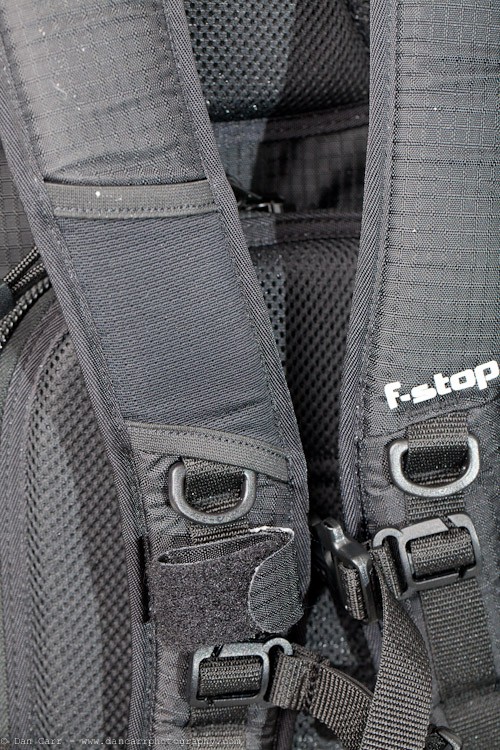 The hose from your water bladder can be secured behind this mesh.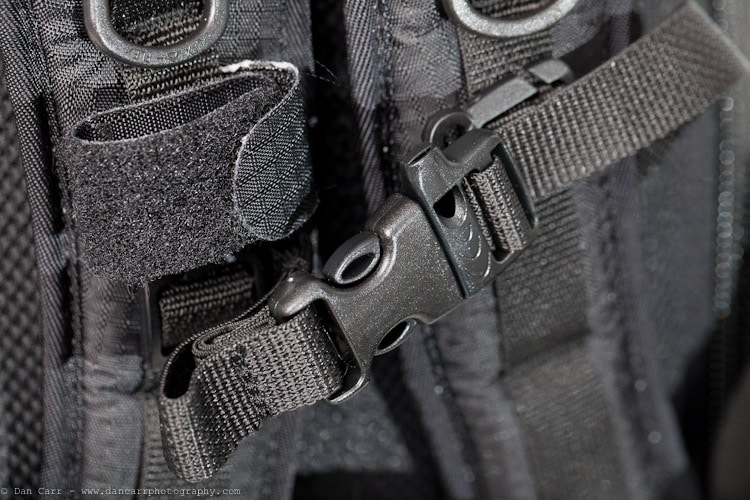 Sternum strap and water hose holder details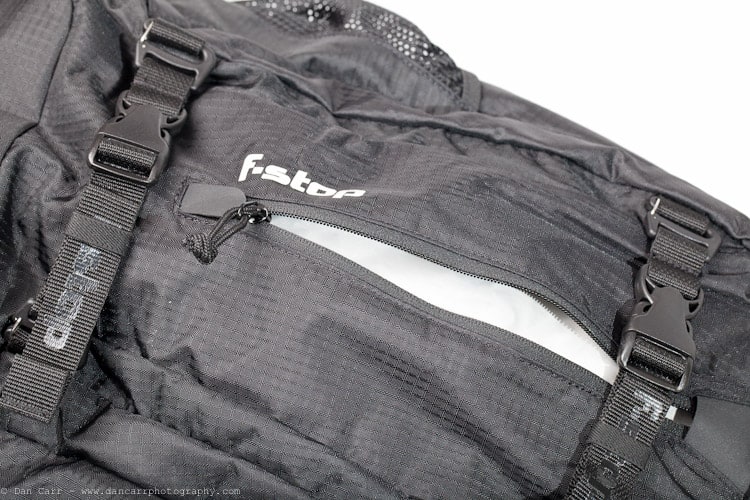 A zippered font pocket is useful for small clothing layers, gloves or snacks.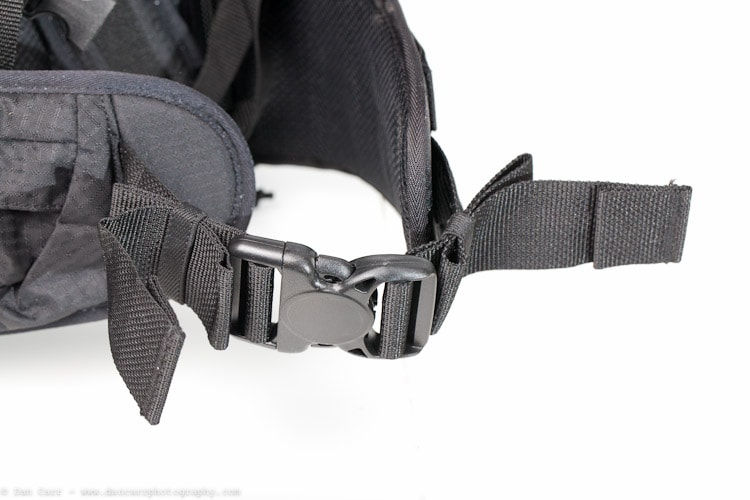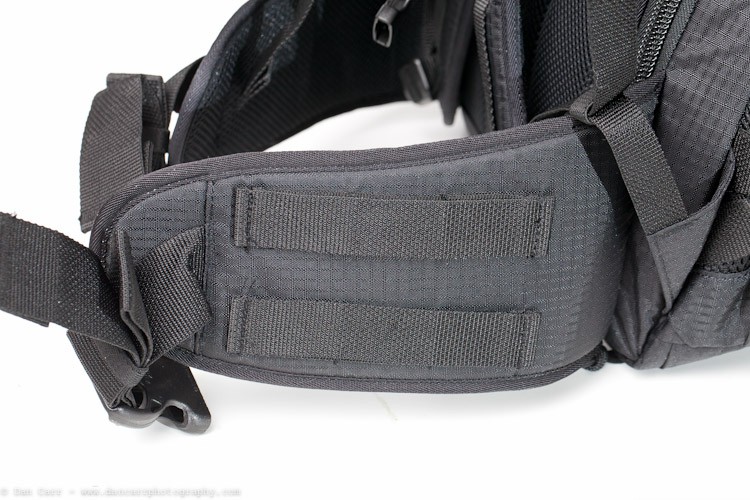 The left hand hip belt has Molle loops to attach modular accessories from F-Stop or other popular brands such as Think Tank.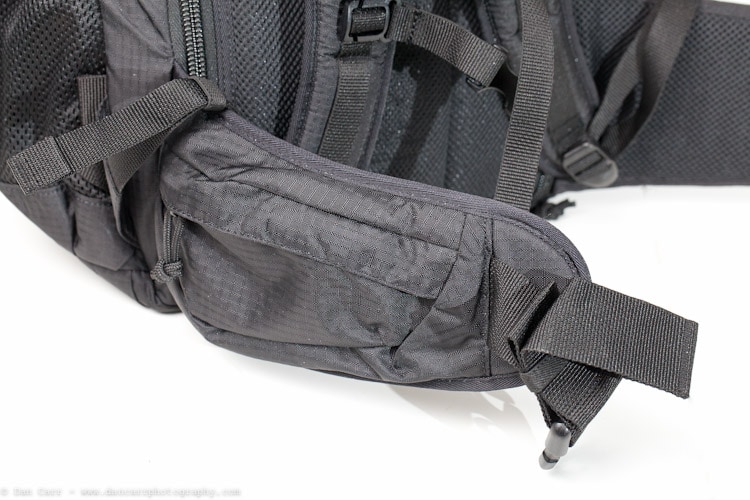 The right hand hip support features a small pocket suitable for your sunscreen, or a small point and shoot camera.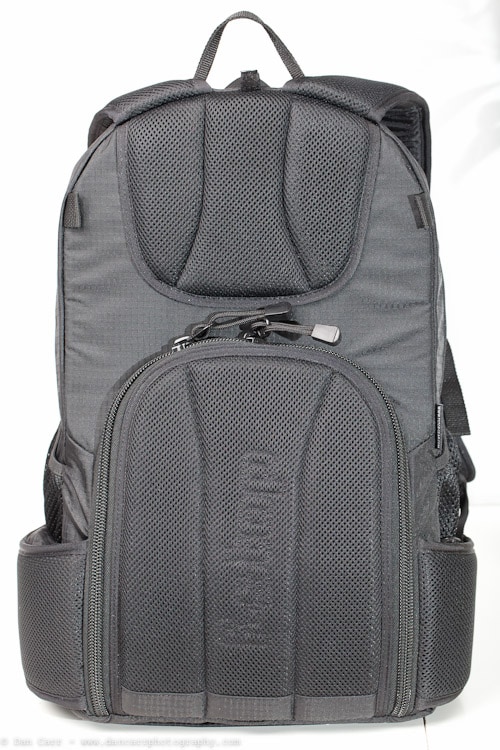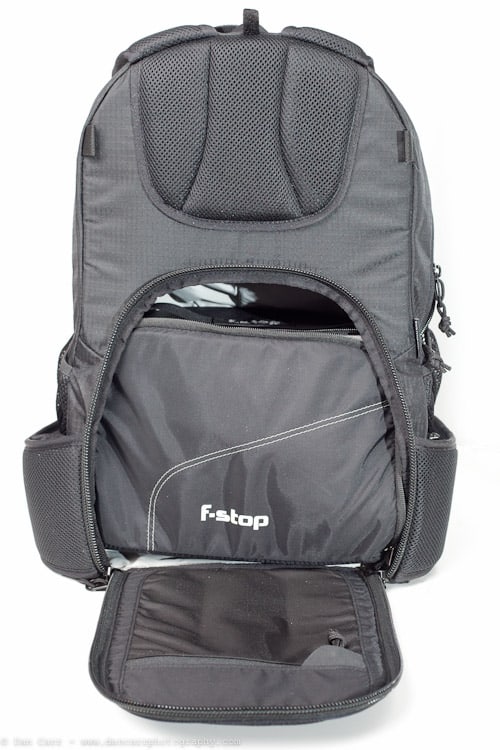 A small ICU is in the Guru in this shot.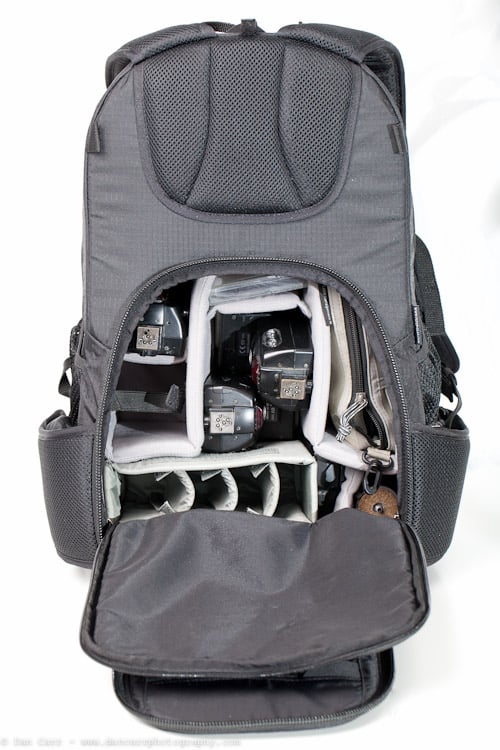 Medium ICU in the Guru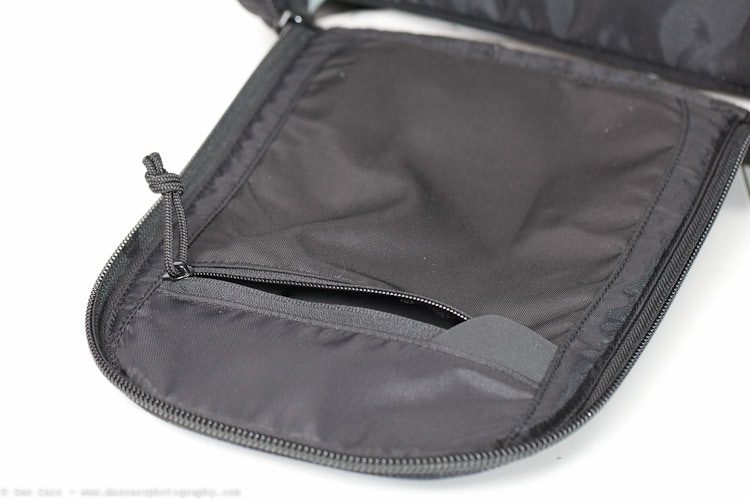 Back panel pocket.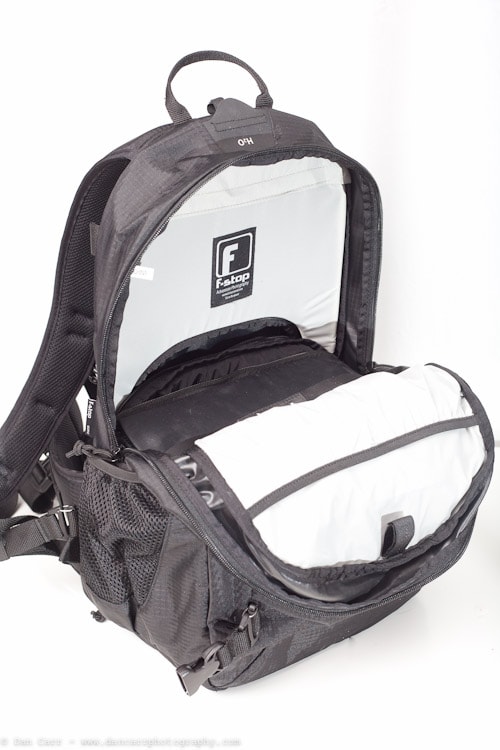 This image shows how much room is left in the Guru when a Small ICU is installed.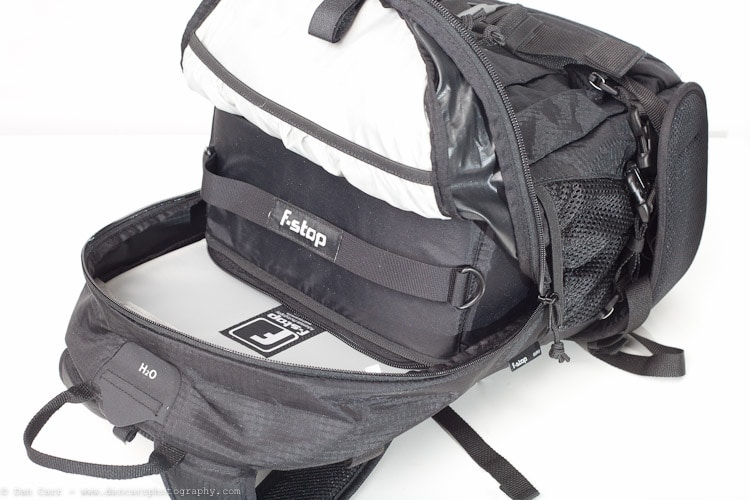 And here we have a Medium ICU installed in the Guru.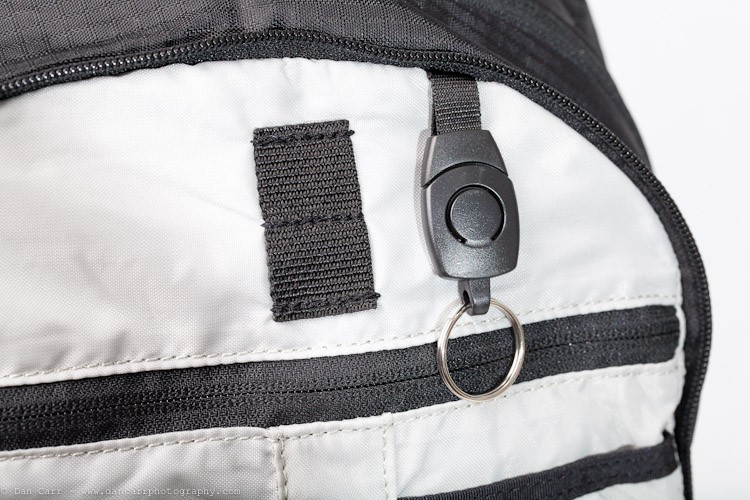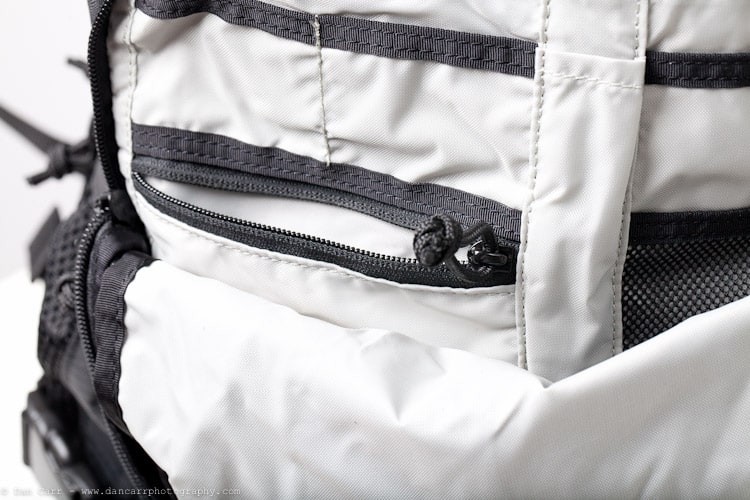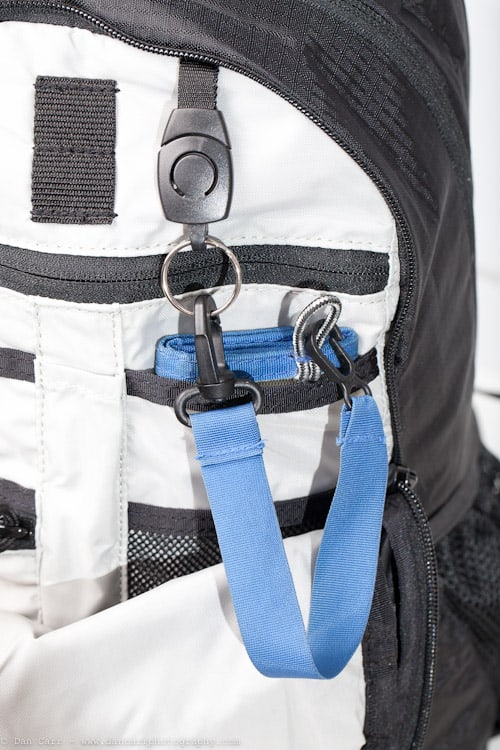 Memory card wallet not included.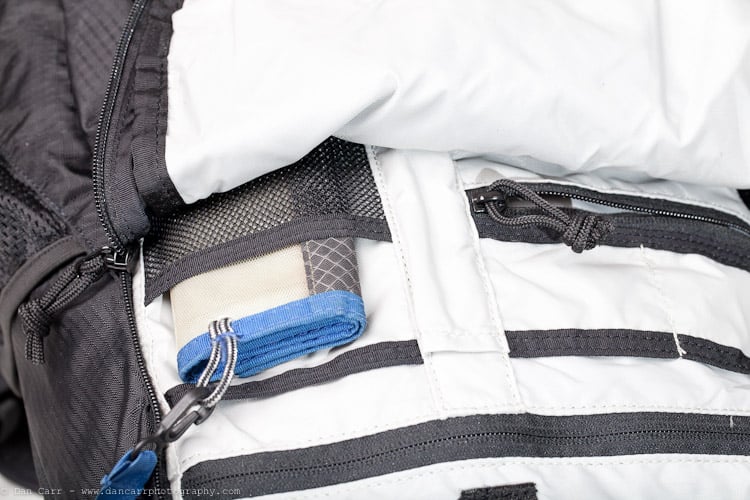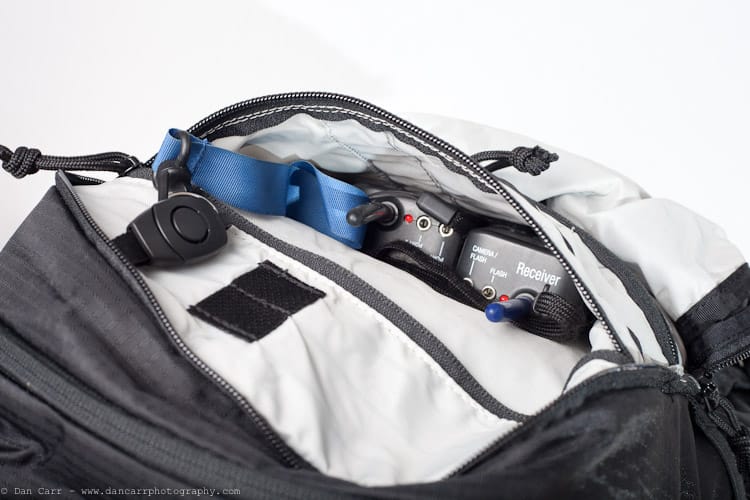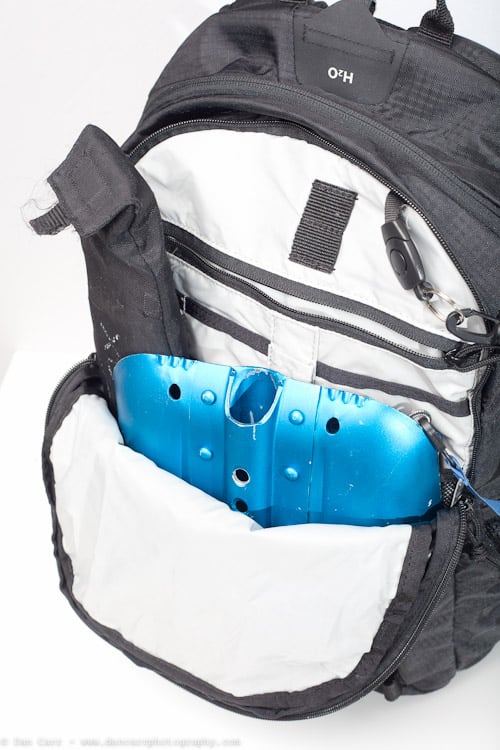 Whilst not specifically designed for it like the Tilopa BC, there is room to take this pack backcountry skiing.
Guru as a strobe kit bag
I was asked this question a few times so here is the pictorial answer.  Is the Guru a good pack for carrying a strobe pack and head, in particular an Elinchrom Ranger. Yep.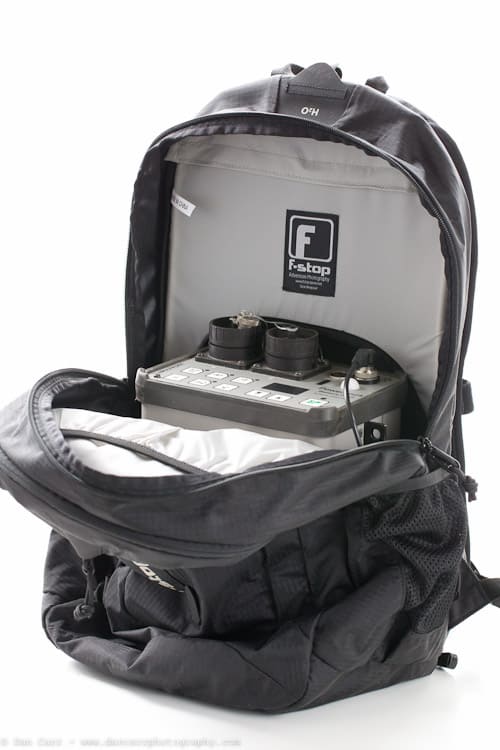 Elinchrom Ranger pack inside the Guru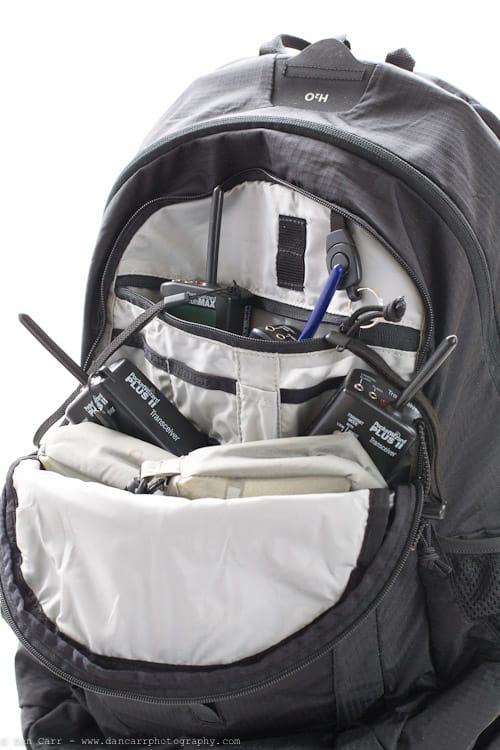 Plenty of room in the front for all your pocketwizards and the necessary cables and other gizmos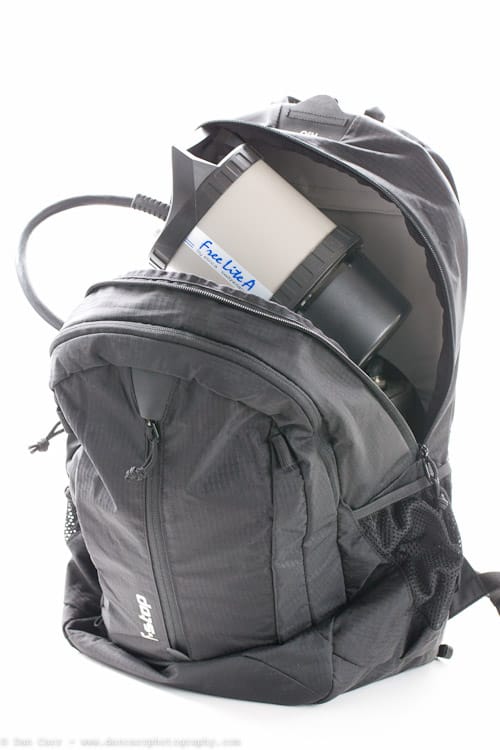 Room for a strobe head and the Ranger pack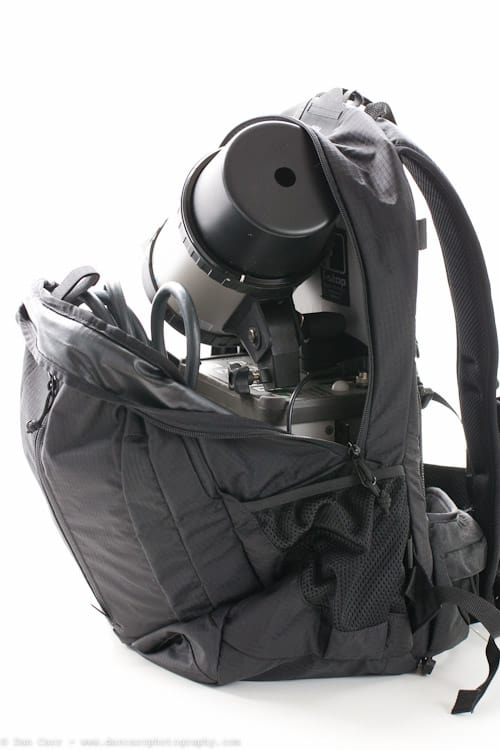 The head cable can be neatly folded into the interior front pouch.
Compared to….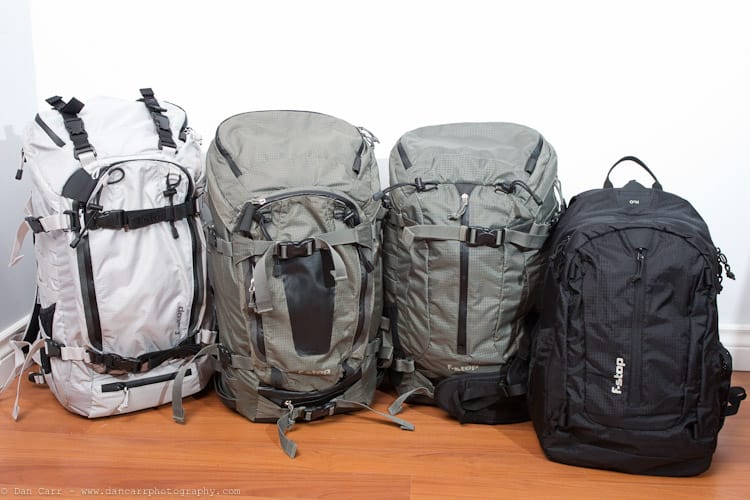 (l to R) Satori EXP, Tilopa BC, Loka, Guru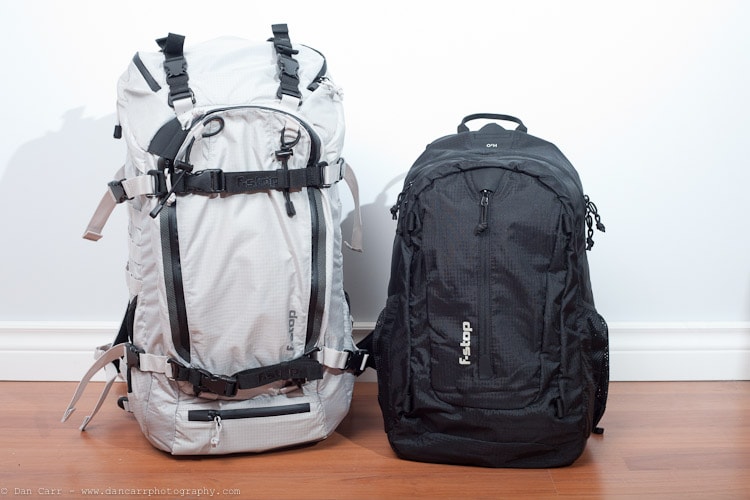 Satori EXP Vs. Guru
Which ICU ?
The Guru is designed to work with either the medium or small ICU.  Here are some images of the various ICUs currently available.  NOTE that the large size will NOT fit the Guru.  F-Stop plans to introduce more ICUs in the near future.  XL sized and also Micro Four Thirds sized ICUs are in development along with shallower versions of the small, medium and large ICUs for those who do not need the depth of a pro body.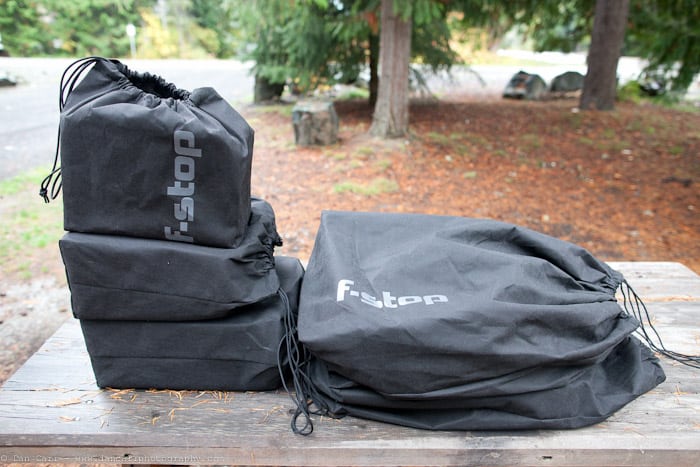 All F-Stop bags and ICUs now come in a protective sack. If you have multiple ICUs of different sizes these are great to store them away and keep them clean and dust free.
Left to right. Large, medium, small ICU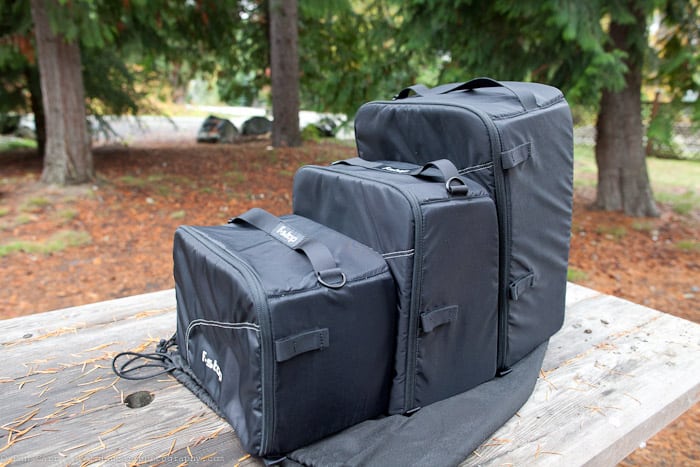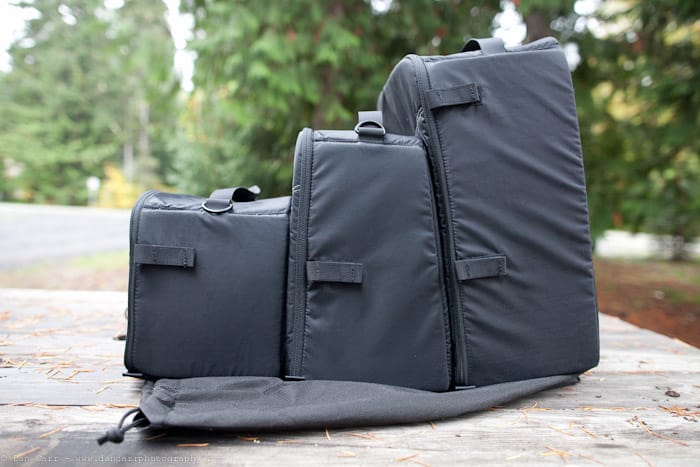 The medium ICU in the center has a tapered shape. One end is tall enough for small DSLR bodies and the other end is tall enough for pro sized DSLRs. This allows a little more room in the bag to pack extra gear like clothing.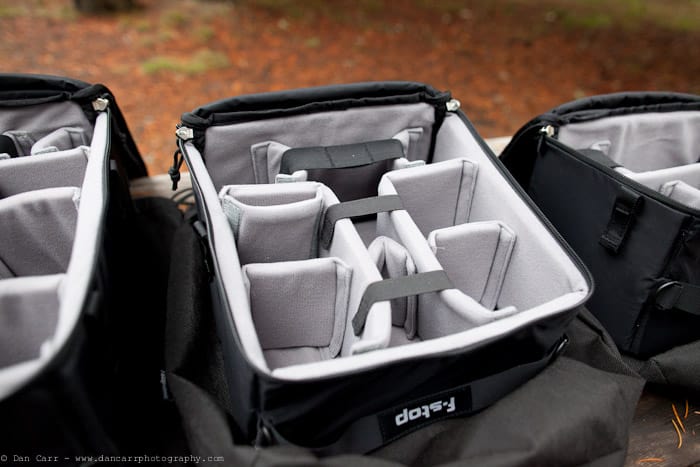 Medium ICU detail. All ICUs now ship with velcro attached elastic straps for securing lens and bodies during adventurous activities and travel.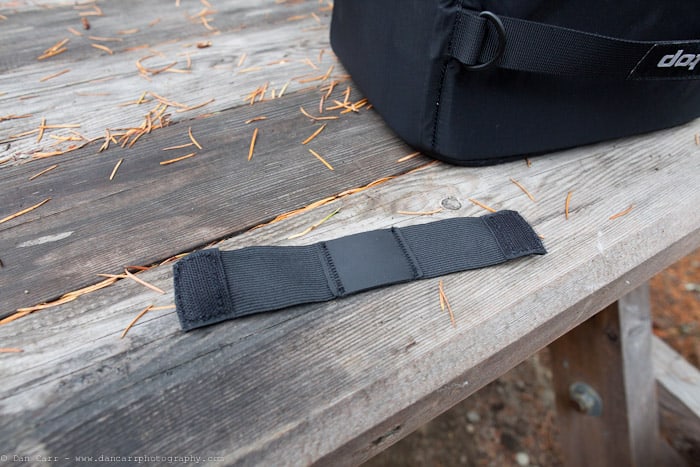 The body retention strap is reinforced in the middle to protect the strap and the inside of the bag from the metal edged hot-shoe on top of your camera.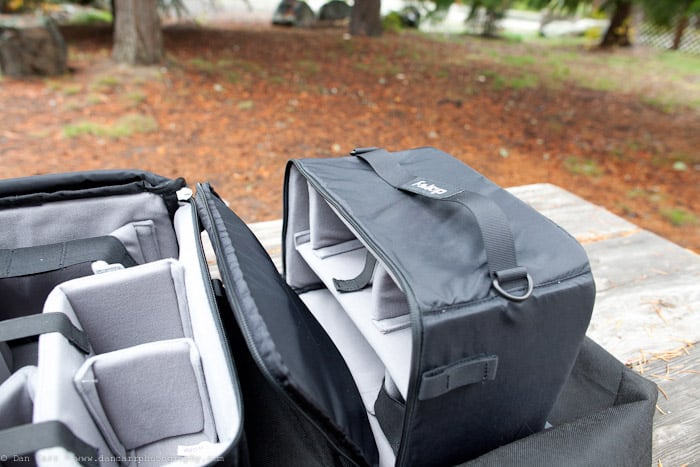 All ICUs have a convenient carrying handle, D-rings for attaching a shoulder strap and loops to retain the ICU inside the backpack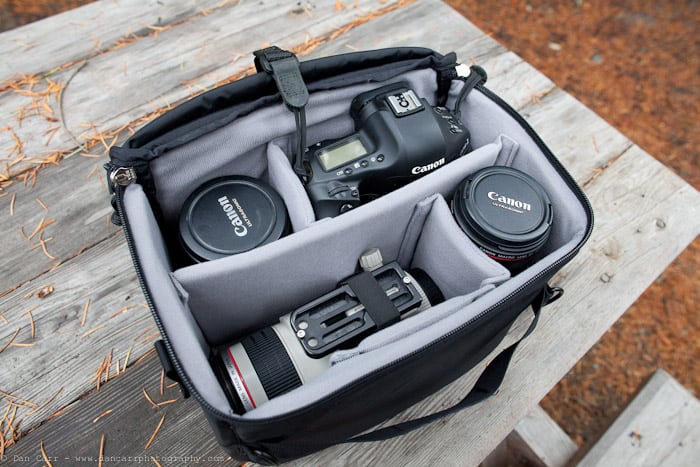 3 lenses and a pro sized body in the Small ICU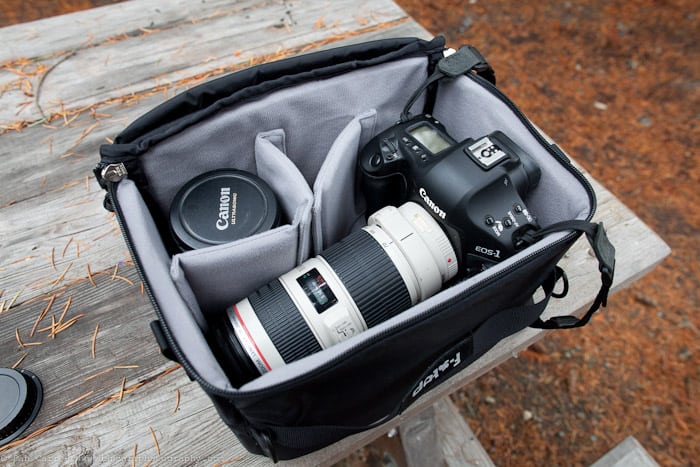 Pro body with 70-200 attached and extra lens in Small ICU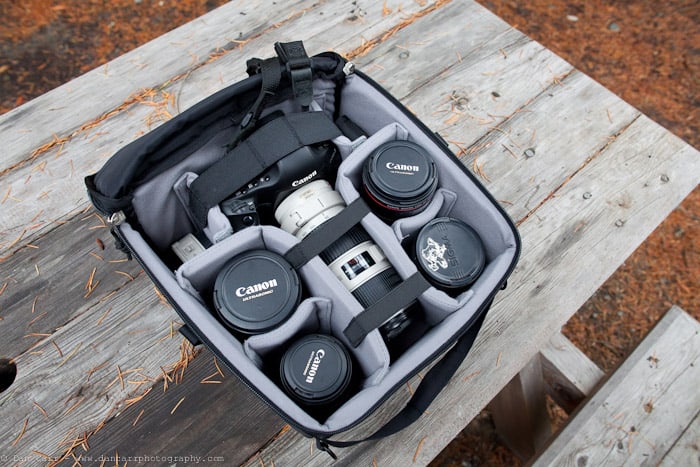 Pro body and 6 lens (with room to spare) in the Medium ICU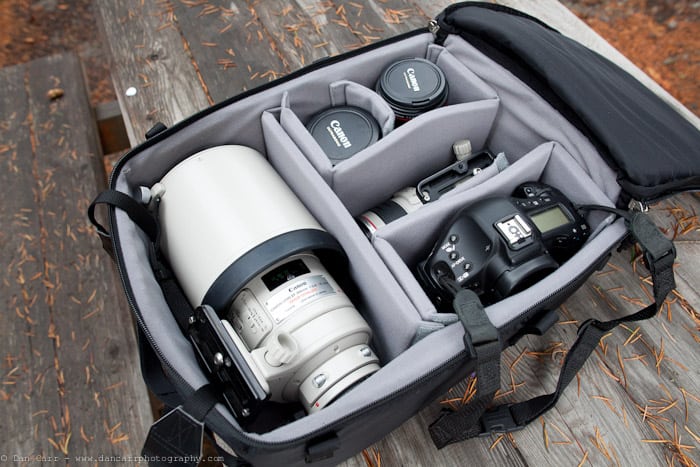 300mm f2.8, pro body and 3 more lenses in the Large ICU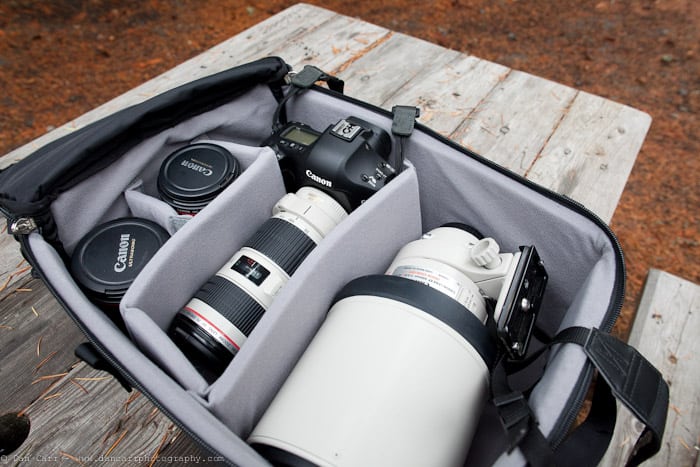 300mm f2.8, pro body with 70-200 attached and 2 extra lenses in Large ICU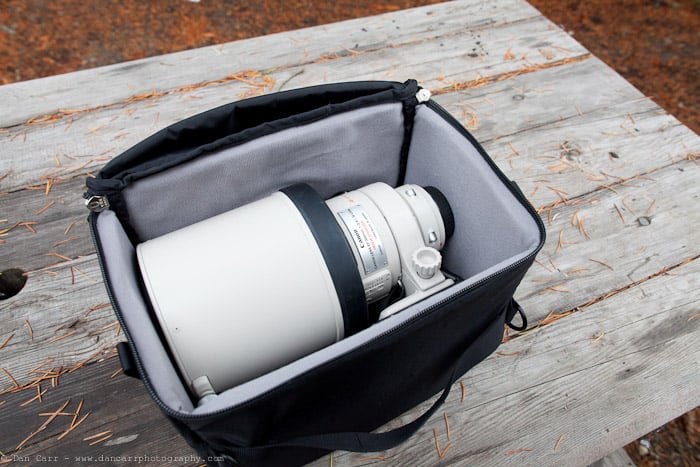 300mm f2.8 in Small ICU. Perfect for storage and travel.
Support the site - It's easy!
Did you find this post useful and interesting?
- I've invested thousands of hours into creating the content you find for free on this blog. The best way to say thanks is to use the product links in the post when you make your purchases. I may make a small commission when you do this, and that helps to keep the site running. Click
here
to find more links that support the site, or use these primary ones:
B&H Photo|Amazon|Adorama|Think Tank (free gift on $50+ spend)|MindShift Gear (free gift on $50+ spend)
|
Coffee
Thanks for your
support
and readership!