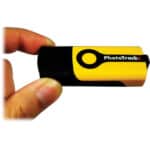 I've had a mild curiosity in geotagging for a while. Years from now, i've always thought that it wold be very cool to know exactly where some of my photos were taken. Especially my backcountry skiing photos where they are not necessarily taken near any recognizable landmarks. As I travel more and more to other parts of the world too, it would be nice to look back at that in the future and see exactly where I was.
For Canon shooters you instantly run into a problem though. So far Canon has refused to add geotagging to any of their cameras and they have also refused to add the ability for third-party developers to come up with their own solution. Nikon users have it pretty easy by comparison with their G-P1. It connects directly to the camera and writes the GPS location of the photo straight into the metadata. If you shoot Canon though you are going to need to do a little extra work and I was intrigued to find out how much effort it would be to integrate this into my current workflow, especially now that Apple have integrated geotagging into Aperture 3.0. A bit of research led me to the Gisteq PhotoTrackr mini.
As you can see, it looks a lot like a regular USB thumb drive with and on/off switch and one big button on the top. I love the simple design because I want to do as little work as possible to integrate geotagging into my workflow. No messing around with this thing, to get started you simply turn it on and hang it round your neck while you shoot. In the user manual it said that it can take up to 15 minutess to get an initial lock on the GPS satellites, but in practice my one locked on within a minute every time. Impressive start!
So how does the tagging work if its not connected to the camera you might ask? Well the Phototrackr records your GPS location at varying time intervals and stores them in a log file. The supplied software then compares the time stamps from the metadata in your photos, with the GPS log to figure out where each shot was taken. It then writes the GPS location into the metadata, allowing you to view the photos (and that path you traveled) in Google Maps, or Google Earth. Sounds easy enough right? Well not quite…..
Gisteq seem to be very much in the GPS logger design business, and not so much in the computer software design business. The PhotoTrackr ships with totally different software for both the PC and the Mac that has been licensed from other parties. The first hurdle comes if you have a mac, because for some reason the software ships in the box on one of those half-sized mini CDs. You cannot put one of these in a slot loading drive which all Macs have! It begs the question why put the Mac software on the disc at all if nobody can use the CD to read it? The software is download-able from their website though. The next surprise came in the form of a pop up window during install that told me it was going to need to install a serial-to-USB driver. A driver? For a USB device? I haven't had to do that for a while. The PhotoTrackr has an unknown amount of storage inside it for storing the GPS tracking logs, just like a regular USB thumb drive. In the future I would really like to see it ship with the software ON the drive itself, with no drivers to install. Make it plug and play and install the necessary photo tagging software right off the PhotoTrackr?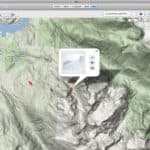 Once I finally had it installed I needed a tracking log to test it out with so I grabbed my Canon S90 point and shoot camera and went for a mornings skiing at Whistler Blackcomb while snapping some random shots along the way. I wore the PhotoTrackr round my neck the whole time, under a couple of layers and a ski jacket, but it seemed to hold onto the GPS signal all morning without trouble (you can tell by the flashing blue LED). You'll begin to see a pattern emerging in a minute here. I say a positive thing about the hardware, followed shortly by a negative comment about the software……. The software is not compatible as a plug in with iPhoto or any of the other popular image managing programs which means that the simplest workflow of using the same piece of software to tag and organize your photos is not possible unless you use what they give you. Their software is in 2 parts, a re-branded version of the decidedly lackluster Jet-Photo, for importing your photos, and a dialog box for downloading and and syncing the GPS logs. There is a way to export those logs, and then import them into programs like Aperture 3.0 but I'll get into that later. For now lets continue on with what they provide you with when you buy the PhotoTrackr.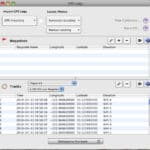 The next little surprise for me came when i realized that the supplied software does not support RAW files. I was sure I had read that it did, but a second more careful glance at their website revealed the bracketed sentence "via optional upgrade". Interestingly, on the box it lists RAW photo support as a "key feature" but fails to mention here that you have to pay a $20 upgrade fee to access the RAW functionality. To continue on with my testing I batched my days shots into JPEGS and they loaded quickly into the Jet-Photo library. Next you have to download the GPS track but unfortunately I ran into some troubles here with stability and clicking the button to do so, would often result in the program totally shutting down. I contacted Gisteq and they suggested that I uninstall the driver and re-install it again. This did seem to fix the problem and if you have similar trouble you can use an un-install program which can be downloaded via a link HERE. Having to uninstall and re-install device drivers is a process I thought I had long left behind when I switched from PCs to Macs 5 years ago though, but at least it did the trick. Once I finally did get the tracks to download, the program quickly embedded the GPS data into my photos and I was able to see my skiing tracks in Google Earth.
Looking at the tracks I was very pleased with the accuracy of things though. You could make out every little detail of my runs down the mountain. Clearly the GPS chipset in the device is great for something so small. Adding the photos to the map was also very cool. I can definitely see this being a fun way to remember a good family vacation. Again, back to the software though…… for some reason there is only the option to delete ALL the tracks from the device. You can't manage the tracks in any way and frustratingly it isn't smart enough to recognize tracks that it has previously downloaded. If you go out a few times and don't wipe the previous tracks clean off the drive beforehand, when you come back, it will re-import all your old tracks again!! It even gives them the same name each time so after a few tests when I checked the list of track files I had 4 different ones called "track 1" and 4 different ones called "track 2" etc etc.
If you want to import your GPS tracks into other software, or use other software to do the GPS tagging then you need the track file to be in the form of a .GPX file. In an ideal world the GPX files could simply be viewed on the drive and dragged onto your hard drive, unfortunately the Phototrackr doesn't allow this. But once you get them imported into their software you can export from there as a GPX file which is a file which can then be read by Google Earth and more importantly, other photo management software such as Aperture 3.
Good Points
Price, the PhotoTrackr retails at about $59 so its not going to break the bank.
Simple, functional hardware design gets the job done without fuss.
Remarkably small and lightweight but the case feels solid enough for long term use.
Very accurate tracking of GPS location. I also tried it out multiple times while backcountry snowmobiling with equally impressive accuracy.
Keeps a good hold on the GPS signal and acquires initial lock quickly.
Enough memory for weeks of track logs.
Excellent battery life compared to competitors products (approx. 17 hours)
Bad Points
Mac software arrives on mini CD which you cant put in a Mac
USB extension cable needed if you plan on using it in a crowded USB hub or on a laptop where neighboring ports are in use. Similar products provide this in the box.
Requires installation of a serial driver , not "plug-and-play"
Requires the use of their software to extract the track files.
Unstable software on Leopard OS Mac.
Continually re-imports old track files over and over again.
Poor instruction manual (actually just a folded piece of paper) Not enough information there for people who are totally new to Geotagging.
$20 upgrade to be able to use Raw files
Conclusion
Mixed feelings on this one. For someone new to geotagging, looking for a simplistic approach I thought I had really found it when I unboxed the Phototrackr for the first time. I really do like the design and judging by the accuracy of the tracks it recorded, it has a great GPS chip inside, the hardware side of things worked perfectly. The total package though is let down by the software, which is a shame because it seems to be licensed from a third party anyway. If the software was tweaked in a few areas, and integration for major photo management applications like iPhoto or Lightroom added, then it would be a brilliant product in every way. As it stands though I can't recommend it to a professional who is looking to add GPS tagging to a tightly controlled workflow. There are just too many necessary steps in the process right now. If you could pull GPX files right off the drive without the need to use their software then again, it would be a different story. On the other hand, if I just wanted to use it to tag my shots from a holiday then it would be far more manageable and I could probably endure the pitfalls of the software for a while. I did find it immensely amusing to play with things in 3d in Google earth and be able to see exactly where I went and where my shots were taken. If you are a regular traveler then its definitely a fun accessory once you have everything loaded into Google Earth. Every working pro seems to carry a high end point and shoot camera with them these days to document their travels when a full sized DSLR is just not practical. Having the Phototrackr even just for that situation is a fun addition to your gear and for $59 represents good value despite the software's shortfalls
My Score 7/10 Great hardware,let down by software
Support the site - It's easy!
Did you find this post useful and interesting?
- I've invested thousands of hours into creating the content you find for free on this blog. The best way to say thanks is to use the product links in the post when you make your purchases. I may make a small commission when you do this, and that helps to keep the site running. Click
here
to find more links that support the site, or use these primary ones:
B&H Photo|Amazon|Adorama|Think Tank (free gift on $50+ spend)|MindShift Gear (free gift on $50+ spend)
|
Coffee
Thanks for your
support
and readership!