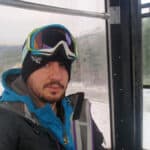 The day that this town has been waiting for finally arrived. I'm going to keep this post short, it speaks for itself. Were the conditions great up there? No , far from it. Was it great to be back on skis? Ohhhhh yes. Judging by the height of the snow pack , we are still a couple or three weeks from being ready to get go filming and shooting round here but it's on its way. The new Peak to Peak gondola system is an incredible feat of engineering and I will be attending the official opening on December 12th. The new gondola station for it on Whistler is almost as large as the restaurant complex!

Support the site - It's easy!
Did you find this post useful and interesting?
- I've invested thousands of hours into creating the content you find for free on this blog. The best way to say thanks is to use the product links in the post when you make your purchases. I may make a small commission when you do this, and that helps to keep the site running. Click
here
to find more links that support the site, or use these primary ones:
B&H Photo|Amazon|Adorama|Think Tank (free gift on $50+ spend)|MindShift Gear (free gift on $50+ spend)
|
Coffee
Thanks for your
support
and readership!